Mexican Meatball Soup | Warm up with this delicious soup full of flavorful and satisfying ingredients.  Perfect for those cold winter nights.  A great way to combine two favorite foods.  Mexican food and soup!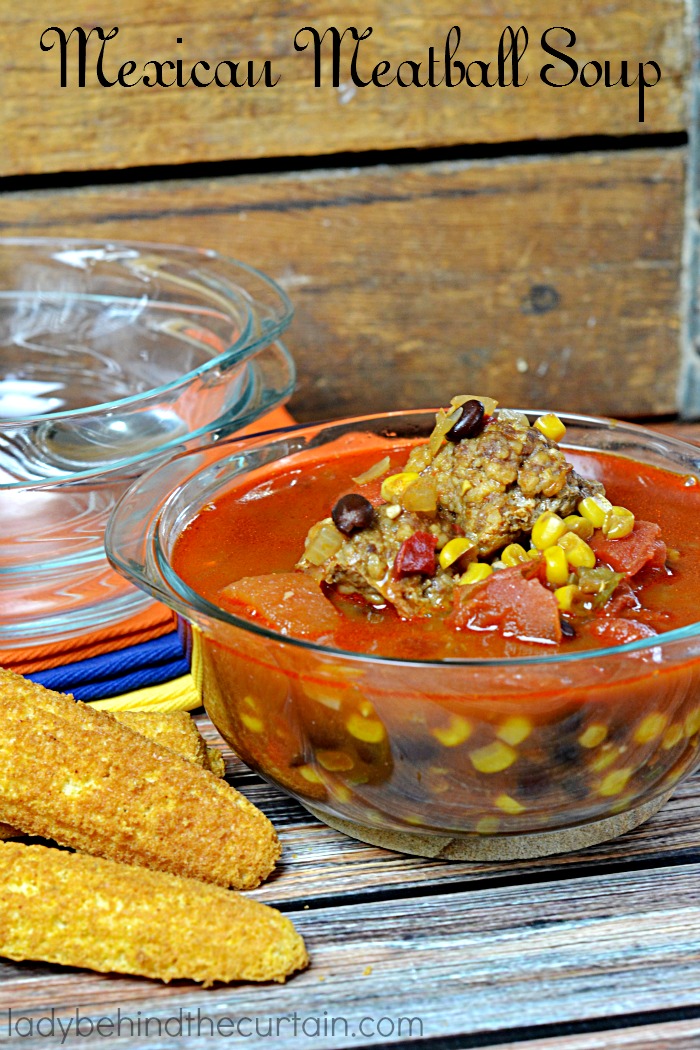 I like to double the recipe.  That way I can freeze half of the meatballs.  That way I can have this soup ready in no time.  The meatballs also make delicious sliders or appetizers.  All you have to do is throw them in the slow cooker (once the meatballs have been baked) and add my Sweet and Spicy Sauce.
Mexican Meatball Soup
Yield:
Serves 4 (5 meatballs each)
Total Time:
1 hour
5 minutes
Combine Mexican food with soup to create this delicious pantry dinner.
Ingredients
For the Meatballs:
2 pounds ground beef
4 large eggs, slightly beaten
2 cups crushed saltine crackers
2 tablespoons Sriracha hot chili sauce
1/2 tablespoon garlic powder
1 teaspoon salt
4 tablespoons minced dried onions
For the Soup:
2 (14.5 ounce) cans Mexican style stewed tomatoes
2 cup beef broth
1 (15 ounce) can black beans, not drained
2 cups water
1 (11 ounce) can Mexican corn, drained
2 bay leaves
3/4 cup white onion chopped
2 cloves of garlic, chopped
1 teaspoon ground cumin
Instructions
For the Meatballs:
Line TWO cookie sheets with parchment paper.
Preheat oven to 325°.
In a large bowl add the ground beef, eggs, saltine crackers, hot chili sauce, garlic powder, salt and minced onion.
Stir to combine (I use my hands).
Form into (44) 1-inch balls and place on prepared cookie sheets.
Bake 30 minutes.
For the Soup:
Into a stock pot add the stewed tomatoes, beef broth, black beans, water, corn, bay leaves, onion, garlic and cumin.
Stir to combine; turn heat to high, bring to boil.
Add 20 meatballs (freeze the remaining meatballs or use to make meatball sandwiches).
Reduce heat to medium and simmer with the lid on for 30 minutes.
Discard bay leaves and serve.
ENJOY!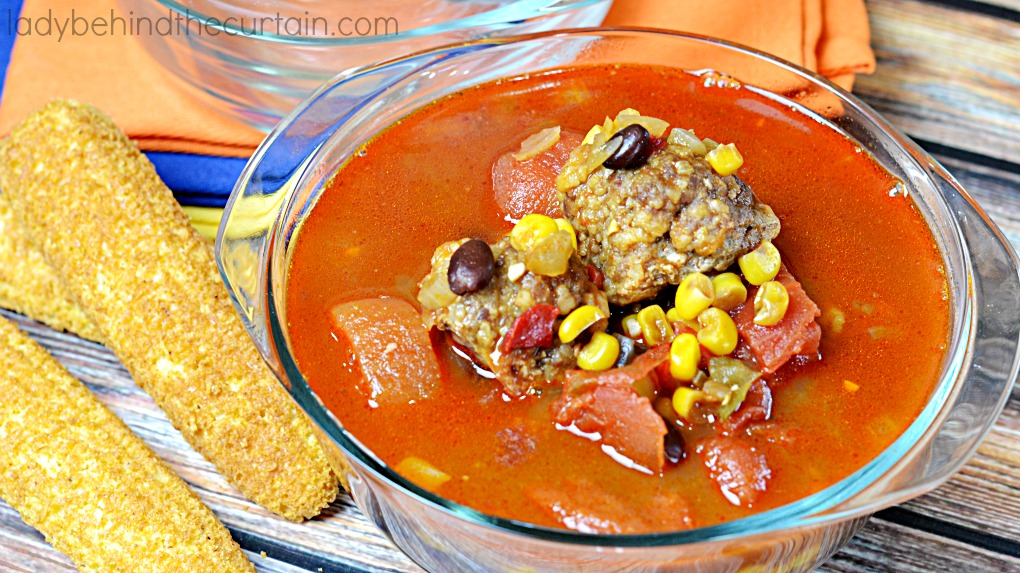 MORE SOUP RECIPES WITH A MEXICAN FLAIR

SPICY PORK GREEN CHILE SOUP  2. MEXICAN CHICKEN SOUP WITH CILANTRO DUMPLINGS 3. CHICKEN VERDE SOUP