These Peach Toffee Tartlets are so easy to make with store bought pie dough.  You can use fresh, frozen or canned peaches. So this dessert can be made anytime of the year.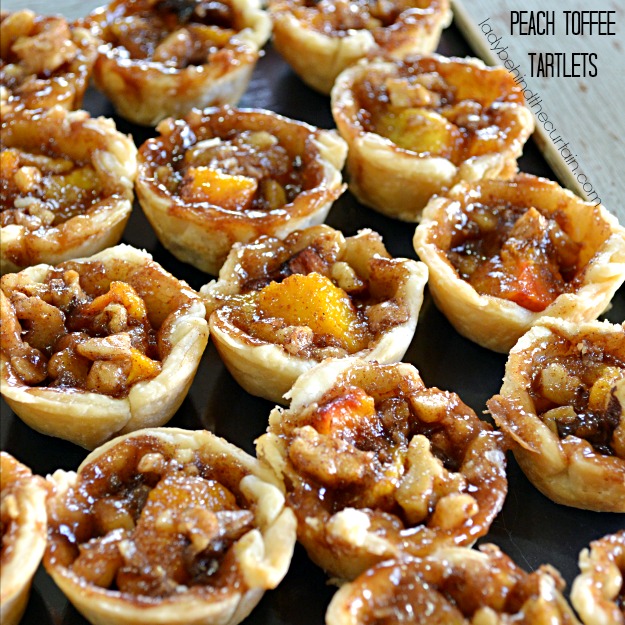 I made these Peach Toffee Tartlets for a bridal shower.  They were the perfect little bite of sweetness.  Filled with peaches a wonderful caramel toffee.
Using store bought pie dough helps this dessert to be quick and easy.
All you do is roll out the dough, using a round cookie cutter, press into mini muffin cups, fill with the delicious peach mixture; toffee, peaches, walnuts and brown sugar.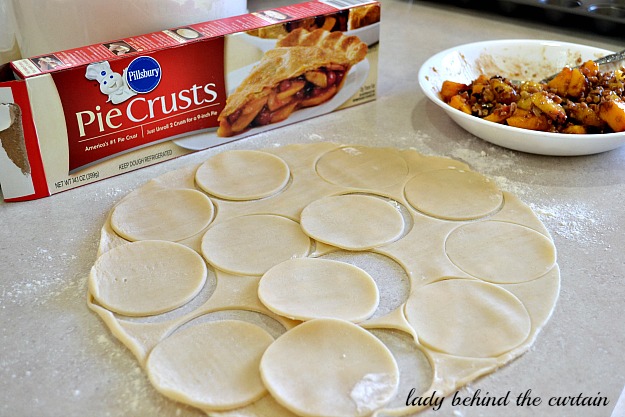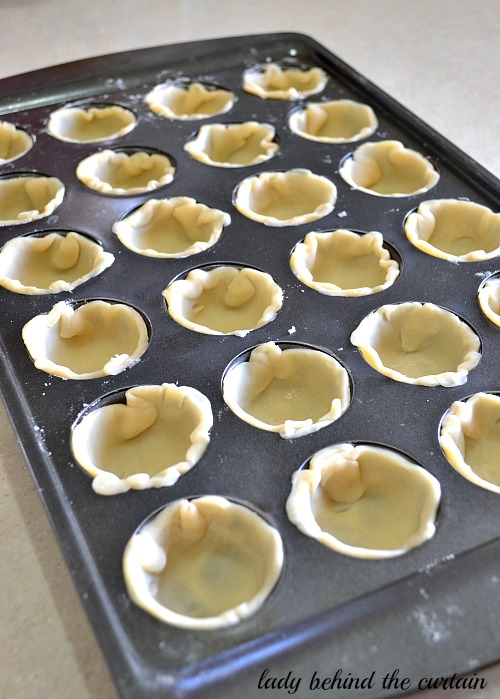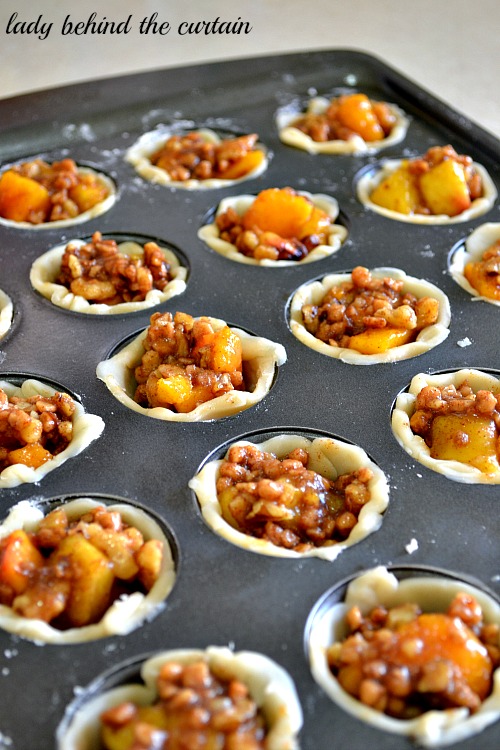 You end up with these outrageous PEACH TOFFEE TARTLETS!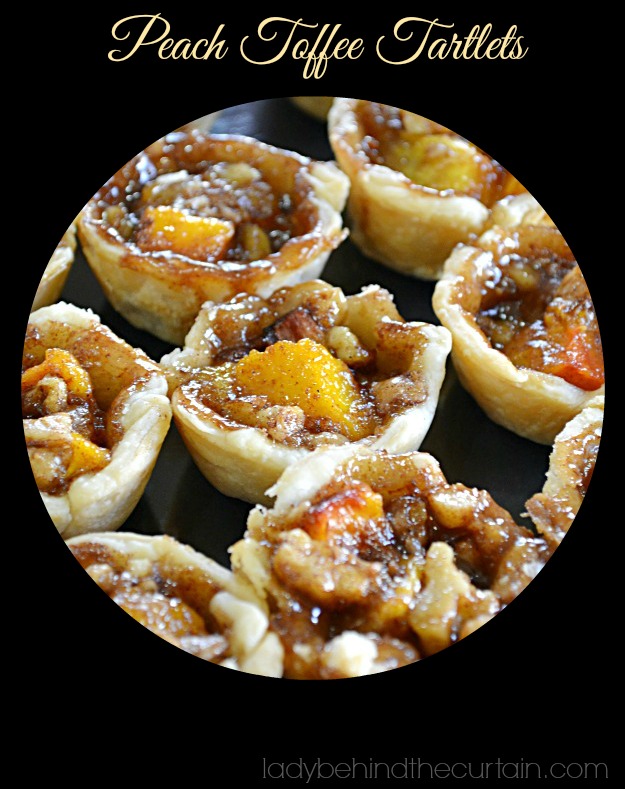 Create your own Recipe Box and save your favorite Lady Behind The Curtain recipes.  Make a Meal Plan with your favorite recipes and ZipList will automatically add the ingredients to a Shopping List.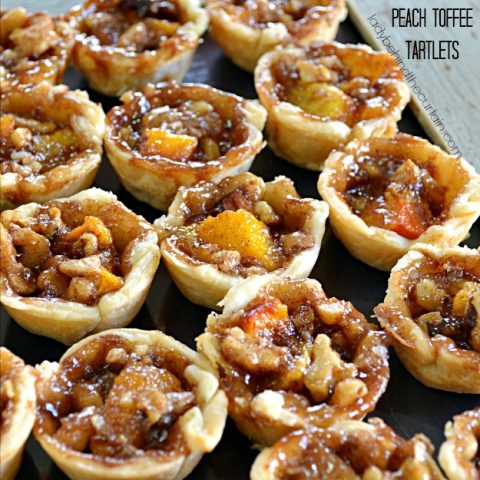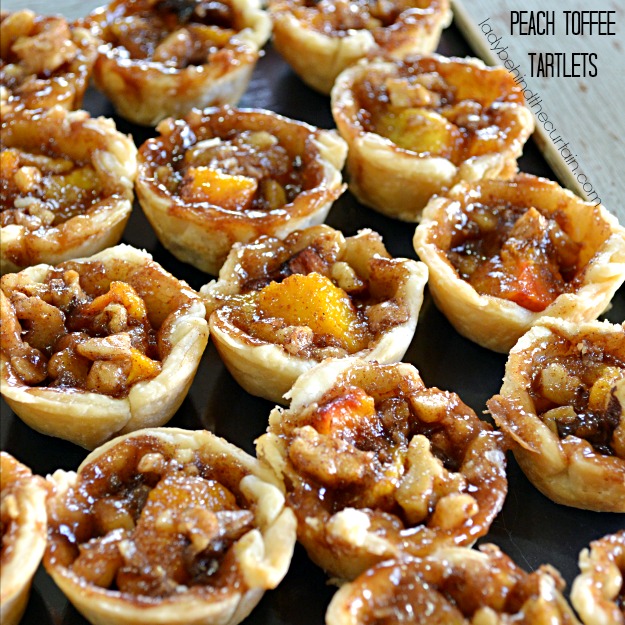 Peach Toffee Tarlets
Ingredients
1 - 15 ounce package (2 crusts) Pillsbury Pie Dough
1-1/3 cups peaches, peeled and chopped
1/2 cup toffee pieces
1/2 cup walnuts, chopped
1/4 cup light brown sugar, packed
1 teaspoon ground cinnamon
2 tablespoons butter, melted
1/8 teaspoon salt
Instructions
Let pie crusts stand at room temperature for 15 minutes.
Preheat oven to 375 degrees.
In a medium bowl combine the peaches, toffee, walnuts, brown sugar, cinnamon, butter and salt; set aside.
On a lightly floured surface, unroll one pie crust at a time.
Cut 12 - 3-inch circles from each pie crust round.
Press dough onto the bottom sand up the sides of 24 mini muffins cups.
Spoon 1 tablespoon of the peach mixture into each cup.
Bake about 18 minutes or until pastry is golden and filling is bubbly.
Carefully remove tartlets from muffin cups and cool on a wire rack.
MORE GREAT BRUNCH DESSERT RECIPES
1.  MINI CARROT CAKES  2.  STRAWBERRY SHORTCAKE  3.  ORANGE CREAMSICLE CHEESECAKE BARS  4.  CRESCENT CARAMEL SWIRL  4.  MINI APPLE PIES