Rainbow Cookies | The perfect cookie for St Patrick's Day!  Or how about a rainbow or primary color themed party?  These cookies will be the hit of the day with tons of colorful sprinkles and yummy M&M's.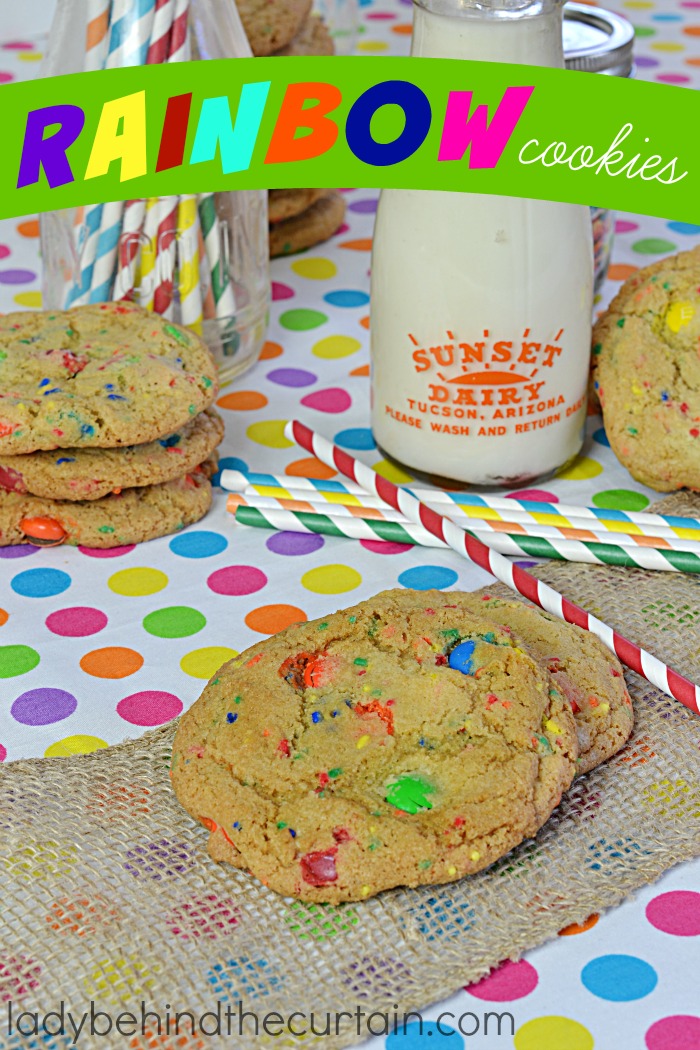 Add my St. Patrick's Day Money Bags to go along with these fun and festive Rainbow Cookies!  To get the rainbow look all I did was take out all the brown colored M&M's and as if that wasn't enough I felt they needed a little something special….so I added the same color of sprinkles.  But before I added all of that fun I started with my favorite chocolate chip cookie recipe.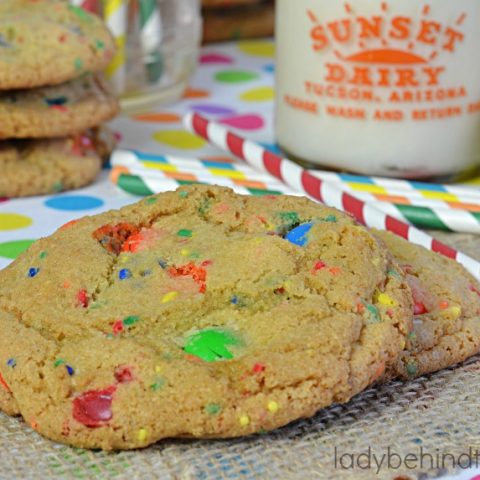 Rainbow Cookies!
Yield:
Makes 27 Large Cookies
Ingredients
1 cup unsalted butter, softened
1 1/2 cups light brown sugar, packed
1/2 cup granulated sugar
2 large eggs
2 egg yolks
1 tablespoon vanilla extract
3 1/4 cups all-purpose flour
1 teaspoon salt
1 teaspoon baking soda
1 teaspoon baking powder
1 (medium) bag M&M's (take out the brown)
1 tablespoons each blue, red, green, yellow and orange sprinkles
Instructions
Preheat oven to 350 degrees.
Line 2 cookie sheets with parchment paper.
In a mixing bowl, add the butter, sugars, eggs and vanilla.
Mix until light and fluffy.
In a large bowl add the flour, salt ,baking soda and baking powder.
Add butter mixture to flour mixture, stir to combine, Fold in chocolate.
Using ice cream scoop place cookie mounds on prepared cookie sheets (6 to a pan).
Leave the dough in mounds.
Bake 14 to 16 minutes.
Carefully take cookies off cookie sheets and cool completely on a wire rack.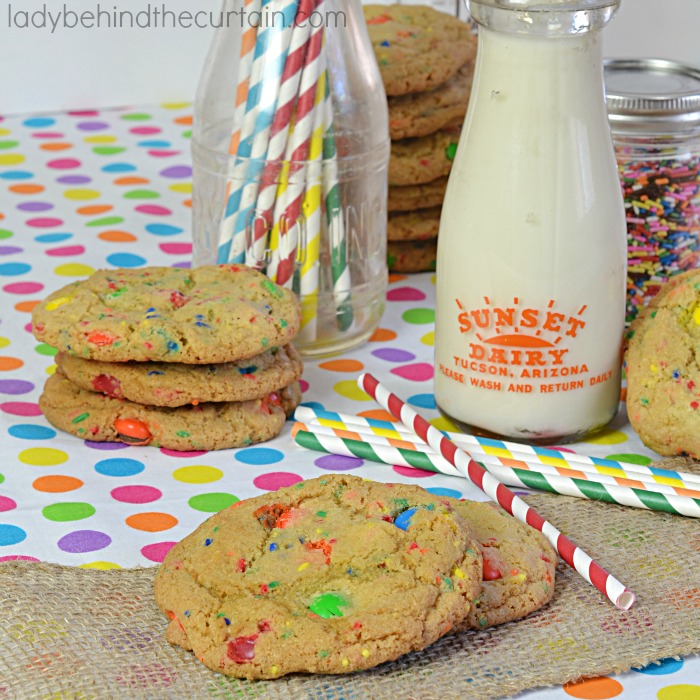 MORE OF MY FAVORITE COOKIE RECIPES
POTATO CHIP COOKIES  2. CARROT CAKE COOKIES  3. CRANBERRY BLISS OATMEAL COOKIES