IT'S SUMMER!!!  The kids are out of school and you know what that means either hit the pool or go to the beach!   I vote for the BEACH!  I love the beach.  Even at my age I love playing in the sand (with my granddaughters).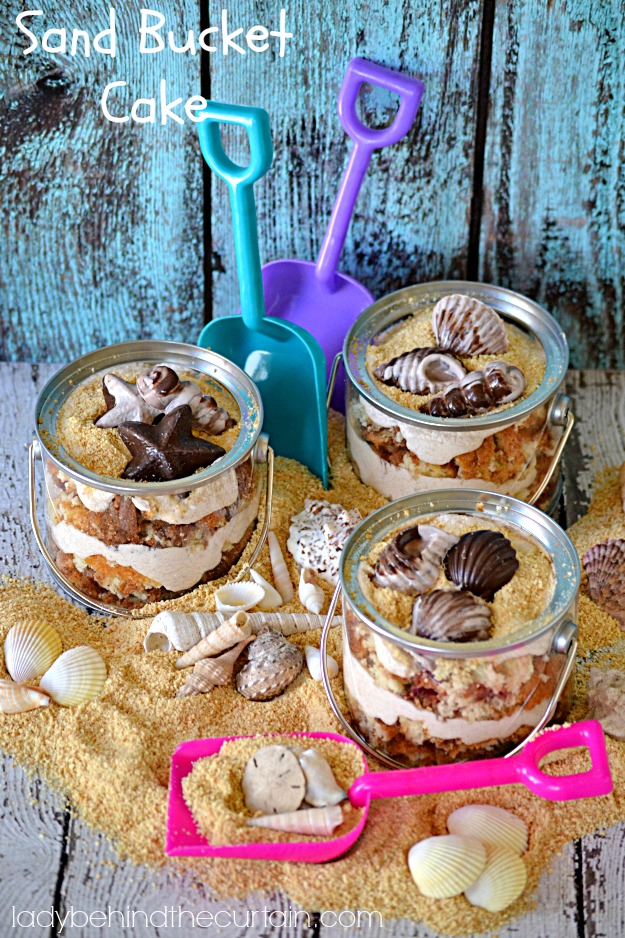 This Sand Bucket Cake is a play on your favorite vacation trip to the beach.  Filled with Cinnamon Swirl Crumb Cake and Cinnamon Frosting.  With the optional bonus of chocolate shells.  Grab a bucket and dig in!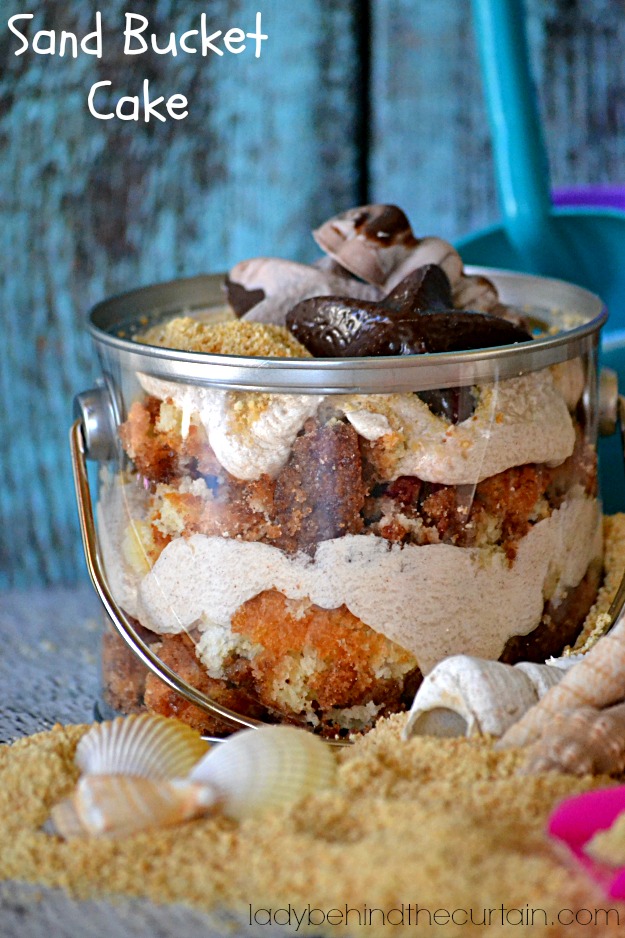 Add this fun Sand Bucket Cake to your dessert table at your beach party, luau or pool party.  Dad would even like these for Father's Day by the pool!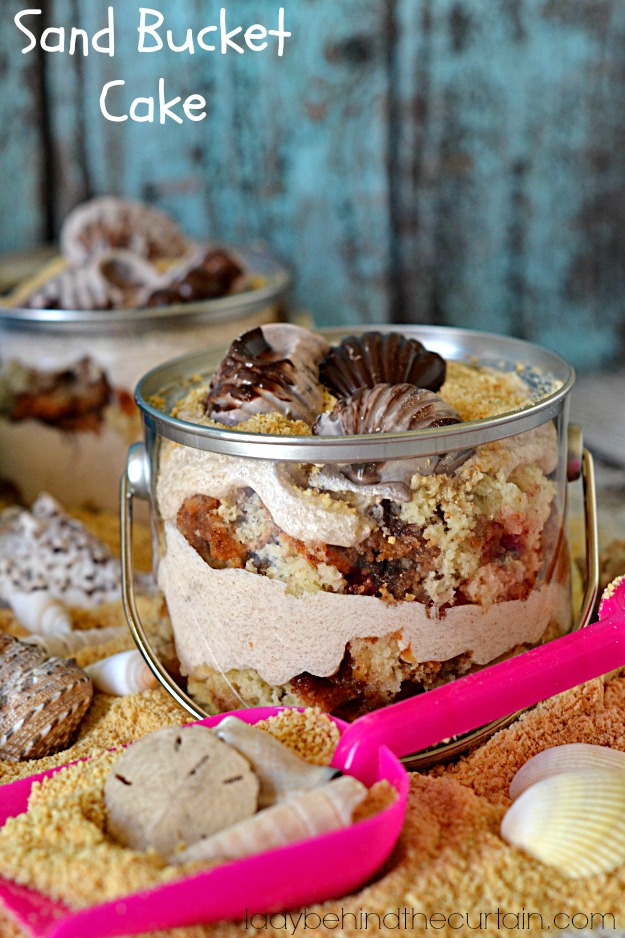 See more fun ideas at my Splish Splash Pool Party and my Country Shrimp Boil Party.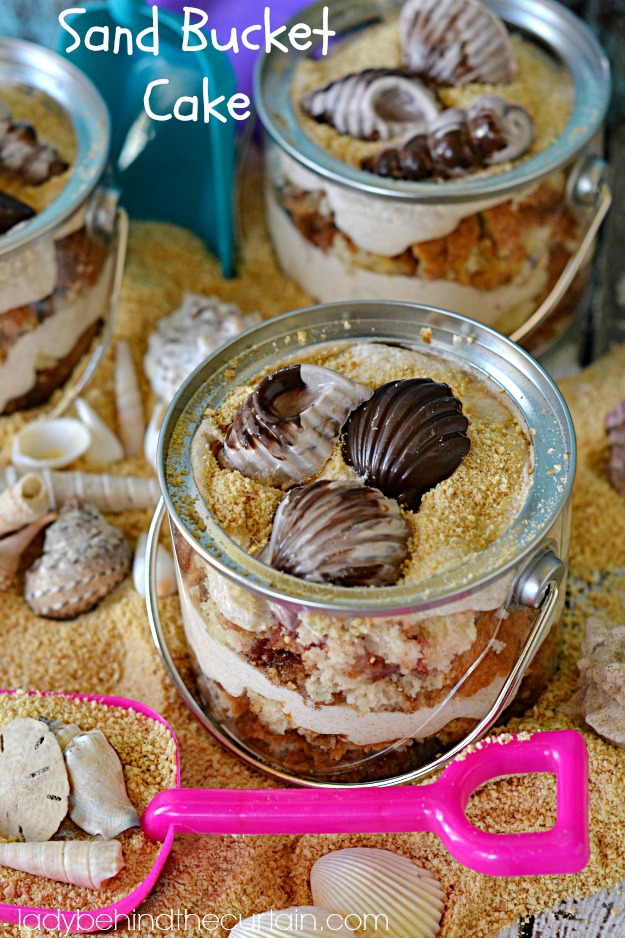 I found the clear paint cans (the buckets measure 3.1-inch x 3.9-inch) at Michael's on the gift wrapping aisle and the chocolate shell mold in the candy making aisle.
Create your own Recipe Box and save your favorite Lady Behind The Curtain recipes.  Make a Meal Plan with your favorite recipes and ZipList will automatically add the ingredients to a Shopping List.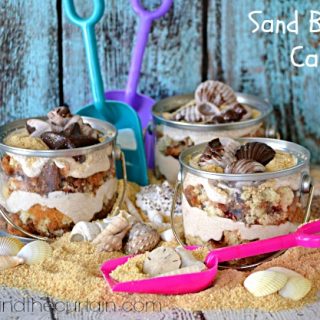 Sand Bucket Cake
Yield:
Fills 4 Sand Buckets
Just because you can't go to the beach doesn't mean you can't bring the beach to you!
Ingredients
1 (21 ounce) cinnamon swirl crumb cake mix plus ingredients on the box
For the Cinnamon Frosting:
1 (8 ounce) cream cheese, softened
1/2 cup butter, softened
2 teaspoons vanilla extract
1 teaspoon ground cinnamon
5 1/2 to 6 cups confectioners' sugar
optional: chocolate shells and ground graham cracker crumbs
Instructions
For the Cake:
Follow directions as lined out on the back of the box.
Cool completely.
Cut cake into 16 pieces.
Crumble 2 squares into the bottom of each paint can for a total of 8 squares.
Spoon frosting into a zip top bag.
Snip the corner and pipe some of the frosting over the first layer of cake.
Crumble another 2 squares on top of the frosting layer for a total of 8 more squares.
Pipe on more frosting smooth with an off set spatula and sprinkle with ground graham cracker crumbs.
For the Cinnamon Frosting:
Cream butter, cream cheese, vanilla and cinnamon until fluffy.
Add confectioners' sugar 1 cup at a time until frosting reaches spreading consistency.