Semi Homemade Banana Split Mini Cakes
Semi Homemade Banana Split Mini Cakes. Looking for something new to serve at your birthday party? Change up the typical cupcake into a fun banana split mini cake baked in a sugar cone bowl. It's a celebration in a bowl! Starting with a banana cake (a dressed up cake mix), topped with a thick delicious chocolate, marshmallow topping, sprinkles and a cherry on top. It's the perfect way to end a great party!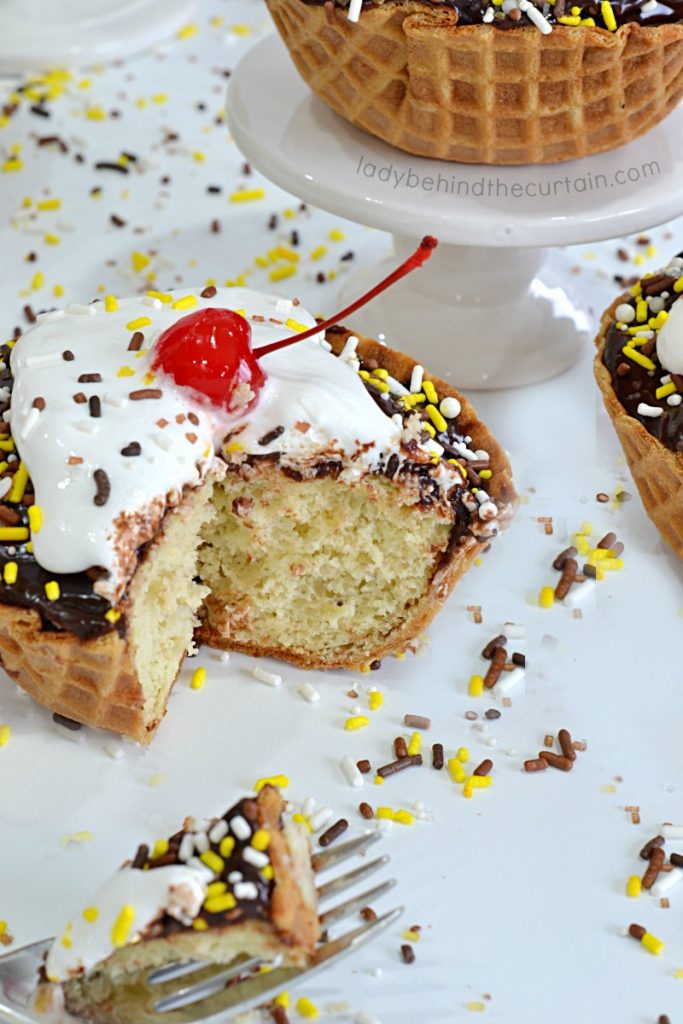 Important step to making successful mini cakes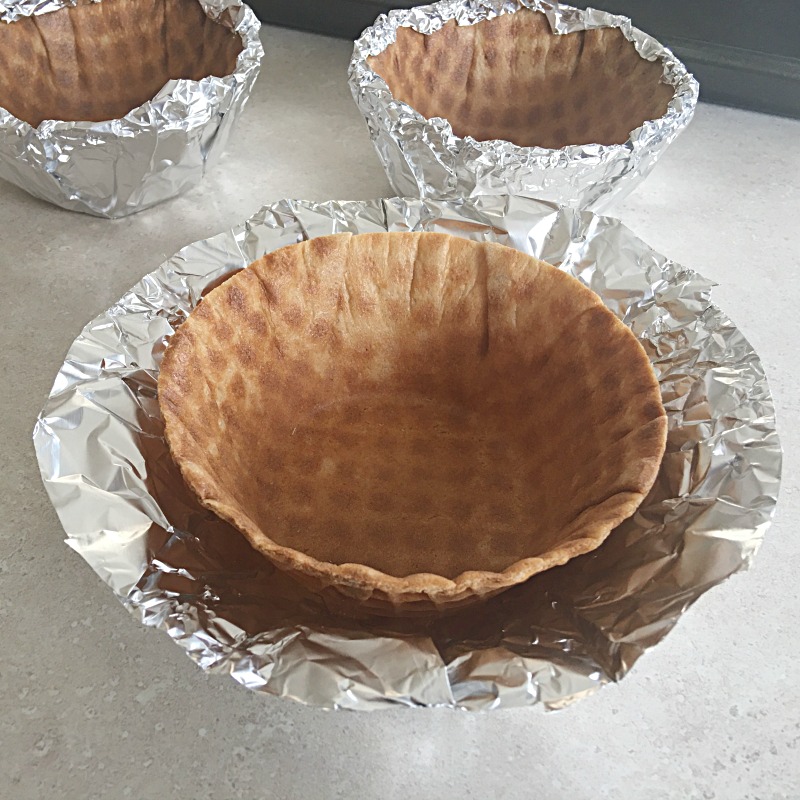 Recipe Variations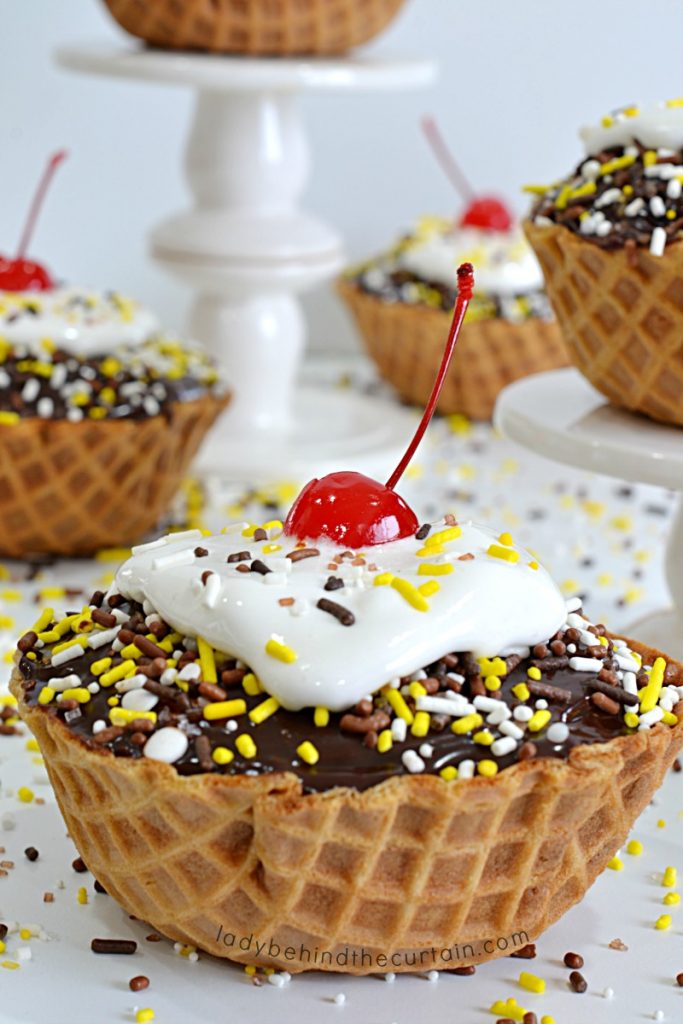 Think your favorite flavor combos….

Strawberry cake and the chocolate ganache topping (everyone loves chocolate dipped strawberries)
Chocolate Cake with a Dulce de Leche and peanut topping (it'll taste like you're eating a candy bar)
You could go all out and make a banana cake, strawberry cake and pineapple cake. Add spoonfuls of each flavored batter into each sugar cone bowl for a spectacular banana split cake!
AS YOU CAN TELL THE OPTIONS WILL GO AS FAR AS YOUR IMAGINATION WILL LET YOU….on and on and on…..
HOW TO MAKE SEMI HOMEMADE BANANA SPLIT MINI CAKES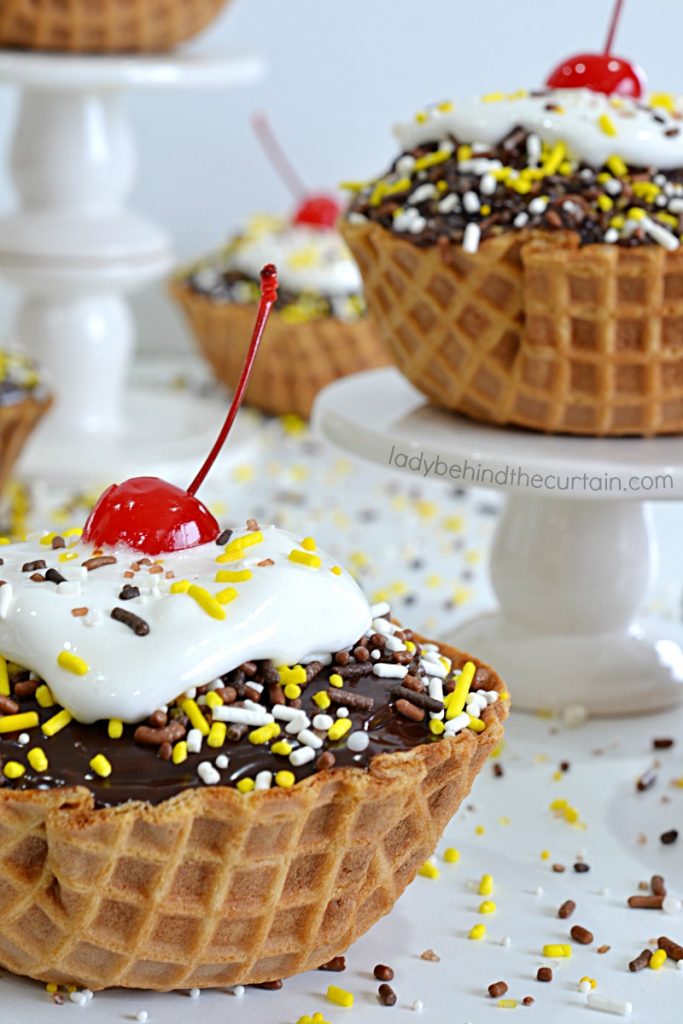 INGREDIENTS

waffle bowls
French vanilla cake mix
mashed bananas
sour cream
eggs
vegetable oil
semi sweet chocolate
heavy whipping cream
marshmallow cream
sprinkles
maraschino cherries
DIRECTIONS

WRAP EACH WAFFLE BOWL WITH FOIL.
Mix together the cake mix bananas, sour cream, eggs and oil until smooth.
Spoon batter into each prepared bowl (about ½ cup of batter each)
Bake 30 minutes and let cool completely before removing foil.
Heat cream in microwave until hot (about 1 minute), add chocolate and stir until creamy.
Pour over the top of each mini cake.
Let stand until chocolate is set (about 30 minutes).
Heat marshmallow cream in the microwave 30 seconds on high, spoon on top of chocolate, garnish with sprinkles and a cherry.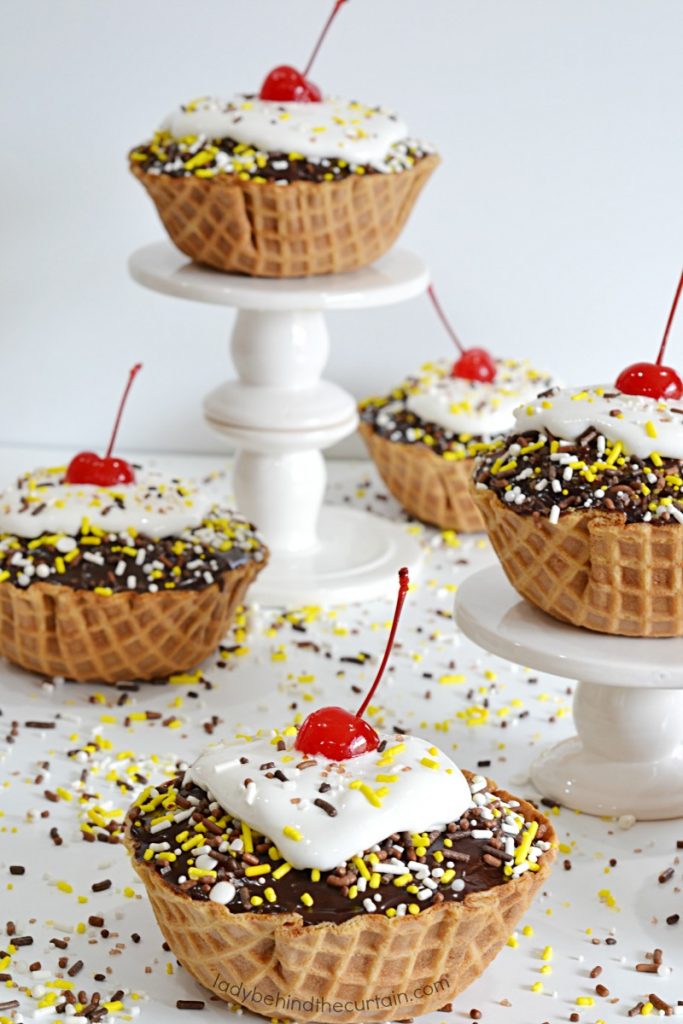 MORE PARTY THEME DESSERT RECIPES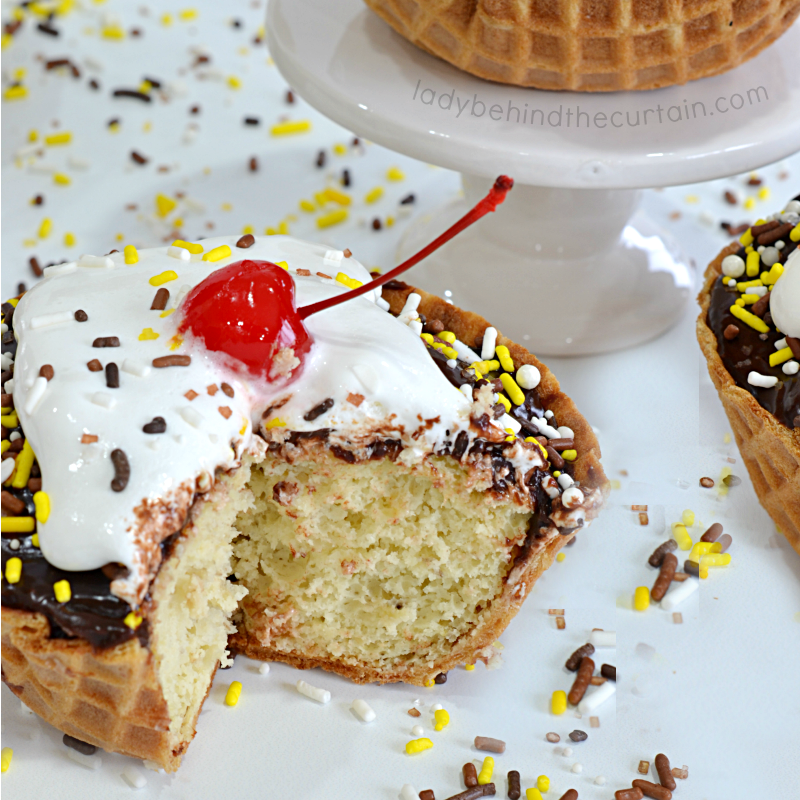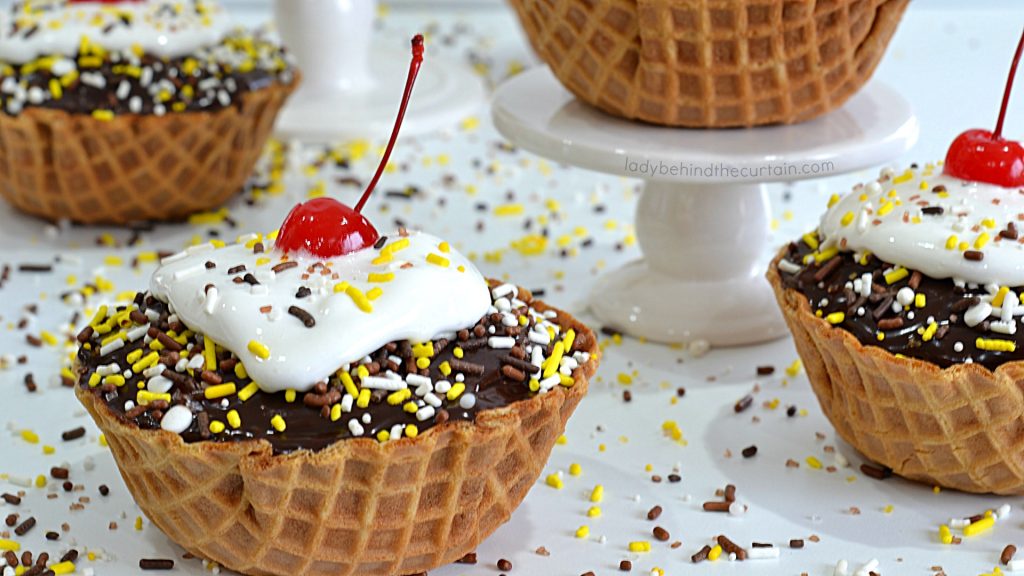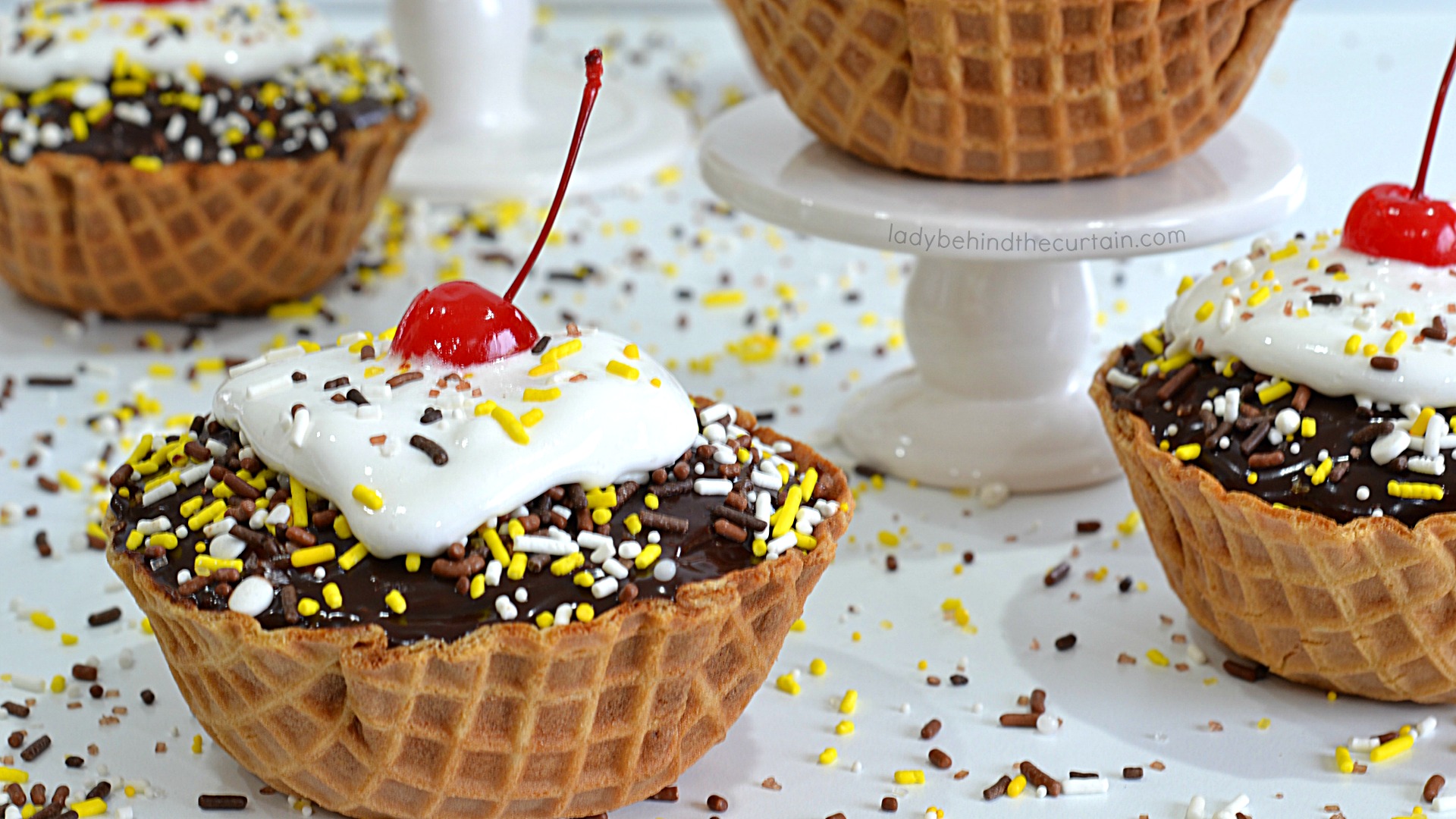 NEVER MISS A POST