Hash Brown Quiche | Instead of using a pie crust use hash browns for a crisp delicious crust.  The flavor of this Quiche reminds me of Latkes.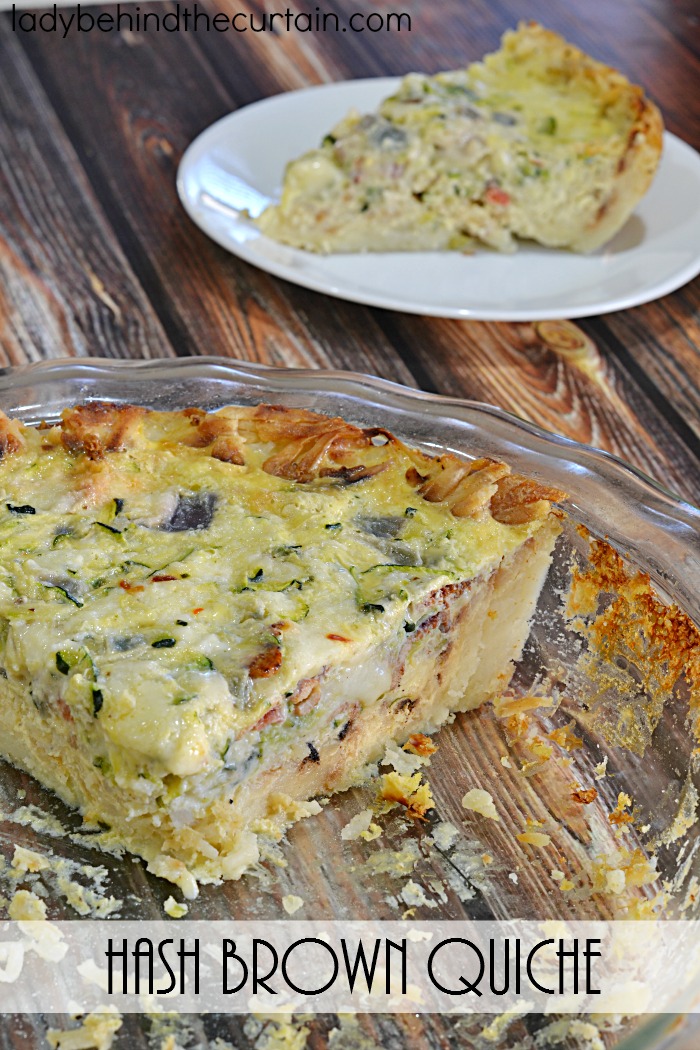 Line this Quiche with crispy hash browns, sprinkled with bacon, fresh zucchini and Gouda!  Perfect for those who can't have gluten.  Serve this outstanding dish at an Easter Brunch, Ladies Luncheon or on Mother's Day.  Add some Cinnamon Blueberry Crumble Muffins and my Caramel Apple Yogurt to your menu too!
Press hash browns into the bottom of a skillet.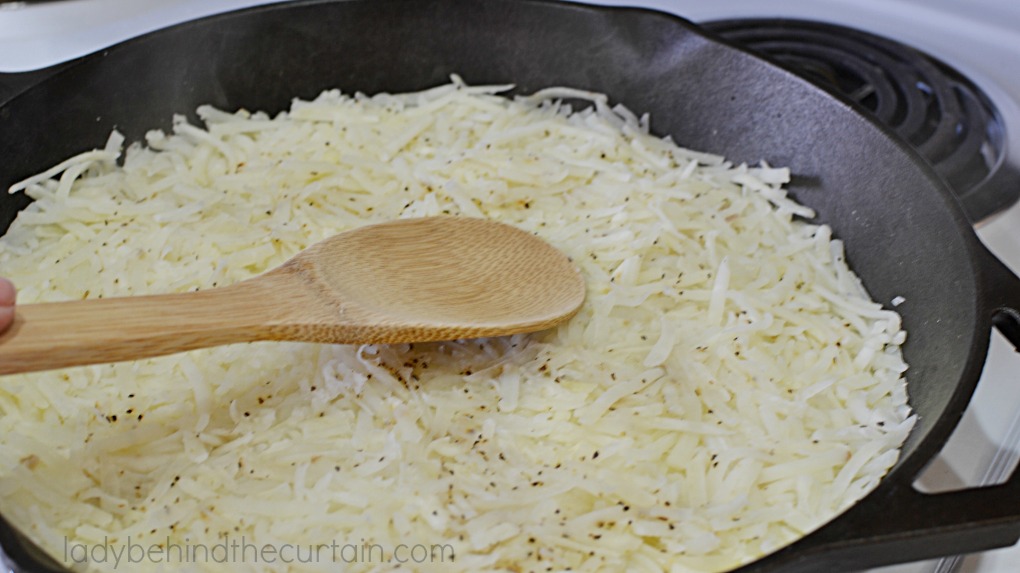 Brown both sides; turn over into a pie pan and work the hash browns up the sides like a pie crust.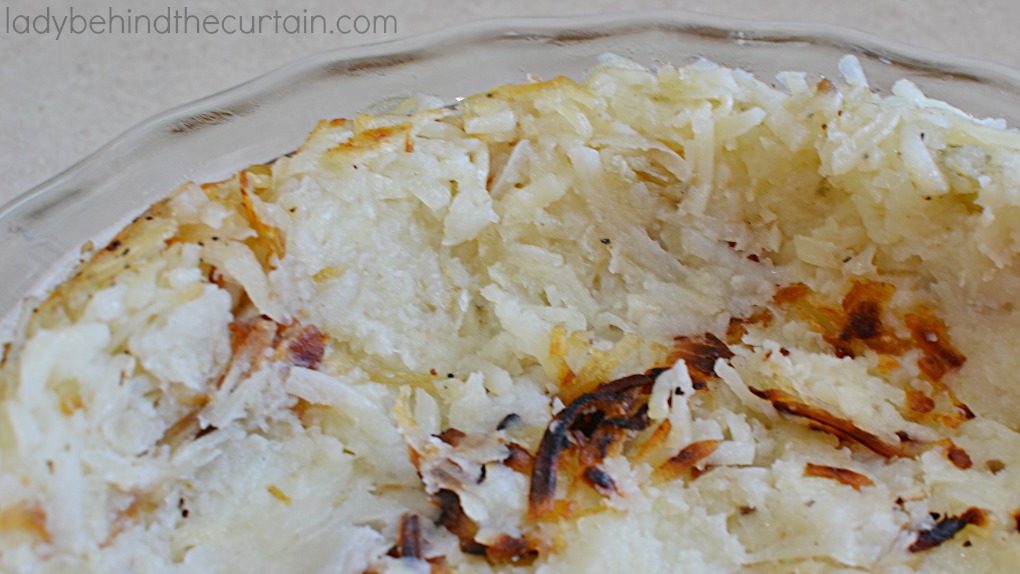 Add filling and bake.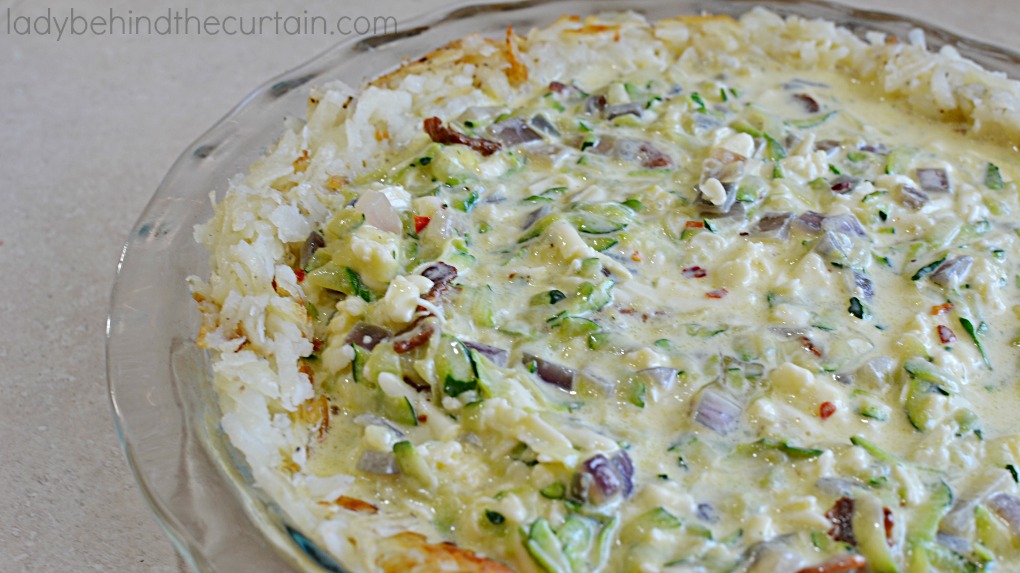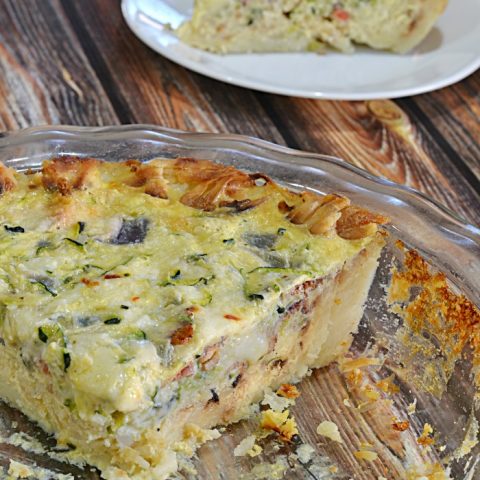 Hash Brown Quiche
Ingredients
1-3/4 pounds frozen hash browns, defrosted
1/2 teaspoon salt
1/8 teaspoon pepper
2 tablespoons oil, divided
1 tablespoon butter
4 slices bacon, cut into pieces and fried
1-1/4 cups coarsely shredded zucchini (1 medium)
1/2 cup chopped red onion (1 medium)
4 eggs, lightly beaten
1 cup half and half or light cream
1/4 teaspoon crushed red pepper
1 cup shredded Gouda
1 tablespoon all-purpose flour
Instructions
For the Hash Brown Crust:
In a bowl mix together the hash browns, salt and pepper.
Heat and add oil and butter to a 10-inch skillet.
Press hash browns into the bottom of a skillet, cook until brown and slightly crispy.
Turn over and brown the opposite side.
Once both sides are brown, transfer (by turning over) into a pie pan.
Press hash browns up the sides (all the way to the top).
For the Hash Brown Quiche:
Preheat oven to 400°.
In a large bowl stir together bacon pieces, zucchini, onion, eggs, half and half, red pepper, cheese and flour.
Whisk until combined.
Pour into hash brown crusted pie pan.
Bake 35 to 40 minutes or until center is set, the top is puffed and golden brown and a knife inserted into the center comes out clean.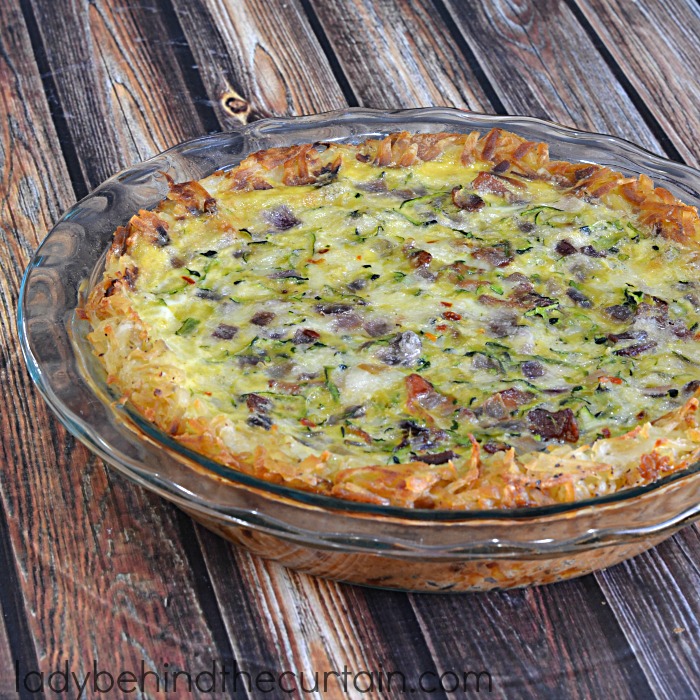 MORE RECIPES WITH EGGS

GREEN CHILES AND RICE FRITTATA  2. PIMIENTO CHEESE BREAKFAST CASSEROLE  3.  ASPARAGUS BACON QUICHE