Hash Brown Quiche | Instead of using a pie crust use hash browns for a crisp delicious crust.  The flavor of this Quiche reminds me of Latkes.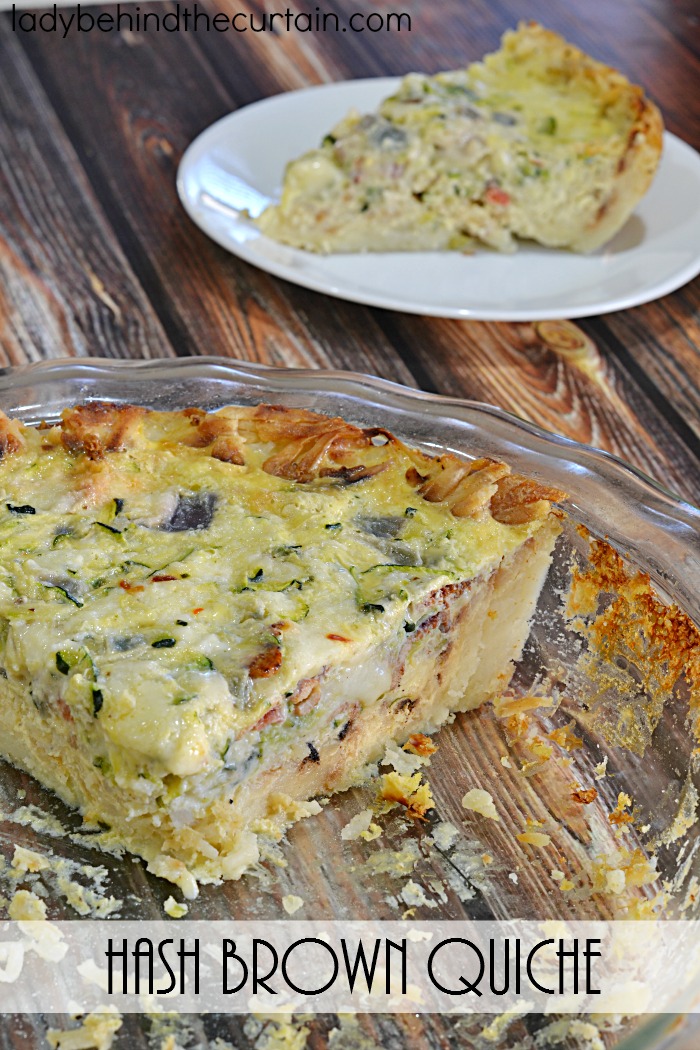 Line this Quiche with crispy hash browns, sprinkled with bacon, fresh zucchini and Gouda!  Perfect for those who can't have gluten.  Serve this outstanding dish at an Easter Brunch, Ladies Luncheon or on Mother's Day.  Add some Cinnamon Blueberry Crumble Muffins and my Caramel Apple Yogurt to your menu too!
Press hash browns into the bottom of a skillet.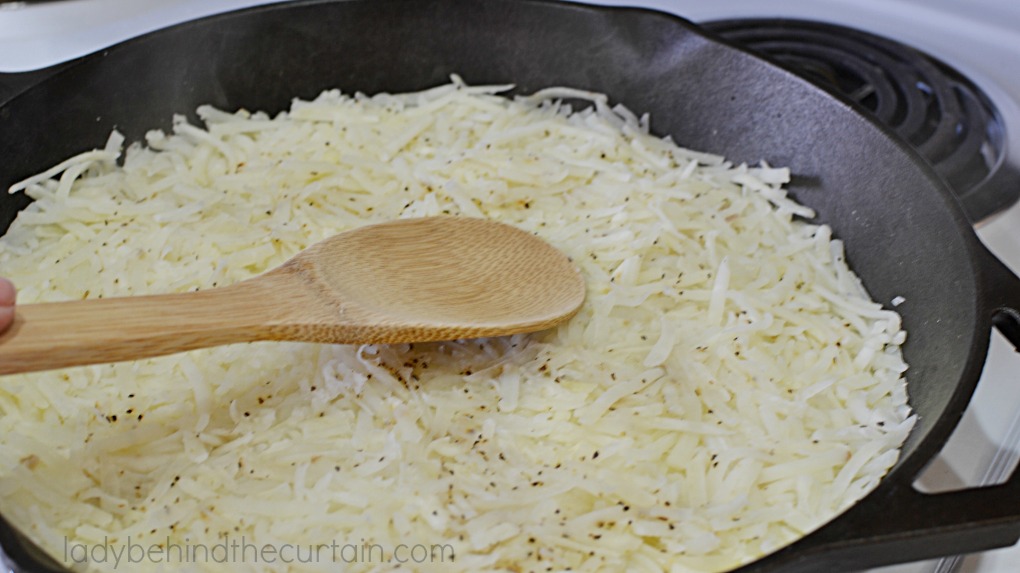 Brown both sides; turn over into a pie pan and work the hash browns up the sides like a pie crust.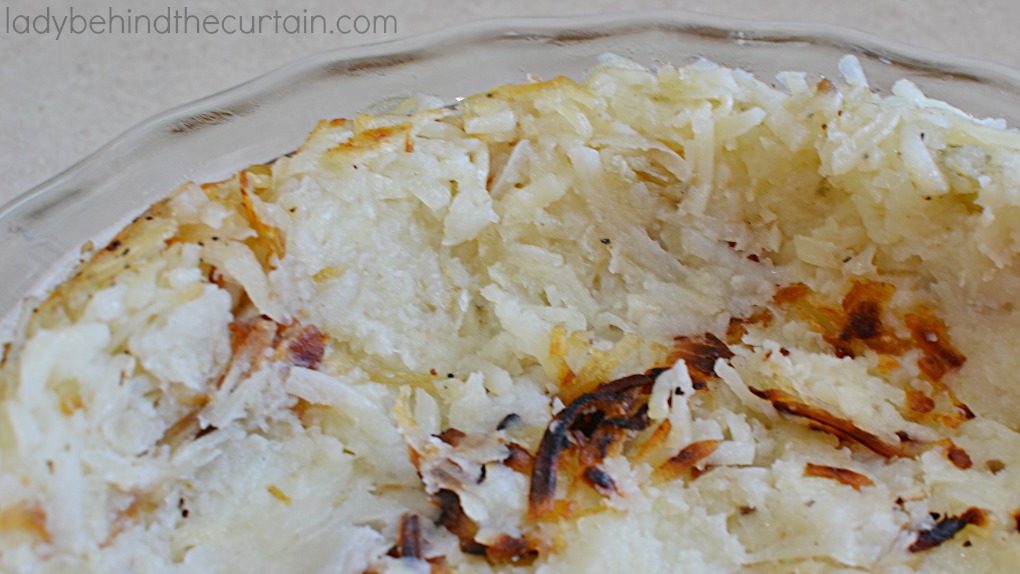 Add filling and bake.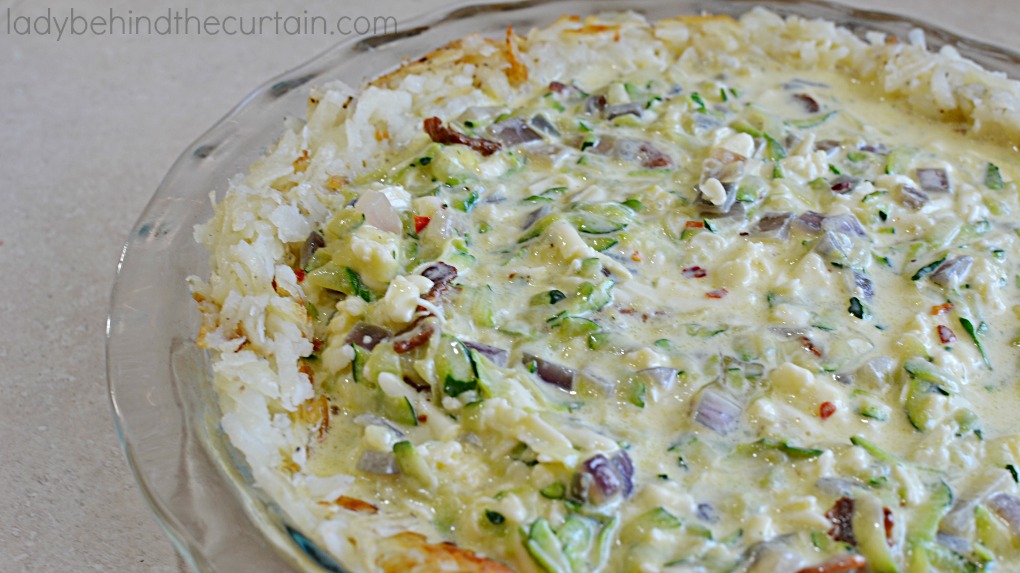 Ingredients
1-3/4 pounds (1-30 ounce bag) frozen hash browns, defrosted
1/2 teaspoon salt
1/8 teaspoon pepper
2 tablespoons oil, divided
1 tablespoon butter
4 slices bacon
1-1/4 cups coarsely shredded zucchini (1 medium)
1/2 cup chopped red onion (1 medium)
4 eggs, lightly beaten
1 cup half and half or light cream
1/4 teaspoon crushed red pepper
1 cup shredded Gouda
1 tablespoon all-purpose flour
Instructions
Defrost hash browns; using a paper towel press all the moisture out.
Preheat oven to 325 degrees.
In a 12-inch non stick skillet heat 1 tablespoon of the oil and the butter over medium high heat until butter foams.
Add potatoes to the skillet, spreading into an even layer.
Gently press with the back of a spatula to form a cake.
Reduce heat to medium. Cook, without stirring, about 12 minutes or until the bottom is golden brown and crisp.
Slide the potatoes onto a flat cookie sheet, place a plate over the top and flip the potatoes so that the raw side is facing down.
Add the remaining 1 tablespoon of oil and slide the potatoes back into the pan with the raw side down.
Cook an additional 8 minutes.
Lightly grease a 9-inch pie pan or plate.
Slide the potatoes into the pie pan, pressing hash browns into the bottom and up the sides of the pie pan.
In a skillet cook bacon until crisp.
Drain, reserving 1 tablespoon of the drippings.
Crumble bacon; set aside.
Cook zucchini and onion in the reserved dripping over medium heat for 3 to 5 minutes or until tender but not browned.
In a large bowl combine eggs, half and half, the remaining 1/4 teaspoon salt, and the crushed red pepper.
Stir in bacon and zucchini mixture.
In a small bowl combine the cheese and flour.
Add to egg mixture; mix well.
Pour egg mixture into the hash brown lined pie pan.
Bake for 50 to 55 minutes or until a knife inserted neat the center comes out clean.
Let stand for 10 minutes before serving.
https://www.ladybehindthecurtain.com/hash-brown-quiche/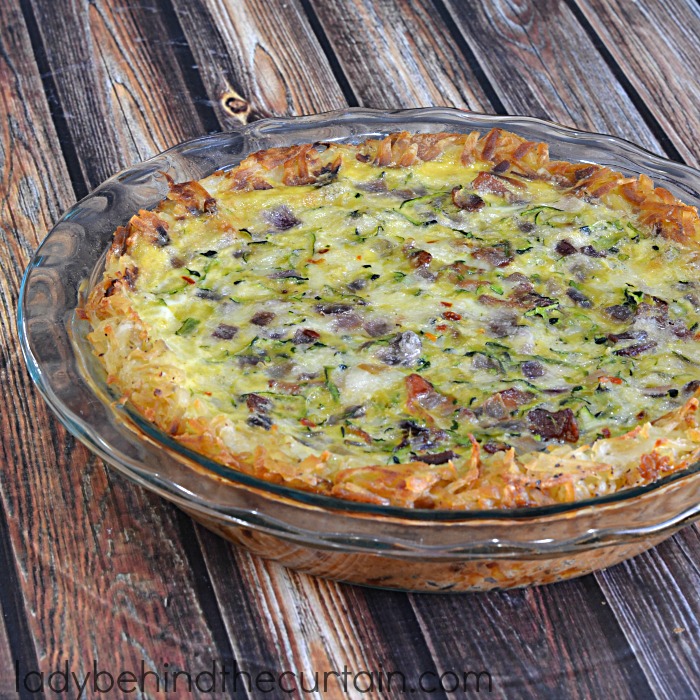 MORE RECIPES WITH EGGS

GREEN CHILES AND RICE FRITTATA  2. PIMIENTO CHEESE BREAKFAST CASSEROLE  3.  ASPARAGUS BACON QUICHE