Highlight the best flavors of fall with these incredible Pumpkin Churro Cupcakes! Combine two of everyone's favorite flavors….PUMPKIN AND CHOCOLATE! Anything pumpkin is always a winner but these moist cupcakes aren't just your typical pumpkin cupcakes. Add a little crunch of texture to the tops by dipping them in melted butter and a cinnamon sugar mixture, and then add a delicious Cinnamon Chocolate Cream Cheese Frosting to make these Pumpkin Churro Cupcakes the perfect Fall Cupcake! Scroll down to get tips on how to get moist cupcakes.
LET'S TALK SPICES
MY FAVORITE FALL CUPCAKES
TIPS FOR TENDER MOIST CUPCAKES
Good ingredients equals great taste. To send your guests straight to cupcake heaven use only the best ingredients. Like real butter, real vanilla and dark dutch cocoa.
Never over bake a cupcake. You can never save an over baked cupcake. You're doing it right when your cupcakes look slightly sunken, rather than peaked. Test them with a toothpick if you're unsure–if no batter clings to the pick, they're done.
Mix batter with a light hand. Baking fluffy, moist cupcakes is all about creating air bubbles in your batter that expand in the oven. If you over mix your batter, you collapse those bubbles. To avoid this mix on a low speed, stopping just as all ingredients blend.
Let all ingredients come to room temperature before baking. All ingredients incorporate into batter mush more easily if they're at similar temperatures.
Baking in advance? Freeze cupcake. If you're baking to eat right away, we recommend storing cupcakes at room temperature. But if they're for tomorrow, freezing will retain their moisture much better than leaving them on a counter overnight.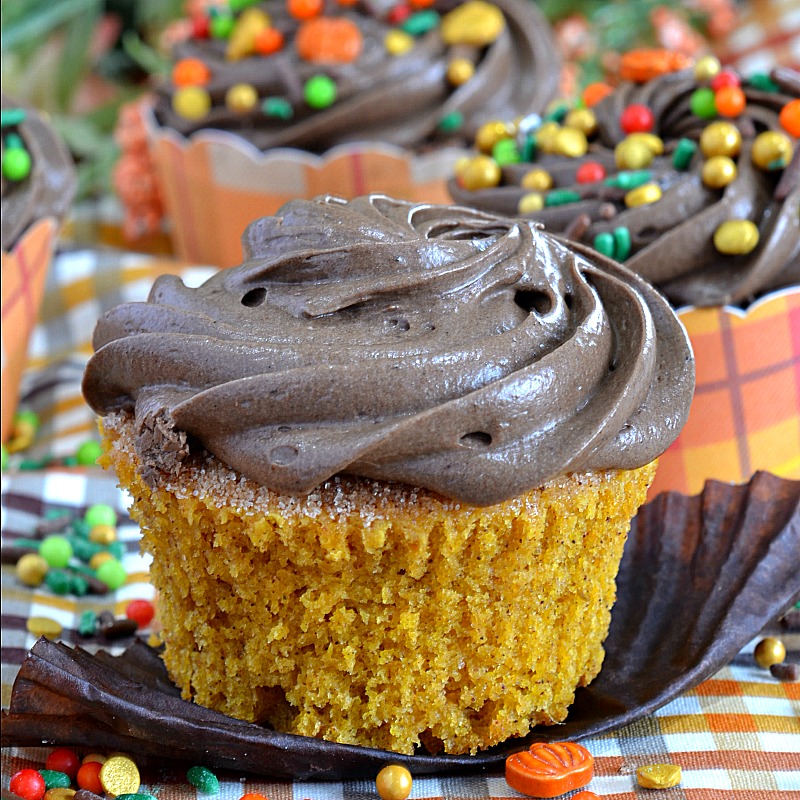 FALL PARTY IDEAS
NEVER MISS A POST
More Fall desserts you might like. MAPLE PUMPKIN CHEESECAKE BARS and CARAMEL APPLE SHEET CAKE.