Pumpkin Churro Cupcakes with Cinnamon Chocolate Frosting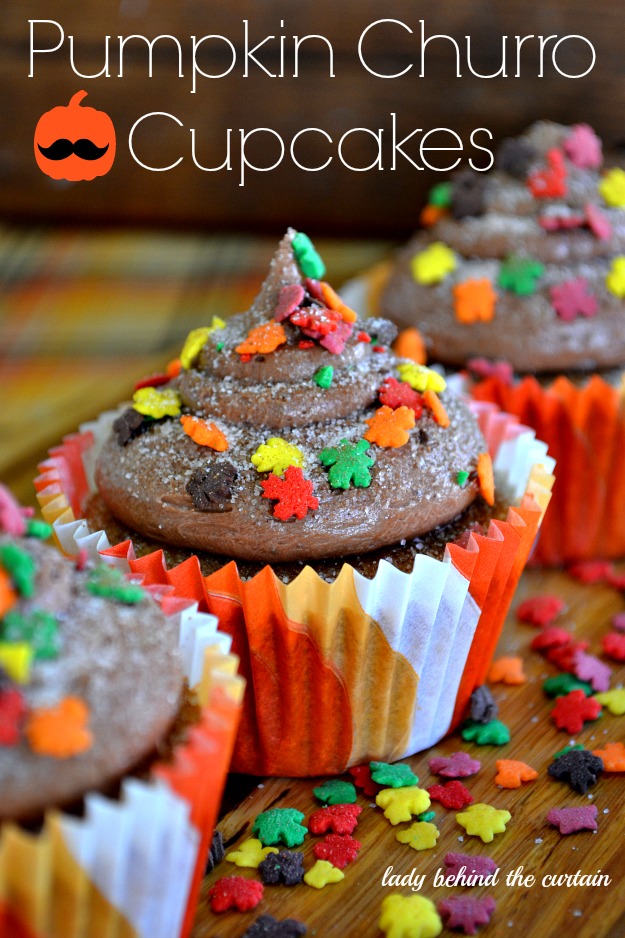 Celebrate Fall with these Pumpkin Churro Cupcakes with Cinnamon Chocolate Frosting!
Pumpkin and chocolate, these two flavors are a match made in foodie heaven.
The cupcake is a spicy pumpkin cupcake sprinkled with a crunchy cinnamon sugar topping.  The frosting is a fluffy chocolate cinnamon treat.
Create your own Recipe Box and save your favorite Lady Behind The Curtain recipes.  Make a Meal Plan with your favorite recipes and ZipList will automatically add the ingredients to a Shopping List.
Pumpkin Churro Cupcakes with Cinnamon Chocolate Frosting
Not just for Fall for any occasion.
Ingredients
For the Cupcake:

3/4 cup butter, softened
2-1/2 cups granulated sugar
3 eggs
1 - 15 ounce can solid pack pumpkin
2-1/3 cups all-purpose flour
1 tablespoon pumpkin pie spice
1 teaspoon baking powder
1 teaspoon cinnamon
3/4 teaspoon salt
1/2 teaspoon baking soda
1/2 teaspoon ginger
1 cup buttermilk

For the Crunchy Topping:

4 tablespoons butter, melted
1/4 cup granulated sugar
1 teaspoon cinnamon

For Cinnamon Chocolate Frosting:

1/2 cup (1 stick) butter, softened
8 ounces (1 brick) cream cheese, softened
1/2 teaspoon vanilla
1 teaspoon cinnamon
1/2 cup unsweetened cocoa
5 cups confectioners' sugar
1 tablespoon milk (if desired)
Optional Fall Sprinkles
Instructions
For the Cupcakes:

Preheat oven to 350 degrees.
Fill muffin cups with 36 paper liners and set aside.
Cream butter and sugar until light a fluffy.
Add eggs, one at a time, beating well after each addition.
Add pumpkin.
Combine the flour, pie spice, baking powder, cinnamon, salt, baking soda and ginger; add to the creamed mixture alternately with buttermilk, beating mixture well after each addition.
Fill paper-lined muffin cups three fourths full.
Bake for 20-25 minutes or until toothpick inserted in the center comes out clean.
Cool for 10 minutes before removing from pans to wire racks to cool completely.

For the Crunchy Topping:

In a small bowl melt butter.
In another small bowl combine the sugar and cinnamon.
When cupcakes are completely cooled brush melted butter on the tops and dip into the cinnamon sugar mixture.

For the Cinnamon Chocolate Frosting:

In a medium bowl, beat butter and cream cheese until light.
Mix in vanilla, cinnamon and cocoa; add confectioners' sugar 1 cup at a time until all is incorporated.
If the frosting gets too thick, add milk a few drops at a time until it reaches desired consistency.
Pipe on frosting.
Optional: Add Fall sprinkles and sprinkle any remaining sugar cinnamon mixture leftover from the crunchy topping.
Notes
https://www.ladybehindthecurtain.com/pumpkin-churro-cupcakes-with-cinnamon-chocolate-frosting-behind-the-curtain-dessert-challenge/