Cinnamon Roll Cupcakes | Tastes just like a light and fluffy cinnamon roll!  Two treats in one!  And….a cinnamon roll wouldn't be complete without some yummy frosting.  How about Cinnamon Cream Cheese frosting?  Is it a cupcake or a cinnamon roll?  I'll let you be the judge of that.  All I can say is they are delicious!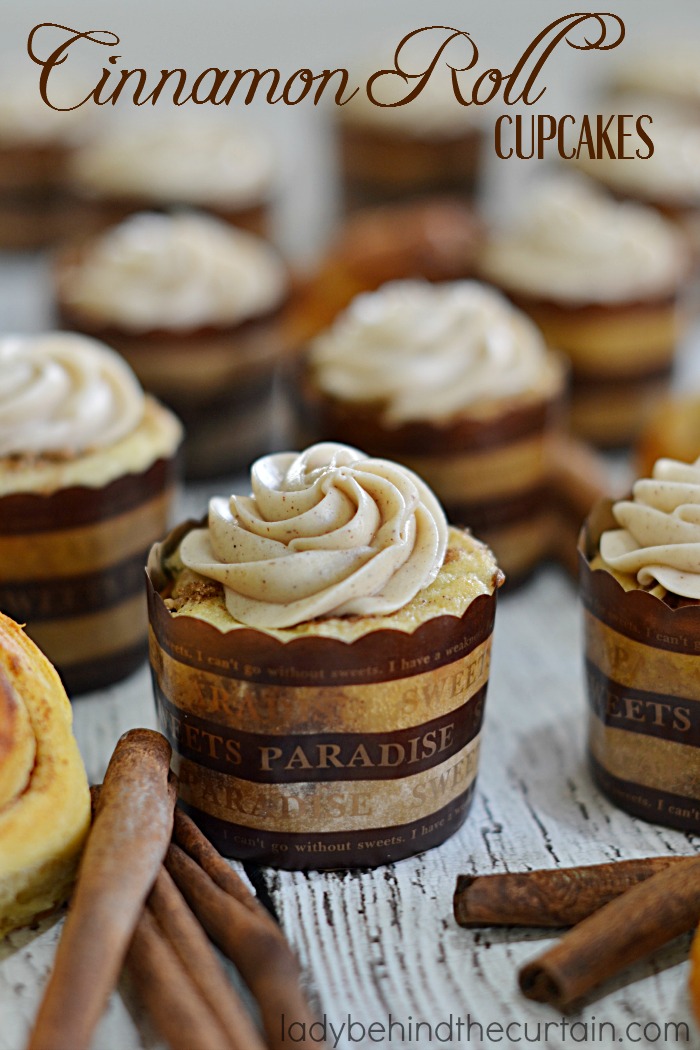 Wondering about the cute cupcake liners I used for these cupcakes?  I ordered them from Welcome Home Brands.  I love how professional they look!
What makes these cinnamon roll cupcakes like eating a cinnamon roll other then the frosting is the filling.  Every good cinnamon roll has some kind of filling and this cupcake is no exception.  Filled and topped with brown sugar, pecans and cinnamon.  Sooooo….. YUMMY!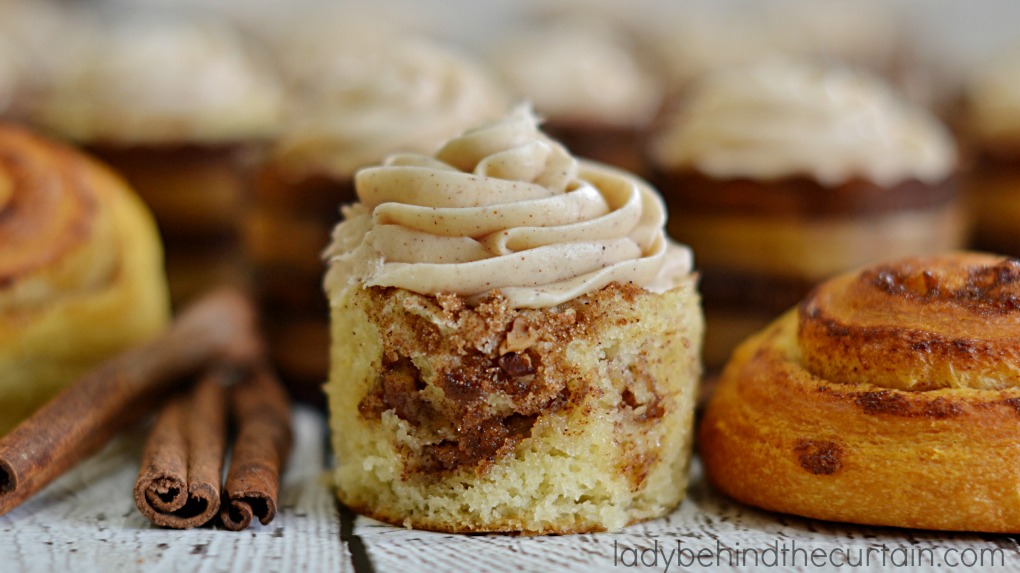 Cinnamon Roll Cupcakes
Ingredients
For the Cinnamon Filling:
3/4 cup light brown sugar, packed
1/2 cup pecans, chopped
2 teaspoons ground cinnamon
For the Cupcakes:
2-1/2 cups all-purpose flour
2-1/2 teaspoons baking powder
1/2 teaspoon salt
2/3 cup butter, room temperature
1-3/4 cups granulated sugar
2 eggs
1-1/2 teaspoons vanilla
1 cup milk
For the Cinnamon Cream Cheese Frosting:
1 (8 ounce) cream cheese, room temperature
1/2 cup unsalted butter, room temperature
2 teaspoons vanilla
1 teaspoon ground cinnamon
5 cups confectioners' sugar
Instructions
For the Filling:
In a small bowl stir together brown sugar, pecans, and cinnamon. Set aside.
For the Cupcakes:
Preheat oven to 350°.
Line two muffin tins with (22) cupcake liners.
Whisk together flour, baking powder, and salt.
Beat butter and sugar until light and fluffy.
Add eggs, one at a time, beating well after each addition.
Beat in vanilla.
Alternately add flour mixture and milk to butter mixture, beating on low speed after each addition just until combined.
Spoon a heaping 1 tablespoon of batter into each prepared muffin cup.
Sprinkle about 1 teaspoon brown sugar mixture over batter in cups.
Spoon another heaping tablespoon of batter evenly over brown sugar mixture in cups; add another heaping teaspoon of brown sugar mixture.
Sprinkle the remaining brown sugar mixture over batter in cups.
Bake for 18 to 20 minutes or until a toothpick inserted in centers comes out clean.
Cool completely in muffin tin then remove to be frosted.
For The Cinnamon Cream Cheese Frosting:
Mix together butter, cream cheese, cinnamon, and vanilla until light and fluffy.
Gradually beat in confectioners' sugar.
If the frosting is too thick add milk 1 tablespoon at a time to reach spreading consistency.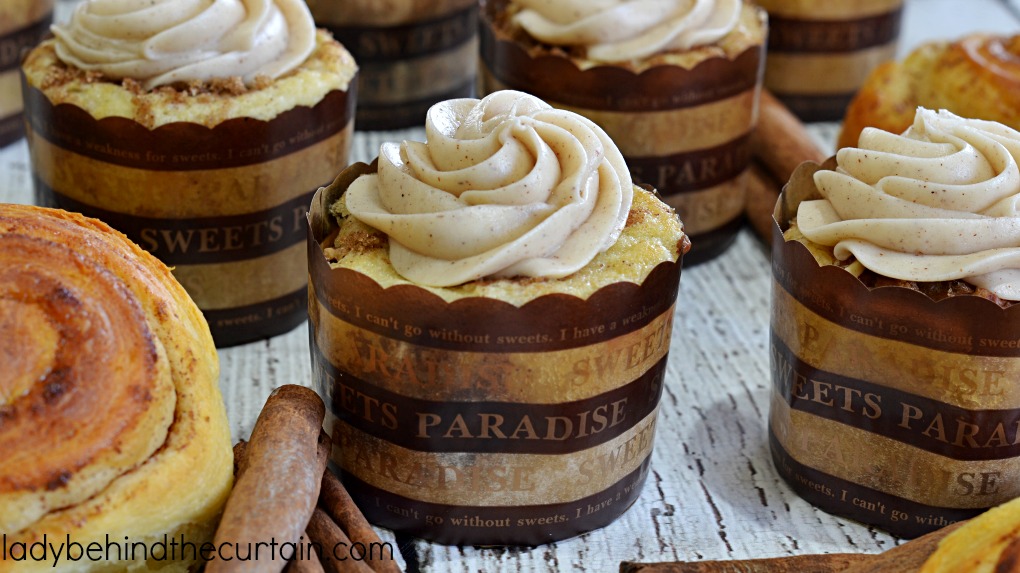 MORE CUPCAKES RECIPES
CARAMEL APPLE PIE CUPCAKES  2. MOCHACCINO CUPCAKES  3. COCONUT LIME CUPCAKES