Chocolate Explosion Oreo Cheesecake
Chocolate Explosion Oreo Cheesecake. Turn the worlds favorite cookie into an incredible cheesecake! This delicious creamy cheesecake has a cookie crust with swirls of Oreo cookies, covered with a hot fudge topping, a chocolate whipped cream border and more Oreo cookies. Beyond delicious and so easy to make!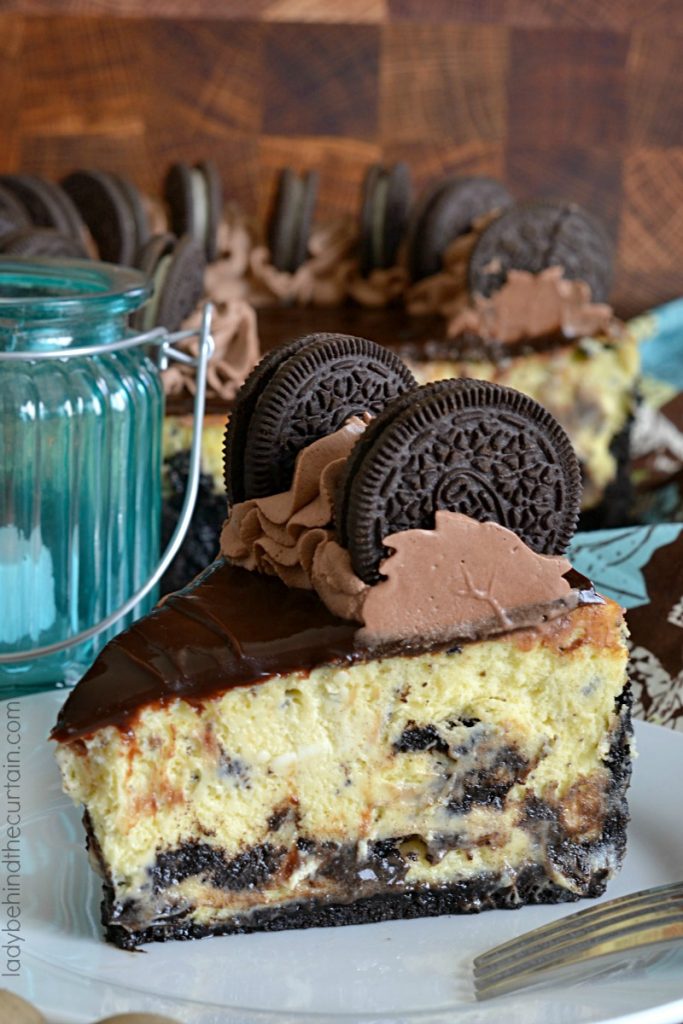 Can I Freeze Cheesecake?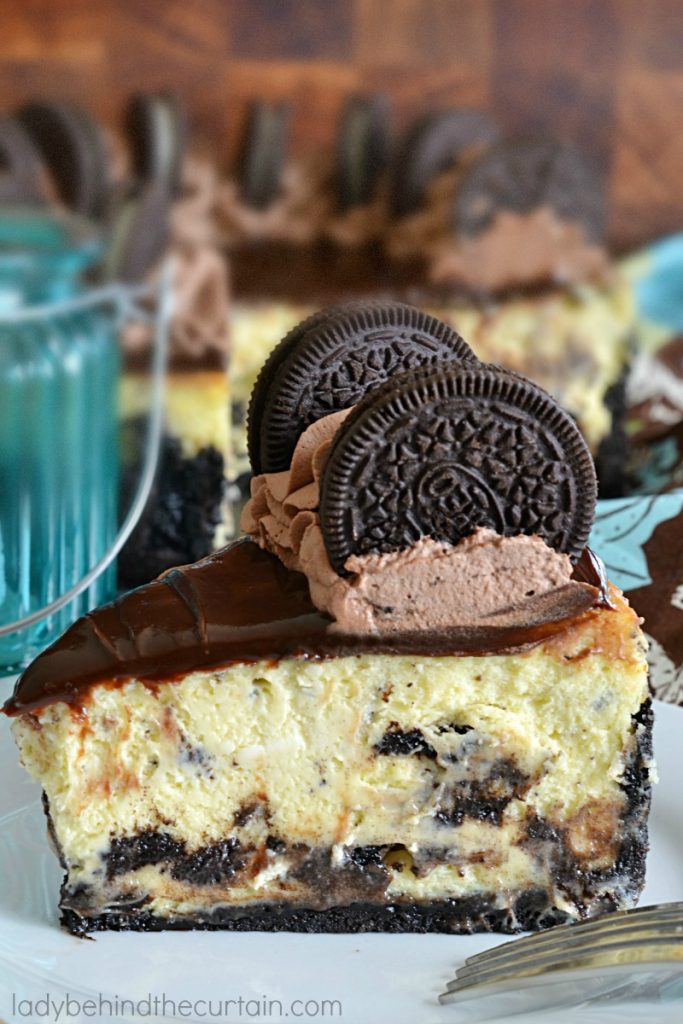 To use the bottom of springform pan: Once the cheesecake is completely cooled and has been in the refrigerator (in the pan) for at least 4 hours preferably overnight. Release the outer rim of the pan, leaving the cheesecake sitting on the bottom of the pan. Wrap the cheesecake with several layers of plastic wrap and a layer of foil.
To use a cardboard bottom: Once the cheesecake has been refrigerated and if completely cooled and firm, use a knife to separate the cheesecake from the pan bottom. Slide it onto a foil wrapped piece of heavy hardboard. Then wrap with several layers of plastic wrap and a layer of foil. (This method scares me)
For a cheesecake with fruit topping: ALWAYS freeze cheesecake WITHOUT the topping. Add the topping before serving
Always thaw a cheesecake overnight in the refrigerator: When partially thawed, transfer if from the cardboard or springform bottom to a serving plate.
HOW TO MAKE OREO CHEESECAKE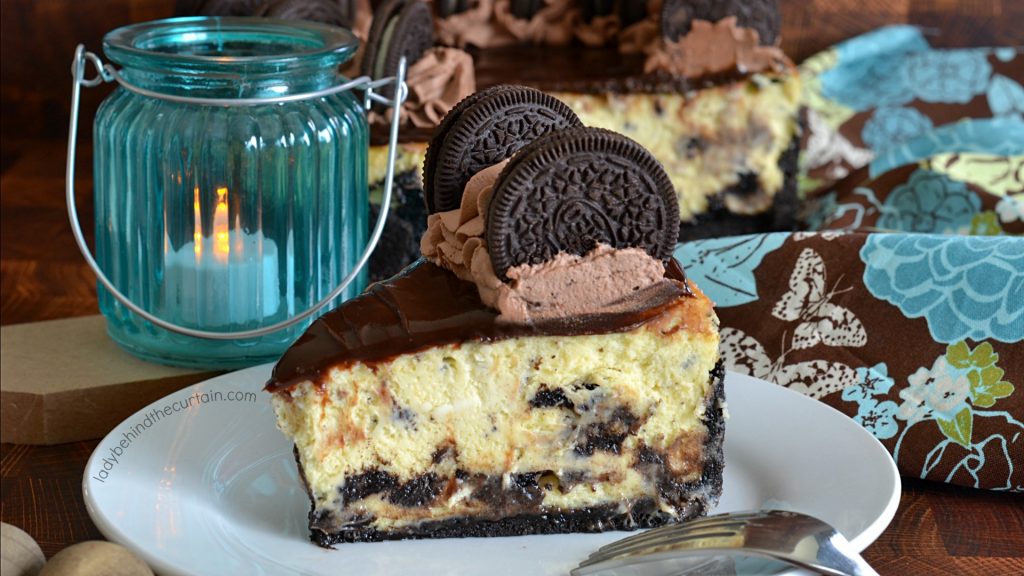 Scroll down for the printable recipe↓
Preheat oven to 350°. Spray a 9″ springform pan with non stick cooking spray. In a food processor, add 28 cookies and 2 tablespoons granulated sugar. Process until crumbs form. In a bowl combine cookie mixture and ¼ cup melted butter. Pour into prepared pan. Press crust mixture onto bottom and 2 inches up the side of pan. Bake 5 minutes, remove from oven. INCREASE OVEN TEMPERATURE TO 500°.
Coarsely chops remaining cookies, reserve. In a large mixing bowl, beat the cream cheese until smooth. add the sugar, beat until light and fluffy (about 2 minuets). Add eggs, egg yolks, sour cream, flour and vanilla. Beat until blended (about 1 minute). Stir in reserved cookies. Pour on top of the crust.
Place large roasting pan on the bottom oven rack, fill half way to the top with hot water. Place cheesecake on the center rack. Bake until top begins to brown (about 10 minutes). REDUCE OVEN TEMPERATURE TO 200°. Bake 1 hour, covering with foil if top browns too much, or until the center slightly jiggles when the pan is shaken. TURN OVEN OFF, let stand in oven 20 minutes. Run knife around edge to loosen. Cool on rack 30 minutes, cover loosely. Refrigerate 4 hours or overnight.
Remove outer pan ring, spread hot fudge topping, Pipe chocolate whipped cream around the edge of the cake, add optional Oreo cookies.
HOW TO FREEZE OREO CHEESECAKE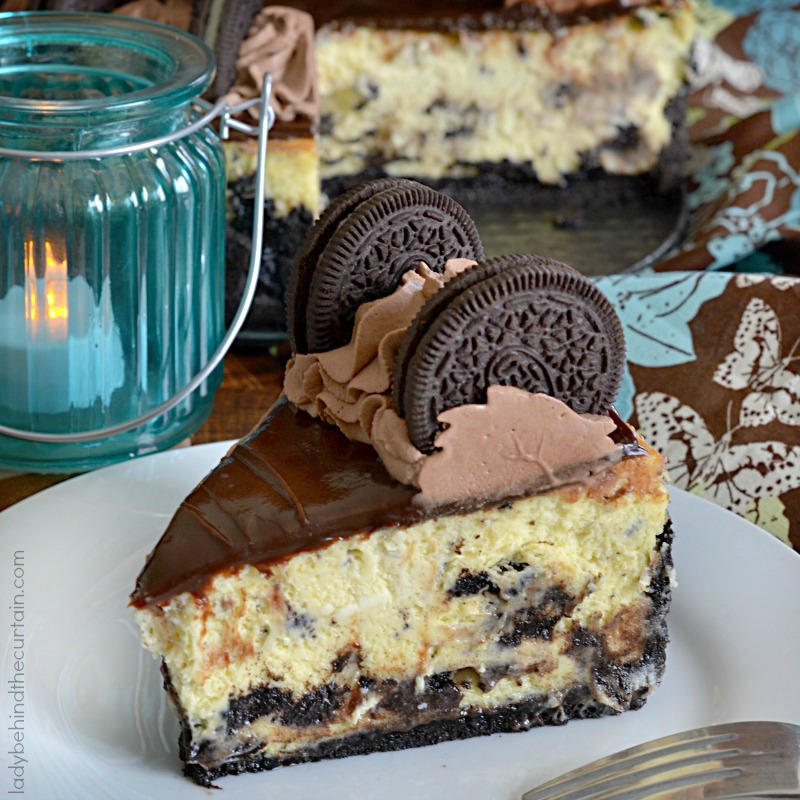 How to Slice Cheesecake
Before slicing hold your knife under hot water—this makes slicing a cheesecake a lot easier.
SOME OF MY FAVORITE CHEESECAKE RECIPES
CLICK HERE FOR OVER 70 CHEESECAKE RECIPES→CHEESECAKE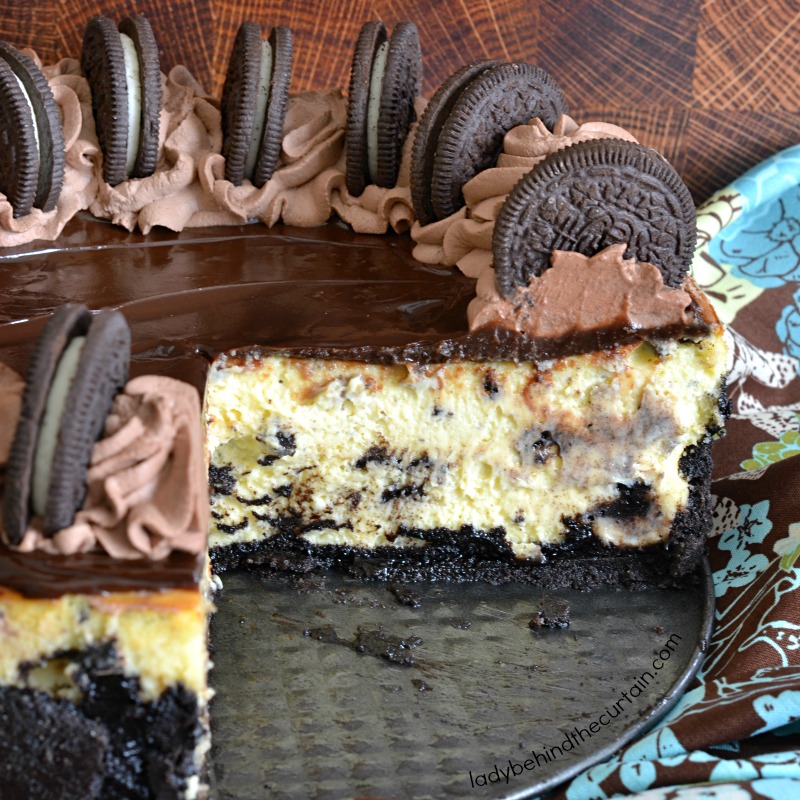 NEVER MISS A POST