Peach Cobbler Parfaits: Creamy vanilla yogurt with thick peach cobbler filling and topped with granola.  The perfect way to start your morning.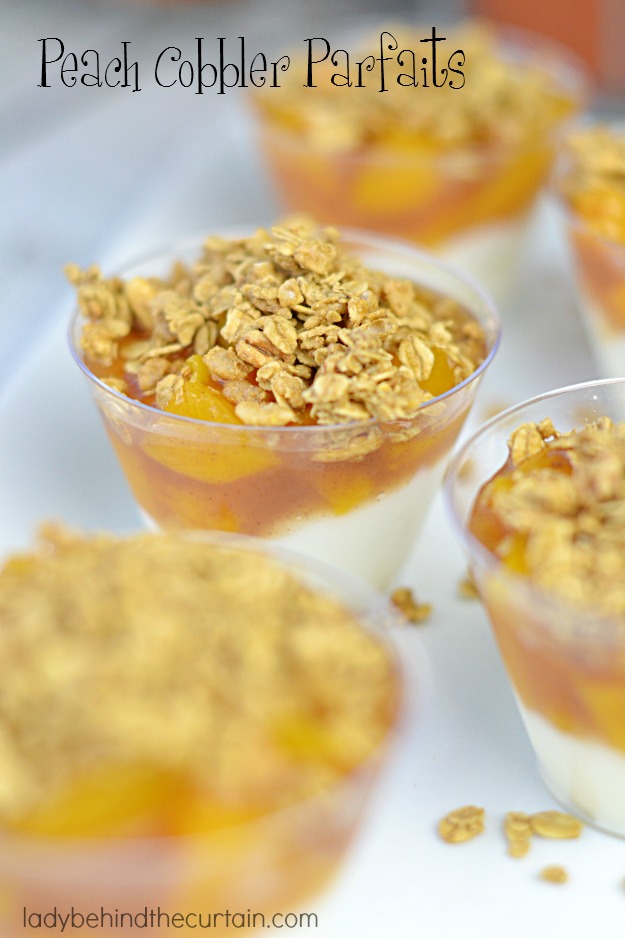 Peach cobbler for breakfast anyone?  Your guests will go crazy for these Peach Cobbler Parfaits.  Start with a homemade peach cobbler filling; made with canned peaches, brown sugar and cinnamon.  Comfort food in a new form.  I made these for an Easter Brunch and in a matter of minutes they were gone!  The filling can be made days in advance and stored in the refrigerator.  You want the filling to be cold when you add it on top of the vanilla yogurt.  The parfaits can be put together the day before your brunch.  These also make a great on the go breakfast!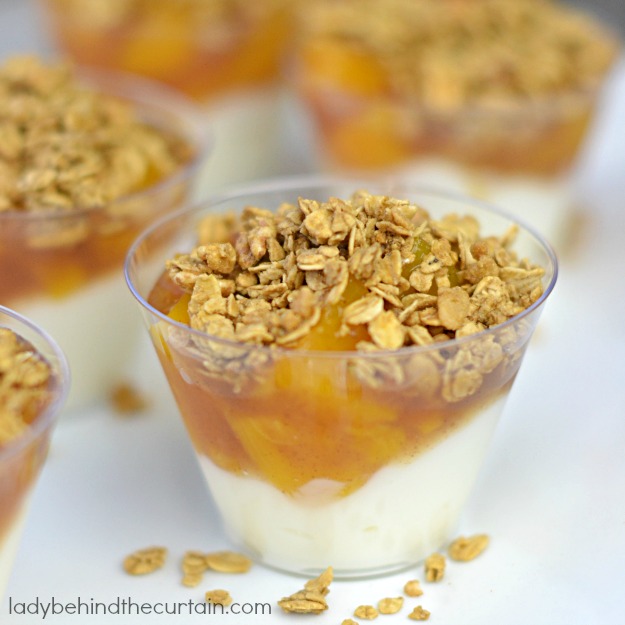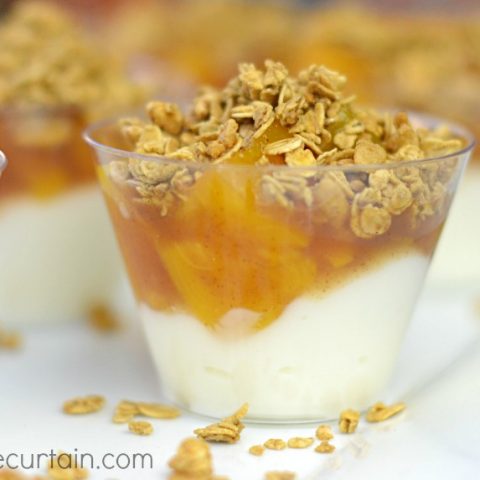 Peach Cobbler Parfaits
Yield:
Peach Cobbler Filling makes 12 Parfaits - Yogurt makes 15 Parfaits
Ingredients
For the Peach Cobbler Filling:
1 (29 ounce) heavy syrup canned peaches, drained reserve juice and chopped
1/3 cup light brown sugar, packed
1 teaspoon ground cinnamon
1 tablespoon cornstarch
1/4 teaspoon salt
1 (28 ounce) vanilla yogurt
granola
12 (5 ounce) cups
Instructions
For the Peach Cobbler Filling:
Drain juice of peaches into a medium saucepan.
Chop peaches into chunks.
Add the brown sugar, cinnamon , cornstarch and salt to the peach juice.
Whisk together; turn heat to medium.
Whisk and cook until bubbling.
Take the sauce off the heat and add chopped peaches; stir to combine.
Pour into a glass container, cover and place in refrigerator until completely cold.
To Assemble:
Add 1/4 cup of yogurt, 1/4 cup peach mixture and 1/8 cup granola.
Store in the refrigerator until ready to serve.
MORE PARFAIT RECIPES

1. CARAMEL APPLE YOGURT  2. NEAPOLITAN PARFAITS  3. BLUEBERRY GREEK YOGURT CHEESECAKE PARFAITS