Easy Cheesecake Bites
|  From the freezer and pantry to the dessert table, these semi homemade treats are perfect for last minute entertaining.  So good your guests will never know you used all store bought ingredients!  I love serving these Easy Cheesecake Bites for Mother's Day. They would also be great at a bridal shower, baby shower and Easter!
Cheesecake LOVE! ♥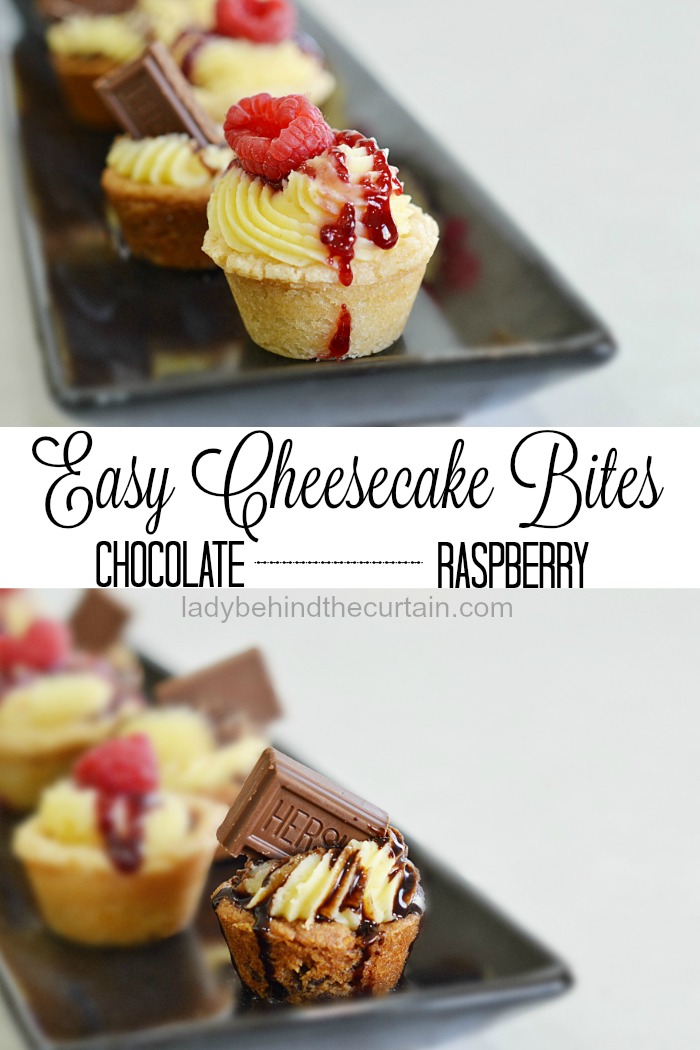 Always….always have a few things on the menu that are semi homemade.  I like to serve a couple of things that are easy to put together.  Being a hostess is stressful enough.  Take some of the pressure off and make a couple of easy items.  Like these Easy Cheesecake Bites.  Not only are these little morsels easy to make but you can make them a couple days before your party.  Just wait to add the toppings.  Go ahead and bake the cookies, add the bottom ingredients to each cup, pipe on the cheesecake and store in the refrigerator in a sealed container until ready to garnish.  Two great flavors!
When asked what she (Ina fro the Barefoot Contessa) looks for when creating a menu for a dinner party, Ina Garten explained, "The key is the final step". Many if not most recipes can be made ahead,  "There are a lot of steps you can do a day before or two days before."  The best make ahead recipes have a final step that is not only easy, but also yields up a dish that is at its best.  This is the motto I go by for all my dinner parties and that's why these Easy Cheesecake Bites fit right in.
Easy Cheesecake Bites
Ingredients
For the Cookie Cups:
sugar cookie and chocolate chip store bought cookie dough
For the Filling:
plain flavor store bought frozen cheesecake, thawed
For the Topping:
seedless raspberry preserves
Fresh raspberries
chocolate ice cream syrup
mini chocolate chips
Instructions
For the Cookie Cups:
Preheat oven 350°.
Place cookie squares in mini muffin cups and bake 20 minutes.
While the cookies are still hot press a measuring spoon in the center to hollow the cookie and form a cup.
Cool in mini muffin cup.
When cool pop out of mini muffin cup and cool completely on wire rack.
For the Filling:
Spoon cheesecake filling into a medium mixing bowl; mix until creamy.
Transfer to a pipping bag fitted with a wide star tip.
For the Raspberry Cheesecake Bites:
Spoon a small amount of the raspberry preserves into each sugar cookie cup; pipe cheesecake filling on top of preserves.
Heat some of the raspberry preserves in the microwave (about 30 seconds) and drizzle on top.
Add a fresh raspberry to each Raspberry Cheesecake Bite.
For the Chocolate Chip Cheesecake Bites:
Add a small amount of mini chocolate chips to the bottom of each chocolate chip cookie cup (about 1 teaspoon), pipe cheesecake filling on top of chocolate chips.
Drizzle chocolate ice cream syrup on top.
Add a few more mini chocolate chips or cut a piece of a Hershey bar in half and add it to each Chocolate Chip Cheesecake Bite.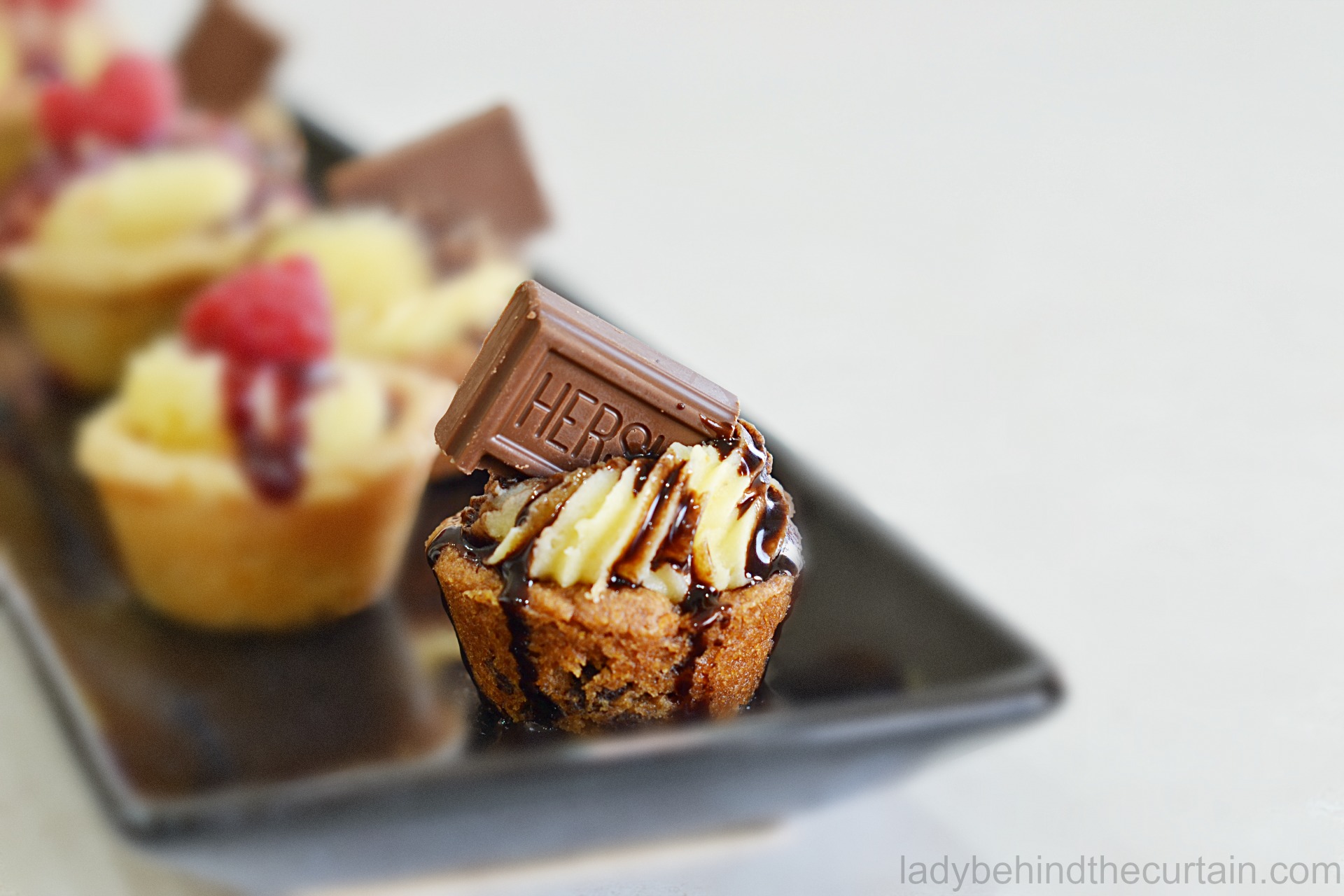 MORE SEMI HOMEMADE PARTY READY DESSERT RECIPES

SWEET APPLE DUMPLINGS  2. MAKE IT YOUR OWN POUND CAKE DIPPING BAR  3. CHERRY CUPCAKE PIE

NEVER MISS A POST!
Sign up for my newsletter (two per month) and receive my recipes in your inbox.  Easy to see anytime and saved for safe keeping.  Click Here and sign up today! —->>>>CURTAIN CALL NEWSLETTER