Blue Ribbon Blueberry Lemon Pie Cupcakes
Blue Ribbon Blueberry Lemon Pie Cupcakes:  Combining blueberry pie filling, lemon curd and moist lemon cupcakes to bring you the best well…blue ribbon worthy pie/cupcakes!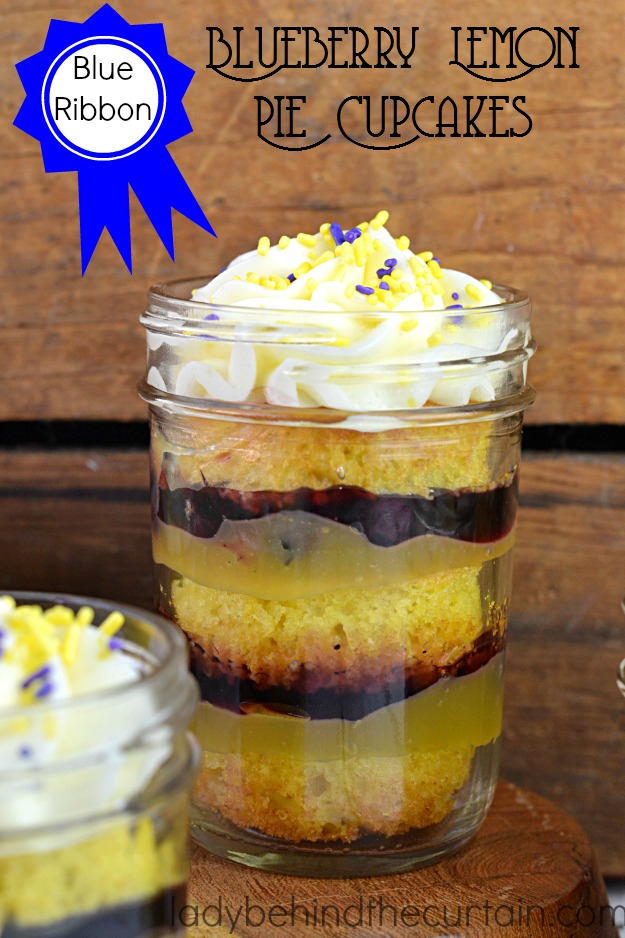 You get the best of both worlds with this dessert and to make it even better it's served in a mason jar!  What?  Didn't you know that everything tastes better in a mason jar?  Yep, it does.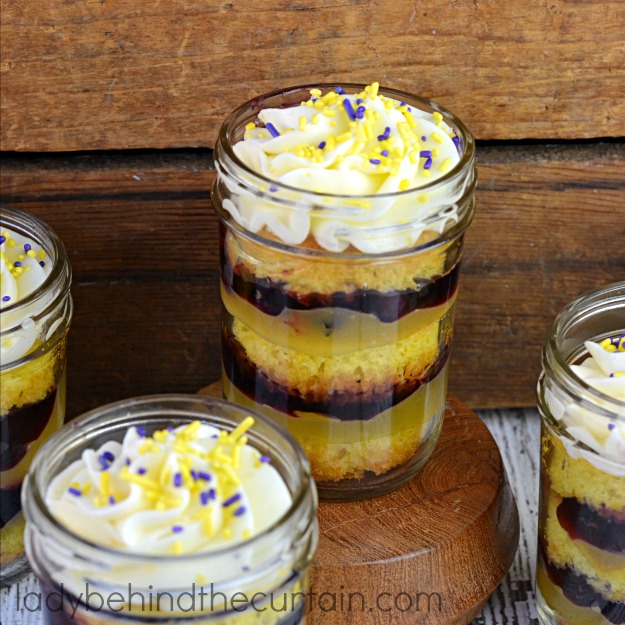 I made this dessert really easy to make starting with a dressed up cake mix, store bought blueberry pie filling and store bought lemon curd.  The lemon cake and frosting compliment the sweet blueberry filling.  Deserving of a blue ribbon!♥
Yield: Fills 12 (8 ounce) jars
Blue Ribbon Blueberry Lemon Pie Cupcakes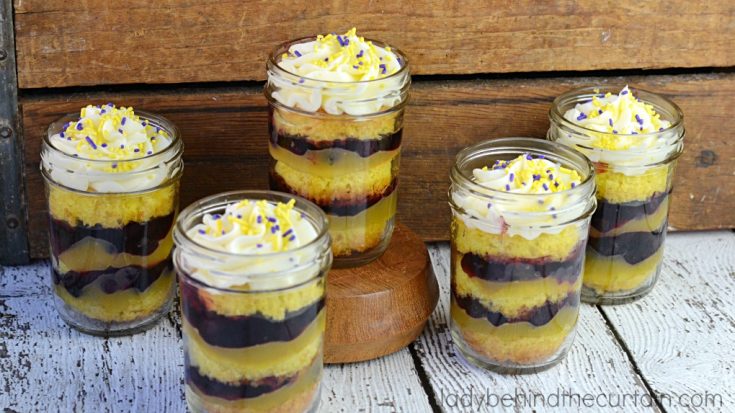 Ingredients
For the Cupcakes and Layers:
1 lemon cake mix
1 (3.4 ounce) instant lemon pudding mix
3/4 cup vegetable oil
3 large eggs
1 cup lemon lime soda
1 tablespoon lemon zest
2 (10 ounce) jars lemon curd
1 (21 ounce) blueberry pie filling
For the Lemon Butter Cream Frosting:
1 cup butter, softened
1 tablespoon lemon juice
1 teaspoon lemon zest
2 cups confectioners' sugar
yellow and purple sprinkles
half pint jars
Instructions
For the Cupcakes and Layers:
Preheat oven to 350 degrees.
Line 20 cupcake wells with liners.
In a medium mixing bowl add the cake mix, pudding mix, oil and eggs.
Mix until combined.
Add the soda and lemon zest and mix until smooth and creamy.
Fill each cupcake well two thirds full; bake 20 minutes or until a toothpick inserted into the center comes out clean.
Cool completely; remove wrappers of 18 cupcakes (reserve the remaining cupcakes for another use); cut in half horizontally.
TIP: You may have to trim round the cupcake eges to fit into the jars.
Add lemon curd to a small pipping bag. TIP: If the lemon curd is too cold or thick pop in the microwave and heat until thin enough to pipe into the jars.
Add layers in this order: Half of a lemon cupcake, pipe a layer of lemon curd (about 1 teaspoon), and spoon in the blueberry pie filling (about 3 tablespoons).
Add another layer the same as above; top with last cupcake half.
Pipe on frosting and top with sprinkles.
For the Lemon Butter Frosting:
Whip butter until creamy; add the lemon juice and zest.
Gradually add the sugar and beat until light and fluffy.
Place is a piping bag fitted with a star tip.
MORE RECIPES IN A JAR

1. BABY FOOD JAR S'MORES  2. BANANA BREAD IN A JAR  3. MINI PAYDAY CHEESECAKES