Caramel Corn Cupcakes: A light and fluffy brown butter Fall cupcake, topped with a spicy caramel buttercream and caramel popcorn topping. Pack up some of these delicious brown butter caramel cupcakes for a cakewalk or bake sale.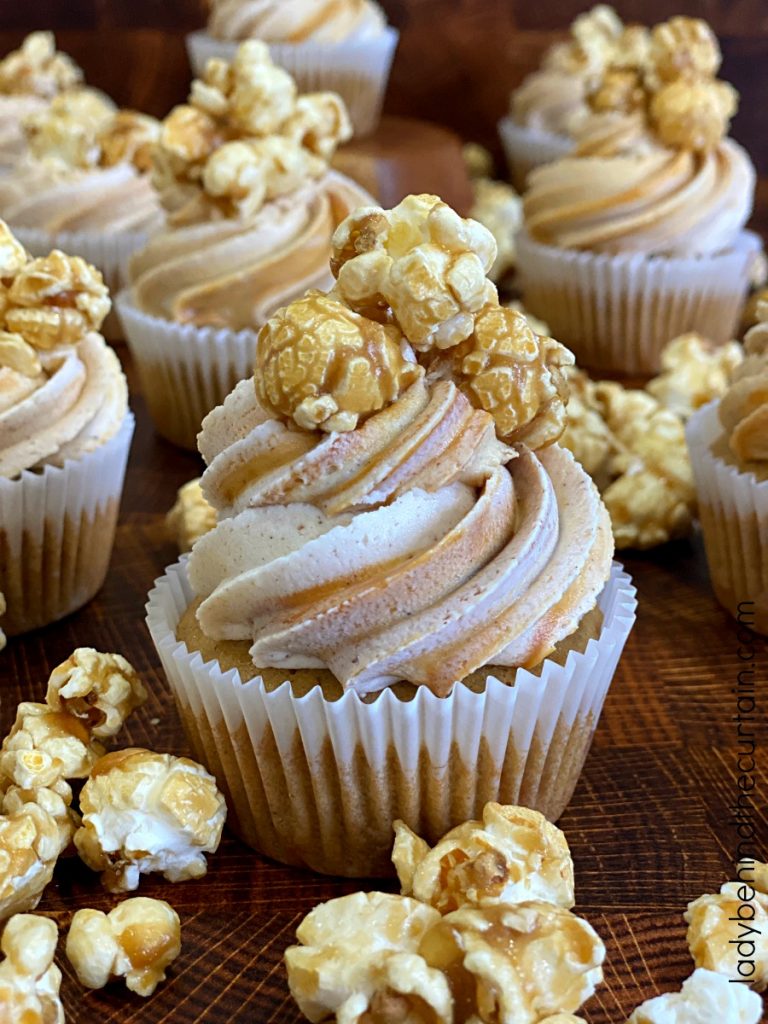 How to Freeze Cupcakes
How to Make Brown Butter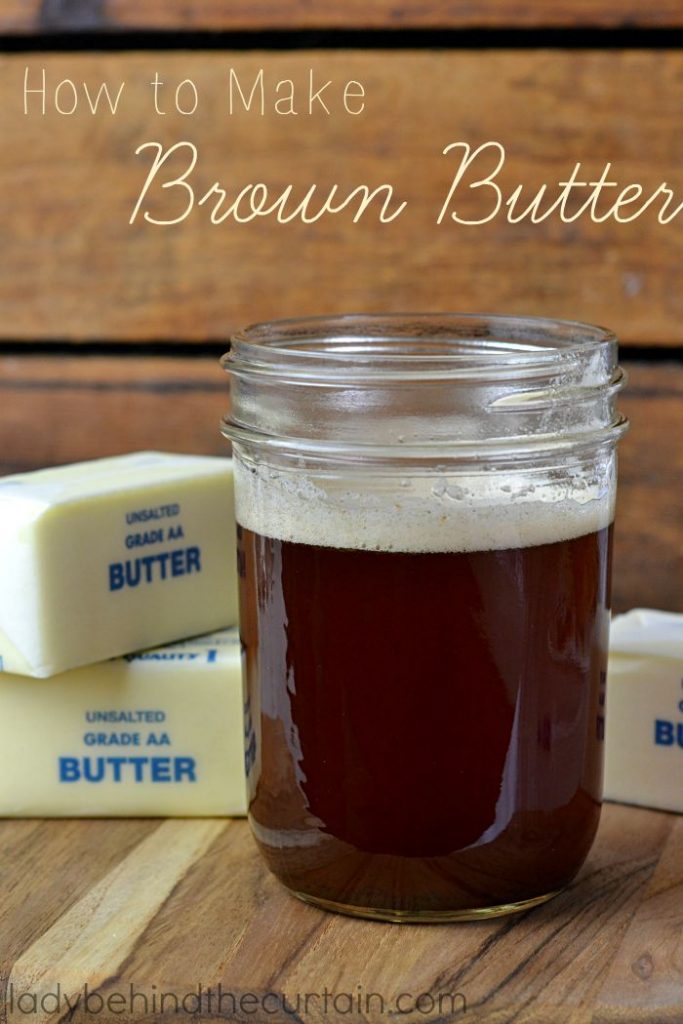 In a small saucepan bring the butter to a boil on medium high, constantly stirring (about 5 to 6 minutes).
Once butter starts to foam you know you're close (like 30 seconds close).
Use the spoon to pull away the top coat (foam) of the butter; when you can see that the butter has reached a caramel color it is done!
Pour into a jar; cool on the counter.
Place a lid on and store in the refrigerator.
HOW TO ADD MORE CARAMEL FLAVOR TO THESE CARAMEL CORN CUPCAKES
ADD CARAMEL TO THE CENTER OF THE BROWN BUTTER CUPCAKE

HERE'S HOW: After the cupcakes are cool, with a pairing knife or the wide end of a piping tip, hollow out some of the cupcake.
Fill with Dulce de Leche—my favorite brand is Nestle. You can find it on the Hispanic isle.
If you have room add the portion of the cupcake that was cut out back on top or leave is open and frosting over.
HOW TO MAKE CARAMEL SWIRL FROSTING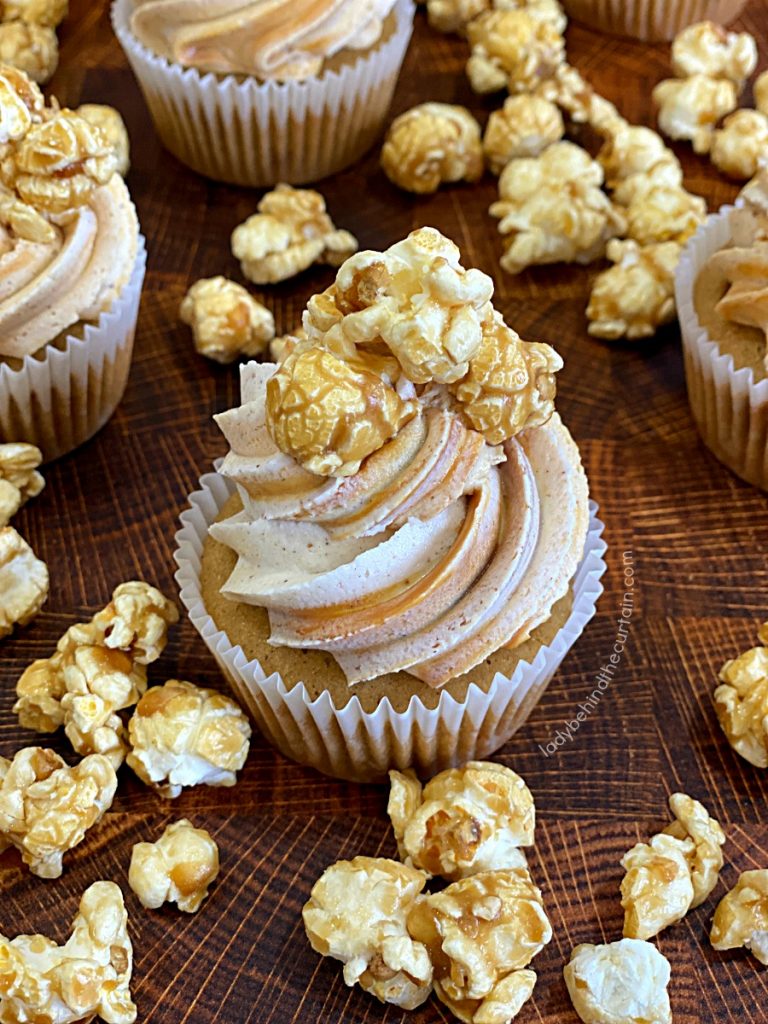 Caramel Corn Cupcakes
Planning a Fall Party? Then these are the cupcakes for you! Brown Butter Cupcakes with a light and fluffy Spicy Caramel Swirl Frosting.
Ingredients
For the Cupcakes:
½ cup brown butter
1 cup light brown sugar, packed
1 teaspoon vanilla extract
2 large eggs
1¼ cups all-purpose flour
½ teaspoon baking powder
1/8 teaspoon salt
2/3 cup buttermilk
1 cup caramel chips (Ghirardelli)
For the Spicy Caramel Swirl Frosting:
¾ cup unsalted butter, softened
3 cups powdered sugar
¾ teaspoon pumpkin pie spice
1/8 teaspoon salt
½ teaspoon vanilla extract
¼ cup dulce de leche
store bought caramel corn for topping
Instructions
For the Brown Butter Cupcakes:
Preheat oven to 350°.  Line muffin pans with 12 paper liners. 
In a large bowl, beat (brown butter) butter, brown sugar, and vanilla at medium speed with a mixer until fluffy.
Add eggs, one at a time, beating well after each addition.  I
n a medium bowl, combine flour, baking powder and salt. 
Gradually add to butter mixture alternately with buttermilk, beginning and ending with flour mixture, beating just until combined after each addition; stir in caramel chips. 
Spoon batter into prepared muffin cups, filling two-thirds full.  Bake for 16 to 20 minutes or until a wooden pick inserted in center comes out clean. 
Cool in pans for 10 minutes; remove cupcakes from pans, and cool completely on wire racks. 
Pipe Frosting over cupcakes, add several pieces of caramel popcorn to the top of each cupcake.

For the Spicy Caramel Swirl Frosting:
Beat butter, powdered sugar, pumpkin pie spice and salt in a large mixing bowl, just until combined.
Add vanilla, increase speed to medium high and beat until fluffy (about 3 minutes).
Add dulce de leche, use a spatula and cut in the caramel leaving streaks.
Transfer to a piping bag fitted a large tip ( your choice of design).
Pipe frosting onto the cupcakes.
Top with caramel corn.

NEVER MISS A POST