Cheesecake Grape Salad. Celebrate summer with a delicious refreshing salad. Is it a salad or is it dessert? I say it's BOTH! The sour flavor of the grapes mixed with a sweet cheesecake sauce makes this salad not only unique but amazing. Bring out the large serving spoon for this salad! You'll want to get every drop of the delicious sauce! Just what your summer barbecue or potluck needs. Scroll down to see how this salad can be made with a variety of fruits…making it a year round salad!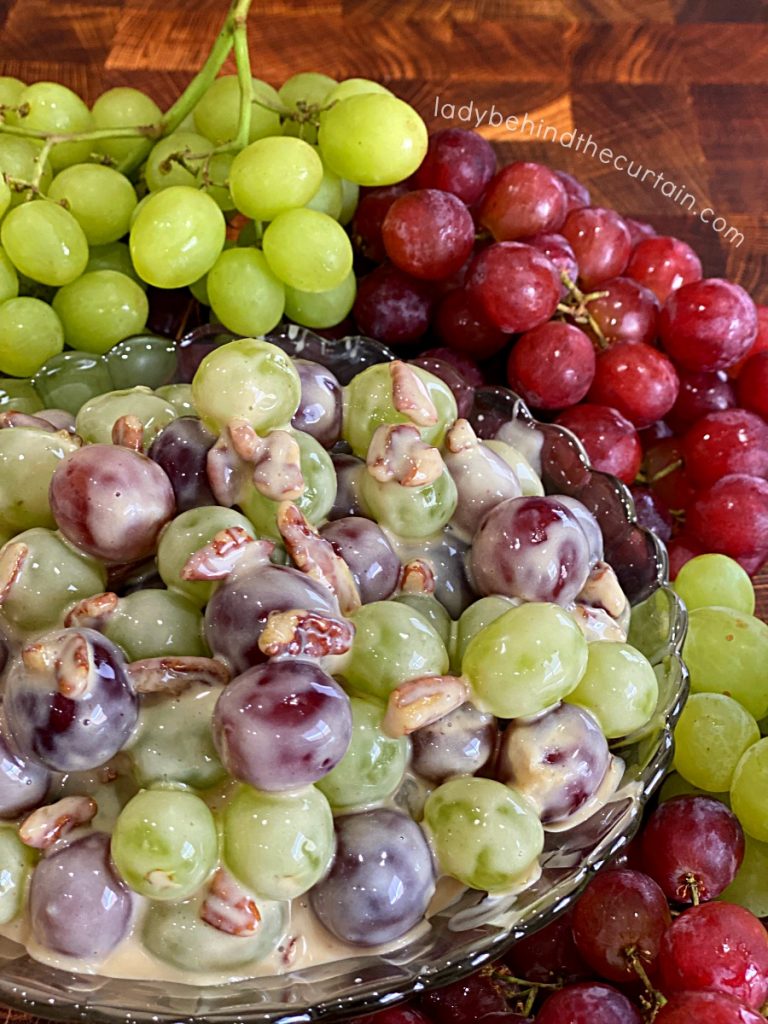 PUSH THE CARAMEL FLAVOR OVER THE TOP WITH TOFFEE BITS! For added crunch and caramel pour half a bag of toffee bits into the recipe. DELICIOUS!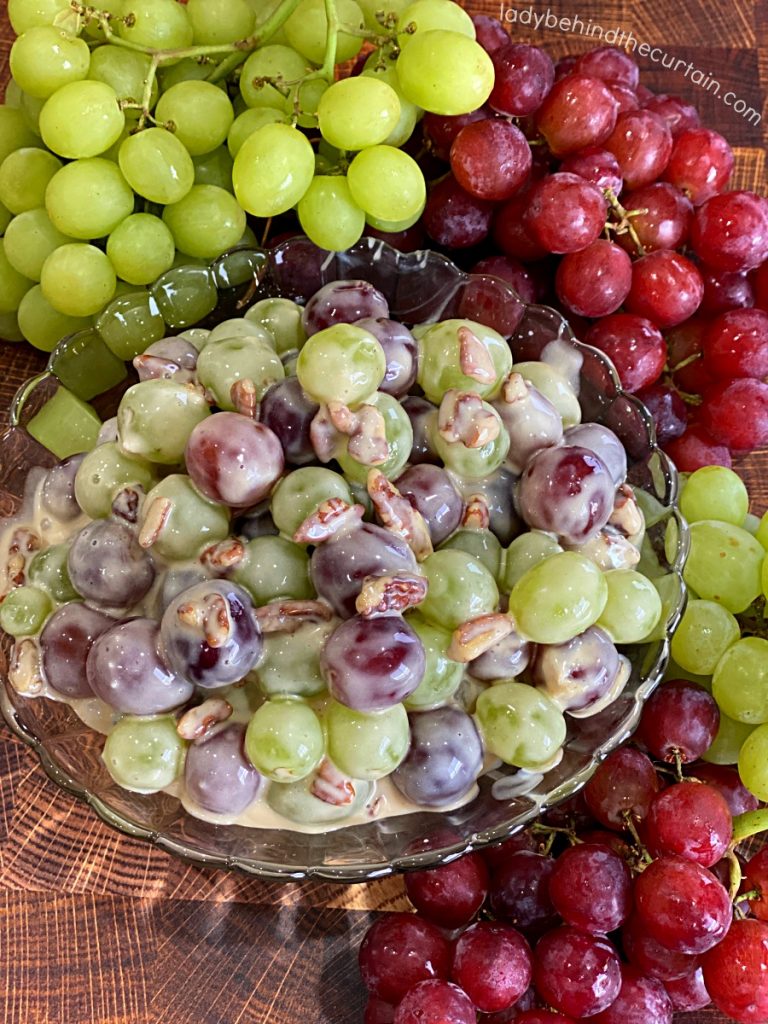 What grapes work best for this salad?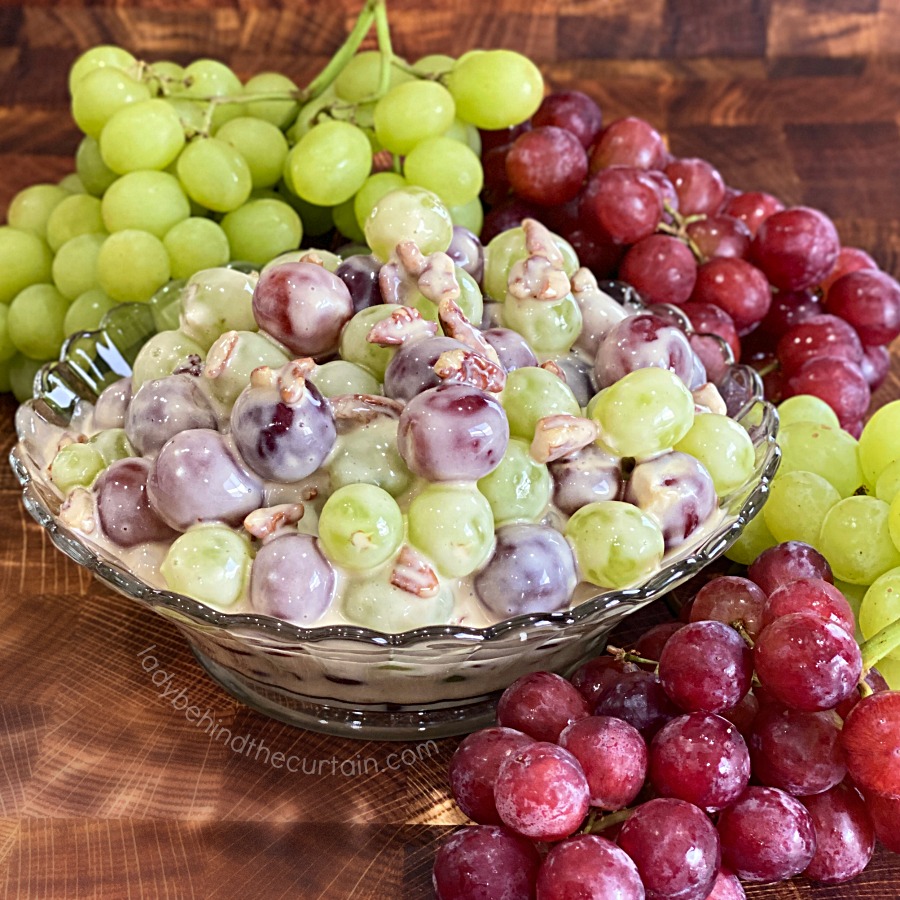 HOW TO MAKE CHEESECAKE GRAPE SALAD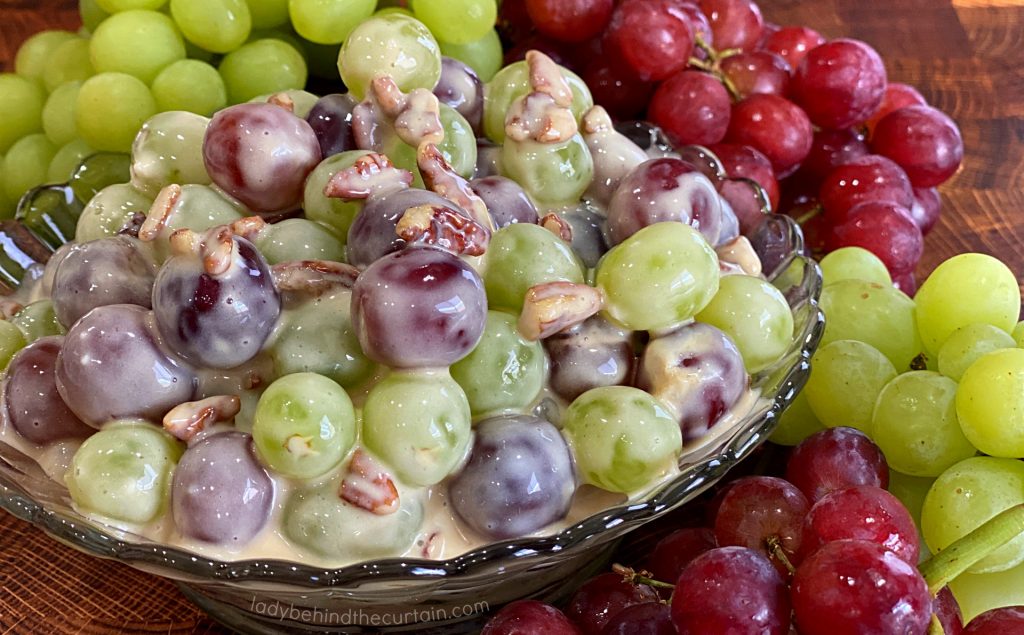 If I half the recipe do I simply half all the ingredients?
In short….YES. This is a large recipe big enough for 16 servings. If you're making the salad for your family it is perfectly fine to half the recipe.
OTHER FRUIT OPTIONS
STRAWBERRIES
PEACHES
APPLES (mix red and green)
CHERRIES (if you're up to pitting a lot of cherries)
OTHER ADD IN OPTIONS
TOFFEE BITS
BUTTERFINGER
SNICKERS
WALNUTS
TOASTED PECANS
MORE SUMMER POTLUCK SALAD RECIPES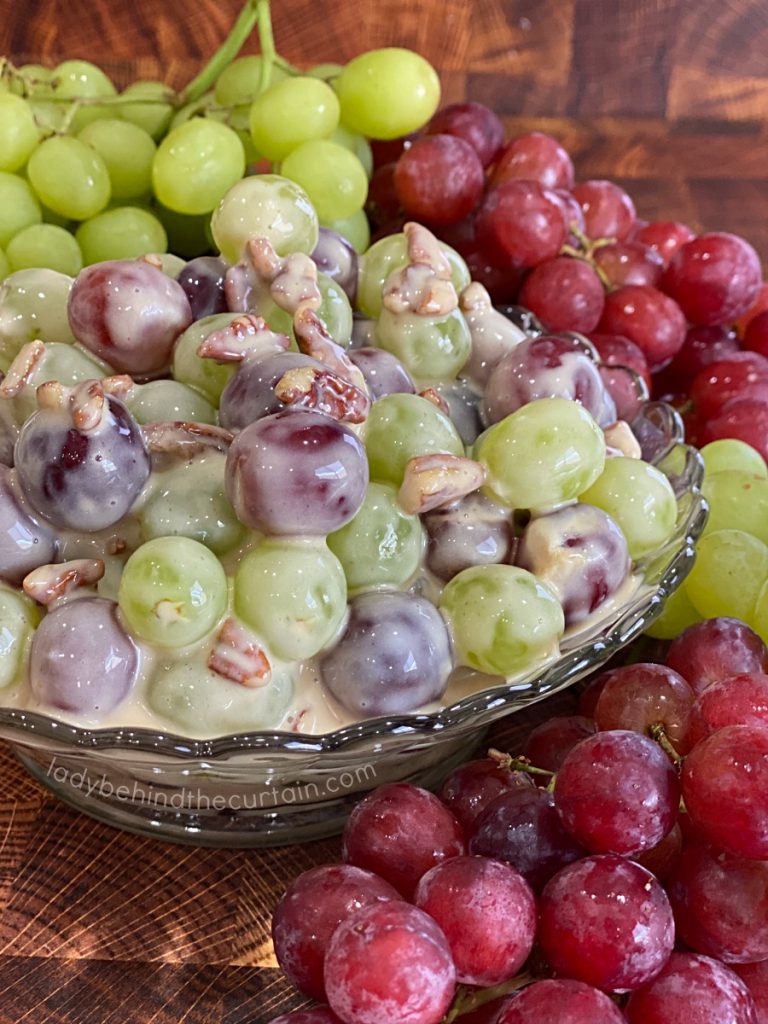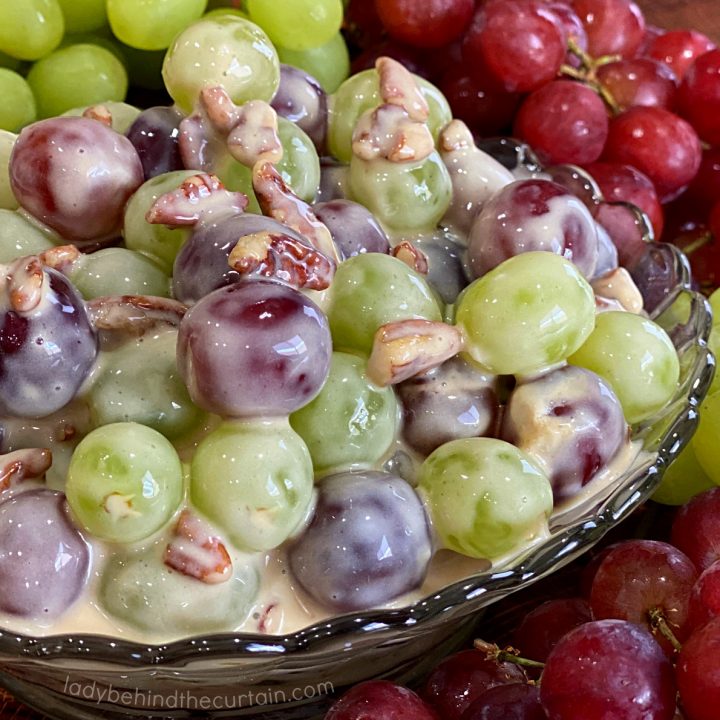 Cheesecake Grape Salad
A delicious dessert salad with a cheesecake creamy sauce.
Ingredients
For the Salad:
2 pounds red grapes
2 pounds green grapes
1 (8 ounce) block cream cheese, softened
1 (8 ounce) tub sour cream
½ cup granulated sugar
1 teaspoon vanilla extract
OPTIONAL: Bag of Toffee Bits (without the chocolate coating)
For the Topping:
1 cup pecans, chopped
1½ cups light brown sugar, packed
Instructions
THIS SALAD NEEDS TO BE MADE THE NIGHT BEFORE!

For the Salad:
Take the grapes off the vine, rinse and dry. OPTIONAL: you can cut the grapes in half. For longevity I like to keep them whole.
In a large bowl mix with a hand mixer the cream cheese, sour cream, sugar and vanilla until all lumps are gone and the mixture is creamy.
Stir in optional toffee bits.
Add the dried grapes to the cream cheese mixture.
Stir to coat.
For the Topping:
In a medium bowl add the pecans and brown sugar, stir to combine.
Evenly disburse over the top of the grapes.
Cover with plastic wrap and refrigerate over night.
The next day (in the morning) stir the topping mixture into the cream cheese mixture.
The grainy texture will be gone by lunch.
Salad will stay fresh at least five days maybe longer depending on the freshness of the grapes.♥
NEVER MISS A POST