Chili Lime Grilled Corn on the Cob
Chili Lime Grilled Corn on the Cob. Add some zest to your corn with this Mexican Cuisine inspired corn on the cob recipe. This classic Mexican street food is slathered with a creamy lime sauce, then sprinkled with cheese. Perfect for any Fiesta!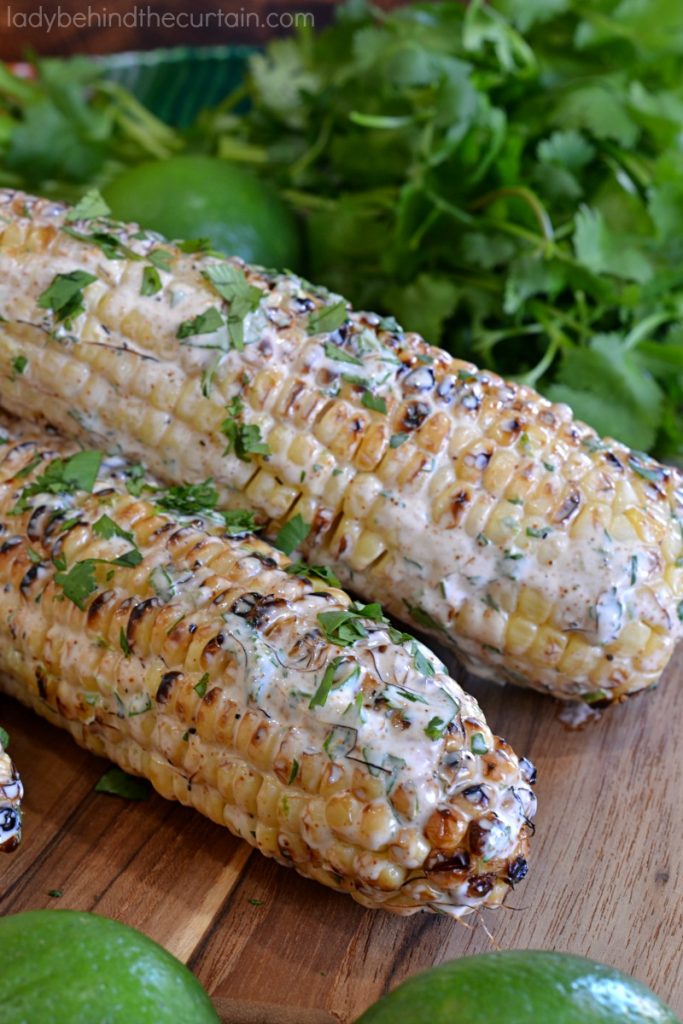 How to Make Chili Lime Grilled Corn on the Cob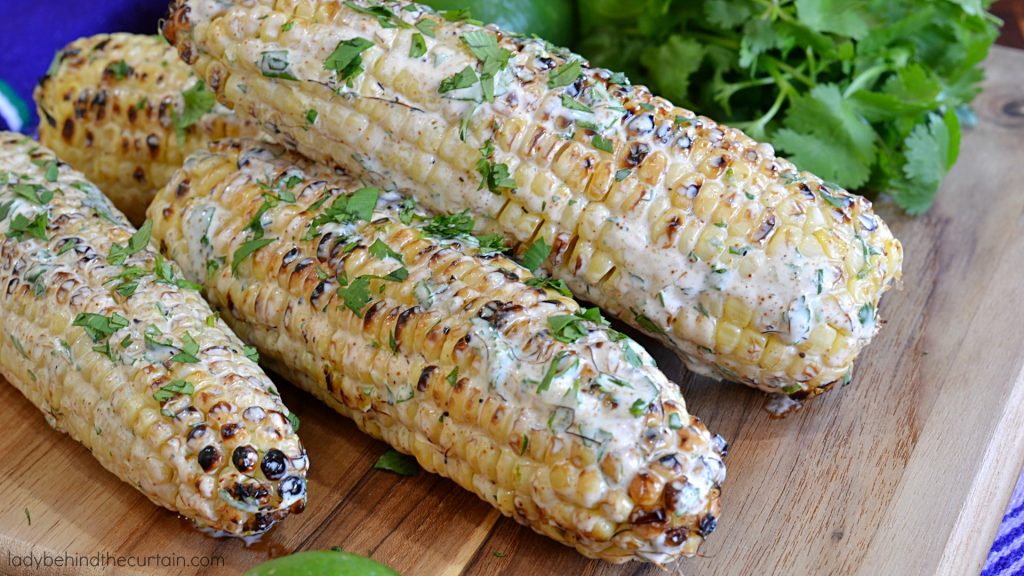 INGREDIENTS

8 ears of corn, shucked
2 tablespoons vegetable or olive oil
salt and pepper to taste
1 cup crumbled cotija or feta cheese, divided
½ cup mayonnaise
½ cup sour cream
½ cup fresh cilantro, chopped
2 teaspoons lime peel, finely shredded
2 tablespoons lime juice
1 teaspoon chipotle chile powder
Garnish: chopped fresh cilantro and lime wedges
DIRECTIONS

Add corn to a baking sheet, sprinkle with oil, salt and pepper.
Roll the corn around to evenly disburse.
In a small bowl stir together 2/3 cup cheese, mayonnaise, sour cream, cilantro, lime peel, lime juice and chipotle powder.
Preheat grill. to medium.
Grill corn uncovered about 8 to 10 minutes turning frequently to avoid them getting too black.
Remove corn from the grill and immediately liberally brush corn with cheese mixture.
Transfer to a platter, sprinkle with garnish (remaining 1/3 cup cheese and cilantro).
Serve with lime wedges.
How to Use Frozen Corn
FROZEN CORN KERNELS: Add thawed (if using frozen) corn to a hot skillet. Cast iron works best but any skillet will do. Pour enough oil in the pan to coat it, sprinkle salt and pepper. On high heat cook the corn until dark bits form. The amount of dark bits determines how strong the smokey flavor will be. Serve the mayonnaise mixture on the side. Click here for the recipe→STOVE TOP PAN ROASTED CORN RECIPE
Grilling with the husks on VS Grilling with the husks off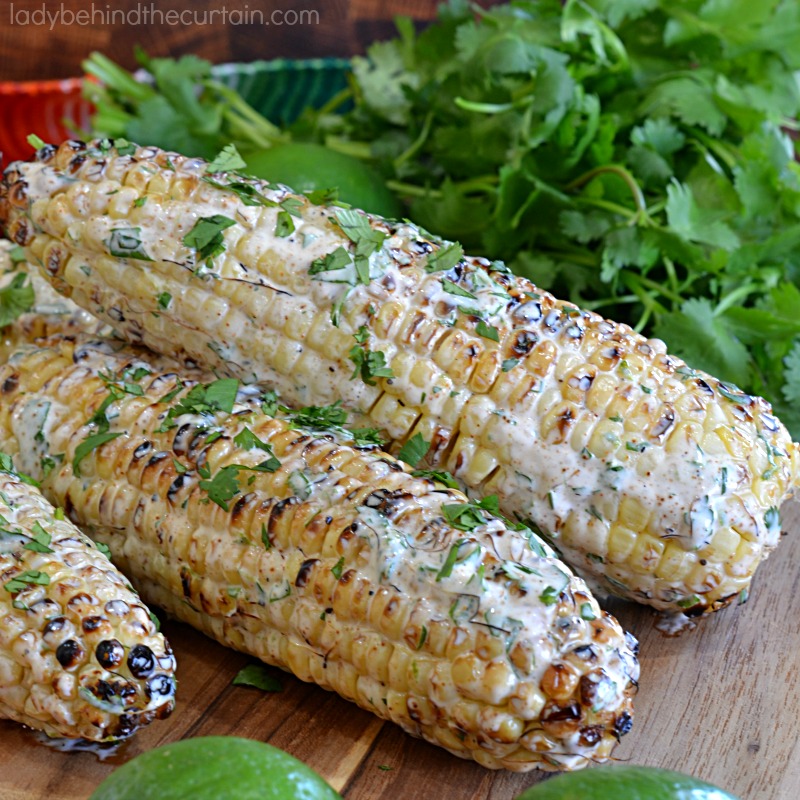 TIP: WHEN CORN ON THE COB IS ON SALE (4 FOR A $1) BUY A LOT! GRILL IT, CUT THE KERNELS OFF THE COB, PLACE IN A ZIP TOP FREEZER BAG AND SAVE IT FOR SUMMER SOUPS!
MORE FIESTA RECIPES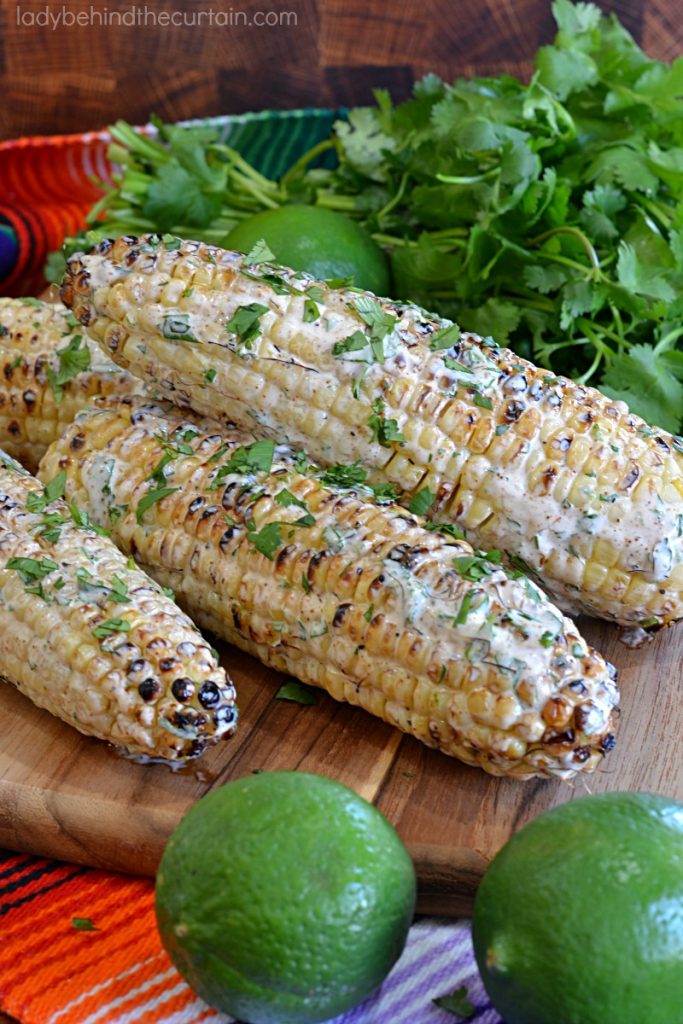 NEVER MISS A POST