Picnic Potato Salad| The perfect picnic salad with a vinegar base and full of herbs.  Taking this salad to an outdoor event?  No worries….this salad is mayonnaise FREE!  Sprinkle pieces of bacon on top and knock this Picnic Potato Salad out of the park!
This salad is best served at room temperature.  Not a statement you usually hear associated with potato salad.  That's why this Picnic Potato Salad is perfect!  BEFORE SERVING set the salad on the counter for 30 minutes.  The oil has become a little solidified and needs the time to become liquid again.  Give the salad and stir and serve!

Get into celebrating America and transform your salad into a 4th of July masterpiece by adding red, white and blue potatoes!
Potato salad and juicy burgers are what summer cook outs are all about.  Here are some of my favorite burger recipes.
CARAMELIZED ONION AND FIG BURGERS  2. TOUCHDOWN BREWSKY BURGERS  3. RANCH BURGERS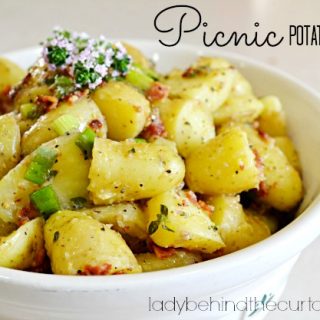 Picnic Potato Salad
Ingredients
3 pounds fingerling potatoes, cut into large pieces
1/2 cup olive oil
3 teaspoons chopped fresh thyme
2 teaspoons salt
2 teaspoons ground black pepper
1/3 cup red wine vinegar
3 teaspoons coarse-grained mustard
1 1/2 teaspoons granulated sugar
7 slices bacon, cooked and cut into pieces
1/2 cup chopped green onions
Instructions
Place cut potatoes in a large pot and cover with water.
Put a lid on the pot and boil until fork tender.
While the potatoes are boiling make the dressing.
In a medium jar add the oil, thyme, salt, pepper, vinegar, mustard and sugar.
Shake to combine.
Drain cooked potatoes; dump into a medium bowl.
Pour mixture over HOT potatoes.
Add bacon and onions; toss to coat.

MORE PICNIC PERFECT SALAD RECIPES
ROASTED GARLIC POTATO SALAD  2. EASY CUCUMBER SALAD  3. CONFETTI BEAN SALAD
NEVER MISS A POST!
Sign up for my newsletter and receive my recipes in your inbox. Easy to see anytime and saved for safe keeping. Click Here and sign up today! —->>>>CURTAIN CALL NEWSLETTER