Copycat True Food Kitchen Quinoa Teriyaki Chicken Bowl
Copycat True Food Kitchen Quinoa Teriyaki Chicken Bowl |  This recipe features fresh vegetables like snow peas, broccoli , carrots and bok choy.  Start your week right with a big bowl of healthy vegetables, chicken and nutrition packed quinoa!  Put a large bowl of nutritious ingredients in front of your family this week for dinner!  It's the weirdest thing,  all those delicious flavors of vegetables and teriyaki the one ingredient that really pulls this recipe together is the avocado.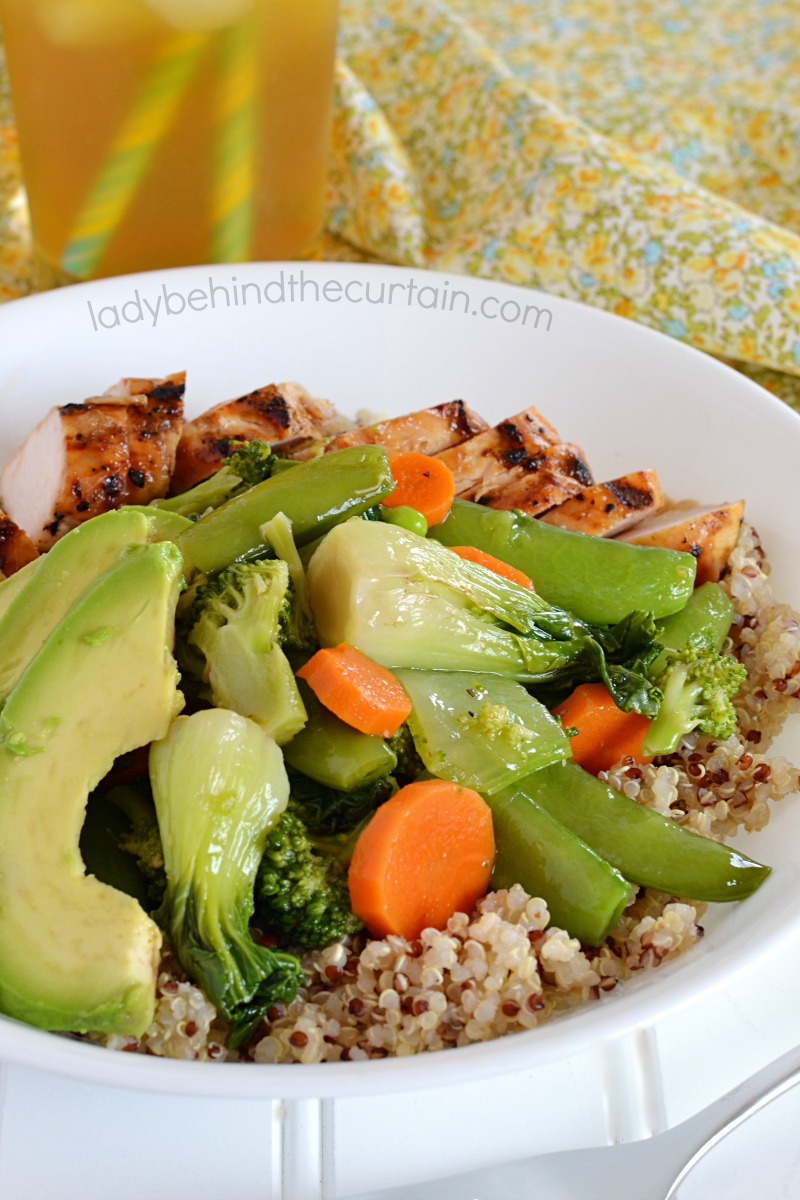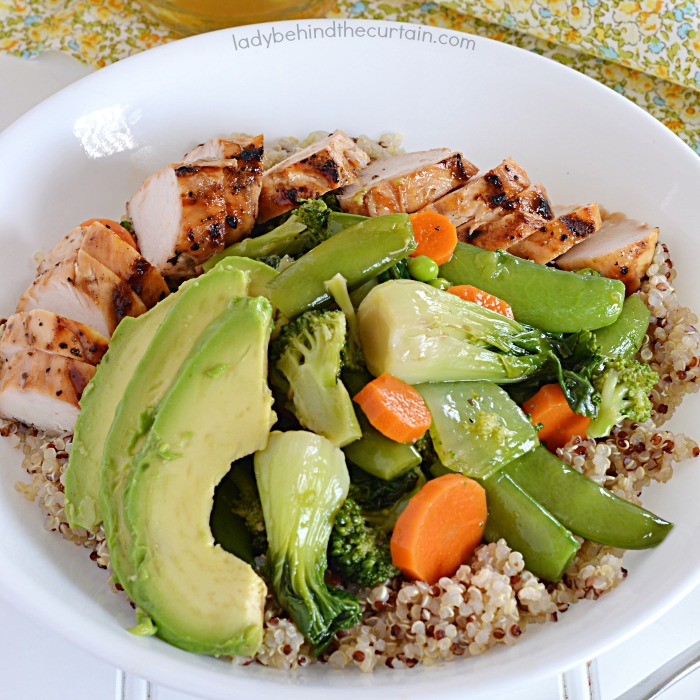 Quinoa
Some nutrition facts about quinoa. Quinoa is considered to be one of the "ancient grains" (even though it is a cereal), high in antioxidants, gluten free, complete protein source and essential amino acids. These are just a small portion of how you can benefit from eating quinoa.
HOW TO MAKE HOMEMADE TERIYAKI SAUCE (scroll down for the printable version)
INGREDIENTS
1 cup water
5 tablespoons light brown sugar, packed
1/4 cup lite soy sauce
2 tablespoons honey
1 large clove garlic, minced
1/2 teaspoon ground ginger
For the Slurry:
2 tablespoons cornstarch
1/4 cup cold water
DIRECTIONS
To a medium saucepan add the water, brown sugar, soy sauce, honey, garlic and ginger.
On medium high heat bring a boil, lower temperature and simmer 10 minutes.
Add slurry to the simmering sauce, whisk until smooth.
Continue to simmer until sauce is thick. Set aside.
For the Slurry:
In a small jar with a tight fitting lid, add the cornstarch and cold water.
Shake until the cornstarch is dissolved and combined with the water.
HOW TO MAKE QUINOA TERIYAKI CHICKEN BOWL
INGREDIENTS
1 1/2 cups dry qunioa
8 ounces sugar snap peas
3 medium carrots (about 1 1/3 cups) peeled and sliced
2 broccoli crowns (about 3 1/2 cups) cut into bite size pieces
2 baby boc choy, tear leaves from center, rinse in cold water, cut into chunks
3 large boneless skinless chicken breasts, cut into strips
2 tablespoons vegetable oil
1 medium avocado, pitted, peeled and sliced
DIRECTIONS
Cook quinoa according to the package.
Boil snap peas 2 minutes, add broccoli, continue to boil 1 minute, add carrots and boil 1 minute.
Drain vegetables and add to a boil of ice water.
Drain vegetables as soon as the vegetables are cold.
In a large skillet heat oil, brown chicken.
Transfer to a bowl.
Turn heat to high and cook vegetables and bok choy until wilted (about 5 minutes.
Add chicken back to the pan, stir in 1/3 cup teriyaki sauce.
Heat until bubbly.
Serve over a bed of quinoa, add slices of avocado.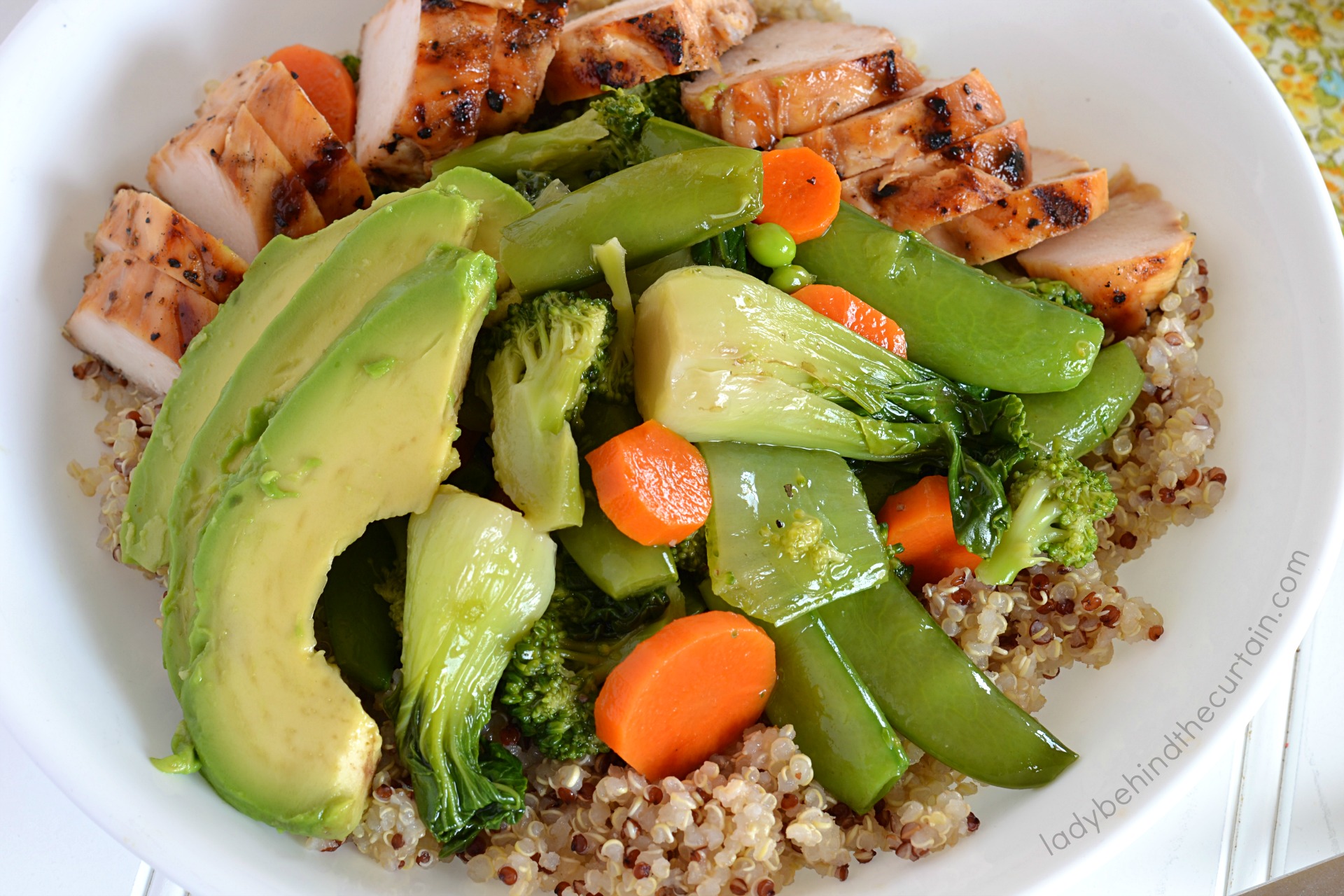 EASY TO MAKE SEMI HOMEMADE WEEKNIGHT DINNER RECIPES
NEVER MISS A POST