DIY Gumball Machine Party Favors
Adding these DIY Gumball Machine Party Favors to your party will bump up your gumball theme party to another level.  You can make these for just about any party.  Just paint them the colors of your party.  For Superman or any super hero add a cape to the back.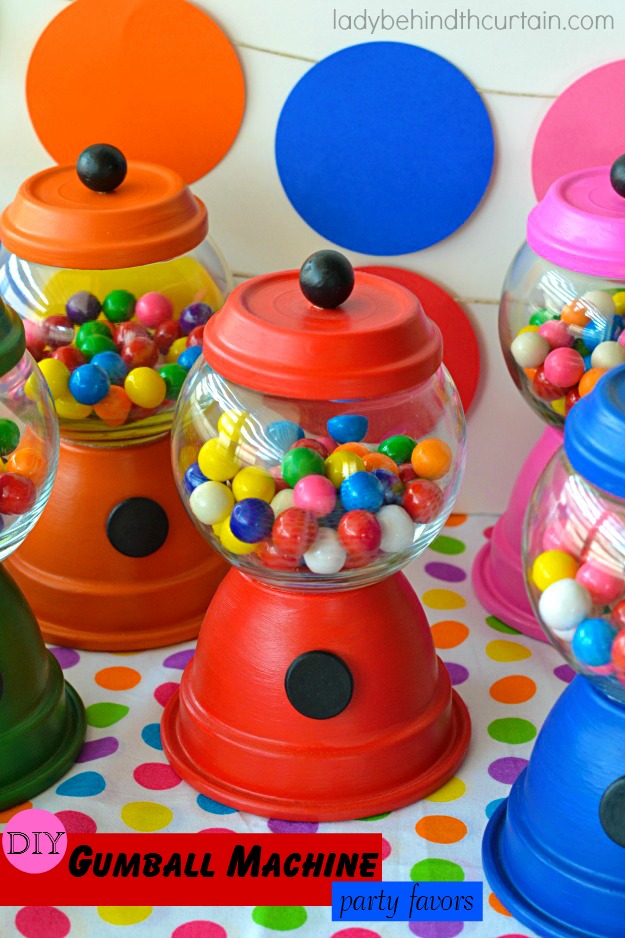 These DIY Gumball Machine Party Favors fit perfectly into a candy theme party, like Candyland!  It would be totally cool to add a action figure or animal in place of the knob on top of the machine to go with your theme.  I can see a dinosaur for sure.  Don't forget about a carnival theme!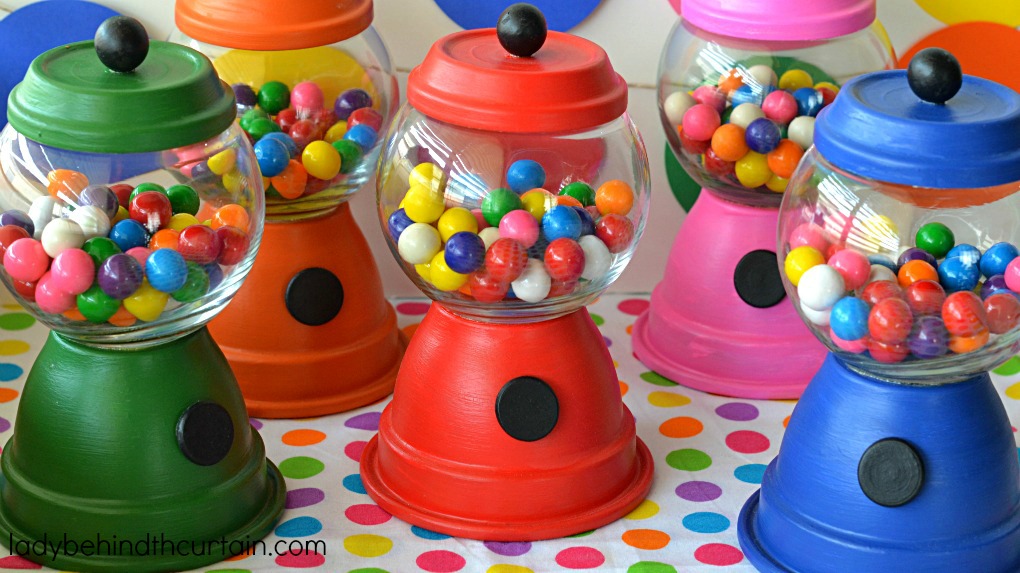 I found everything at Michael's for this project.
The VERY first thing you'll need to decide on is the base.  That will determine the size of everything else.
BASE:  4 1/2-inch (around the top) x 3-inch (height) clay pot
SAUCER: 3-inch clay BEFORE PURCHASING—TEST THE SAUCER TO MAKE SURE IT WILL SIT NICELY ON TOP OF THE GLASS BOWL.
GLASS BOWL:  3-inches tall (I found this on the candle aisle; it looks like a miniature fish bowl)
WOODEN KNOB: 1/2-inch
FAUX GUMBALL SLOT: 3/4-inch flat wooden circle disk
I used acrylic paint for this project.  For some of the light colors I had to add several coats before I got a nice color.
Once everything is dry use 527 MULTI-USE GLUE – it dries fast and clear.  (I bought this at Walmart)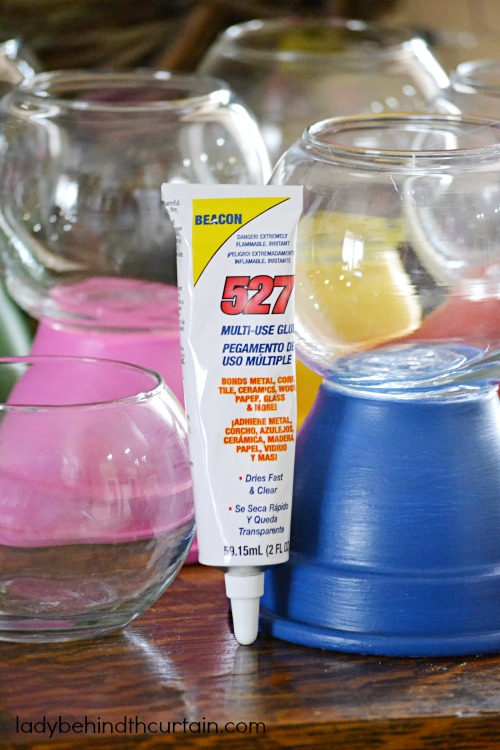 Glue the bowl to the base pot, the knob to the top of the saucer and the disk to the front of the base.  Let is sit over night before adding gumballs.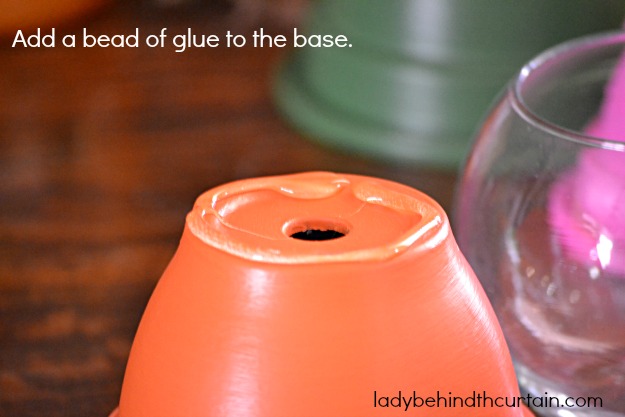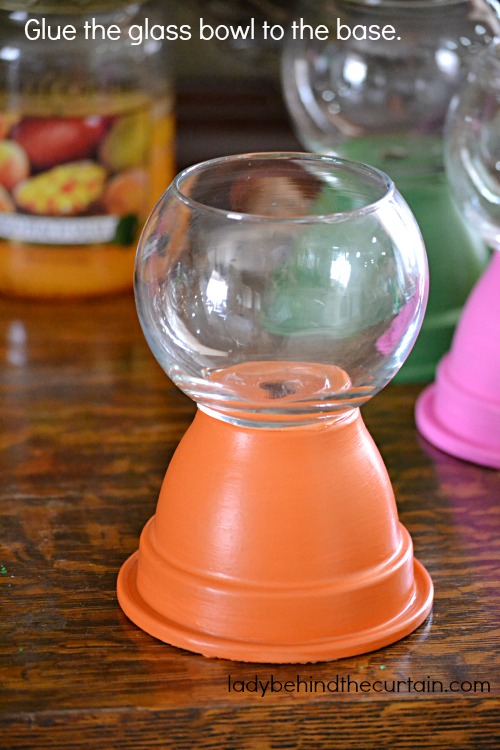 This is such a fun and super cute project.  The kids will go crazy for these party favors.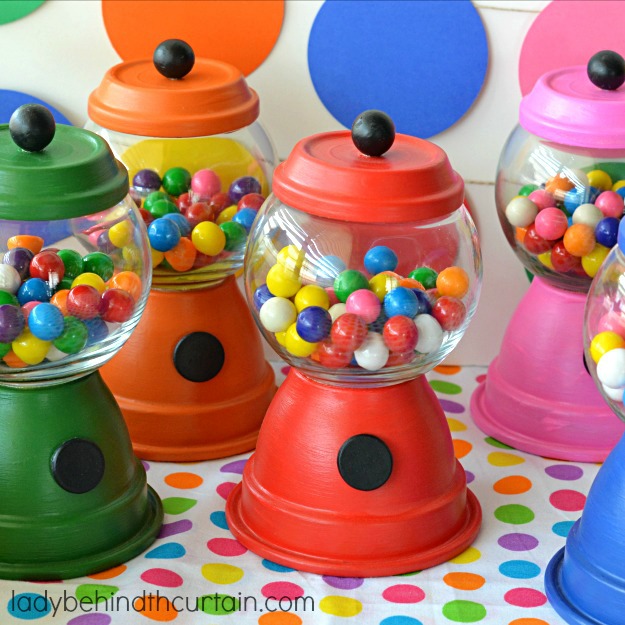 MORE PARTY FAVOR IDEAS
1. DIY PARTY FAVOR TOPPER  2. CARNIVAL POPCORN POPS  3. LIVING FAIRY GARDEN PARTY FAVORS