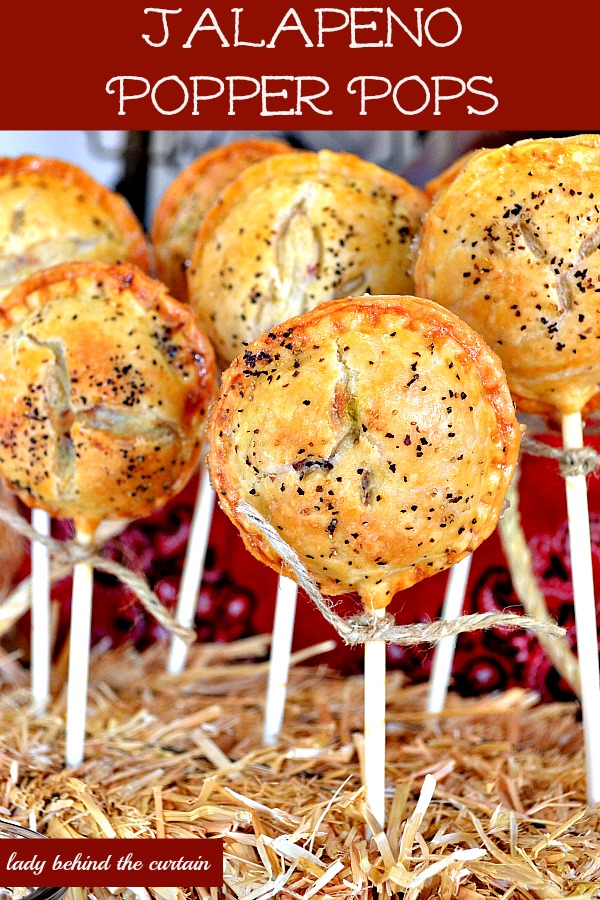 KICK UP YOUR BOOTS!  IT'S PARTY TIME!
This is not your typical popper.  These jalapeno popper pops are full of creamy cream cheese, jalapenos and yummy bacon!  All encased in a pie crust and baked NOT fried!  These make the best appetizers for game day, a backyard barbecue or how about a western themed party.
For detailed pictures watch the slide show below.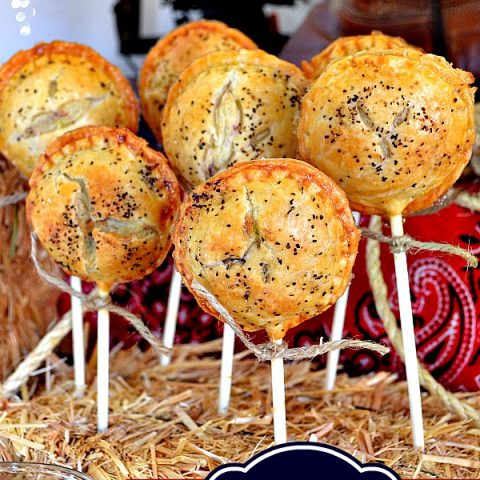 Jalapeno Popper Pops
The perfect appetizer for a barbecue.
Ingredients
Pillsbury pre made pie crust dough (1 sheet)
8 ounce cream cheese, softened
2 tablespoons pickled jalapenos, chopped
1 tablespoon pickled jalapeno juice
6 bacon slices, cooked and chopped
1 egg
salt and pepper
2-3/4 to 3-inch biscuit cutter
10- lollipop sticks
Instructions
Preheat oven to 375 degrees.
Line 2 cookie sheets with parchment paper and set aside.
Mix together the cream cheese, jalapenos, jalapeno juice and bacon until creamy.
On a lightly floured surface roll out the pie crust to a 13-inch circle.
Using a 2-3/4-inch to 3-inch circle biscuit cutter cut out as many circles as you can ( I got 8).
Roll the remaining dough again to get the final 4 circles.
Place 6 circles on prepared cookie sheet.
Place lollipop stick in the center of the circle with the tip in the middle.
Mix together the egg and 1 tablespoon of water.
Continue with the rest of the dough.
In the center of each circle place 1 tablespoon of filling.
Using your finger dab the egg wash around the outside of the circle.
TIP: I also put the egg wash on the lollipop stick.
Place another circle on top and press closed.
Using another lollipop stick press down the edges.
With a pastry brush. Brush on the egg wash, sprinkle with salt and pepper.
Using a sharp knife, cut air vents.
Bake 23 minutes.