Whether it's game day, a rustic wedding reception or a gift to take to a friends.  This delicious maple popcorn will fit right in.  Perfect for ANY occasion.  Served in a rolled down brown lunch bag with a torn paper label held on by a cloths pin adds that special rustic touch.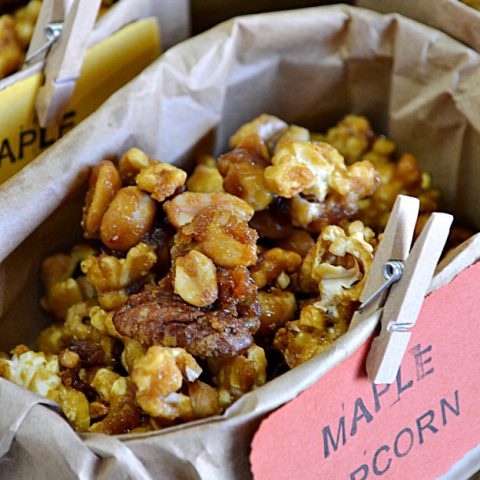 Maple Popcorn
Total Time:
1 hour
30 minutes
Ingredients
12 cups plain popped pop corn
1-1/2 cups walnut halves
1-1/2 cups pecan halves
1-1/2 cups salted dry-roasted peanuts
2 cups light brown sugar, packed
1 cup butter
1/2 cup maple syrup
1/2 teaspoon baking soda
1/2 teaspoon salt
1/2 teaspoon vanilla extract
Instructions
Preheat oven to 250 degrees.
Spray a large rimmed baking sheet with nonstick cooking spray.
In a large bowl, combine popcorn and nuts.
In a large saucepan, combine sugar, butter and maple syrup, bring to a boil over medium heat.
Cook, stirring occasionally, for 5 minutes.
Remove from heat.
Add baking soda, salt and vanilla, stirring to combine.
Pour syrup over popcorn mixture.
Stir to completely coat.
Pour into the prepared baking sheet.
Bake 1 hour, stirring every 15 minutes.
Dump onto a foil lined surface.
Let cool completely, and break into pieces.
Store in an air tight container up to 5 days.
Notes
This recipe was adapted from the Southern Fall Baking magazine 2013.
A RUSTIC DISPLAY
MORE GREAT POPCORN RECIPES
1.  CARAMEL APPLE PIE POPCORN  2.  CANDIED POPCORN  3.  RED, WHITE & BLUE CAKE BATTER POPCORN  4.  EASY CARAMEL CORN  5.  FRUITY CANDY CORN