Creamy Homemade Mango Gelato
Creamy Homemade Mango Gelato | This creamy tropical delight is so refreshing and perfect for all your summer parties.  Made with real mango chunks heavy cream and eggs.  This light dessert is just what you need after a heavy meal and is a great way to kick off the summer.  Whether you're celebrating a birthday, having a luau or beach party.  This Creamy Homemade Mango Gelato is refreshingly fruity, creamy and a pop of summer fun!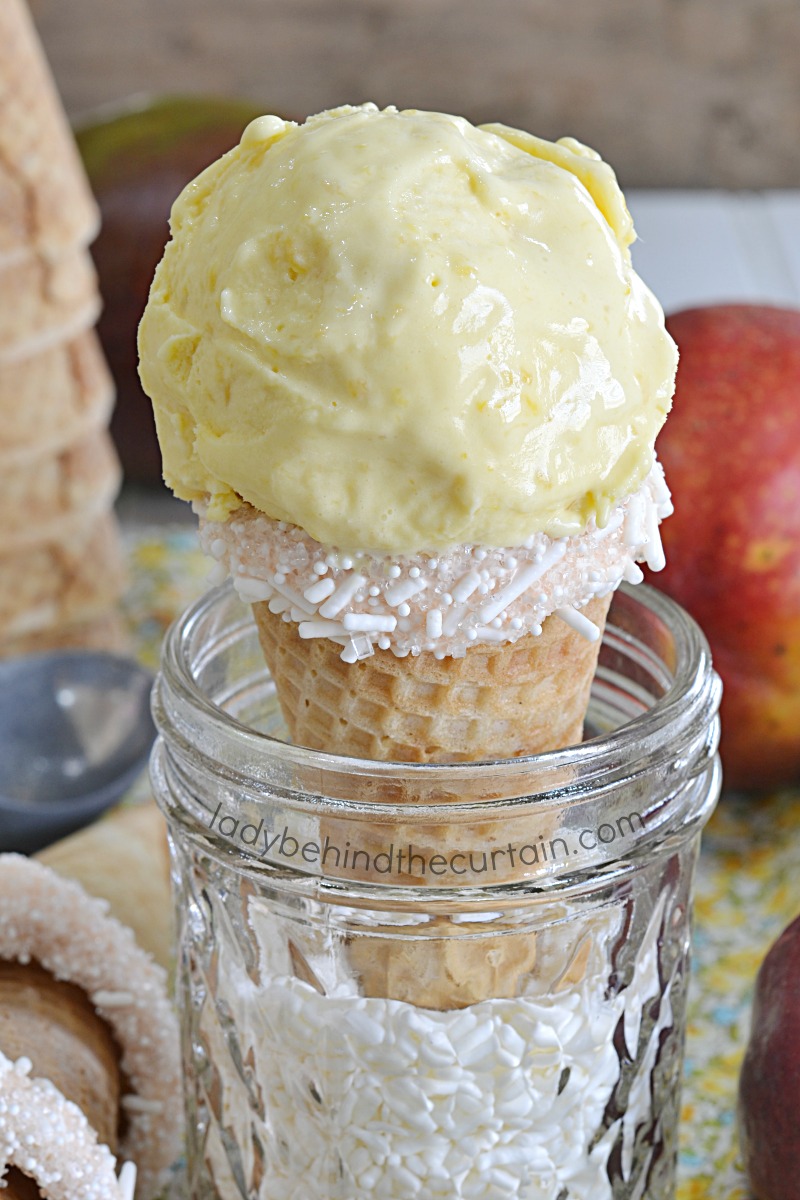 Mango is one of my favorite tropical fruits.  It's creamy sweet flavor makes this stone fruit perfect for salsa, smoothies and sweet savory sauces.  Now it also makes the best galato!  You can use fresh mangoes for this recipe.  To make it easier, I used frozen chunks.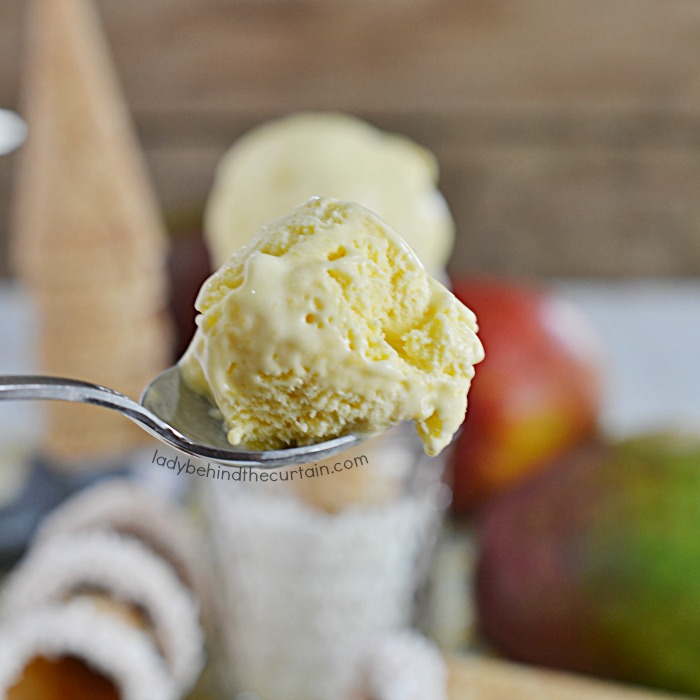 You may be wondering what's the difference between Gelato and Ice Cream?  Why not just serve ice cream?  Here are a few of the differences.  Gelato is creamier, smoother, silkier and denser then ice cream.  Gelato is also served at 10 to 15 degrees warmer than ice cream.  So your mouth is less numb which makes it easier to taste.  These are just a few reasons why I love gelato.  Also try my CREAMY HOMEMADE RASPBERRY GELATO!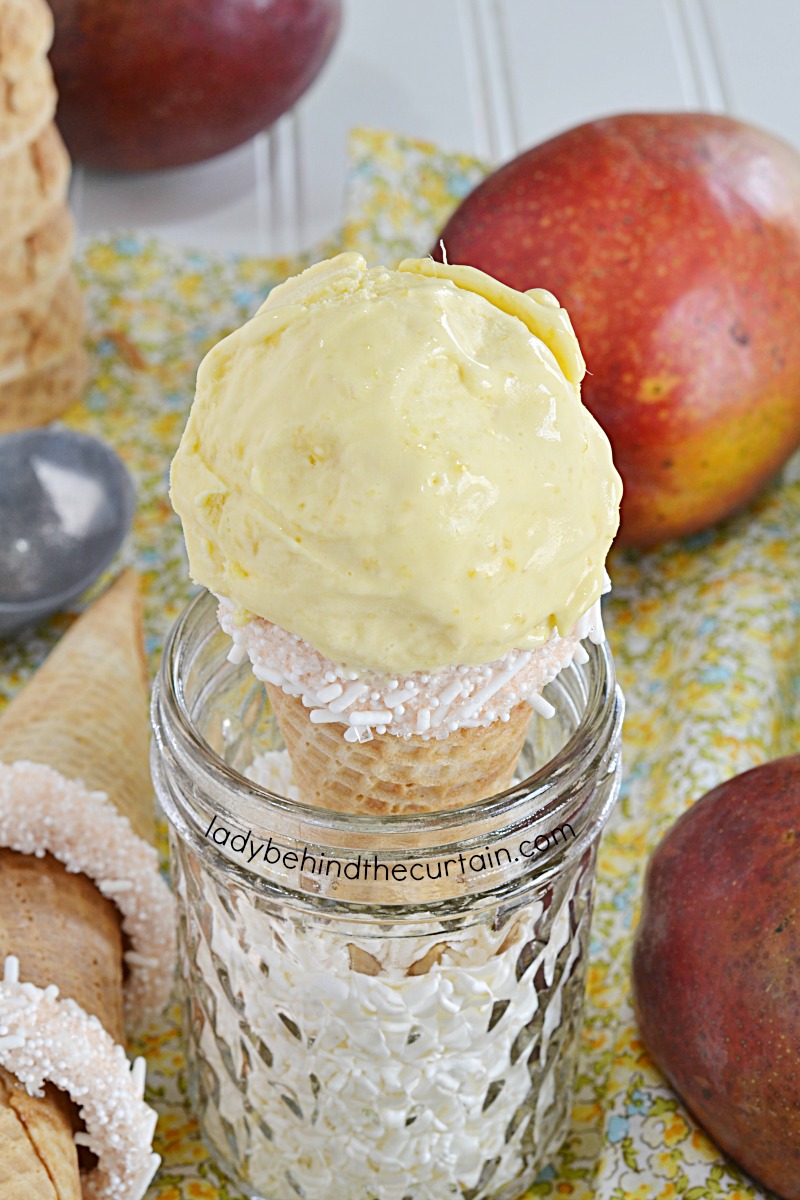 THE BEST SWEET AND SOUR MANGO SAUCE RECIPE, MANGO BARBECUED JERK CHICKEN, TROPICAL MANGO GOOEY BUTTER CAKE, ROASTED RED PEPPER MANGO SAUCE, TROPICAL MANGO CUPCAKES, TROPICAL SUNSET FUDGE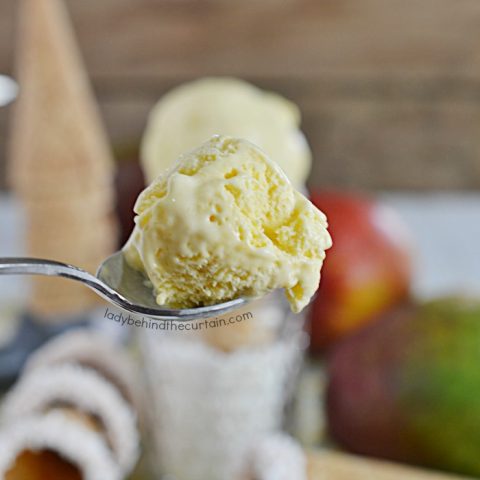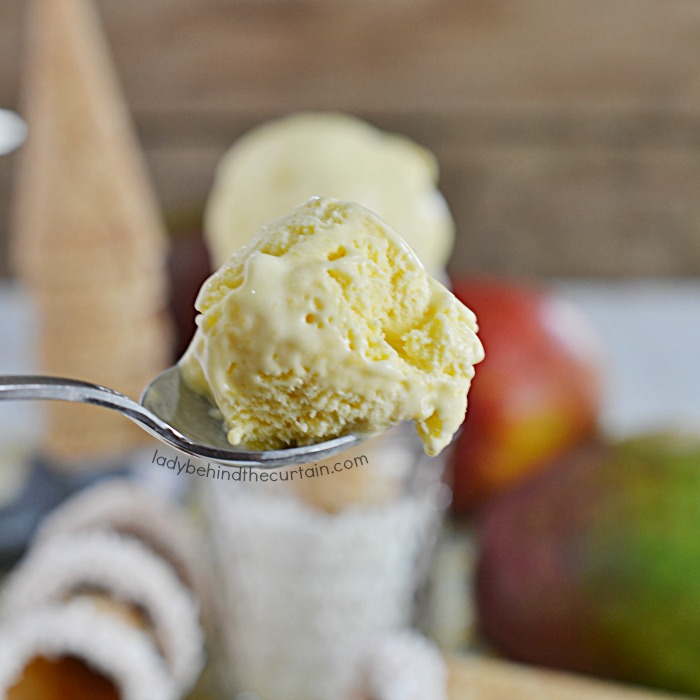 Creamy Homemade Mango Gelato
Yield:
14 (1/2 cup) SERVINGS
 This creamy tropical delight is so refreshing and perfect for all your summer parties.
Ingredients
2 (16 ounce) bags frozen mango chunks (2 cups of pulp)
1 cup granulated sugar
2 1/4 cups half and half, divided
6 large egg yolks
1/4 cup fat free powdered milk
1 cup heavy whipping cream
1 teaspoon mango flavor (optional)
Instructions
Place mango in a food processor.  Process until completely puréed and smooth (you should have 2 cups of purée), set aside.
Place sugar and *1 1/4 cups* of the half and half in a medium saucepan.  Bring to a simmer over medium heat, stir to dissolve the sugar.  Keep warm over low heat.  Place the egg yolks in a medium bowl and whisk until thickened (about 2 minutes).  While whisking slowly pour 1/2 cup of the hot half and half mixture into the egg mixture.  Pour the tempered egg mixture into the saucepan with the hot half and half mixture.  Increase heat to medium, constantly stir until the mixture is thickened like a custard (180°)  Stir in the remaining half and half, powdered milk and heavy cream.  Strain the mixture through a fine mesh strainer.  Stir in reserved mango and optional mango flavoring.  Cover and refrigerate at least 6 hours or until completely cooled.
Turn the ice cream machine on, pour mixture into freezer bowl and let mix until thickened (about 20 to 25 minutes).  The gelato will have a soft creamy texture.  If a firmer consistency is desired, transfer the gelato to an airtight container and place in the freezer for about 2 hours.  Remove from the freezer about 15 minutes before serving.
Click here for the mango flavoring---->>>>MANGO FLAVOR

Nutrition Information
Amount Per Serving
Calories

0
Total Fat

0g
Saturated Fat

0g
Cholesterol

0mg
Sodium

0mg
Fiber

0g
Sugar

0g
Protein

0g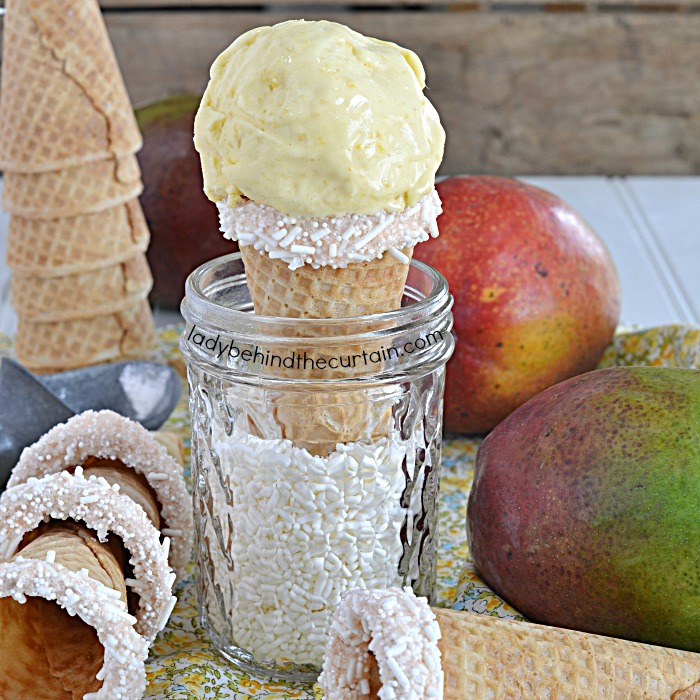 MORE ICE CREAM RECIPES
EASY NO COOK COFFEE AND DONUTS ICE CREAM  2. HONEY LAVENDER ICE CREAM  3. EARL GREY TEA VANILLA ICE CREAM
NEVER MISS A POST!
Sign up for my newsletter and receive my recipes in your inbox. Easy to see anytime and saved for safe keeping. Click Here and sign up today! —->>>>CURTAIN CALL NEWSLETTER