Large Bakery Size Gingerbread Cookies
Large Bakery Size Gingerbread Cookies: These incredible cookies are packed with flavor, large and chewy. The perfect Christmas Party Cookie. Totally sharable and totally worth it! Making gingerbread cookies with crystalized ginger instead of ground….really packs a sweet chewy ginger flavor.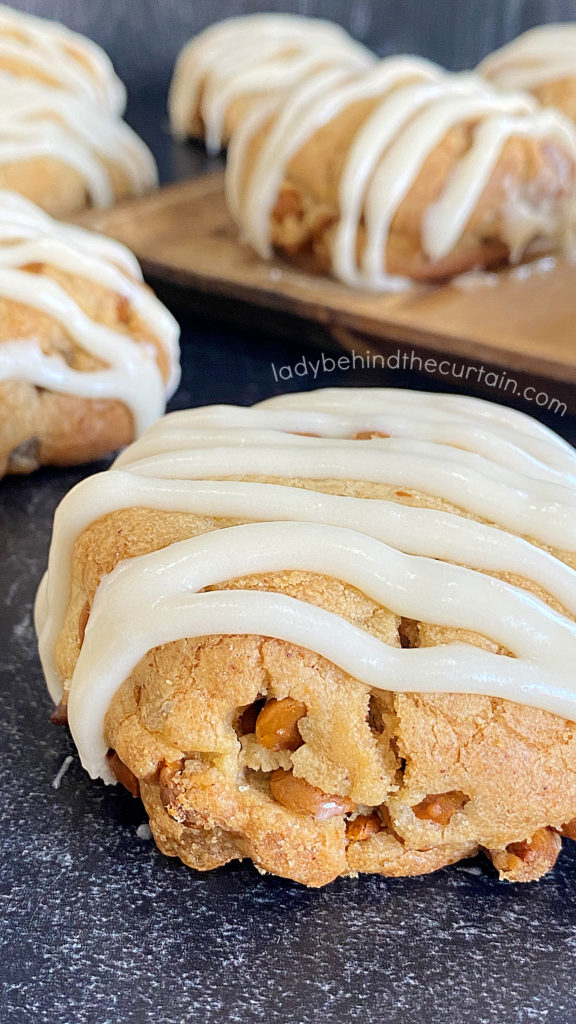 Crystallized Ginger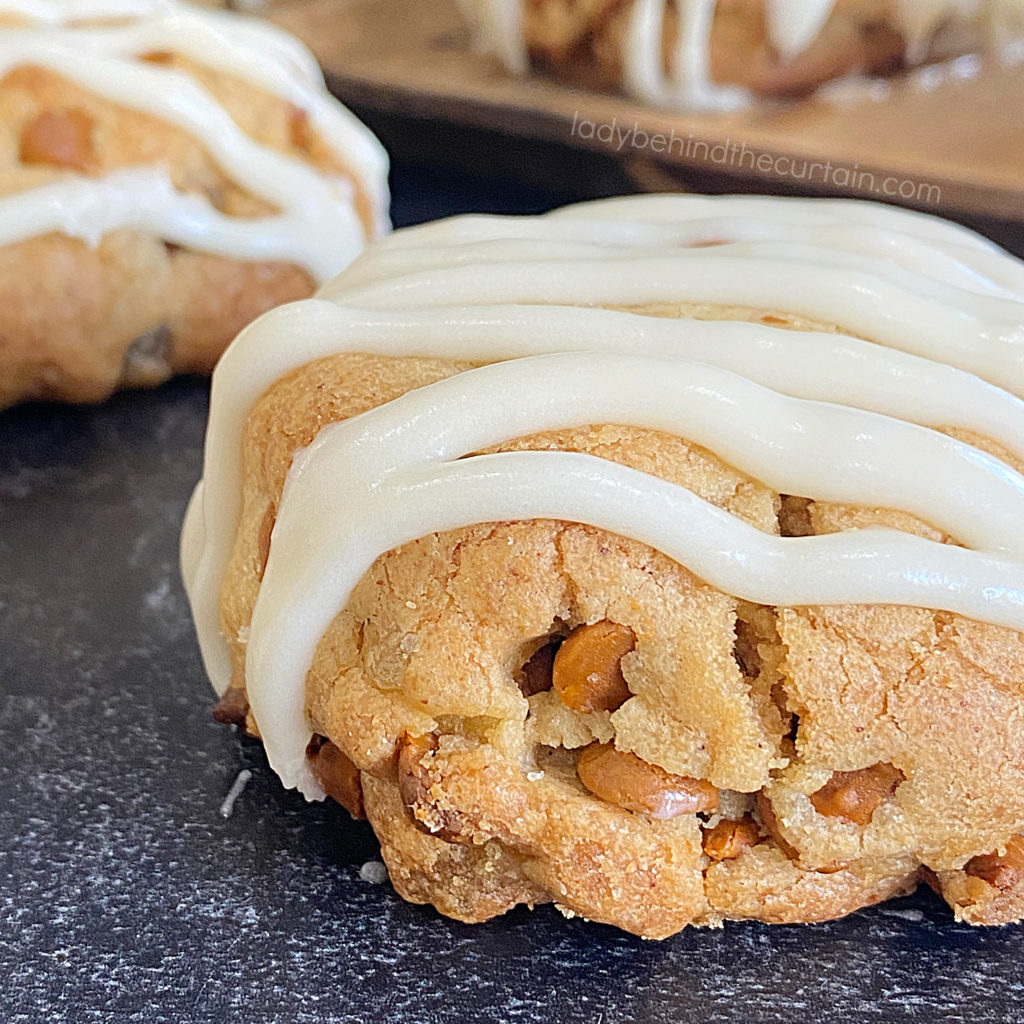 How to Make Large Bakery Size Gingerbread Cookies
INGREDIENTS FOR THE GINGERBREAD COOKIES (full printable recipe below)

1 cup vegetable shortening
1½ cups light brown sugar, packed
½ cup granulated sugar
2 large eggs
1 tablespoon vanilla extract
3½ cups all-purpose flour
½ teaspoon salt
1 teaspoon baking powder
2 teaspoons ground ginger
½ teaspoon ground cinnamon
½ teaspoon ground nutmeg
¼ teaspoon ground cloves
1 (10 ounce) bag cinnamon chips
½ cup crystallized ginger, chopped

INGREDIENTS FOR THE CREAM CHEESE DRIZZLE

1 (8 ounce) cream cheese, softened
6 tablespoons unsalted butter, softened
2 teaspoons vanilla extract
4 cups powdered sugar
8 tablespoons milk or water

DIRECTIONS FOR THE GINGERBREAD COOKIES

Line 2 cookie sheets with parchment paper and set aside.
In a large mixing bowl add the shortening, light brown sugar, granulated sugar, eggs and vanilla.
Mix until light and fluffy. In a medium bowl, whisk together the flour, salt, baking powder, ginger, cinnamon, nutmeg and cloves.
Add dry ingredients to the wet ingredients, blend until combined. Stir in the cinnamon chips and chopped crystalized ginger.
Divide dough into 12 balls (about 4 ounces each). Place 6 balls on each prepared cookie sheet.
Refrigerate 1 hour. Preheat oven to 350°. NOTE: THESE COOKIES WERE BAKED IN A CONFECTION OVEN YOU MAY NEED TO ADJUST BAKING TIME FOR AN ELECTRIC OR GAS OVEN. Bake 16-18 minutes. Slide the cookies still on the parchment paper onto the counter to cool completely.

FOR THE CREAM CHEESE DRIZZLE

Beat the cream cheese and butter until light and fluffy.
Add the vanilla, beat to combine. Add powdered sugar, mix until combined. Pour milk or water into the cream cheese mixture, whip until creamy. Pour into a squeeze bottle or use a spoon. In a back and forth motion top the pumpkin cookies with the cream cheese drizzle.
Do I have to add Cinnamon Chips?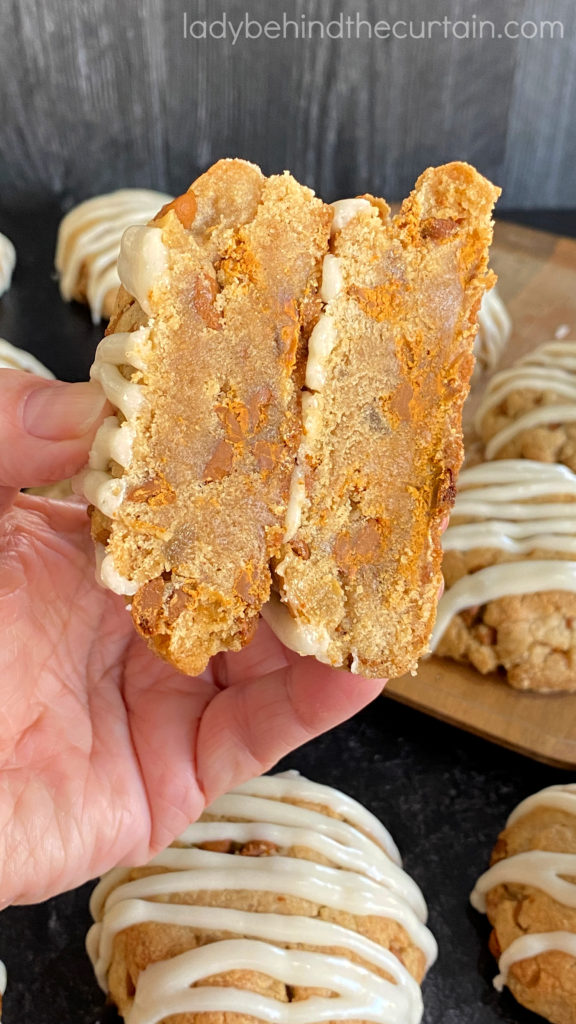 Flavor Level of Crystallized Ginger, Fresh Ginger, Ground Ginger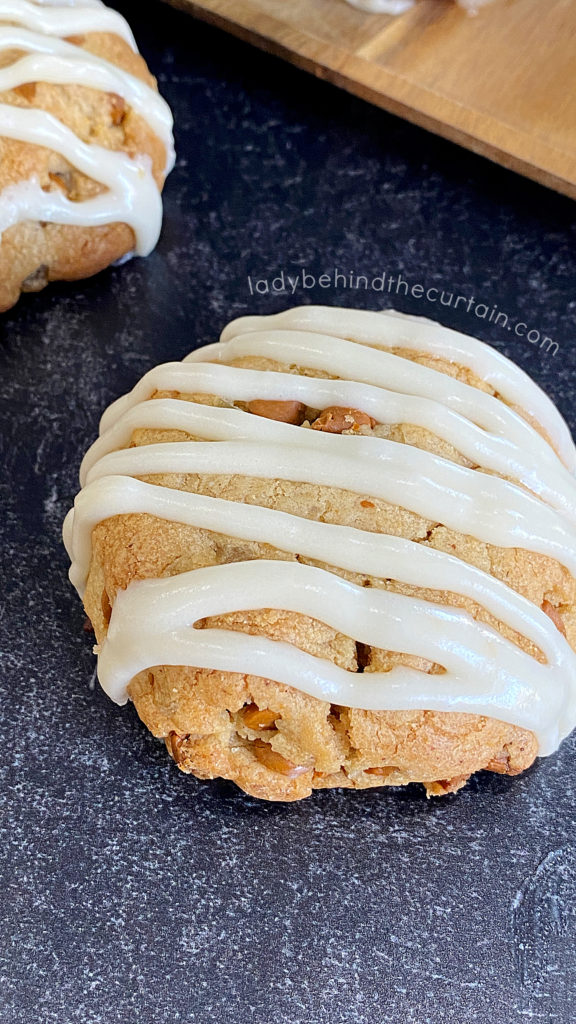 How to Make Crystallized or Candied Ginger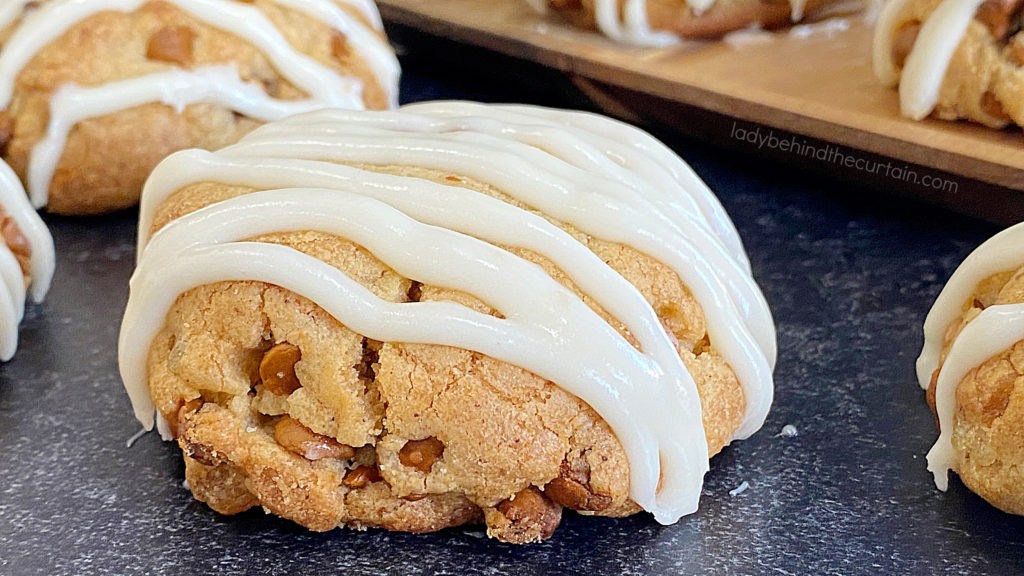 Peel and slice 1 pound of ginger (about 1/8-inch thick)
Add to a pot of water (enough to cover ginger)
Simmer 30 minutes
Drain, reserving ½ of the liquid
Put the ginger back in the pot with the reserved water and 2 cups of granulated sugar
Bring to a boil, reduce heat and simmer 35-40 minutes or until a candy thermometer reads 225°
Drain, spread on a cooling rack over a cookie sheet to dry (about 2 hours)
Toss ginger in a bowl of sugar to coat all over.
Place the ginger back on the cooling rack to sit overnight
Store in an airtight container for several months
STOP PAYING $4 A COOKIE FROM THE GOURMET COOKIE SHOPS AND MAKE YOUR OWN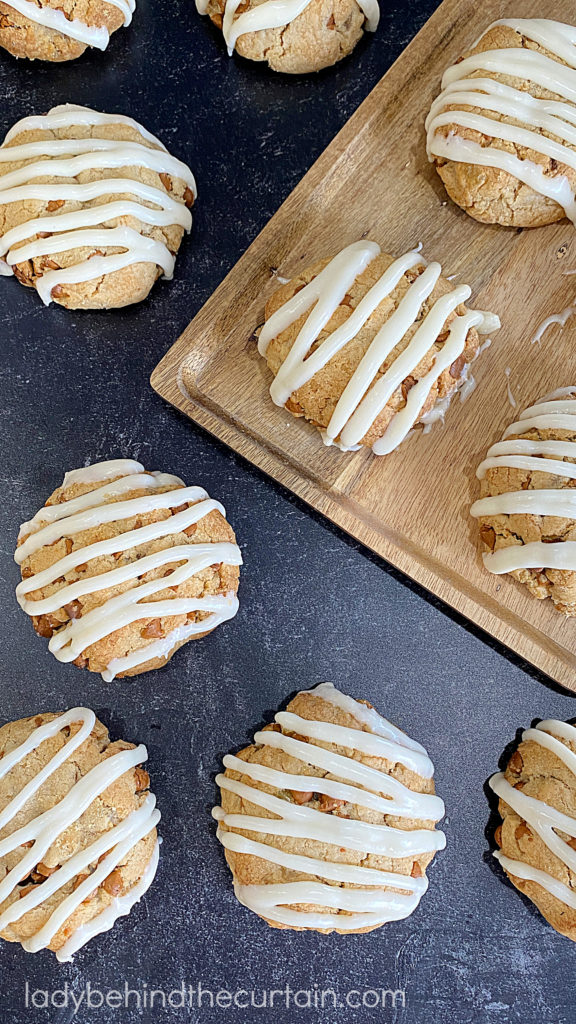 NEVER MISS A POST