Roasted Sweet Mini Peppers
Roasted Sweet Mini Peppers: In the summer you can find bags full of the beautifully colored peppers. You can only create so many recipes with them before they go out of season. So I decided this year to roast these sweet peppers and freeze for later. Now I can make fresh roasted pepper recipes year round!
Another great pepper to roast are the Hatch Chile Peppers. Bring a pop of flavor to sandwiches, hamburgers, tacos, and soup with these delicious roasted peppers. Don't forget about chili verde! If you don't like spicy chiles then these are the peppers for you. Lots of flavor with a little kick. Click here to see how—->>>>ROASTED FRESH HATCH CHILE PEPPERS.
One of my favorite sandwiches has roasted peppers (among a lot of other yummy ingredients). Want to know what it is? I promise you won't be disappointed! Click here for the recipe—->>>>SHERYL'S FAVORITE ALL TIME SANDWICH.

Add these Roasted Sweet Mini Peppers to a salad or sandwich. Blend them up to make a delicious salad dressing or sauce. Roasting is so easy to do. ONLY 2 INGREDIENTS! Using these mini sweet peppers adds beautiful color to any dish.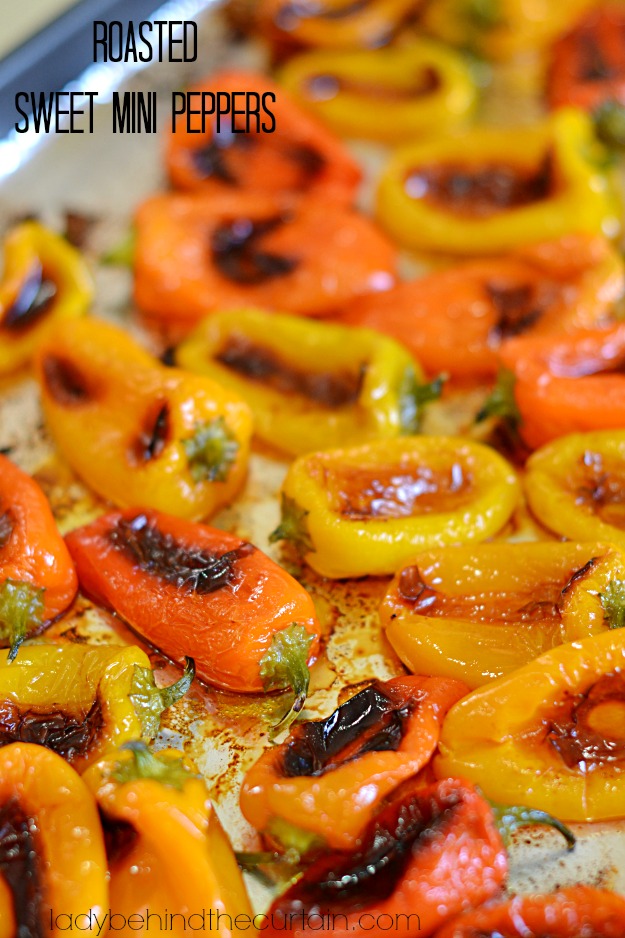 Once you have your Roasted Sweet Mini Peppers you can make my Roasted Sweet Pepper Sauce Concentrate. Store in the freezer for and easy weeknight sauce of a last minute spread for appetizers.
From the Roasted Sweet Pepper Sauce Concentrate, you can make Roasted Sweet Pepper Spread, perfect with pitch chips. So versatile you can serve it at a Bridal or Baby Shower, to hungry game watchers or for last minute entertaining.
You can also make….Roasted Pepper Chicken Sauce.. Full of fresh sweet pepper flavor. Serve as a dipping sauce for chicken tenders or add on top of a grilled chicken breast.
DELICIOUSLY VERSATILE ROASTED PEPPERS!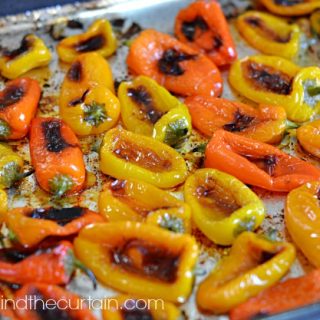 Roasted Sweet Mini Peppers
Yield:
2 Pounds of Peppers
So sweet and delicious you can eat them right out of the oven.
Ingredients
2 pound bag of sweet mini peppers
2 tablespoons olive oil
Instructions
Preheat oven to 400°.
Line a large 1-inch rimmed baking sheet with foil.
Add peppers, drizzle with oil and mix with hands to make sure all the peppers are evenly coated.
Bake a total of 40 minutes turning peppers at 20 minutes.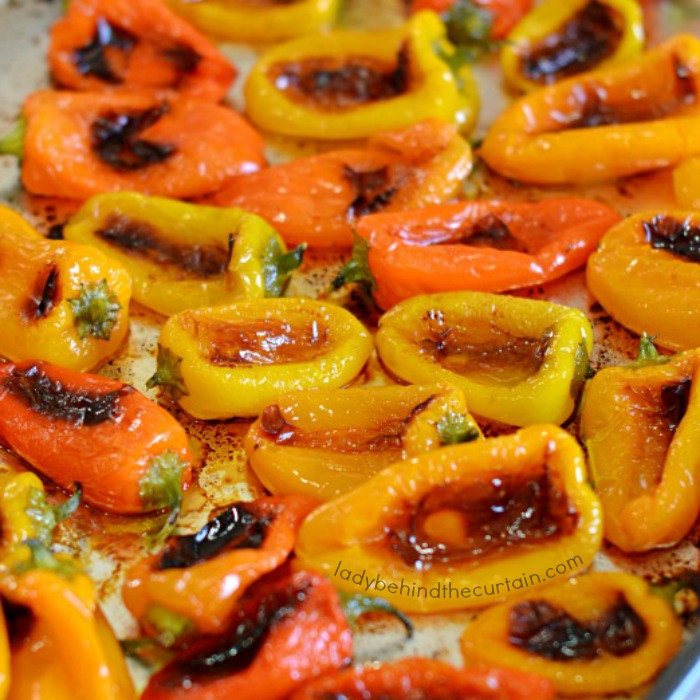 RECIPES WITH ROASTED PEPPERS
RED PEPPER AND BEEF PASTA 2. ROASTED RED PEPPER MANGO SAUCE 3. STEAK SANDWICH STACKERS
NEVER MISS A POST!
Sign up for my newsletter and receive my recipes in your inbox. Easy to see anytime and saved for safe keeping. Click Here and sign up today! —->>>>CURTAIN CALL NEWSLETTER
More recipes using roasted peppers you might like. ROASTED PEPPER SOUP and EASY ROASTED RED PEPPER HUMMUS RECIPE.