Semi Homemade Mini Lemon Glazed Cheesecakes
Semi Homemade Mini Lemon Glazed Cheesecakes |  These delicious mini cheesecakes are perfect for entertaining.  With a traditional graham cracker crust, creamy filling and a dollop of tart lemon on top.  It's everything you love about a lemon dessert and more!  Not only is this dessert elegant and delicious but it's also semi homemade….AND….you can totally freeze it!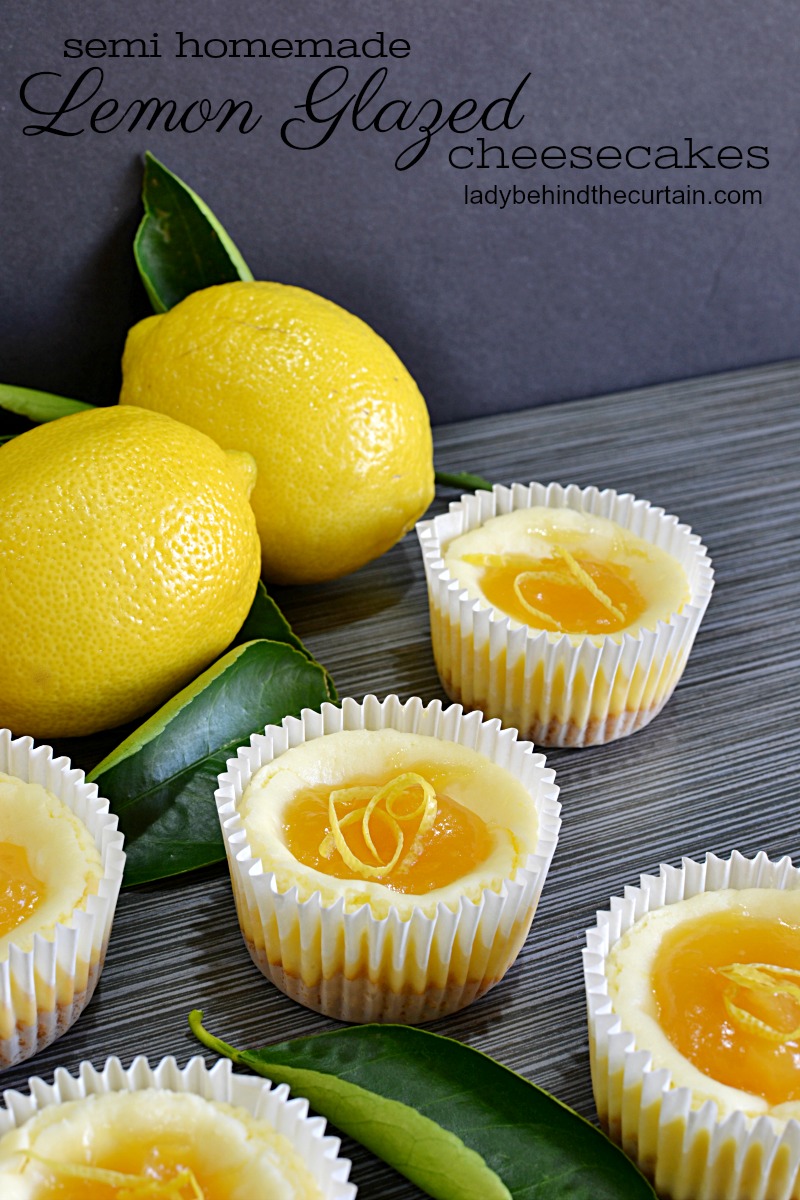 I made these for a ladies Christmas dinner along with MINI CARROT CAKE CHEESECAKES and MINI S'MORE CHEESECAKES weeks before the event and froze them!  The Lemon Glazed Cheesecakes and Mini Carrot Cake Cheesecakes I froze completely finished.  The Mini S'more Cheesecakes I waited until the day of the event to toast the marshmallow topping.  It's the my favorite way to entertain.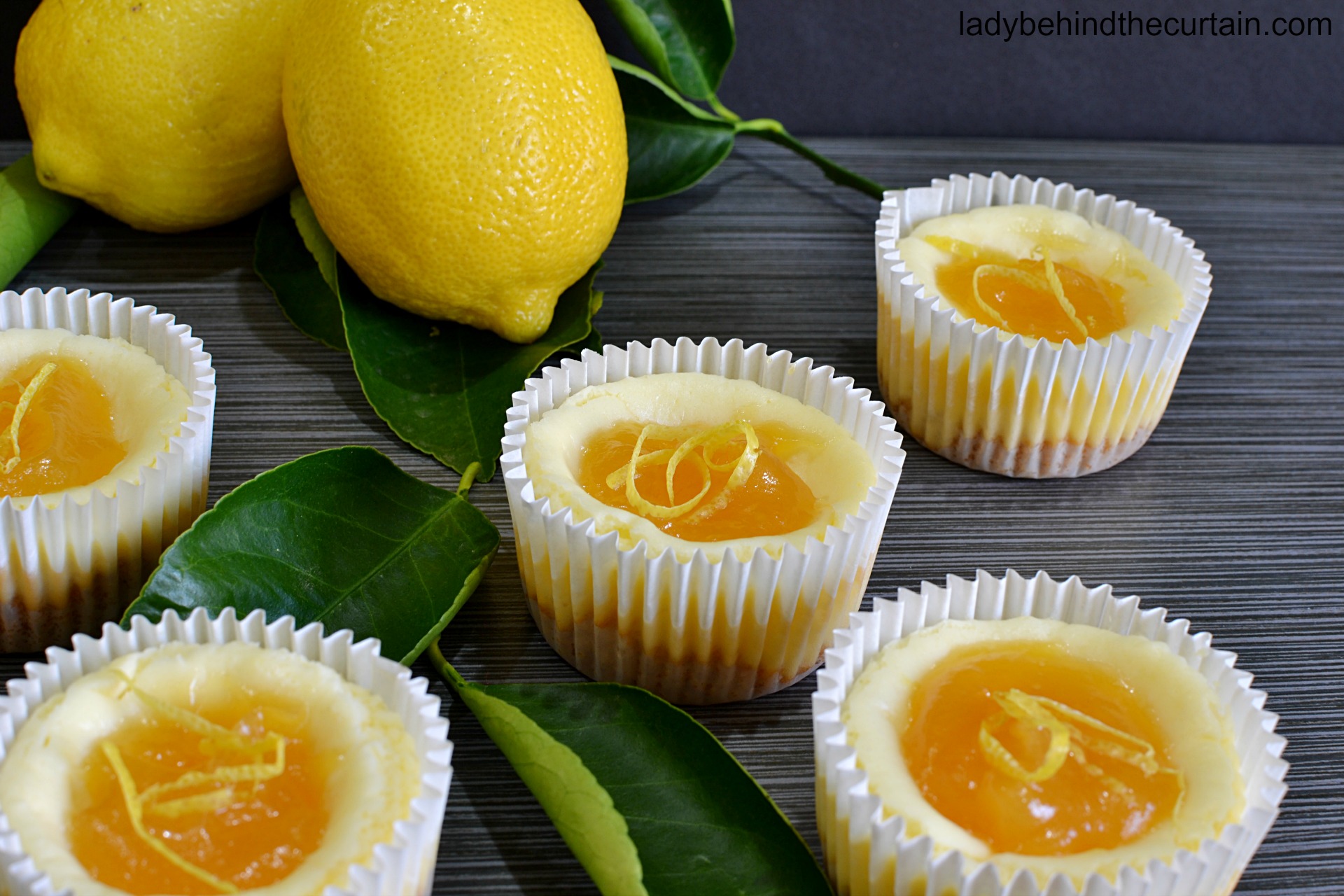 If you would like to make this Lemon Glazed Cheesecake as a full size cheesecake…don't worry I've got that covered too!  Click Here for the recipe—>>>LEMON GLAZED CHEESECAKE.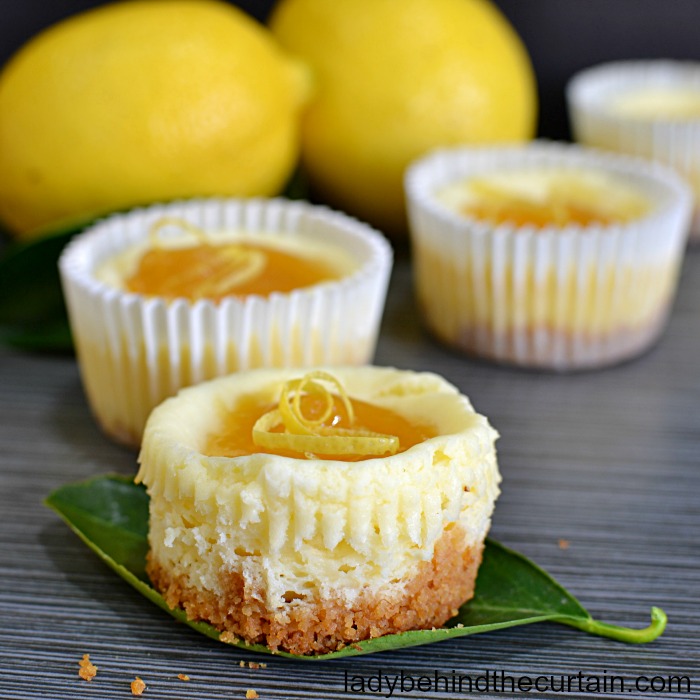 If you're not into using store bought lemon curd (quite frankly I don't see a difference) then I also have a recipe for that too!  Click Here for the recipe—>>>LEMON CURD.
Yield: About 24 Regular Cupcake Size Cheesecakes
Semi Homemade Mini Lemon Glazed Cheesecakes
Ingredients
For the Crust
1 1/2 cups graham cracker crumbs
1/4 cup granulated sugar
6 tablespoons unsalted butter, melted
For the Filling
3 (8 ounce) packages cream cheese, softened
1 1/4 cups granulated sugar
3 large eggs, beaten
3 tablespoons fresh lemon juice
1 tablespoon grated lemon peel
1 teaspoon vanilla extract
For the Glaze
3 (10 ounce) jars lemon curd
Optional: lemon zest
Instructions
For the Crust:
Line Cupcake pan with about 24 liners. Preheat oven to 350°.
In a medium bowl mix together the graham cracker crumbs, sugar and butter. Set aside.
For the Filling:
In a large mixing bowl cream the cream cheese until light and creamy. Add the sugar, eggs, lemon juice, lemon peel and vanilla. Continue mixing until combined, light and fluffy.
Putting it all Together:
Add a tablespoon of crust into the bottom of each cupcake liner, lightly press. Using an ice cream scoop with a lever, pour batter into each liner. Bake 17 to 20 minutes or until center is almost set. Cool on wire rack 10 minutes and carefully lift cheesecakes out of pan to cool completely. Add a dollop of lemon curd to the top of each cooled cheesecake and optional lemon zest.
MORE MINI CHEESECAKE RECIPES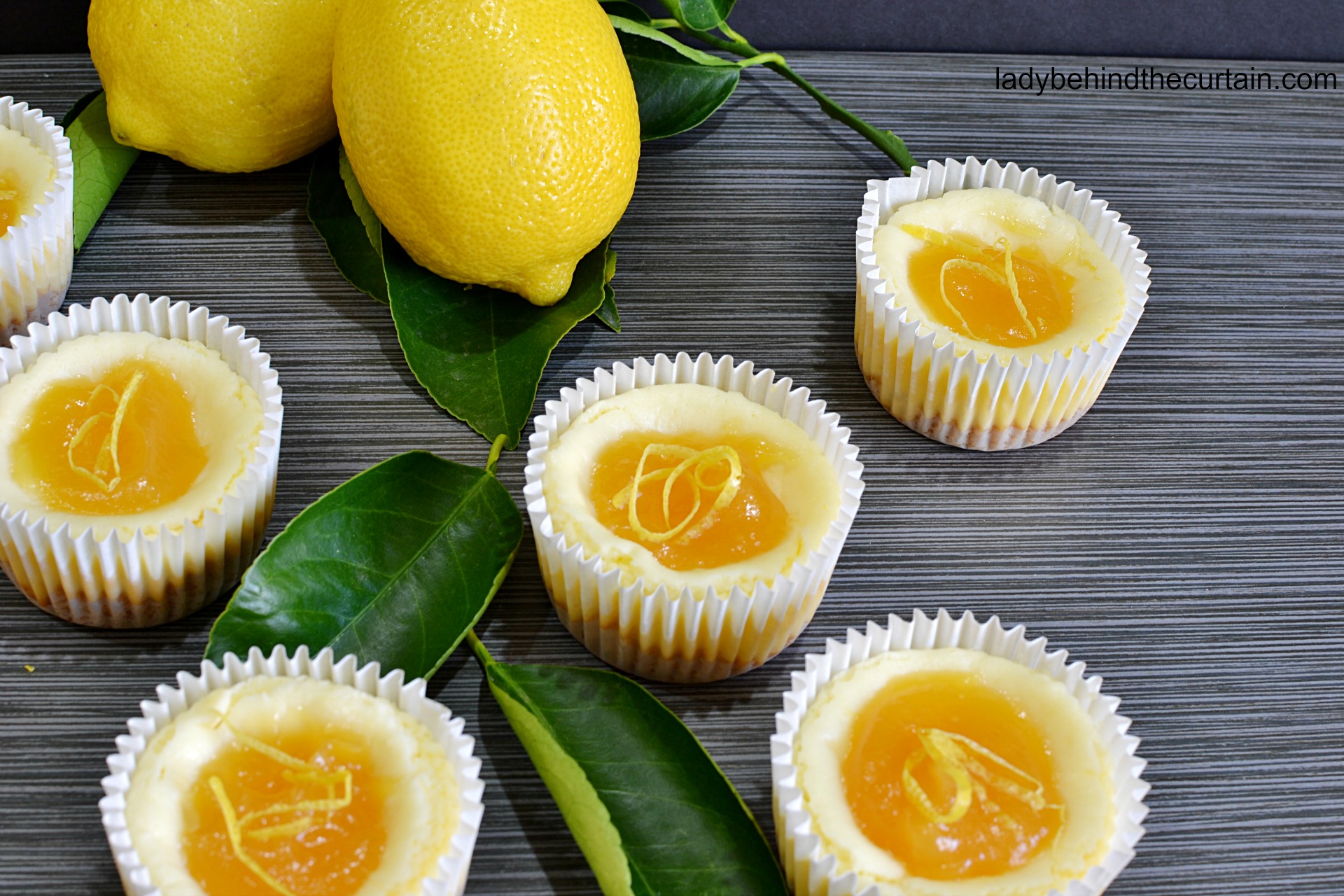 MINI PAYDAY CHEESECAKES  2. MINI PUMPKIN CHEESECAKES  3. MINI APPLE CRUMB CHEESECAKES

NEVER MISS A POST!
Sign up for my newsletter (two per month) and receive my recipes in your inbox. Easy to see anytime and saved for safe keeping. Click Here and sign up today! —->>>>CURTAIN CALL NEWSLETTER