One slice is never enough of this Lemon Glazed Cheesecake.  The rich filling and golden glaze will tempt your taste buds! The perfect cheesecake for a summer dinner.   If you don't want to be tempted (trust me you will be)  by having a delicious cheesecake in your house.  After dinner is over cut the cheesecake into individual serving sizes and freeze in separate containers.  GREAT for portion control, for hubby to take in his lunch or to have next week after dinner!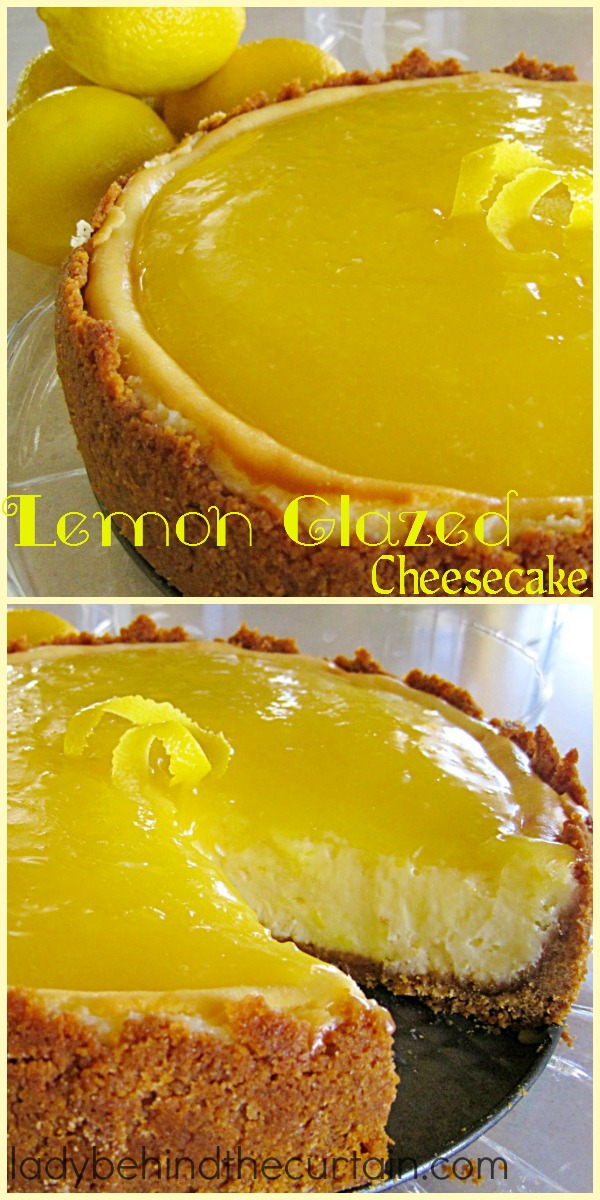 Not just lemon cheesecake but also a wonderful thick lemon glaze that screams SUMMER!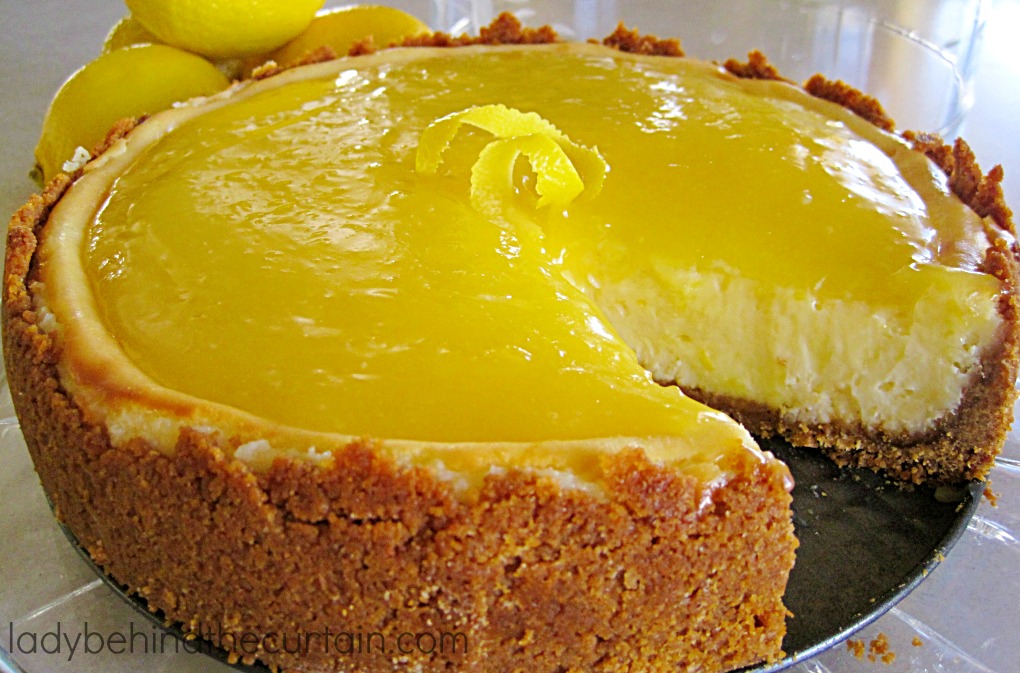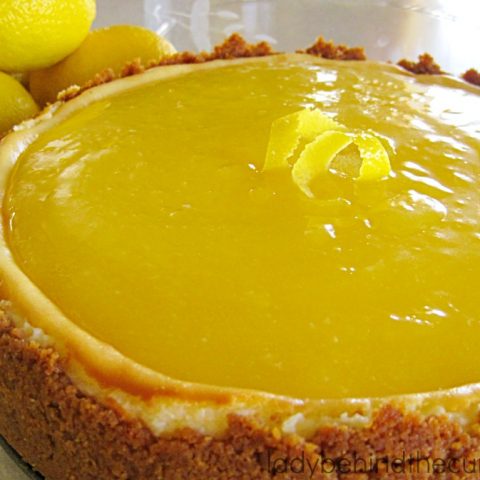 Lemon Glazed Cheesecake
Total Time:
1 hour
45 minutes
The rich filling and golden glaze will tempt your taste buds! 
Ingredients
For the Crust:
2 1/2 cups graham cracker crumbs
1/4 cup granulated sugar
2/3 cup butter, melted
For the Filling:
3 packages (8 ounces each) cream cheese, softened
1 1/4 cups granulated sugar
3 large eggs, beaten
3 tablespoons fresh lemon juice
1 tablespoon grated lemon peel
1 teaspoon vanilla extract
For the Glaze:
2 large eggs
1 cup granulated sugar
1/4 cup fresh lemon juice
2 tablespoons grated lemon peel
6 tablespoons unsalted butter, melted
Instructions
For the Crust:
Preheat oven to 350 degrees.
Combine the cracker crumbs, sugar and butter.
Press onto the bottom and 2 in. up the sides of a 9-in. springform pan.
Place on a baking sheet.
Bake 10 minutes or until set.
Take out of the oven and set aside for filling.
For the Filling:
In a large bowl, beat cream cheese and sugar until smooth.
Add eggs; beat on low speed until combined; Stir in the lemon juice, lemon peel and vanilla just until blended.
Pour into crust; return pan to baking sheet.
Bake for 40-45 minutes or until center is almost set.
Cool on a wire rack for 10 minutes. Carefully run a knife around edge of pan to loosen, but do not remove ring; refrigerate overnight.
Remove the ring when you are ready to glaze.
For the Glaze:
In a small heavy saucepan, whisk the eggs, sugar, lemon juice and peel until blended.
Add butter; cook, whisking constantly, until mixture is thickened and coats the back of a metal spoon.
Transfer to small bowl; cool for 10 minutes.
Cover and refrigerate until chilled or overnight.
NOTE: I recommend making the lemon glaze the day you make the cheesecake. You want that glaze really cold so it doesn't run.
Spread glaze over cheesecake.
Store the cheesecake in the refrigerator.
MORE CHEESECAKE RECIPES

1. ALMOND JOY CHEESECAKE  2.  BANANA CHEESECAKE  3. PECAN PIE CHEESECAKE