Candy Corn Vanilla Swiss Cake Roll
Candy Corn Vanilla Swiss Cake Roll, a delicious vanilla sponge cake filled with buttercream and topped with a marshmallow white ganache, the perfect Halloween Party Dessert! This year, wow your guests with a colorful fun Candy Corn Vanilla Swiss Cake Roll! This easy to make cake roll looks complicated but is as easy as following directions. No special equipment or tools just time. Scroll down and watch my "HOW TO MAKE A CAKE ROLL" video to see how easy it really is!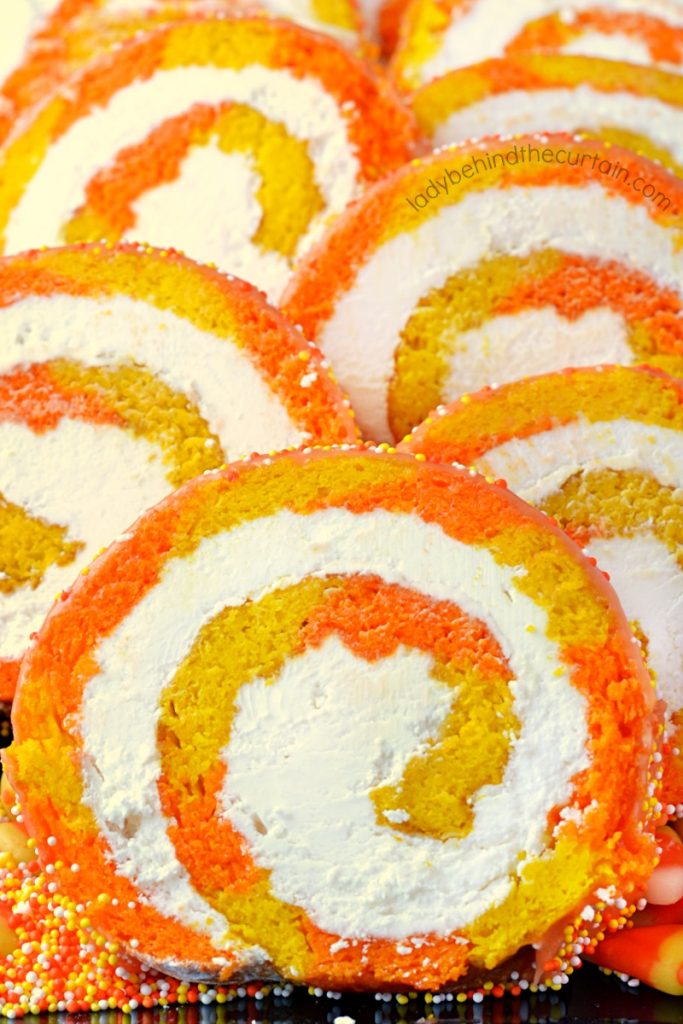 HOW TO MAKE A CANDY CORN VANILLA A CAKE ROLL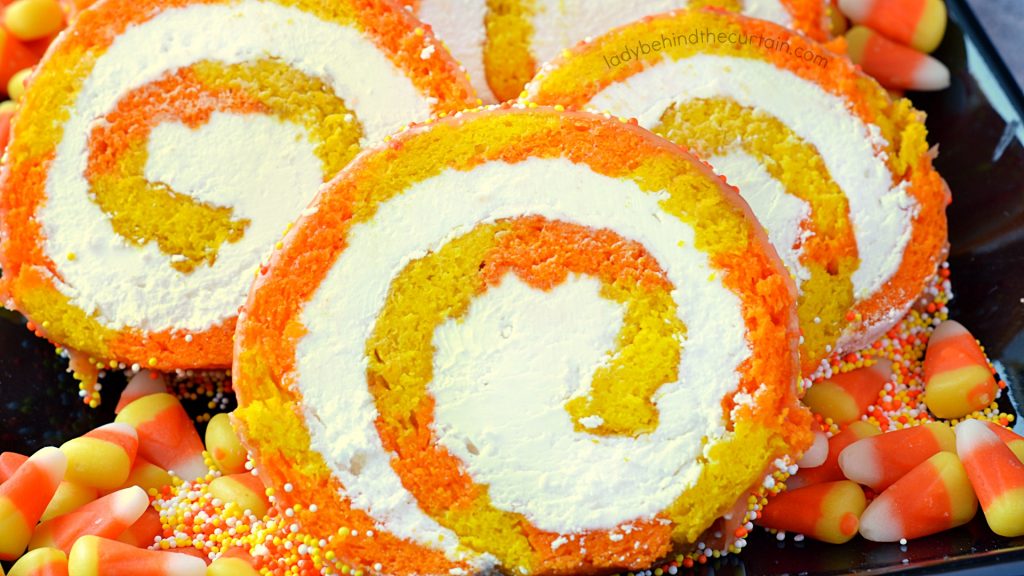 You can watch each step in the video below.
Sift together the dry ingredients
Whip egg yolks until slightly thickened and a beautiful lemon color, add sugar and vanilla beat until thick.
Fold dry ingredients into egg yolk mixture
Beat egg whites into stiff peaks
Fold egg yolk batter into egg whites
Divide batter into two bowls
Add orange gel food coloring to one bowl, yellow gel food coloring to the other bowl.
Spoon each batter into piping bags, snip the end
Pipe batter in a stripped fashion, one color at a time across the prepared pan.
Bake only 12 minutes or until the cake springs back when lightly touched.
Immediately invert hot cake onto a towel dusted with powdered sugar.
Gently roll the cake up with the towel. Let it cool in the rolled up shape.
Unroll and spread on the filling, roll back up and top with marshmallow ganache.
How to Make a Cake Roll Video
HOW TO FREEZE AND THAW A CAKE ROLL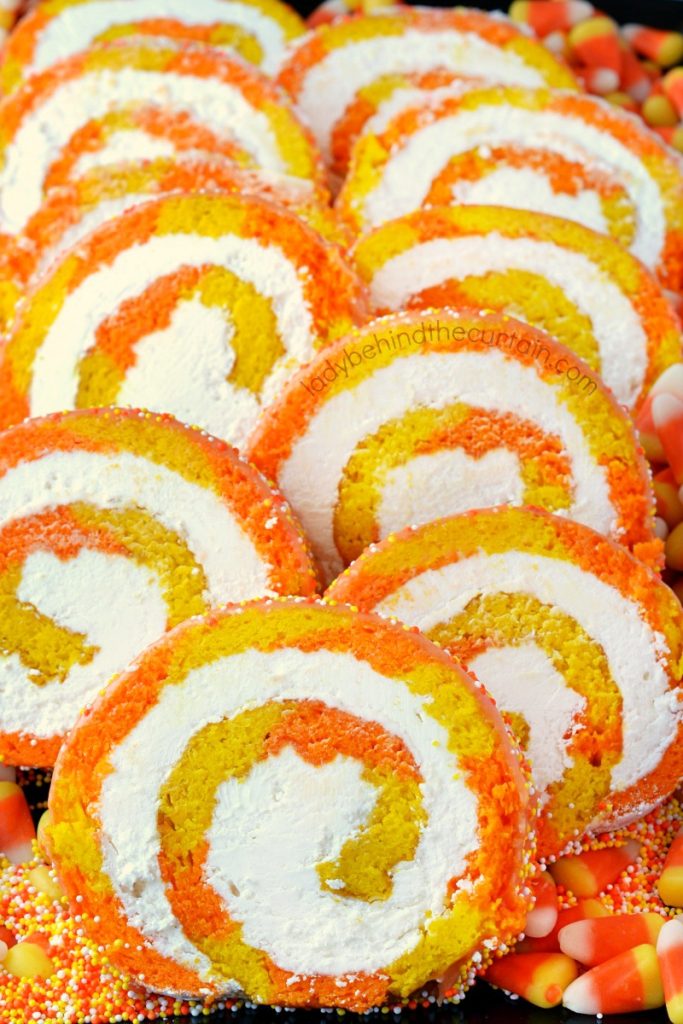 MORE CAKE ROLL RECIPES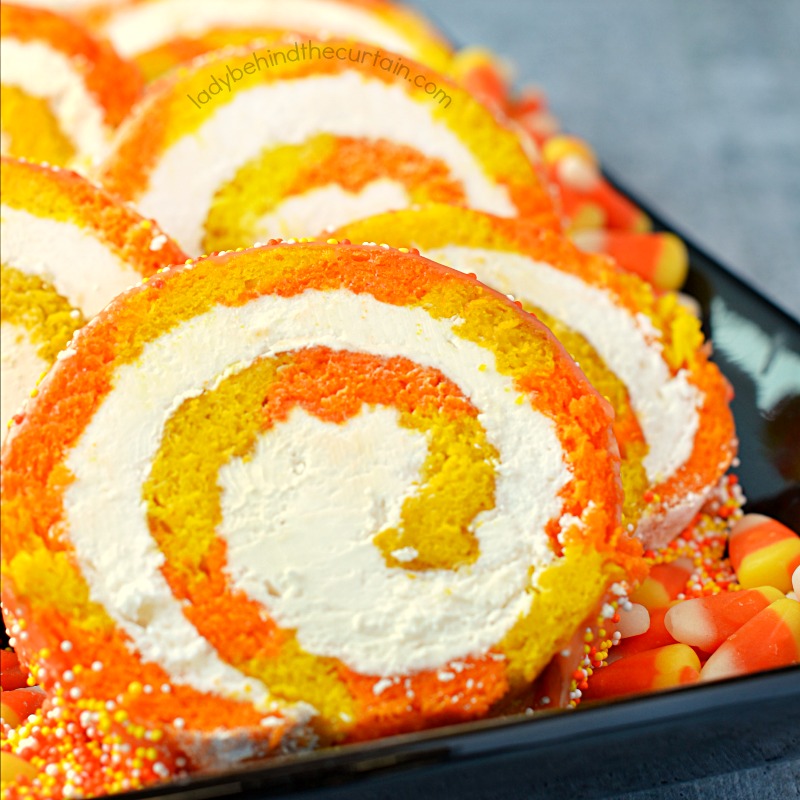 MORE CANDY CORN RECIPES
NEVER MISS A POST
More Halloween Party Treats to go with your Candy Corn Vanilla Swiss Cake Roll. EASY HALLOWEEN CUPCAKES and FRANKENSTEIN RICE KRISPIE TREATS.