Soft Banana Pudding Cookies
Soft Banana Pudding Cookies: These delicious cookies are thick and soft just like the high priced cookies your can buy, but as usual a lot better and cheaper. Everything you love about banana pudding with just the right amount of banana flavor and a little crunch from the vanilla wafers. Create a gift basket with these gourmet cookies and THICK CHOCOLATE CHIP COOKIES.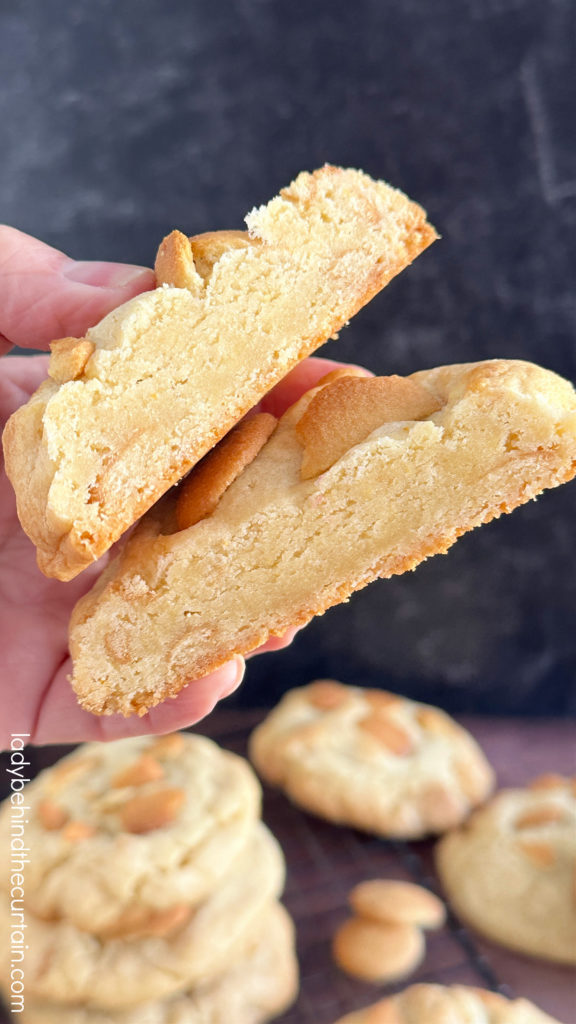 How to Make Thick Soft Banana Pudding Cookies
DELICIOUS BANANA FLAVOR IN A GIANT GOURMET COOKIE!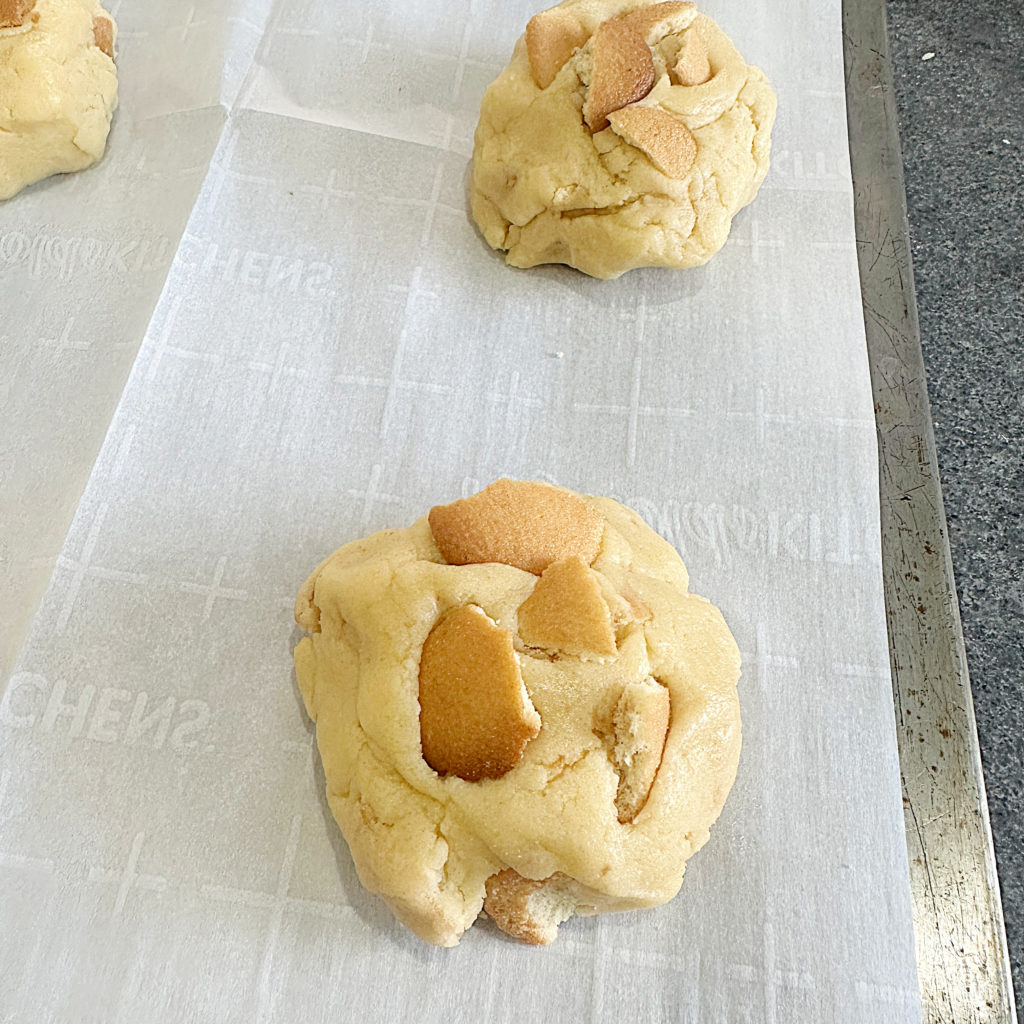 VEGETABLE SHORTENING: Shortening traps more air bubbles and has a higher melting point than butter, so recipes that use shortening tend to produce an end product that will rise a little higher, holds its shape during baking, and has an interior texture that is softer or lighter.
UNSALTED BUTTER: For flavor, a little fat, and a tiny bit of liquid.
CREAM CHEESE: Swapping out some of the butter for cream cheese will create a soft cloud like cookie.
HANDLING THE DOUGH: When forming the cookie ball, don't press the dough together too much. Try to keep it airy. Only press it together enough for it to stay together.
CHILL THE DOUGH BEFORE BAKING: Once the dough is formed into balls and placed on a cookie sheet lined with parchment paper, slide the cookie sheet into the refrigerator for 2½ hours.
BANANA PUDDING: The pudding mix keeps the cookies soft while it adds a ton of flavor.
BAKING POWDER: Baking soda can help create crisper cookies, but we want a thick soft cookie so omit the baking soda and use baking powder.
The Extracts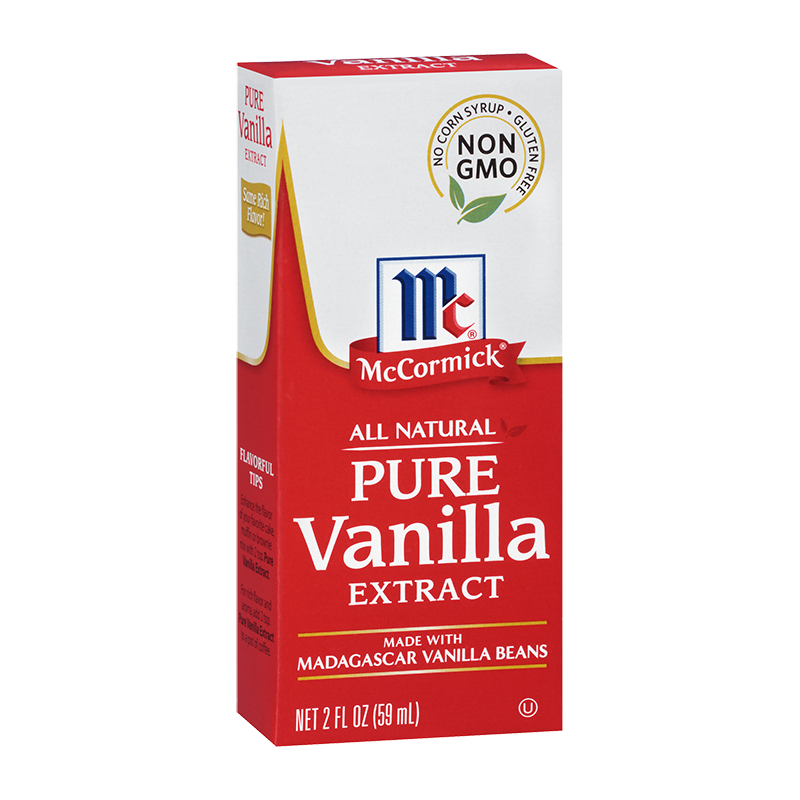 VANILLA EXTRACT: Only use real vanilla extract. Please DO NOT use imitation vanilla.
BANANA EXTRACT: Made with real banana, without any artificial flavors. I highly recommend adding this to your cookies. Adding a little to your cookie dough along with the banana pudding gives the cookie dough just the right amount of banana flavor without compromising the dough.
Banana Pudding Cookie Variations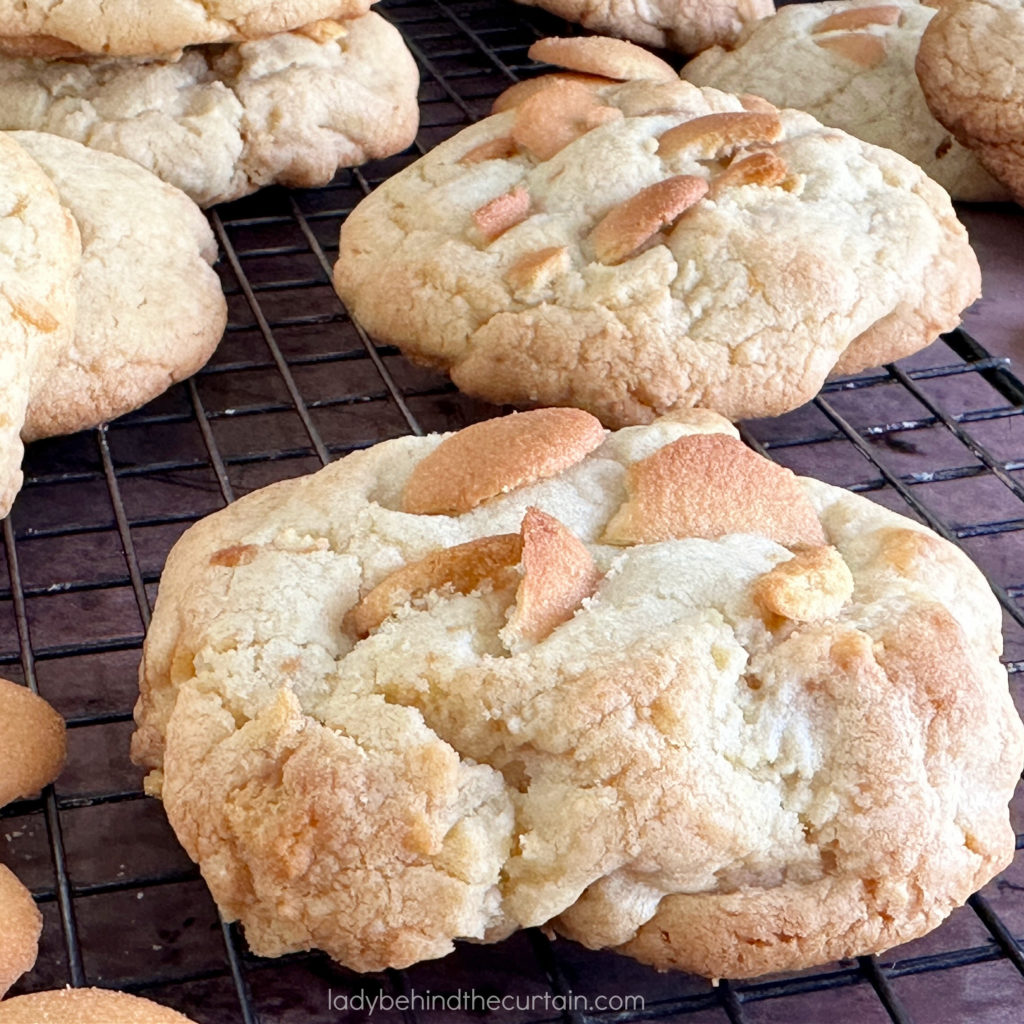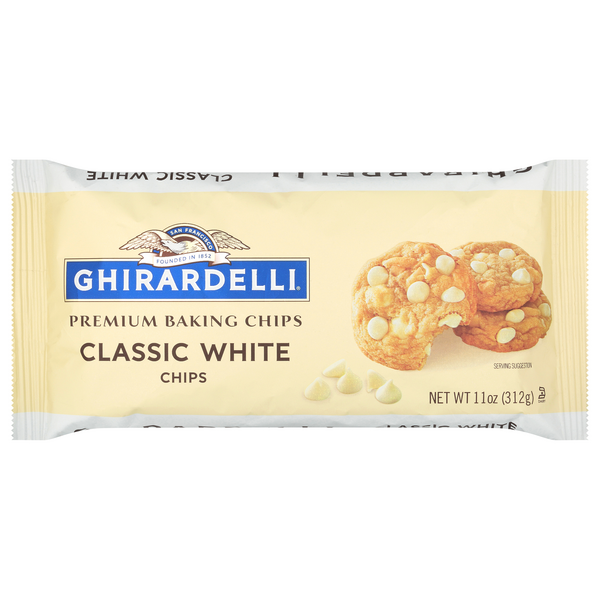 While I love these Giant Soft Banana Pudding Cookies just the way they are, below are two variation ideas. All starting with the same base cookie dough recipe. THREE COOKIES ONE COOKIE DOUGH RECIPE.
•WHTIE CHOCOLATE( 11 ounce bag per one cookie dough recipe): Add little pops of sweet flavor with white chocolate chips. My favorite brand is Ghirardelli but any brand will work. ADDING A WHITE CHOCOLATE DRIZZLE: Melt white chocolate in the microwave (do this slowly at 60% power), pour into a small zip top bag, snip the corner, and in a back and forth motion add to the tops of your cookies. Set aside to harden.
•BANANA FROSTING: Add a swirl of this incredible banana frosting to some of your cookies. Your guests will love having options. It's light, creamy, and offer tons of banana flavor. Click here for the recipe→BANANA CREAM FROSTING
BUTTER VS MARGARINE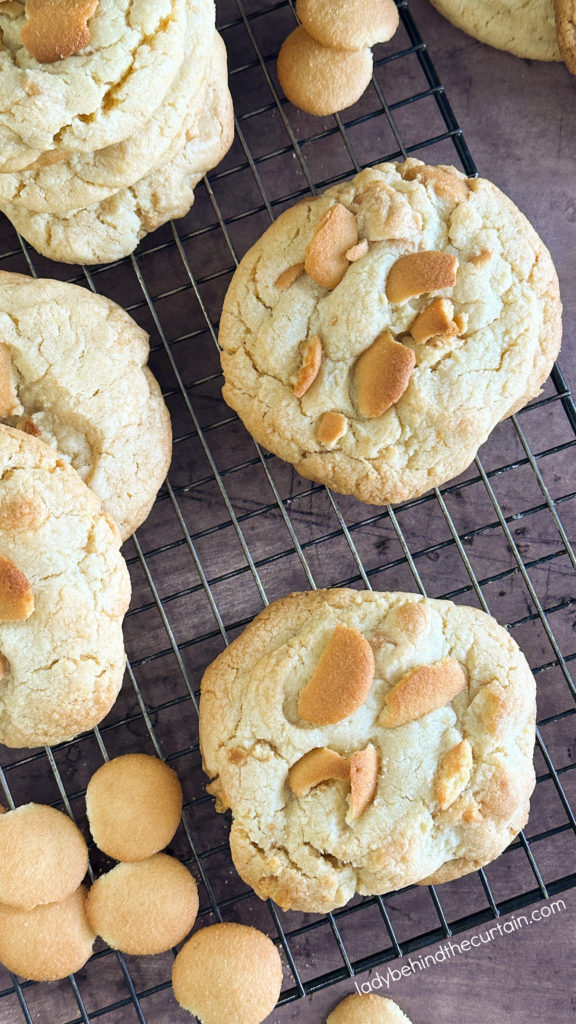 Don't skimp on this ingredient….YOU MUST USE REAL BUTTER. WHY? There are several reasons for choosing butter over margarine.
FLAVOR: Butter provides a rich flavor. BAKERS TIP: Always use unsalted butter when baking. You want to be in control of how much salt is in your recipe.
FAT CONTENT: Margarine contains more water and less fat, which makes for thin cookies that spread out while baking.
Can This Recipe Make Smaller Cookies?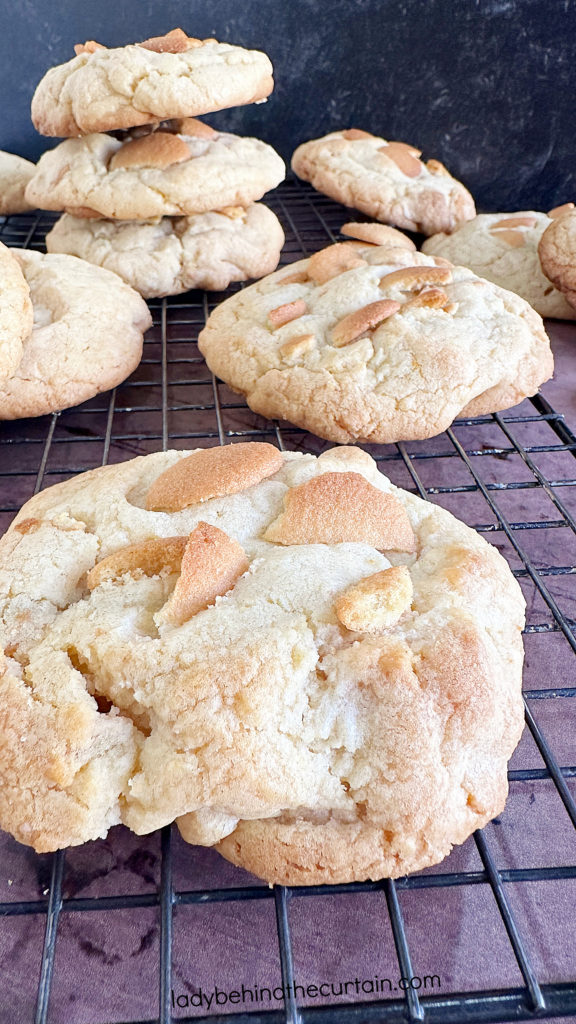 This recipe was designed to make 19 large thick gooey cookies. Like the ones you get at a bakery.
However! This same dough can be used to make smaller size cookies. They will puff up beautiful and thick. Please keep in mind to adjust baking time. The serving size will also change.
CAN BANANA PUDDING COOKIE DOUGH BE MADE IN ADVANCE?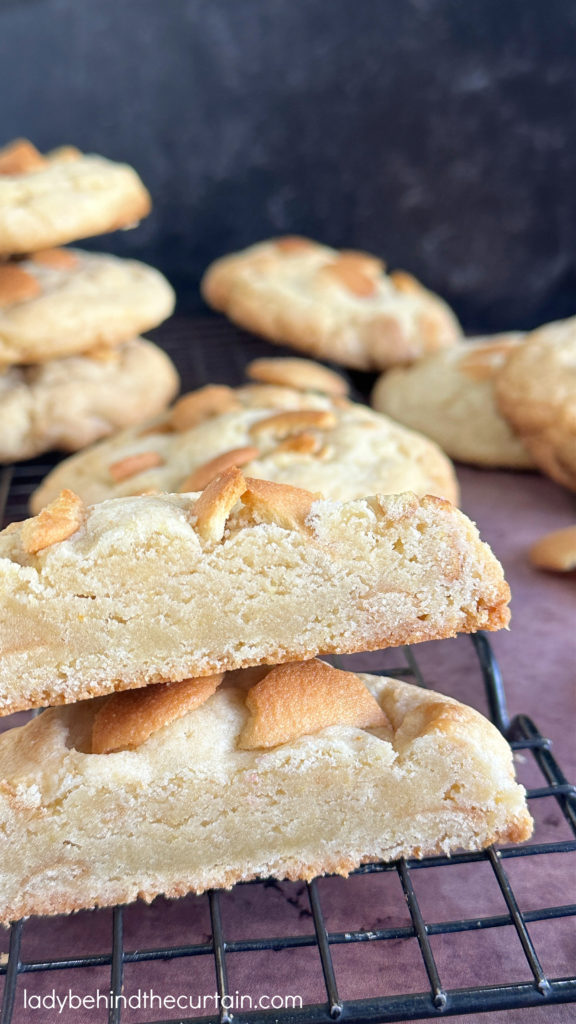 YES! You can totally make this dough ahead of time and save in the refrigerator or freezer!
REFRIGERATOR: The cookie dough can be kept chilled in the refrigerator for up to 4 days.
FREEZER (BAKED COOKIES): Place baked cookies in a freezer safe bag. The cookies will stay fresh in the freezer up to 3 months.
FREEZER (COOKIE DOUGH BALLS): Cookie dough balls will stay fresh in the freezer up to 3 months. HOW TO FREEZE: Place the balls on a cookie sheet for a few hours before placing them in a freezer bag to store. BAKE FROZEN COOKIE DOUGH FOR AN EXTRA MINUTE, no need to thaw.
MORE THICK BAKERY COOKIES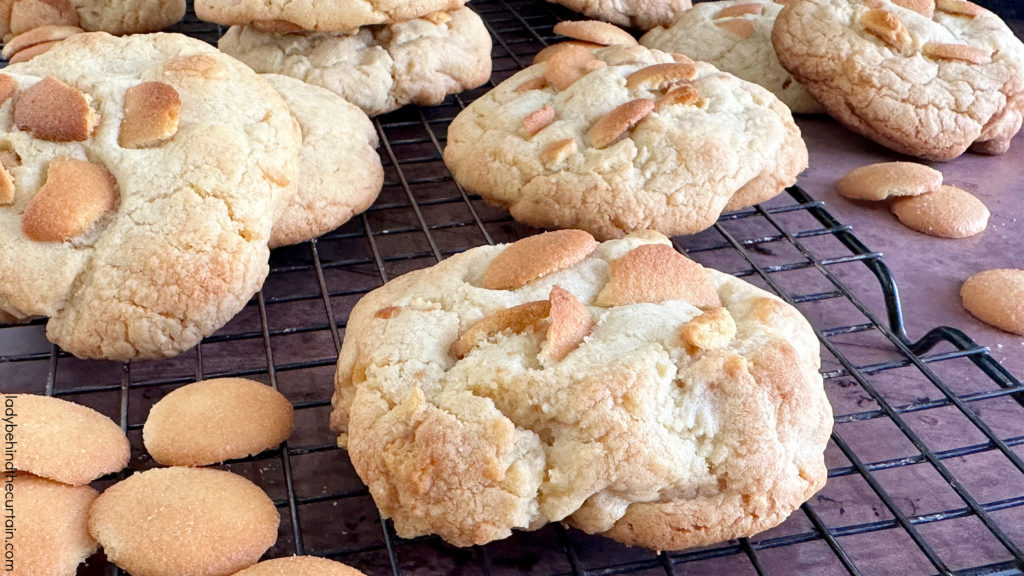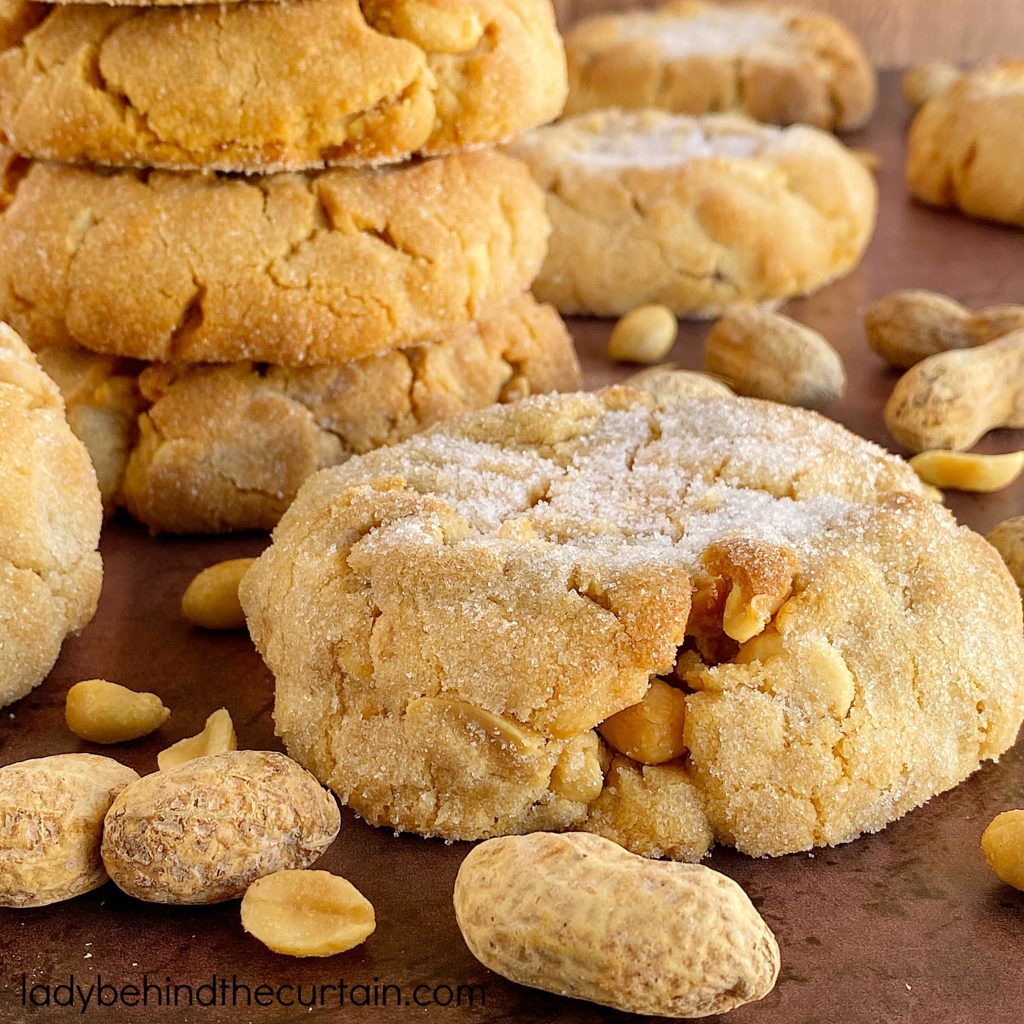 GOURMET THICK PEANUT BUTTER COOKIES 2. LARGE THICK BAKERY SIZE SUGAR COOKIES 3. LARGE BAKERY SIZE GINGERBREAD COOKIES 4. GOURMET THICK SALTED CARAMEL COOKIES 5. LARGE BAKERY SIZE PUMPKIN COOKIES 6. LARGE BAKERY SIZE PISTACHIO COOKIES
SIGN UP FOR THE LADY BEHIND THE CURTAIN NEWSLETTER AND FOLLOW THE LADY BEHIND THE PARTY ETSY SHOP
THANKS FOR VISITING♥