Banana Cream Frosting | This wonderful frosting has a great banana flavor and is amazing on a variety of cakes/cupcakes. Like….spice cake, hummingbird cake, chocolate cake and banana nut. Scroll down to see my secret ingredient for making this the best Banana Cream Frosting you'll ever taste!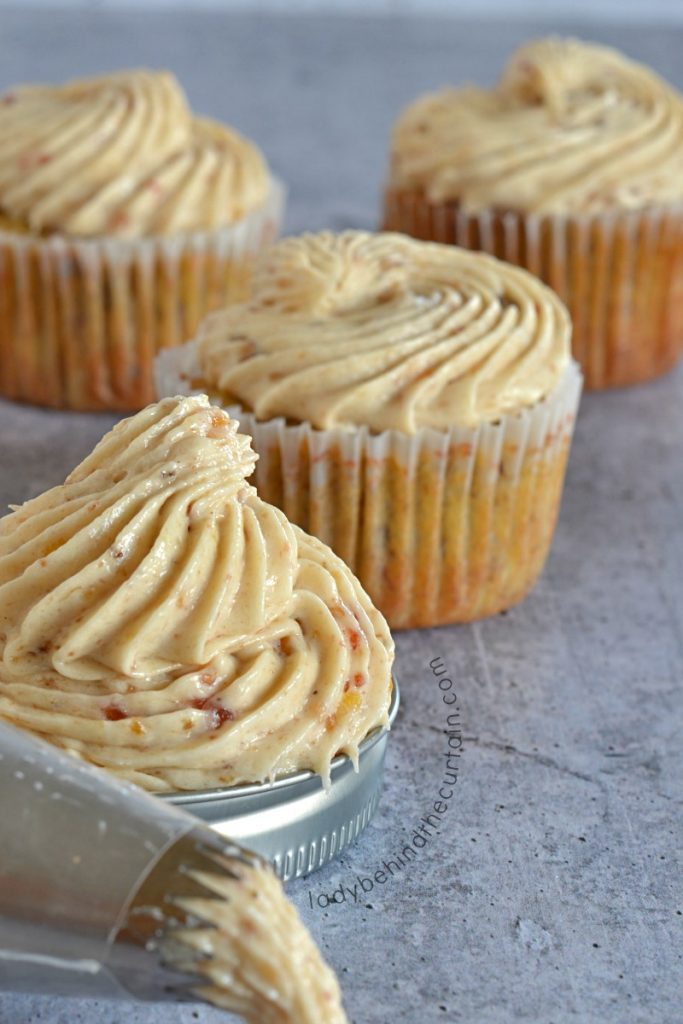 I'm a frosting girl….always have been. So for me, having a delicious pile of frosting on top of a cupcake is all that matters! As long as the frosting is homemade you can skimp on the cupcake and use a cake mix! There's no denying that the canned frosting can't even come close to homemade.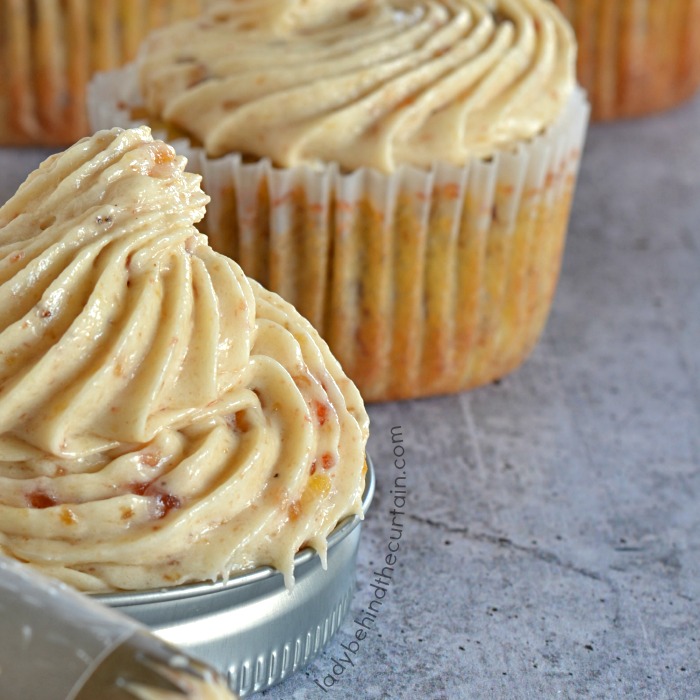 ---
HOW TO STORE FROSTING
Frostings that are made with shortening can be stored at room temperature in an air tight container on the counter up to 2 weeks. Frostings with butter and milk should be stored in the refrigerator with an air tight lid up to 2 weeks or freezer up to 3 months.
---
TIPS FOR A LIGHT AND FLUFFY FROSTING
Good ingredients "real" butter not margarine
Room temperature ingredients
Be patient…you'll need to whip the frosting at least 3 to 5 minutes (sometimes I do this step twice). This will allow air to incorporate into the butter and create the lightness you want.
That's it! It's really not as hard as you might think.
---
SECRET INGREDIENT
In order to achieve a delicious banana flavor you might think I added tons of smashed bananas or banana flavor. If I were use fresh bananas I would have to also use tons of sugar to absorb all the moisture. While I did add some flavor ( only 1 teaspoon) the real secret ingredient is banana chips! Here's what I did….Simply pour the baked banana chips in a blender and blend until the fruit is in powder form. There will still be some tiny pieces but that's what give the frosting lots of banana flavor and interest. The longer the ground banana chips sit in the moisture of the butter and cream cheese the softer the pieces become. By the time your guests take their first bite the banana pieces will be soft and full of banana flavor.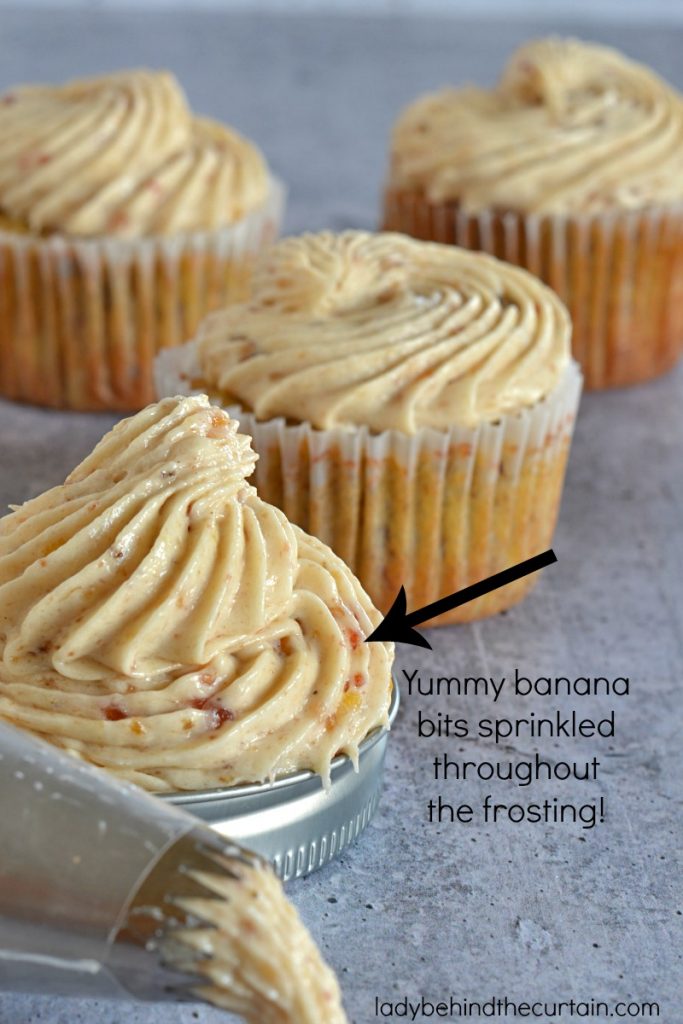 ---
I love making cupcakes and cake from scratch, but if you find yourself in a time crunch or you don't feel like messing with making the cupcakes or cake and the frosting from scratch. PLEASE make the frosting! You can add things to a cake mix to help with the flavor but there's just nothing like homemade frosting. Click here for ideas on how you can transform a cake mix—->>>>22 WAYS TO MAKE A CAKE MIX TASTE LIKE HOMEMADE.
Yield: Enough for 24 Cupcakes or One 2 layer Cake
Banana Cream Frosting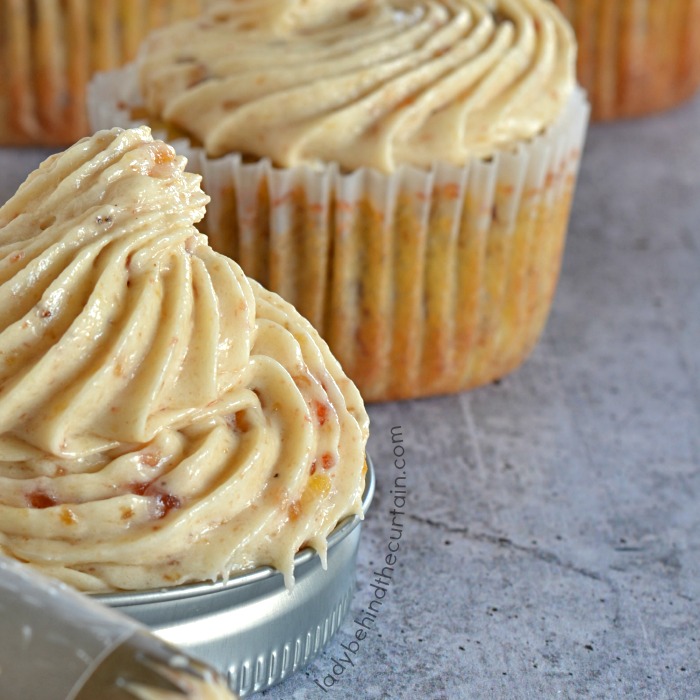 Ingredients
3/4 cup unsalted butter, softened
1 (8 ounce) cream cheese, softened
2 (2.7 ounce) bags baked crunchy banana chips (about 3/4 cup powder and pieces)
2 teaspoons vanilla extract
1 teaspoon banana extract
5 cups powdered sugar
1 tablespoon water or milk
Instructions
For the Banana Chips:
Pour the bags of banana chips into a blender. Blend until the chips become powder. Some small pieces may remain but will soften once in the frosting mixture.
For the Banana Cream Frosting:
In a large mixing bowl add the butter, cream cheese, and banana powder. Mix until smooth (about 3 minutes). Add the extracts, mix to combine. Add sugar one cup at a time, mixing between additions and adding the water or milk. Once all the sugar and water or milk has been added, turn the speed up to medium high. Mix for an additional 3 minutes to allow air to enter the frosting and become light and fluffy.
MORE FROSTING RECIPES

BLUEBERRY CREAM CHEESE FROSTING 2. DOLE WHIP PINEAPPLE CREAM CHEESE BUTTER FROSTING 3. TART RASPBERRY CREAM CHEESE FROSTING
NEVER MISS A POST!
Sign up for my newsletter and receive my recipes in your inbox. Easy to see anytime and saved for safe keeping. Click Here and sign up today! —->>>>
CURTAIN CALL NEWSLETTER
More cake or cupcake recipes that will go great with this Banana Cream Frosting. BANANA CUPCAKES and SPICE CAKE.