Strawberry Mallow Cake Roll PLUS How to Video!
Entertaining can be stressful.  That's why this Strawberry Mallow Cake Roll is perfect!  It can be made in advance and frozen until ready to serve.  This creamy strawberry filling is wrapped with a wonderful light sponge cake.  A light and refreshing dessert for those hot summer nights or perfect for a ladies luncheon, baby shower or bridal shower.  Are you feeling like making a cake roll is too hard?  Don't worry I've got you covered.  Scroll down and watch my "HOW TO MAKE A CAKE ROLL" video to see how easy it really is!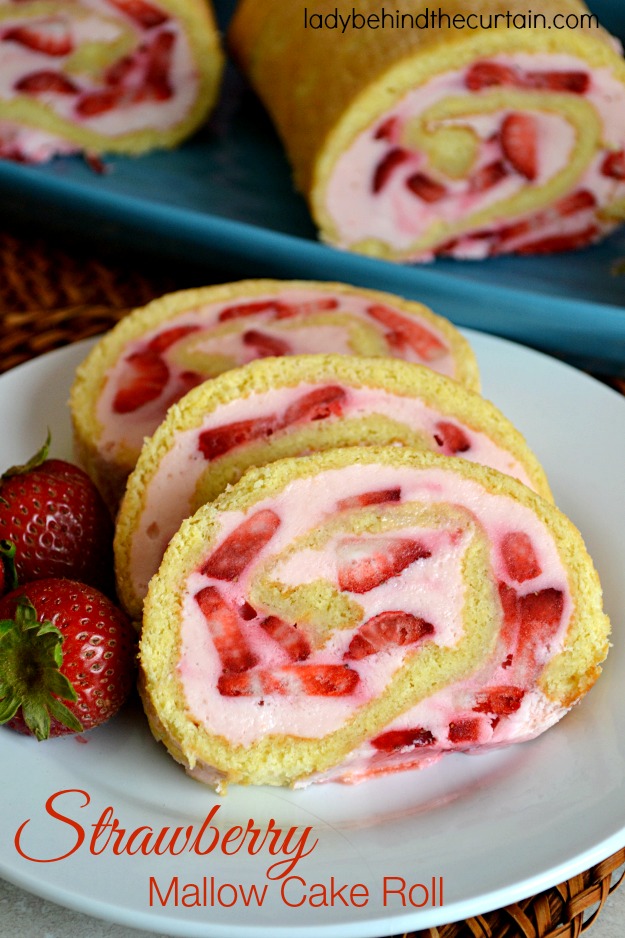 First, start by sprinkling confectioners' sugar onto a kitchen towel.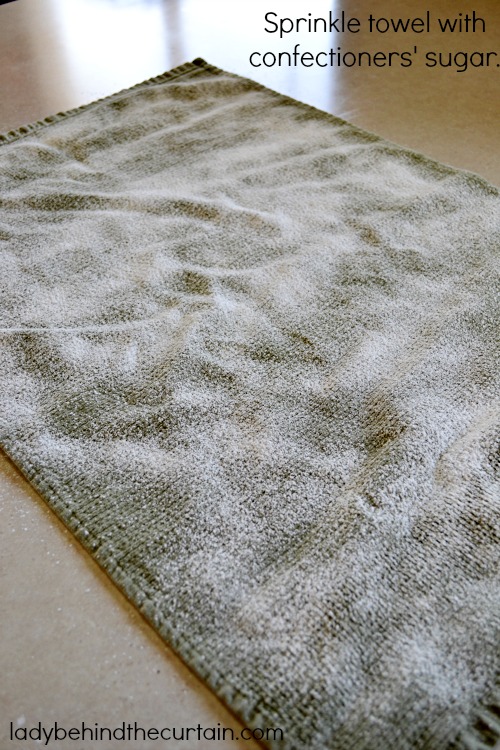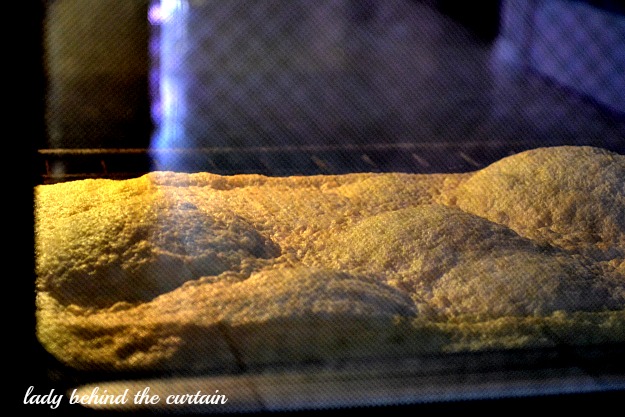 Turn cake onto the prepared kitchen towel, peel off wax paper.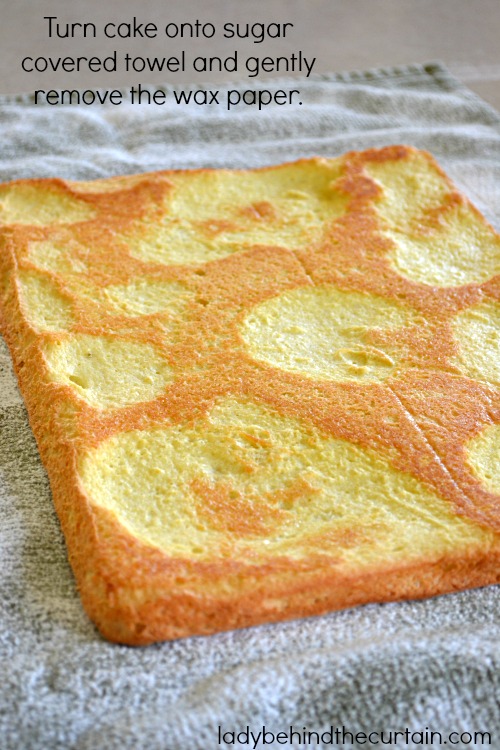 Roll in the towel until cake is cooled.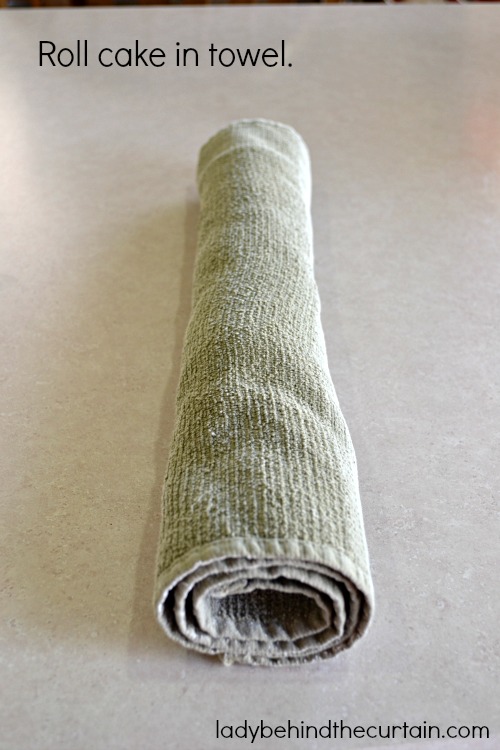 Unroll the cake.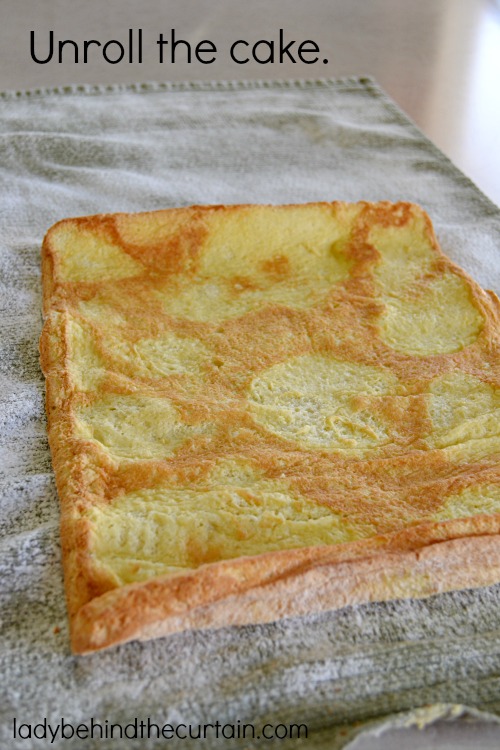 Spread on the cream cheese mixture.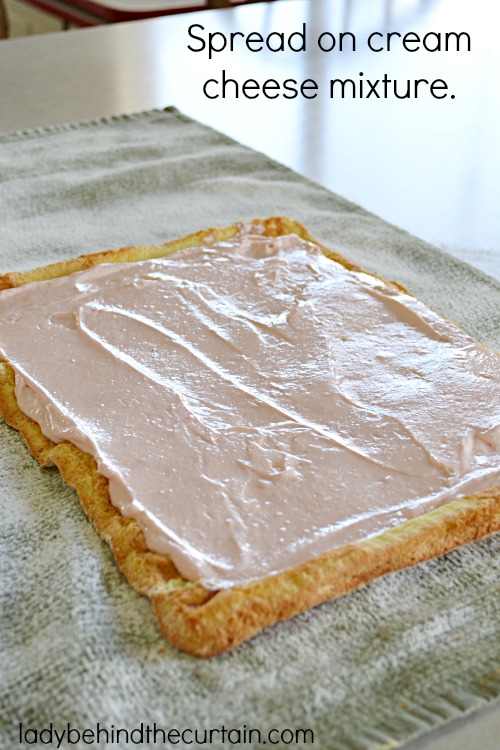 Add the sliced strawberries, roll back up, cover with plastic wrap and place in freezer until ready to serve.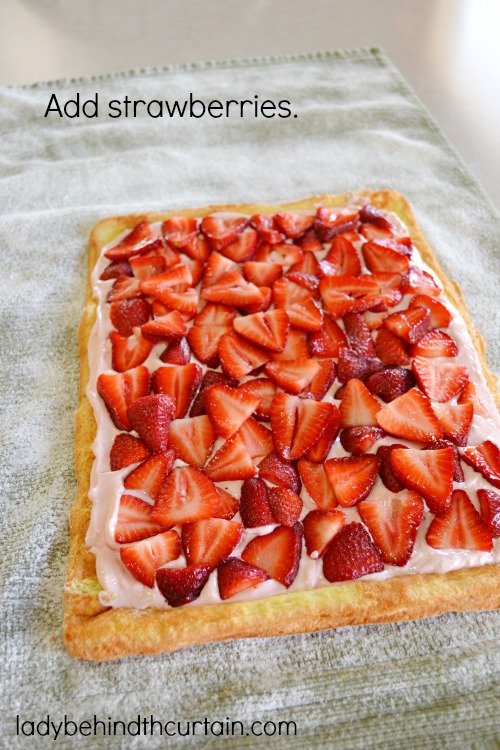 FOR A DETAILED LOOK….WATCH MY VIDEO "HOW TO MAKE A CAKE ROLL"!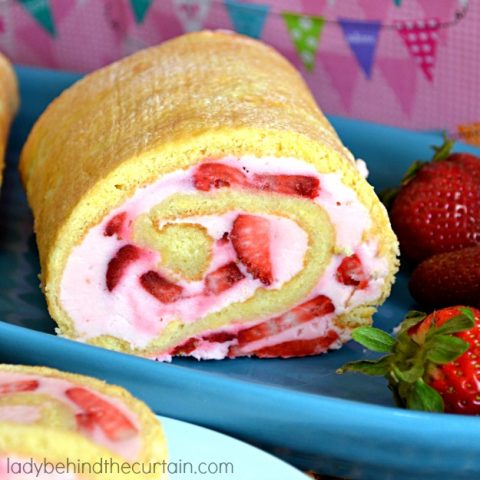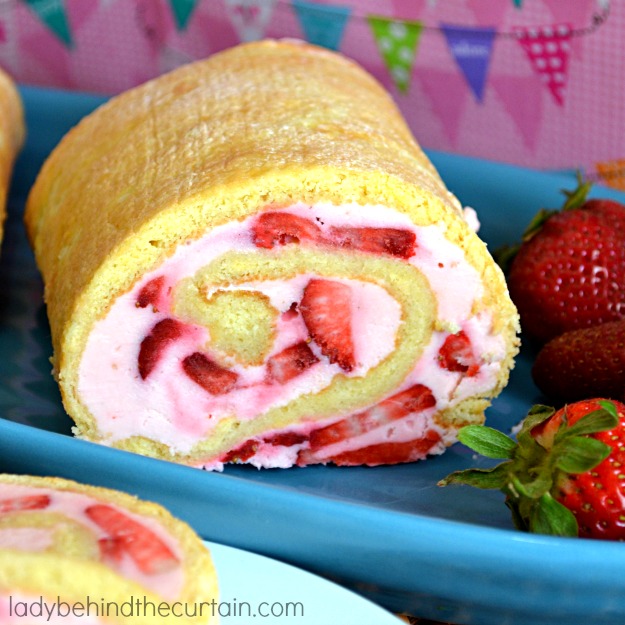 Strawberry Mallow Cake Roll
Ingredients
4 eggs, separated
2/3 cup all-purpose flour
1 teaspoon baking powder
1/4 teaspoon salt
3/4 cup granulated sugar, divided
1/2 teaspoon vanilla extract
confectioners' sugar for dusting
2 - 8 ounce spreadable strawberry cream cheese
7 ounces marshmallow creme
1 - 1/2 cups fresh strawberries, sliced - plus extra for garnish
Instructions
Preheat oven to 375 degrees.
Let eggs stand at room temperature for 30 minutes.
Line a greased 15-inch x 10-inch x 1-inch baking pan with waxed paper and grease the paper; set aside.
NOTE: you can also use parchment paper but I found the wax paper worked fine. I was a little concerned about it melting but it held up.
Sift together the flour, baking powder and salt; set aside.
In a large mixing bowl; beat egg yolks until slightly thickened.
Gradually add 1/4 cup sugar, beating until thick and lemon-colored.
Beat in vanilla.
Add dry ingredients; mix well.
In a small mixing bowl, beat egg whites on medium speed until soft peaks form.
Gradually beat in remaining sugar, about 2 tablespoons at a time, on high until stiff glossy peaks form and sugar is dissolved.
Fold a fourth of egg whites into batter; fold in remaining whites.
Gently spoon into prepared pan.
Bake for 10 -12 minutes or until cake springs back when lightly touched.
Cool for 5 minutes.
NOTE: Don't freak out if your cake looks like this in the oven. It will be fine.
Turn cake onto a kitchen towel dusted with confectioners' sugar.
Gently peel off wax paper.
Roll up cake in the towel, starting with a short side. Cool completely on a wire rack.
NOTE: Don't let the cake sit in the towel too long, un roll as soon as cooled or the cake might stick to the towel and dry out a little.
In a small mixing bowl, beat the cream cheese and marshmallow creme.
Unroll the cake; spread cream cheese mixture to within 1/2-inch of edges.
Top with 1-1/2 cups sliced strawberries.
Roll up again.
If serving in 24 hours or less place seam side down on a freezer safe platter. Place in freezer until 30 minutes before serving. Take out of freezer and place on counter to thaw.
TIP: It's easier to slice while still frozen. If storing it for another time. Wrap in plastic wrap before freezing. Garnish with extra strawberries.
MORE STRAWBERRY RECIPES
1. FRESH STRAWBERRY ICE CREAM  2. REFRESHING STRAWBERRY TEA  3. CHOCOLATE STRAWBERRY WAFFLE POPS