Pirate Party Hawaiian Sherbet Punch
Pirate Party Hawaiian Sherbet Punch: The perfect party punch!  With only THREE ingredients this punch is easy to make, affordable and delicious! Do you serve punch at your parties? It seems like punch has lost its momentum in the last few years. And for that reason I always have punch as a beverage option. People love punch!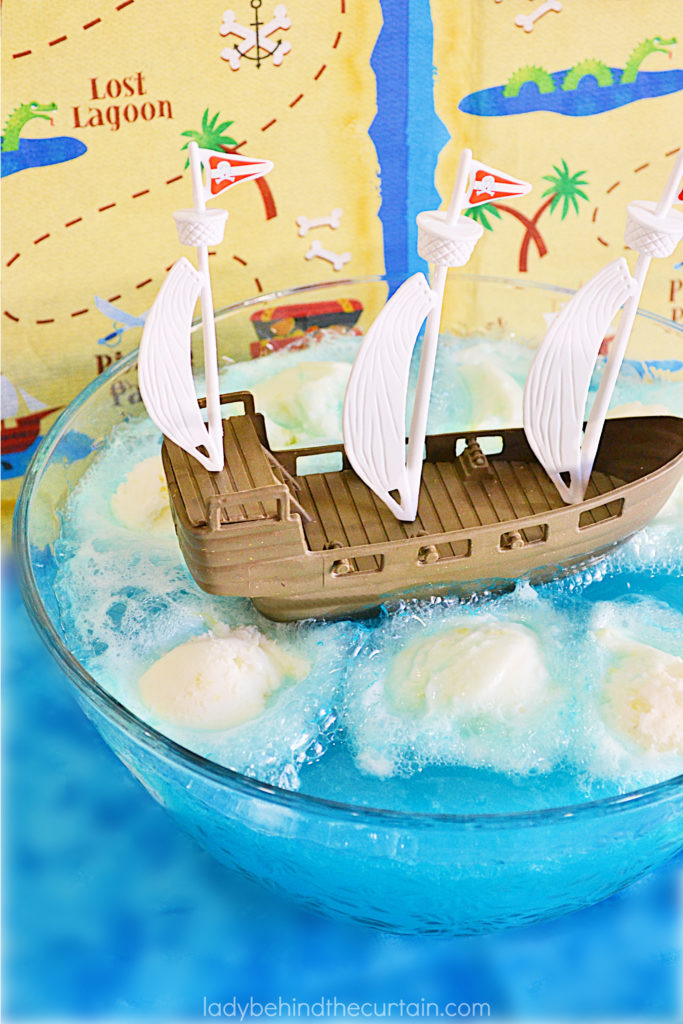 How to Customize this punch to your party theme!
Punch Varieties
Rainbow Sherbet Punch
Hawaiian Punch
Sprite
Rainbow Sherbet
Famous "green" Sherbet Punch
Lemon Lime Soda
Lime Sherbet
Raspberry Sherbet Party Punch
Lemon Lime Soda, Pink Lemonade Concentrate
Pineapple Juice
Raspberry Sherbet
Orange Sherbet Punch
Orange Soda, Lemon Lime Soda
Pineapple Juice Concentrate
Vanilla Ice Cream
Orange Sherbet
Christmas Party Sherbet Punch
Hawaiian Punch Green Berry Rush, Sprite
Pineapple Juice
Lime Sherbet
Fruity Sherbet Punch
Ginger Ale (optional) Vodka, Frozen Strawberries, Frozen Sliced Peaches
White Grape Juice
Orange Sherbet
Adult Sherbet Punch
Seltzer, Vodka
Sparkling Wine
Rainbow Sherbet
Holiday Sherbet Punch
Ginger Ale, Orange and Lime Slices
Cranberry Juice, Pineapple Juice
Orange Sherbet
Lime Sherbet
Tropical Sherbet Punch
Ginger Ale, Honey, Frozen Strawberries, Pineapple, Mango and Peaches
Pineapple Juice, Strawberry Kiwi Juice, Limeade
Rainbow Sherbet
MORE PUNCH RECIPES
How to Make Hawaiian Sherbet Punch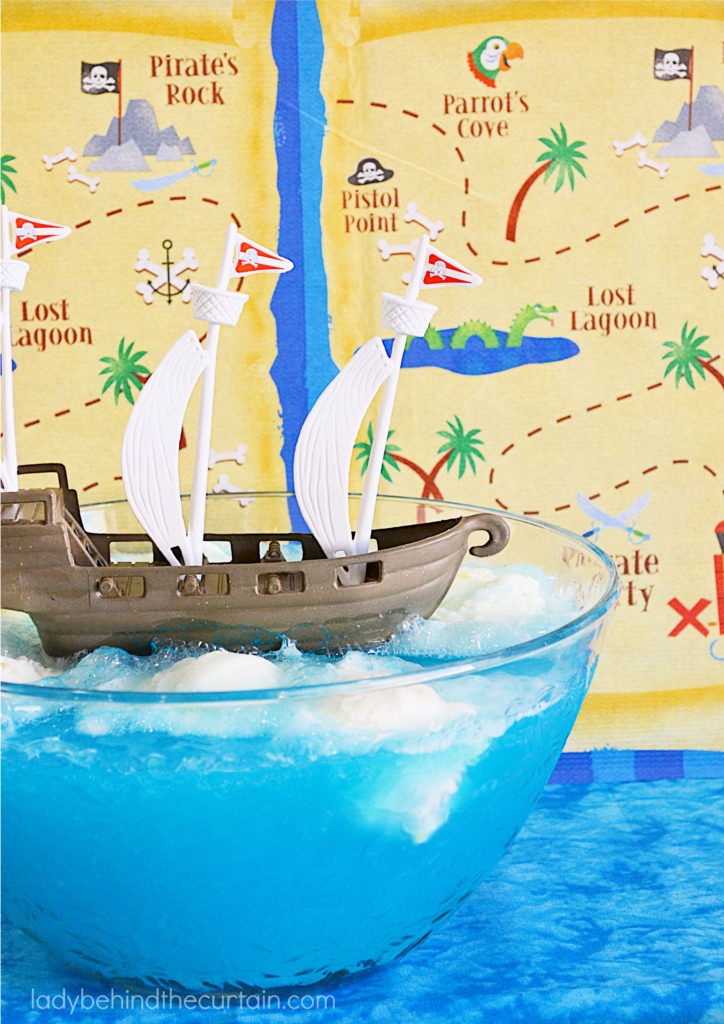 INGREDIENTS

berry blue typhoon Hawaiian punch

pineapple sherbet
DIRECTIONS

Add punch to your container
Add scoops of sherbet
Slowly pour the 7-Up over the sherbet
How to add the ship to your punch bowl
Pour the berry blue typhoon Hawaiian punch into a large punch bowl; slowly add the 7up (about equal parts). DO NOT FILL TO THE TOP ONLY HALF FULL.
Because this ship is a cake topper it doesn't float upright.  In order to make it look like it is floating on top of the water, add something to elevate it so that it really set on top of the punch.  TIP:  While submerging the container your using as a riser fill it with the punch otherwise it will float.  You don't want it to be full of air.
Add scoops of sherbet. TIP: If you want more foam, slowly pour more 7up over the sherbet.
ARE YOU PLANNING A PIRATE PARTY? LOOK BELOW FOR AFFORDABLE PIRATE PARTY DECORATIONS
PIRATE PARTY RECIPES
NEVER MISS A POST