Decadent Chocolate Cobbler | A rich, gooey chocolate dream.  Calling all chocoholics → this is the dessert for you!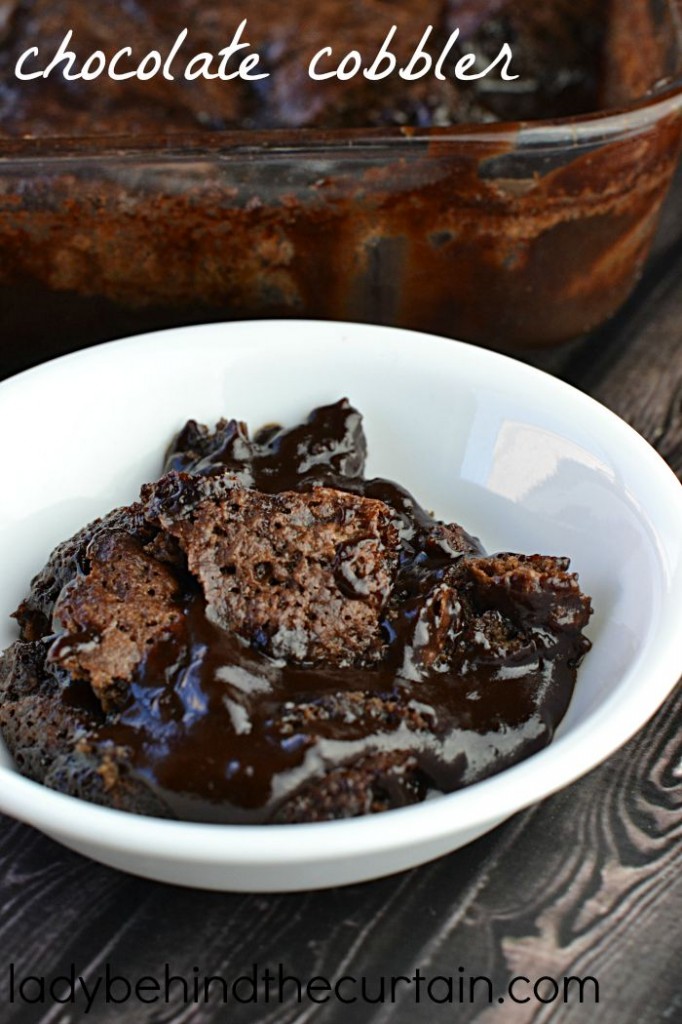 This is not your typical cobbler in where it doesn't actually have a crust but instead chocolate cake (brownie) with a gooey chocolate layer hidden underneath.  Set the mood right on date night by serving this Chocolate Cobbler.  Serve a scoop of vanilla ice cream to cut through some of the decadent chocolate.  Have you ever seen a dessert recipe that calls for you to pour boiling water on top?  Hahaha……look at the recipe to see how I use boiling water to create this delicious dessert.
Chocolate Cobbler
Ingredients
1 1/4 cups granulated sugar, divided
1 cup all-purpose flour
7 tablespoons unsweetened cocoa powder, divided
2 teaspoons baking powder
1/4 teaspoon salt
1/2 cup milk
1/3 cup butter, melted
1 1/2 teaspoons vanilla extract
1/2 cup light brown sugar, packed
1 1/2 cups hot water
Instructions
Preheat oven to 350 degrees.
Stir together in a medium bowl 3/4 cup sugar, flour, 3 tablespoons cocoa, baking powder and salt.
Stir in milk, butter and vanilla; stir until smooth.
Transfer batter into a 8-inch glass baking dish.
Use and off set spatula and smooth out to the edges.
In another bowl stir together remaining 1/2 cup sugar, brown sugar and remaining 4 tablespoons cocoa.
Sprinkle cocoa mixture evenly over batter.
Pour hot water evenly over top. DO NOT STIR
Bake 35 to 40 minutes or until center of cobbler is almost set.
Let stand for 15 minutes.
TIP:When serving make sure to scoop all the way down to the bottom of the pan to make sure you get the chocolate sauce.
MORE COBBLER RECIPES
1. MOM'S PEACH COBBLER  2. PICNIC BERRY COBBLER  3. PEACH COBBLER PARFAITS