Pistachio Muddy Buddies: Rice cereal wrapped in melted vanilla candy and coated with a mixture of pistachio pudding mix and powdered sugar. Truly a crunchy sweet treat that is perfect for snacking or any party.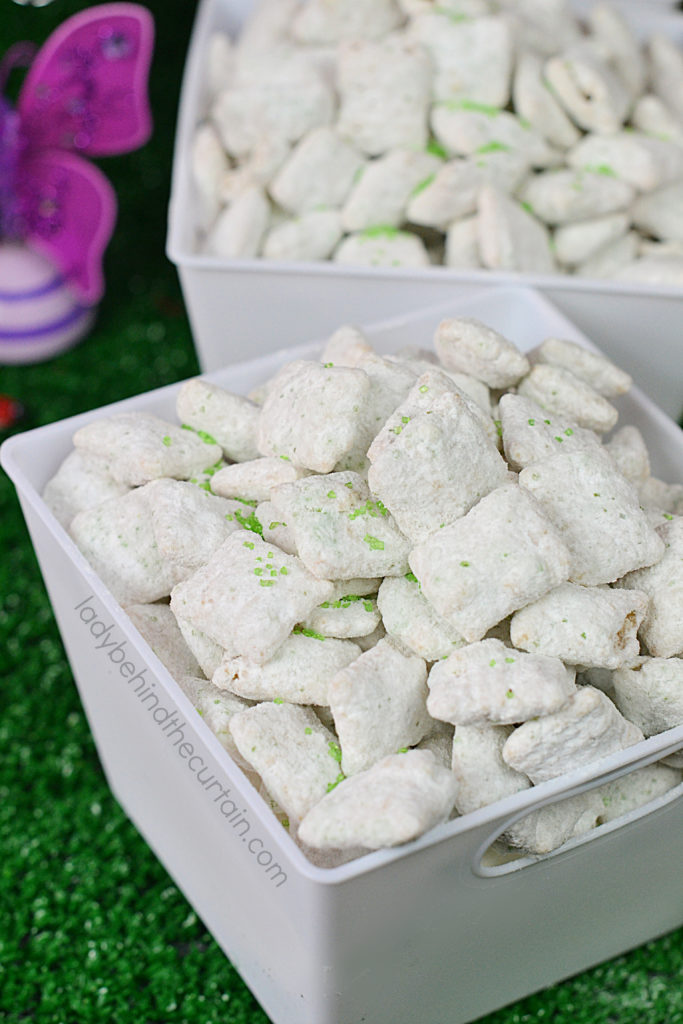 What is a Muddy Buddy?
MORE CANDY WITH PISTACHIO NUTS
HOW TO MAKE PISTACHIO MUDDY BUDDIES
INGREDIENTS (full printable recipe below)

8 cups rice square cereal
2 (3.4 ounce) boxes pistachio pudding mix
2 cups powdered sugar
6 tablespoons lime green sanding sugar, divided
1 pound vanilla melting candy

DIRECTIONS

Line a large baking pan with parchment paper.
Measure cereal into a large bowl.
Add the pistachio pudding, powdered sugar and 3 tablespoons of the sprinkles to a large zip top bag or paper sack.
NOTE: I sifted the pudding mix to get rid of the pistachio nuts. That was my preference if you want you can leave them in for added crunch. Since I was serving this to little girls I decided to take the nuts out.
Place the vanilla melting candy in a microwave safe container and heat 1 minute; stir until melted and creamy.
TIP: If candy is not melted microwave and additional 30 seconds.
Pour melted candy over cereal and stir to coat.
Add the remaining 3 tablespoons of sprinkles and stir.
Pour coated cereal in pistachio mixture; shake and roll the bag until the cereal has been coated with the mixture.
Pour onto prepared baking pan, evenly spread out to cool.
Store in an airtight container.
MORE PUPPY CHOW MUDDY BUDDIES RECIPES
NEVER MISS A POST