Light Orange Chicken Stir Fry
Light Orange Chicken Stir Fry | Take out just got a whole lot tastier and light in calories.  This lighter version of Orange Chicken has all the flavors of your favorite restaurant without the high calories.  This dish is loaded with tons of fresh vegetables and a savory, sweet ,spicy sauce.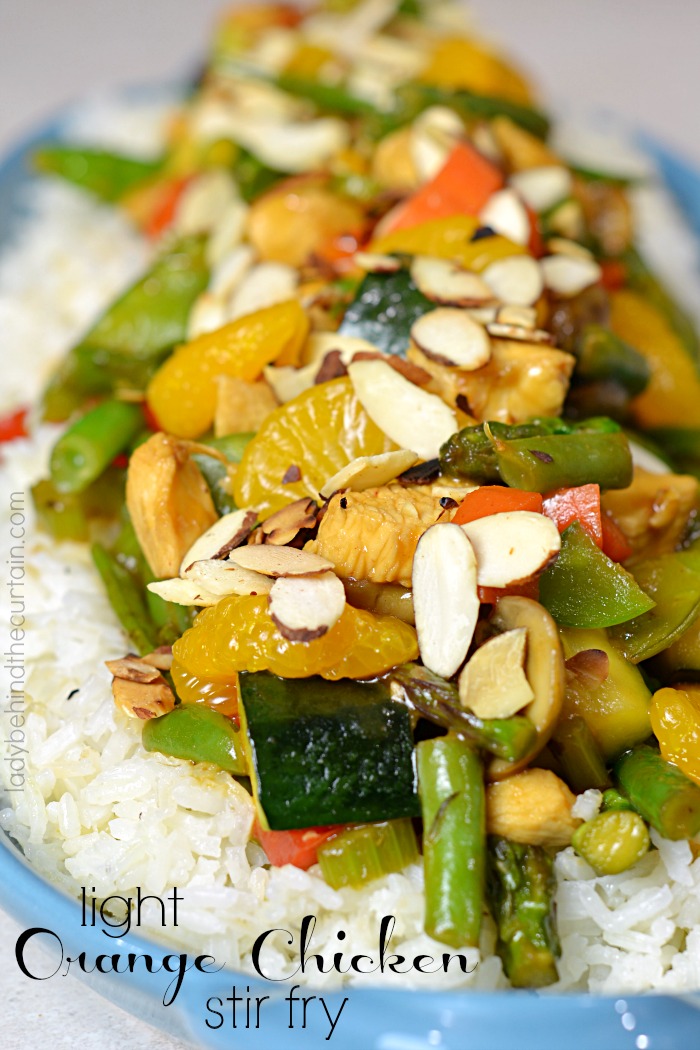 Orange Chicken is by far the number one dish ordered at take out restaurants.  I love the crispy chicken accompanied with the sweet sauce.  If truth be told I don't even know if there's actually any oranges in the sauce.  Well, if orange flavored sauce is what you crave then you are in for a pleasant treat.  This sauce actually tastes like oranges!  No crispy chicken here just juicy tender pieces of chicken marinaded in a delicious savory, sweet, spicy sauce.  Create your favorite dish yourself and stay home!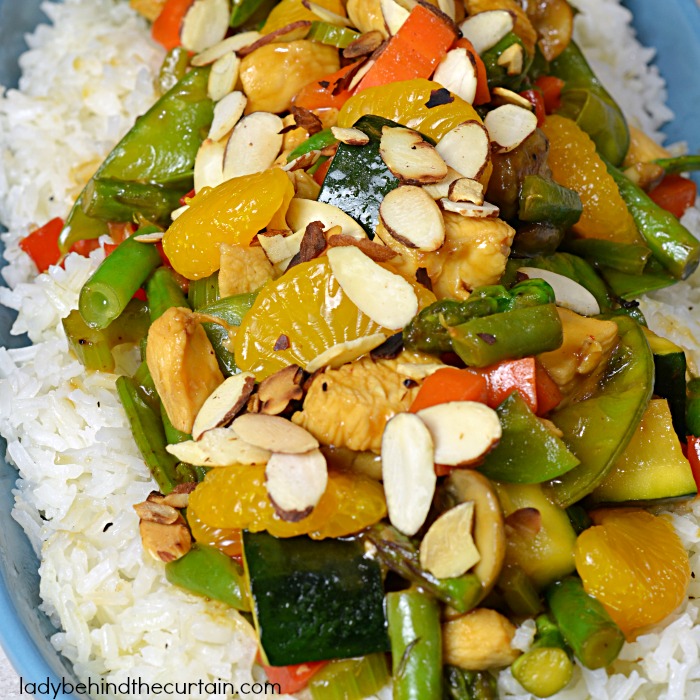 MORE ASIAN INSPIRED RECIPES
CHICKEN PAD THAI  2. SPICY SWEET AND SOUR PORK  3.GRILLED ORANGE TERIYAKI CHICKEN
Light Orange Chicken Stir Fry
Ingredients
For the Marinade:
1/3 cup thawed orange juice concentrate, undiluted
2 tablespoons low-sodium soy sauce
1 tablespoon fresh ginger, peeled and chopped
3 tablespoons apricot preserves ( I used sugar free)
1/2 teaspoon dark sesame oil
1 teaspoon Sriracha chili sauce
2 garlic cloves, minced
1/2 pound skinless, boneless chicken breasts, cut into bite-size pieces
For the Sauce:
1 (15 ounce) can mandarin orange in light syrup
1 tablespoon cornstarch
For the Stir Fry
2 tablespoons olive oil
1 (8-ounce) package mushrooms,sliced
1 cup (1-inch) sliced asparagus (since asparagus was not in season I used broccoli)
1/2 cup red bell pepper, chopped
1 medium zucchini, chopped
1 large carrot, peeled and chopped
3 ounces snow peas
2 stalks celery, chopped
1/2 pound green beans, chopped
1 teaspoon salt
1/2 cup slivered almonds, toasted
Instructions
For the Marinade:
Combine juice concentrate, soy sauce, ginger, apricot preserves, sesame oil, Sriracha chili sauce and garlic in a bowl, stirring with a whisk.
Add chicken, cover and marinate in refrigerator 1 hour.
For the Sauce:
Drain oranges in a fine mesh strainer over a bowl; reserve syrup.
Pour syrup into a jar; add cornstarch, screw lid on tightly and shake to combine.
For the Stir Fry:
In a large skillet on medium high heat vegetable oil; add mushrooms and sauté until tender and brown (about 5 minutes).
Add asparagus, bell pepper, zucchini, carrot, snow peas, celery, green beans and salt.
Sauté for 6 minutes or until crisp-tender.
Remove vegetables mixture from pan.
Add chicken mixture to pan; cook until chicken is done (about 6 minutes on high).
Return vegetable mixture to pan.
Give the sauce another shake and pour over chicken and vegetables; cook for 1 minute or until slightly thick.
Stir in oranges and toasted almonds.