Myer Lemon Lemonade: A mild lemonade that even the pickiest of drinkers would love. Next time you have friends over instead of pouring powder into a pitcher, impress them by making your own lemonade! Perfect for potlucks, a brunch and baby or bridal shower!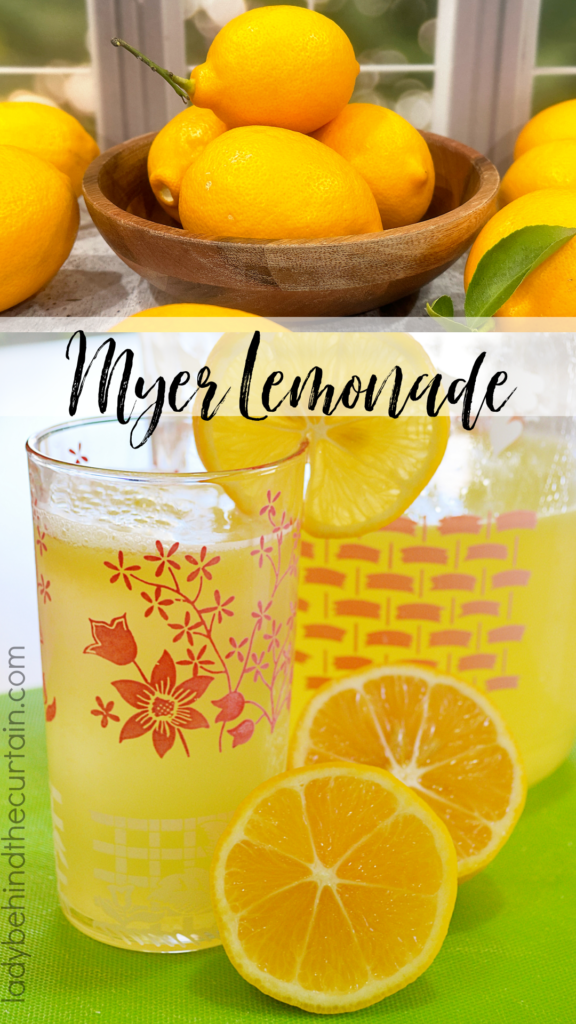 What are Myer Lemons?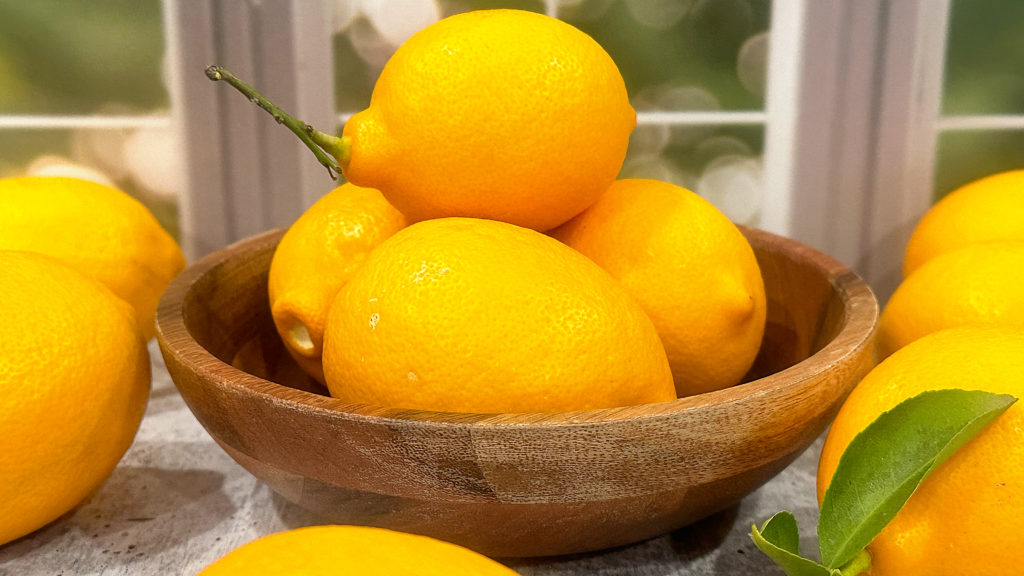 MYER LEMONS: A type of lemon that does not have the exceptionally tart flavor of standard lemons. Meyer lemons are typically considered to be sweeter in both flavor and aroma, providing a taste mildly similar to a tangerine. I'm not a fan of sour lemonade. The Myer lemon helps with the tartness.
Myer Lemonade Ingredients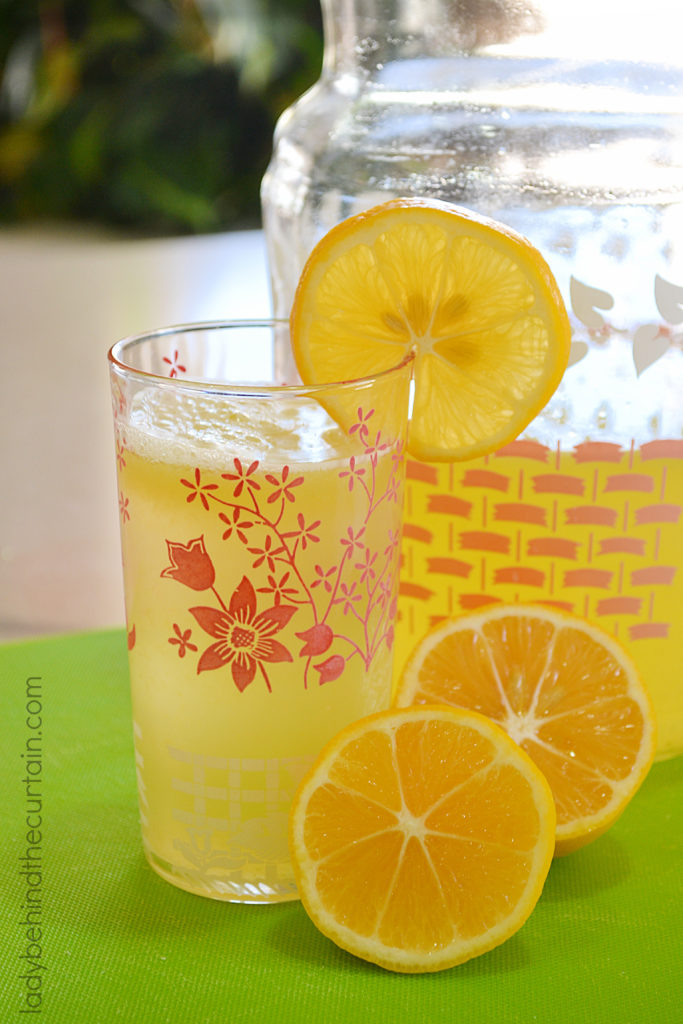 You only need three everyday ingredients to make this lemonade recipe. Scroll down for the full printable recipe
LEMONS: To get the best outcome, I highly recommend using freshly squeezed lemons for this recipe. 3-4 good size juicy lemons
SUGAR: Plain everyday granulated sugar work great.
WATER: I use tap water because I have a water softener connected to my water supply. If yours has a chlorinated taste, use bottled or filtered water.
How to Make Summertime Myer Lemon Lemonade Recipe
Add fresh squeezed lemon juice to a 2 quart pitcher. Add 1 cup water to a small pot and 1 cup sugar. Cook over medium heat. Cook until sugar is dissolved. Set syrup aside to cool (about 10 minutes). Pour cooled simple syrup into the pitcher with the lemon juice. Add remaining water. Stir to combine.
What is a Simple Syrup?
SIMPLE SYRUP is a liquid sweetener made by dissolving equal parts sugar and water. Simple syrup disperses sweetness evenly throughout beverages of any temperature, making it a key component of many iced drinks.
Can I Use Regular Lemons?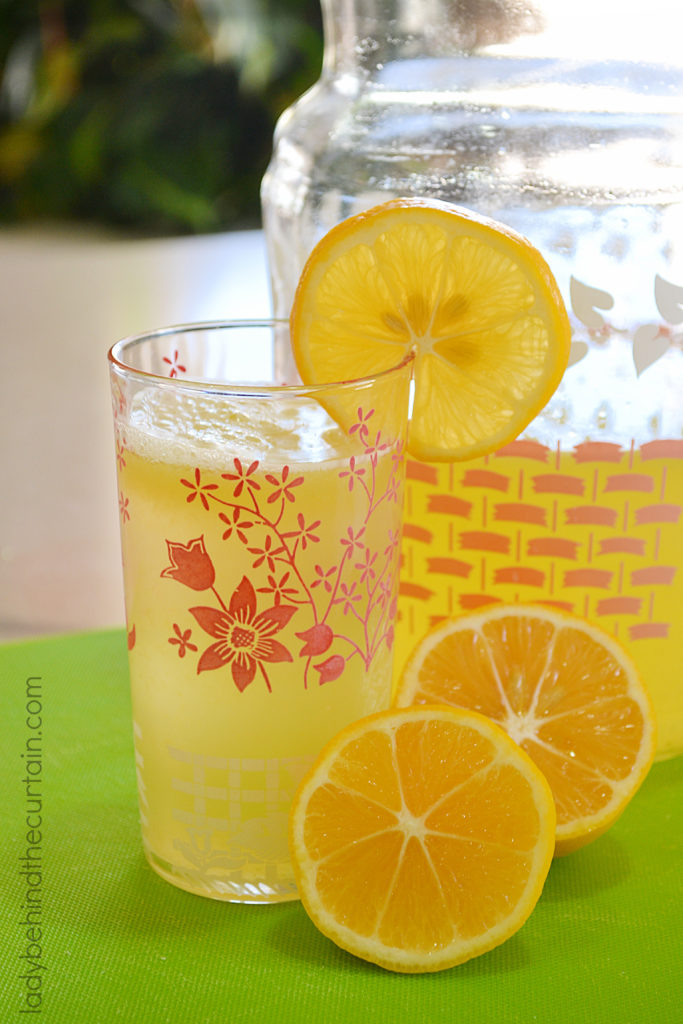 Absolutely! This delicious homemade lemonade recipe is great with any kind of lemon. If you like your lemonade just a little tart with the right amount of sweetness, then this is the recipe for you.
CAN I USE HONEY TO MAKE LEMONADE? You could, but keep in mind the honey will give the lemonade a different flavor. Start with ½ cup of honey and taste test before adding any more.
WHAT CAN I ADD TO CHANGE UP THE FLAVOR? Fresh rosemary and lavender are delicious pairing with homemade lemonade. Also give my SPARKLING CRANBERRY LEMONADE and SUMMERTIME HOMEMADE PINK LEMONADE a try.
How to Make an Arnold Palmer
The name "Arnold Palmer" has legendary roots as an original beverage combination of half iced tea and half lemonade.
How to Make Frozen Lemonade Bombs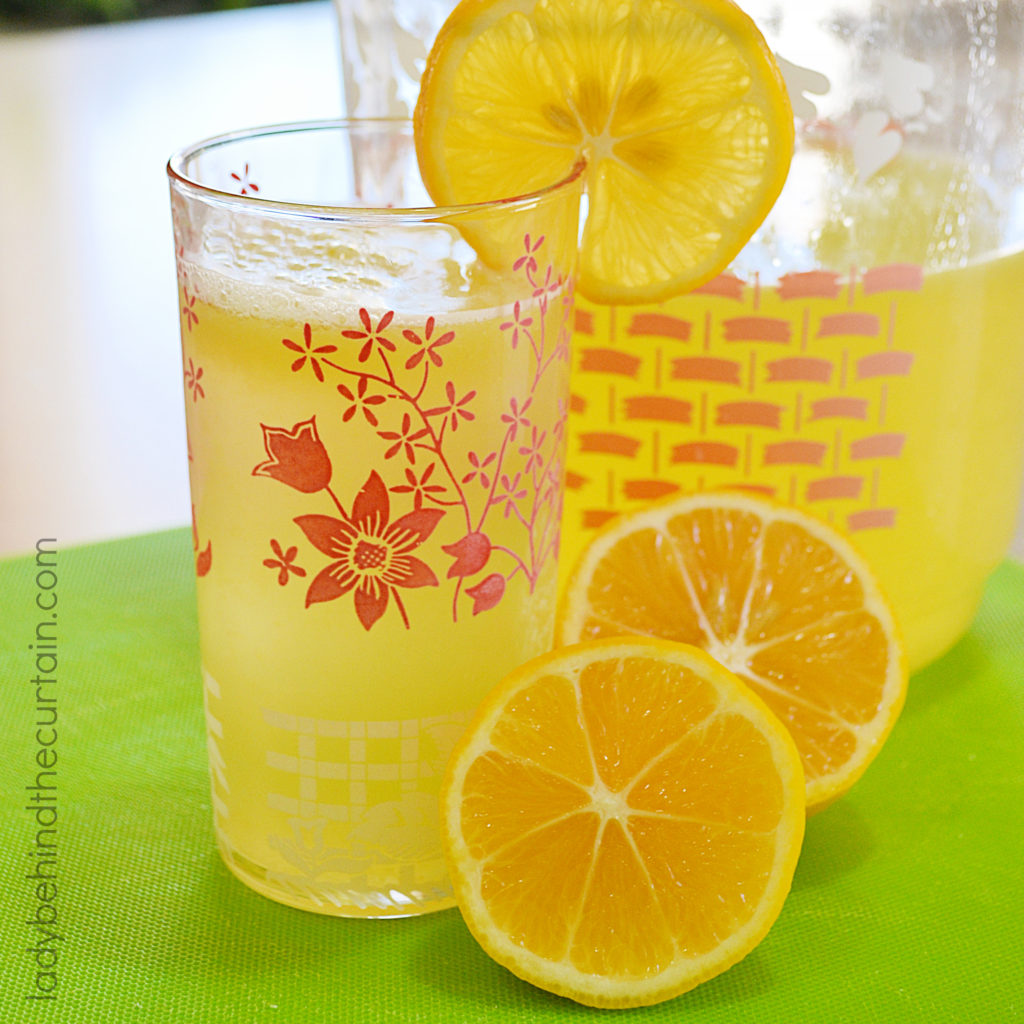 STOP buying frozen lemonade concentrate and make your own! The process is simple and tastes a lot better then store bought.
STEP ONE: Make the simple syrup. Dissolve 1 cup of granulated sugar in 1 cup water. Cool, add 1 cup fresh squeezed lemon juice to the simple syrup mixture. Stir to combine, pour into a freezer safe container with a tight fitting lid, and freeze.
STEP TWO: When ready to serve, place container with frozen lemonade concentrate on the counter for for 30 minutes or in the refrigerator overnight. If the concentrate does not want to come out of the container, run hot water over the outside of the container. Once the lemonade concentrate is loose, dump into a 2 quart pitcher, fill with water, and stir.
MORE RECIPES USING FRESH LEMONS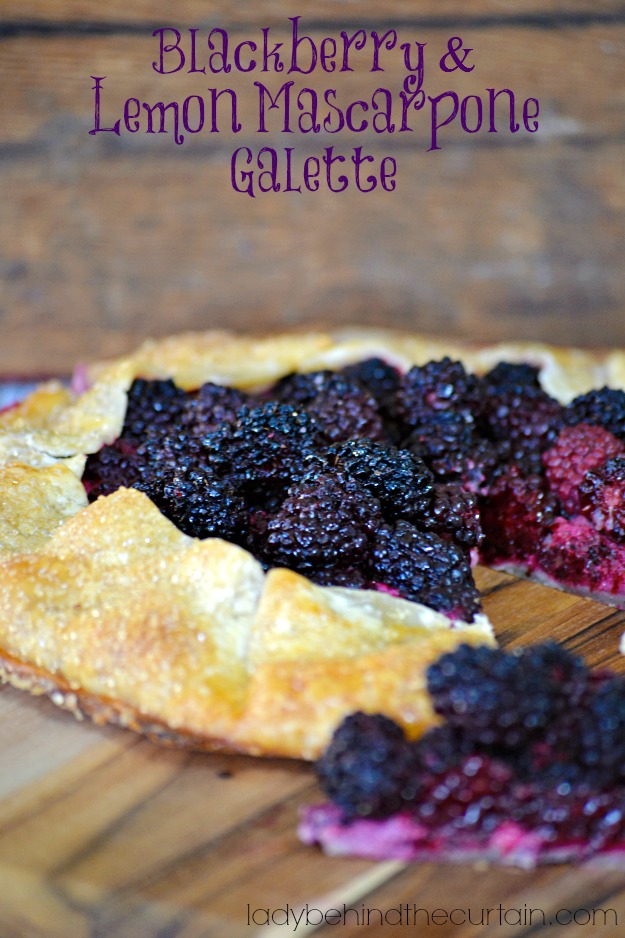 BLACKBERRY AND LEMON MASCARPONE GALETTE 2. BROWN BUTTER LEMON BARS 3. LEMON BLUEBERRY PIE ICE CREAM 4. LEMON LEFTOVER BAKED POTATOES 5. ARTICHOKE LEMON CHICKEN FILLETS 6. CRUNCHY LEMONADE CHICKEN TENDERS
SIGN UP FOR THE LADY BEHIND THE CURTAIN NEWSLETTER AND FOLLOW THE LADY BEHIND THE PARTY ETSY SHOP
THANKS FOR VISITING♥