These Peach Crumb Cake Muffins are not only a cake but also offer a cobbler like center.  Serve these muffins at your next brunch, Easter morning, Mother's Day or make them for a bake sale.  A spicy muffins filled with peaches with a nice crumb topping.
I'm so excited I can have peach cobbler for breakfast without any guilt!  The perfect treat for out of town guests.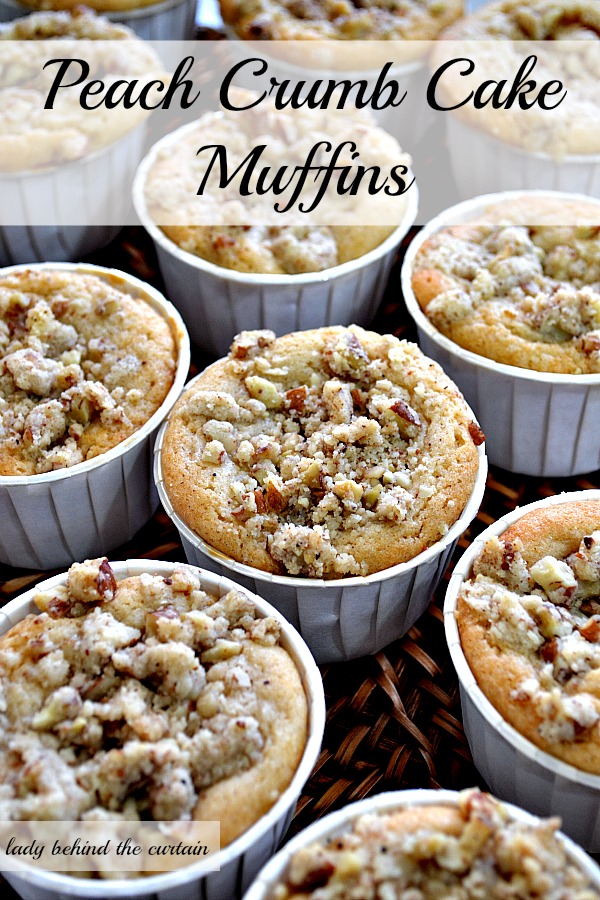 Create your own Recipe Box and save your favorite Lady Behind The Curtain recipes.  Make a Meal Plan with your favorite recipes and ZipList will automatically add the ingredients to a Shopping List.
Peach Crumb Cake Muffins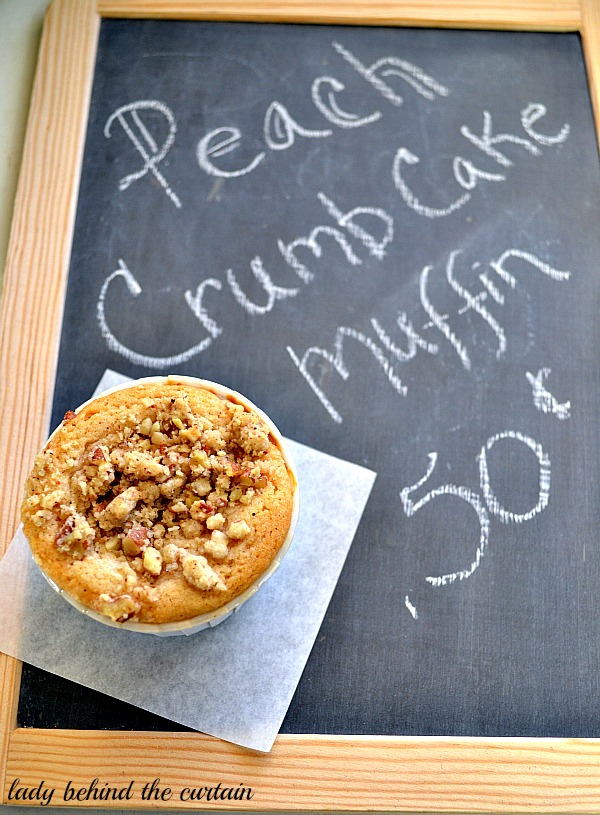 Ingredients
1 cup plus 2 tablespoons butter, divided and softened
1-3/4 cups granulated sugar, divided
3 eggs
1 teaspoon vanilla extract
3-1/4 cups all-purpose flour, divided
2 teaspoons baking powder
1/2 teaspoon salt
1 teaspoon cinnamon
21 ounce can peach pie filling
1/4 cup pecans, chopped
1/4 teaspoon nutmeg
Instructions
Preheat oven to 350 degrees. Fill muffin cups with 19 liners.
Beat 1 cup butter and 1-1/2 cups granulated sugar until creamy. Beat in eggs one at a time, mixing well after each addition. Add vanilla and combine. Add 3 cups flour, baking powder,salt and cinnamon; beat well.
Spoon 1 tablespoon of batter into each muffin cup. Dough will be thick. TIP: Have a small bowl with water to dip your fingers in to help smooth the dough. Dip fingers in water and spread dough to the edges of the muffin cup liner.
Spoon some of the pie filling on top of the muffin batter.
Add another tablespoon of batter on top of the peach pie filling. Dip fingers in water to spread the dough to the edges of the muffin cup liner. Use an off set spatula to smooth out the top.
In a small bowl, combine remaining sugar, flour, butter, pecans and nutmeg, until well mixed and crumbly. Sprinkle evenly over top of muffins. Bake 25 minutes.