Peanut Butter Chocolate Twist Cupcakes
Peanut Butter Chocolate Twist Cupcakes | When two of your favorite flavors come together to create the BEST cupcake EVER!  How can you go wrong with layers of chocolate cake and layers of peanut butter cake?  Not only is the cupcake a peanut butter chocolate twist but so is the frosting.  The perfect game day cupcake!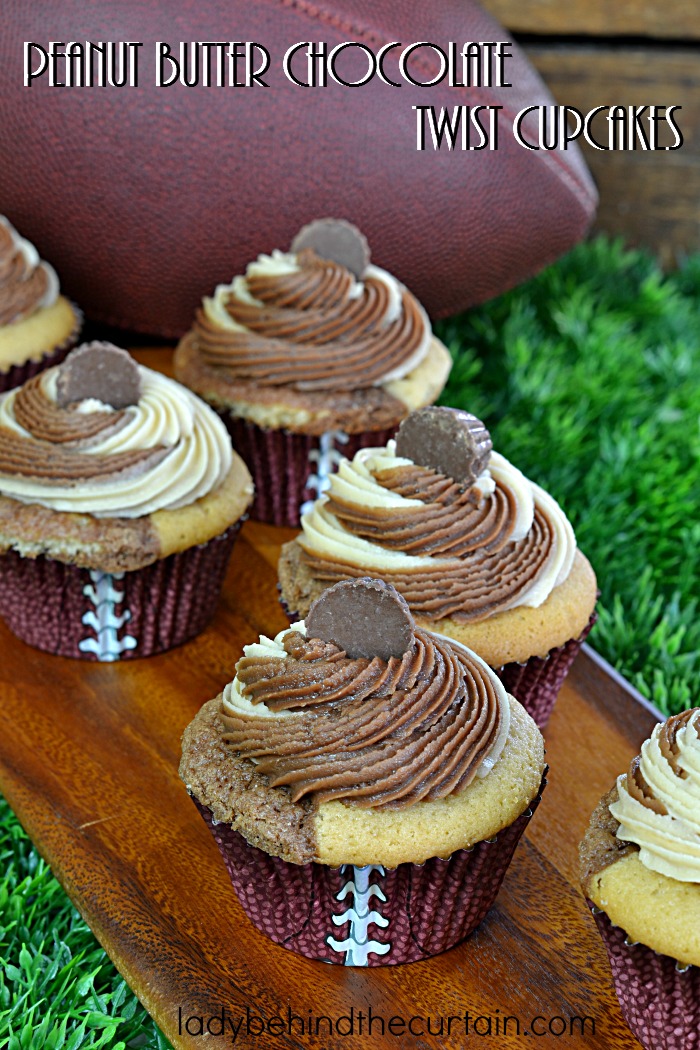 Are you planning a tailgate party or a game day party?  This is the cupcake for you!  Serve along side Philly Cheese Burgers, Fried Pickles and the ever so popular Beer Dip.
Alternate tablespoons of each batter to create layers of yummy cake!
MORE GAME DAY DESSERT RECIPES

SEMI HOMEMADE MINI CARAMEL APPLE PIES  2. CHEWY PEANUT BRITTLE BROWNIES  3. M&M BROWNIE PIZZA
Peanut Butter Chocolate Twist Cupcakes
Yield:
Makes 20 to 24 Cupcakes
Ingredients
For the Cupcakes:
1/2 cup unsalted butter, softened
1/3 cup creamy peanut butter
1 cup light brown sugar, packed
3/4 cup granulated sugar
3 large eggs
1-1/2 teaspoons vanilla
2-1/2 cups all-purpose flour
2-1/2 teaspoons baking powder
1/2 teaspoon salt
1 cup milk
1/2 cup nutella
Instructions
For the Cupcakes:
Preheat oven to 375°; line 20 to 24 muffin cups.
Beat butter until creamy add peanut butter, beat until combined.
Gradually add brown sugar and granulated sugar, about 1/4 cup at a time, beat about 2 minutes more or until fluffy.
Add eggs, one at a time, beating well after each addition; beat in vanilla.
In a separate bowl mix together the flour, baking powder, and salt; whisk to combine.
Alternately add flour mixture and milk to butter mixture, beating on low speed after each addition just until combined.
Divide batter into two 2 2/3 cups each.
Add nutella to half of the batter; beat until combined.
Fill prepared muffin cups by alternating 1 tablespoon of peanut butter batter and 1 tablespoon of chocolate batter (about 4 tablespoons total), filling each cup about two-thirds full.
Bake for 15 to 18 minutes or until toothpick inserted in centers comes out clean.
Cool cupcakes in muffin cups on wire racks for 5 minutes.
Remove cupcakes from muffin cups.
Cool completely on wire racks.