When I have a craving for a pretzel I'm always having to drive to the mall (20 minutes away).  I spend an average of $5 and that's not counting the gas.  So I decided to make my own Soft Beer Pretzels and I am so glad I did!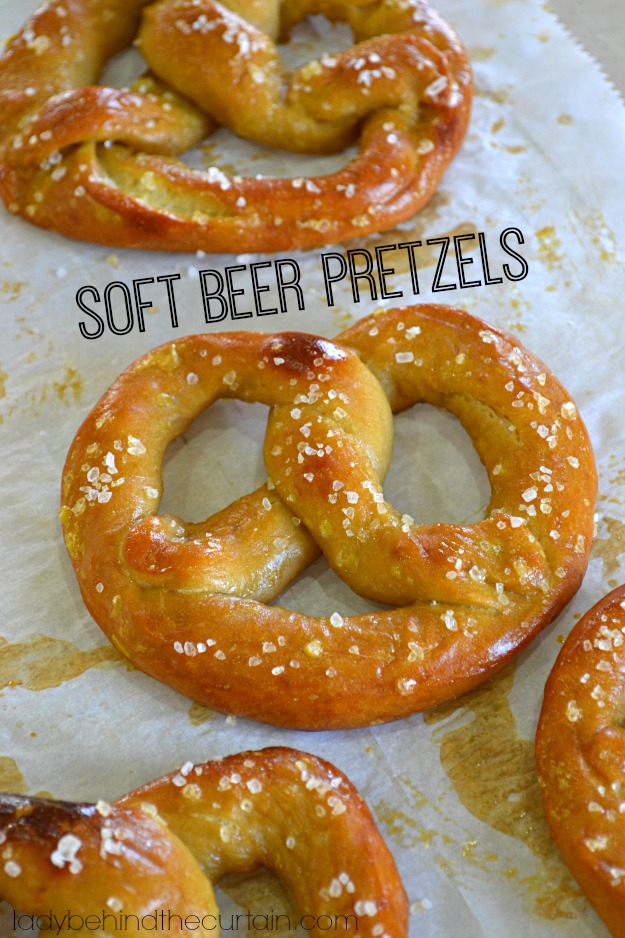 The great thing about these Soft Beer Pretzels is you can use the same recipe to make rolls, and bites.
Make several batches and freeze some for later.  I love…love…love how tender the dough is.
Pretzels are so easy to make..
Roll each ball into a 24-inch role.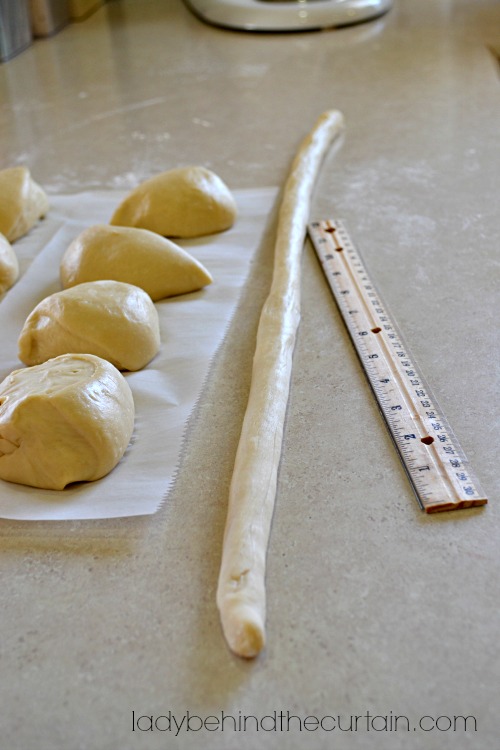 Curve ends of rope to form a circle.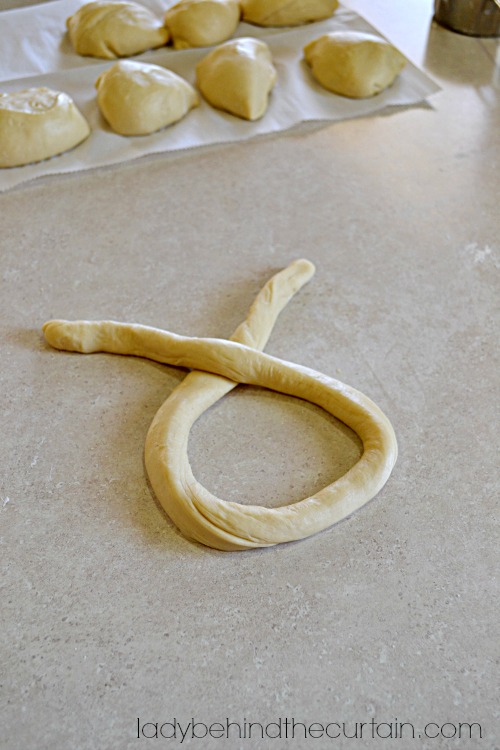 Twist ends once.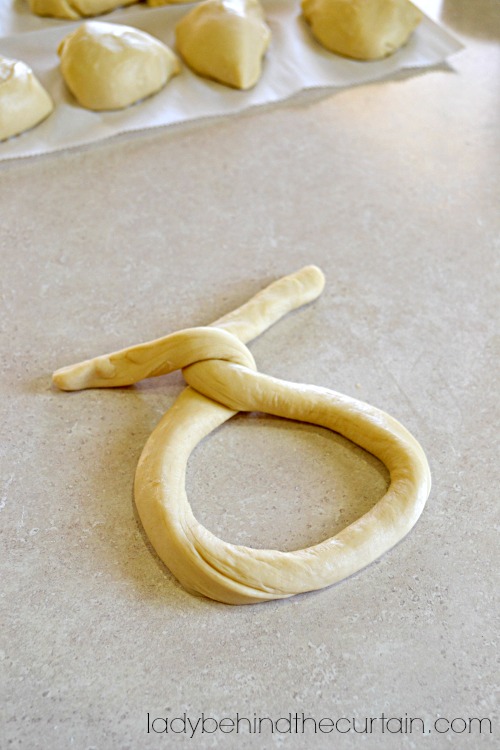 Lay over opposite side of circle, pinching ends to seal.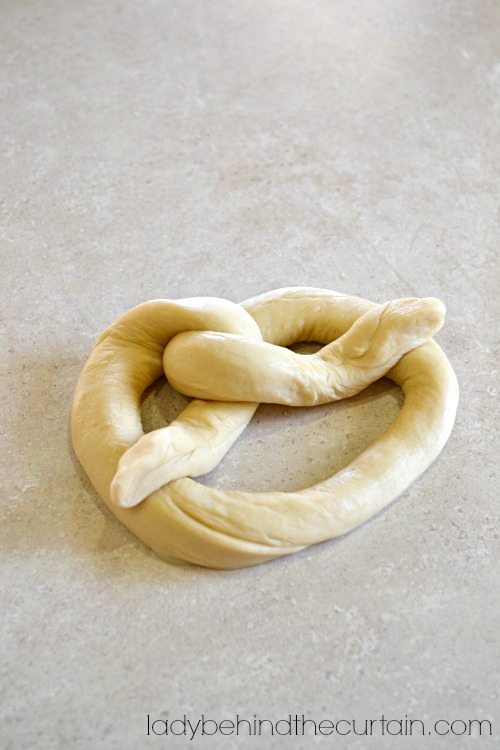 Boil and bake as instructed below.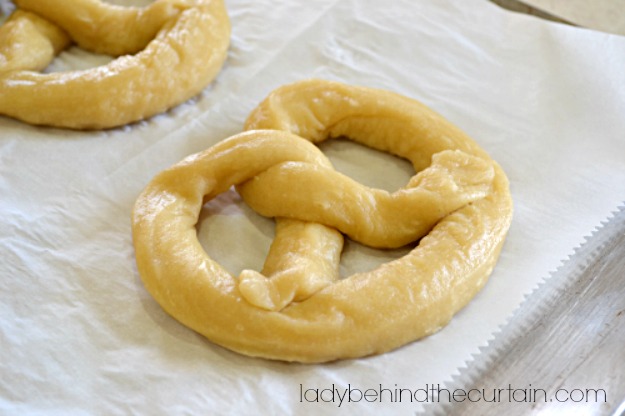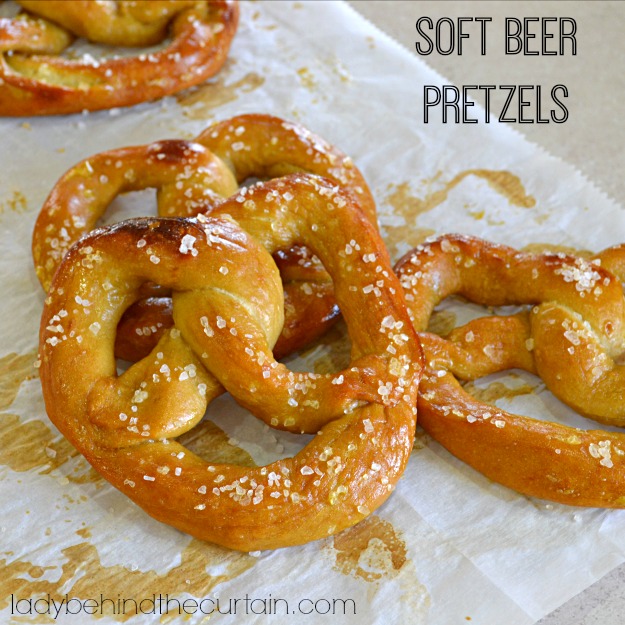 To Make Pretzel Rolls: Roll each ball into a 14-inch rope.  Starting at one end of rope, loosely wrap dough around itself to form a coil.  Tuck end under; pinch to seal.  Boil, top and bake as directed.
To Make Pretzel Bites:  Roll each ball into a 12-inch rope.  Cut each rope into 1-inch pieces.  Boil and top as directed; bake at 400 degrees for 8 to 10 minutes or until golden brown.  Make 8 dozen.
To Freeze:  Place cooled pretzels in resealable plastic freezer bags.  Store in freezer.  To use, thaw at room temperature, or if desired microwave each pretzel 20 to 30 seconds or until heated through.
Create your own Recipe Box and save your favorite Lady Behind The Curtain recipes.  Make a Meal Plan with your favorite recipes and ZipList will automatically add the ingredients to a Shopping List.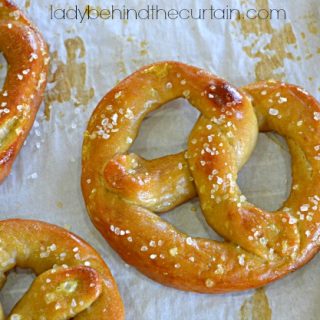 Soft Beer Pretzels
Prep Time:
1 hour
30 minutes
Total Time:
1 hour
44 minutes
Ingredients
1 bottle (12 ounce) amber beer
1 (1/4 ounce) package active dry yeast
2 tablespoons unsalted butter, melted
2 tablespoons granulated sugar
1 1/2 teaspoons salt
4 to 4 1/2 cups all-purpose flour
10 cups water
2/3 cups baking soda
1 egg yolk
1 tablespoon water
coarse salt
Instructions
In a small saucepan, heat beer to a simmer, remove from heat.
Stir in yeast until dissolved.
In a large mixing bowl combine butter, sugar, salt, yeast mixture and 3 cups flour.
Beat in enough remaining flour to form a soft dough (dough will be sticky).
Turn dough onto a floured surface; knead until smooth, about 4 to 5 minutes.
Place in a bowl sprayed with non stick cooking spray, turn once to cover the dough with oil.
Cover with plastic wrap, place in a warm place (I like to place mine on the top of a heated stove) until doubled, about 1 hour.
Preheat oven to 425 degrees.
Punch down, turn onto a lightly floured surface; divide and shape dough into eight balls; roll into a 24-inch rope; curve ends of rope to form a circle; twist ends once and lay over opposite side of circle, pinching ends to seal.
In a Dutch oven, bring water and baking soda to a boil.
Drop ONE pretzel into boiling water.
Cook 45 seconds, remove with a slotted spoon; drain well on paper towels.
Place pretzels 2-inches apart on greased or parchment lined cookie sheet.
In a small bowl, whisk egg yolk and water; brush over pretzels.
Sprinkle with coarse slat.
Bake 12 to 14 minutes.
Remove from pans to a wire rack to cool.