Tinker Bell Woodland Party
This shop has been compensated by Collective Bias, Inc. and its advertiser. All opinions are mine alone. #TinkandNeverbeast #CollectiveBias
This Tinker Bell Woodland Party will take you to the Island of Neverland into Pixie Hollow where the fairies encounter a new creature called the NeverBeast. I created this party as a fun way get to know the NeverBeast. Disney just released a New Tinker Bell movie titled Tinker Bell and the Legend of the NeverBeast. This movie delivers a wonderful message. Never judge someone by their outward appearance. Even though they may look big and scary or not what you think someone should look like… take the time to get to the know who they are. You may discover someone kind and gentle.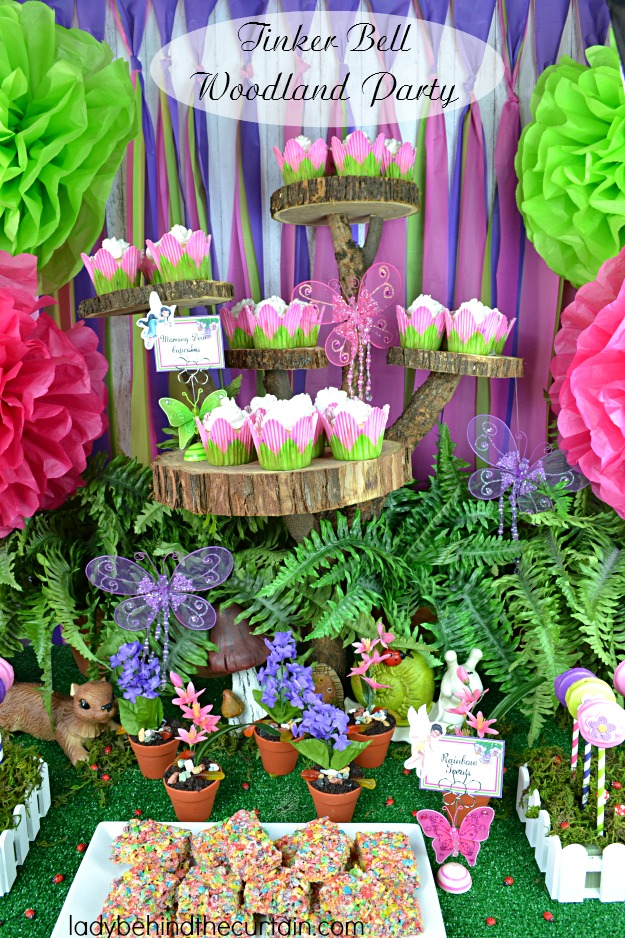 I decided to throw a party to celebrate the new movie. Walmart made putting the party together super easy. I was able to get the movie, toys, costumes and other supplies. I love one stop shopping!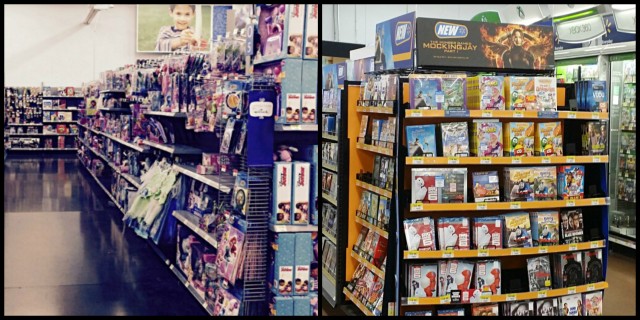 Click on the link for an extended sneak peak into this heartwarming movie.
TINKER BELL AND THE LEGEND OF THE NEVERBEAST(link)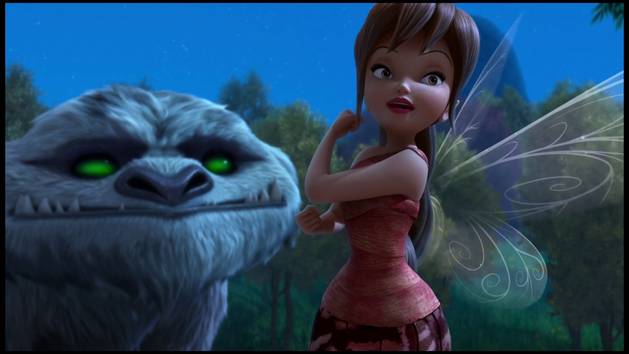 So, let's celebrate the wonders of Pixie Hollow and the kind heart of the NeverBeast with a party full of wonders, delights and fun!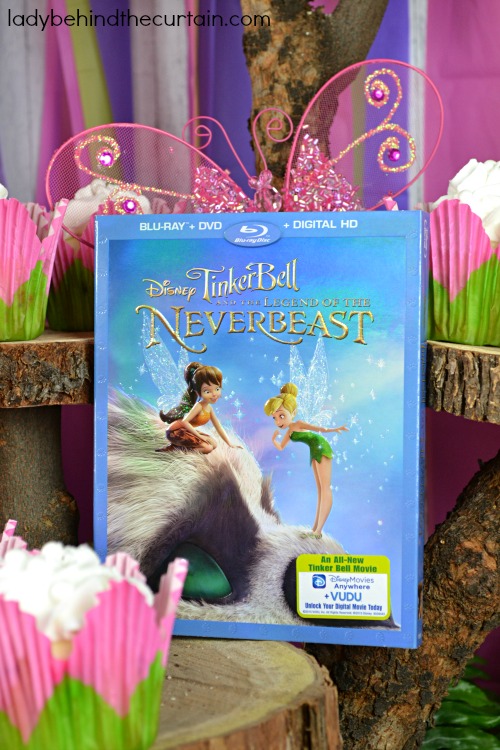 Watch the kids eyes light up when they realize that they get to wear costumes for the party!
This Tinker Bell Woodland Party has so many things to discover! I will show you how to make a Woodland Cupcake Stand, a tablescape, Yarn Centerpiece, Fun Games, the best Party Favor EVER! Plus, the sweetest Dessert Table! So how about we get started on this NeverBeast Adventure?
THE TINKER BELL WOODLAND PARTY DESSERT TABLE
Starting from the back and working our way to the top….let's start with the back drop. I used plastic table clothes to create this fun and colorful back drop. You can visit my FROZEN PRINCESS BIRTHDAY PARTY for the details on how I made it.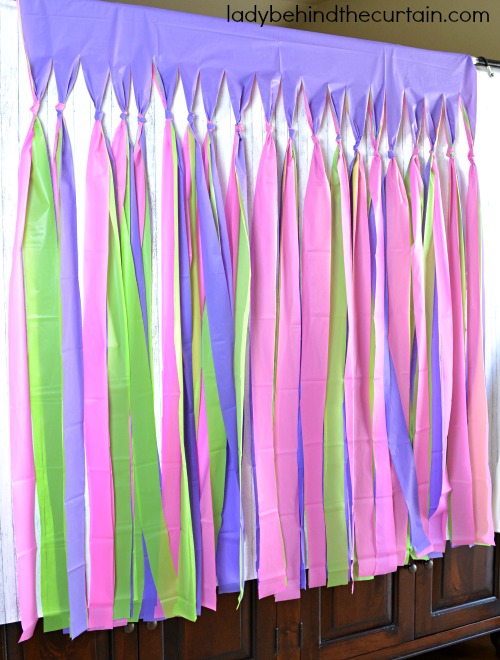 Now, the table covering….to create a woods like feeling….instead of using a table cloth I used cheap artificial turf. Now the fun begins! THIS IS IMPORTANT…..BEFORE you purchase anything for your table take a walk around your house with the mind set of if anything you already have could someway become a woodland theme. All the greenery was taken from arrangements I already had in my home. I also already had the squirrels (they are antique and were from my Grandma). So once you have filled the background with plants you have already created a woodland feel to your table. Now you can add fun creatures like the already mentioned squirrels, bunnies, a snail etc. I also added giant mushrooms and tiny lady bugs. To top off the woodsy feel I added small patches of moss.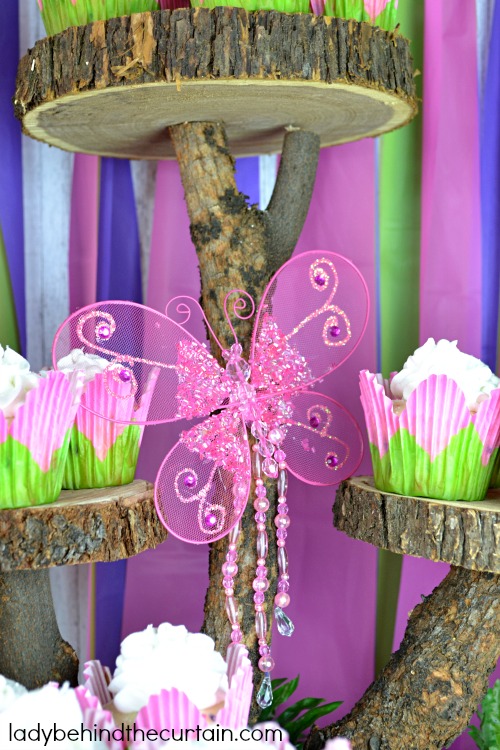 THE GIANT PAPER FLOWERS (link)
These flowers were added to each side of the table as anchors. I always like to add tall items on the sides of my party tables. It kind of creates a cozy together feeling. These giant party flowers are also perfect for a fiesta party!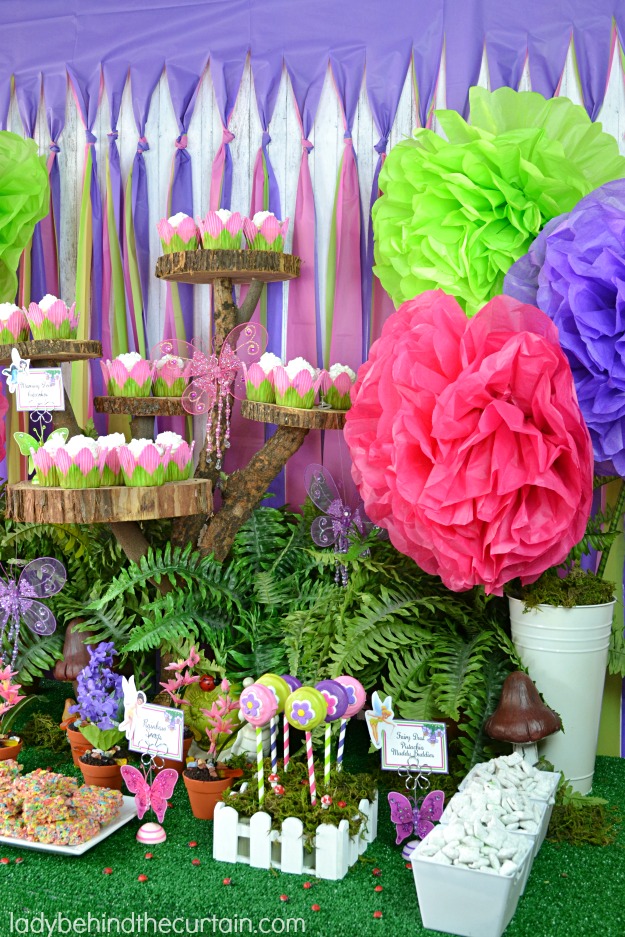 WOODLAND CUPCAKE STAND (link)
What better way to celebrate a woodland themed party than by creating a woodland cupcake stand? This stand was created with slices of different sized logs and a tree branch. I had the best time bringing this together.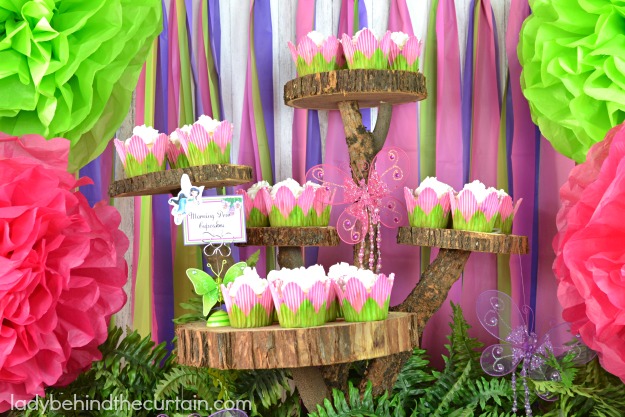 GUEST TABLE (link)
The guest table is just as fun and festive as the Dessert Table. Full of wonder and fairies!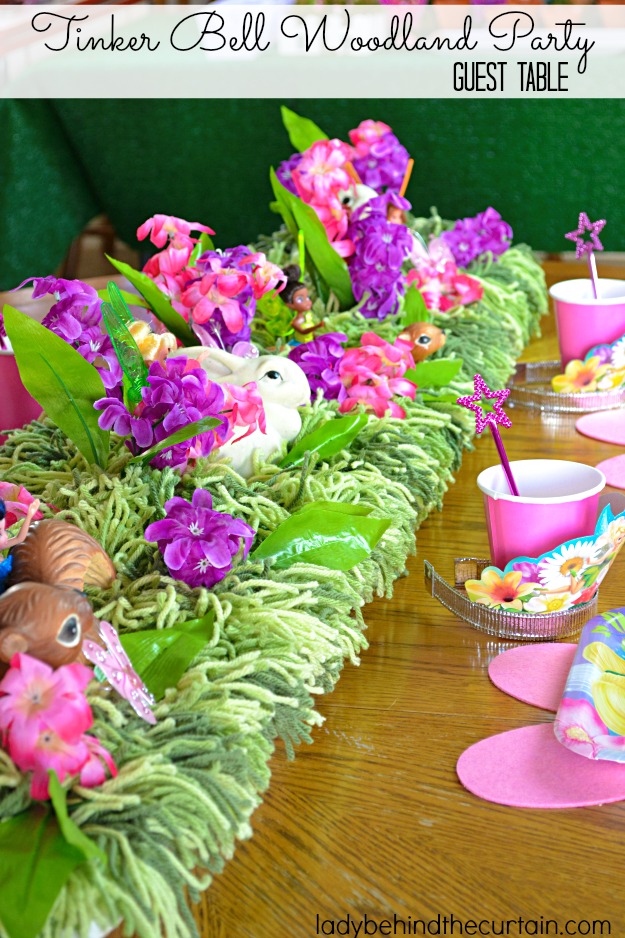 Games
No party is complete without fun themed games! These games were developed with preschool age kids in mind. If you visit each game I will give you ideas on how you can make these games a little harder for older kids. To act as an incentive to get the kids to play the games (some kids really shy away from being in the spotlight) I proudly displayed the prizes!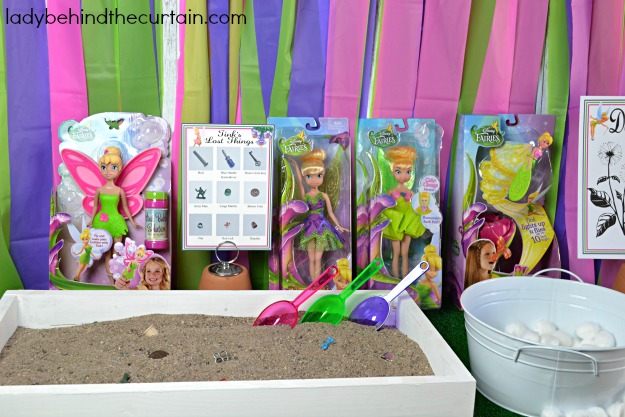 CATCHING MORNING DEW DROPS GAME (link)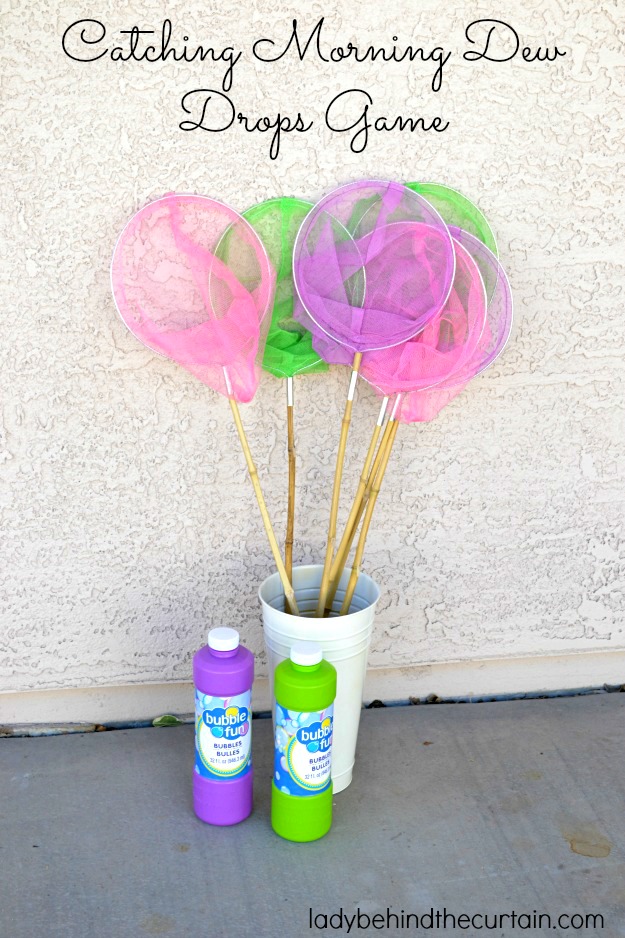 TINK'S LOST THINGS GAME (link)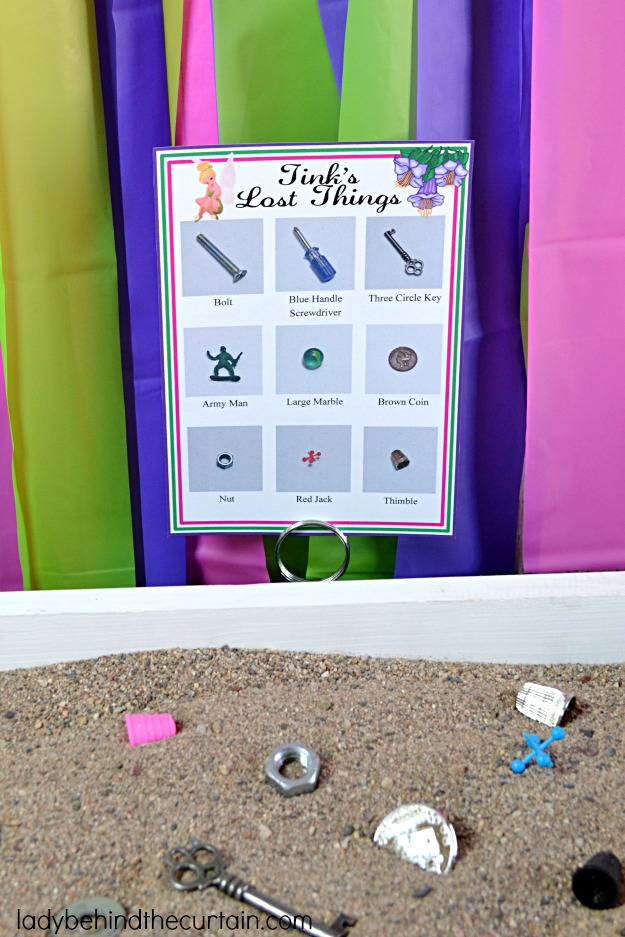 DANDELION SCOOP GAME (link)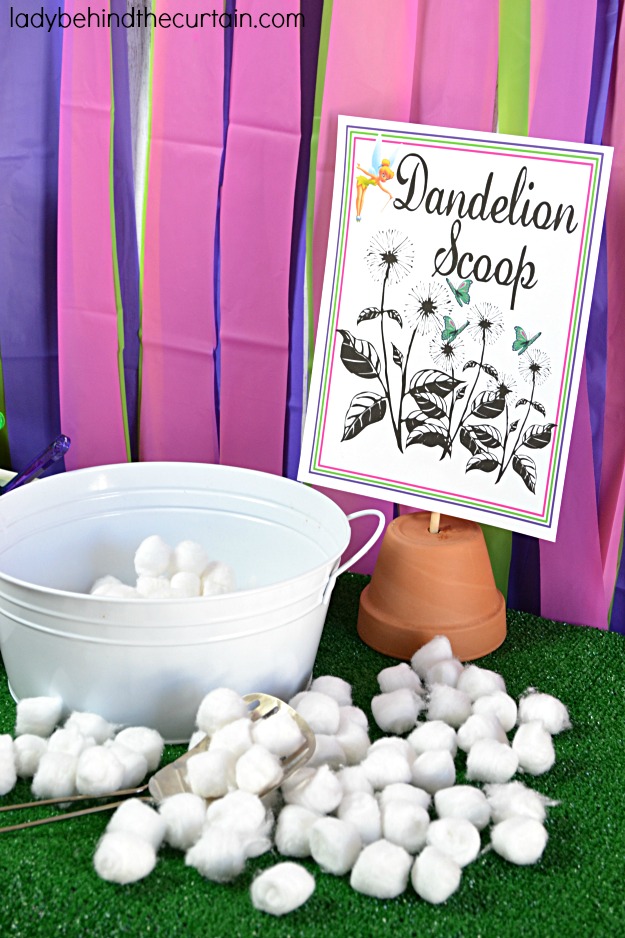 FIND TINKER BELL GAME (link)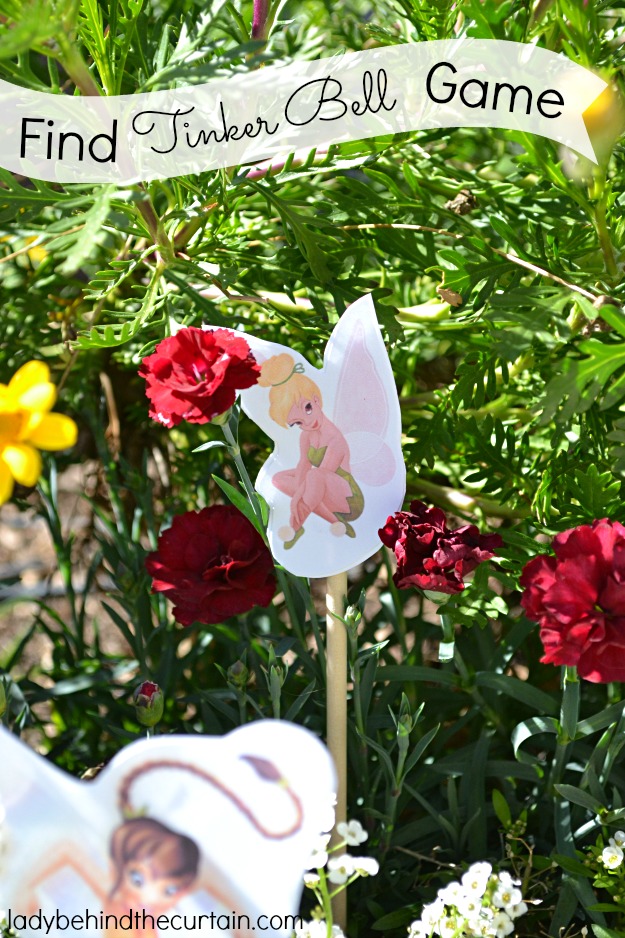 LIVING FAIRY GARDEN PARTY FAVOR (link)
It's always nice when your guests can go home with a little something to show them how much you appreciate them sharing this special celebration with you. This party favor is special in that it will remind them over and over again of the fun time they had at your party.
DESSERTS
FAIRY GARDEN DIRT DESSERT CUPS (link)
This dirt dessert has been around for quite sometime. I was curious to see how the kids would react to eating something that looked like dirt AND had a worm coming out of it. They didn't mind a bit. I forgot that most kids take tons of enjoyment from eating something that sounds disgusting.
MORNING DEW CUPCAKES (link)
If you are a fan of bakery frosting then these are the cupcakes for you! A vanilla cupcake with creamy white frosting! Don't you just love the cute tulip cupcake liners? Perfect of a garden party.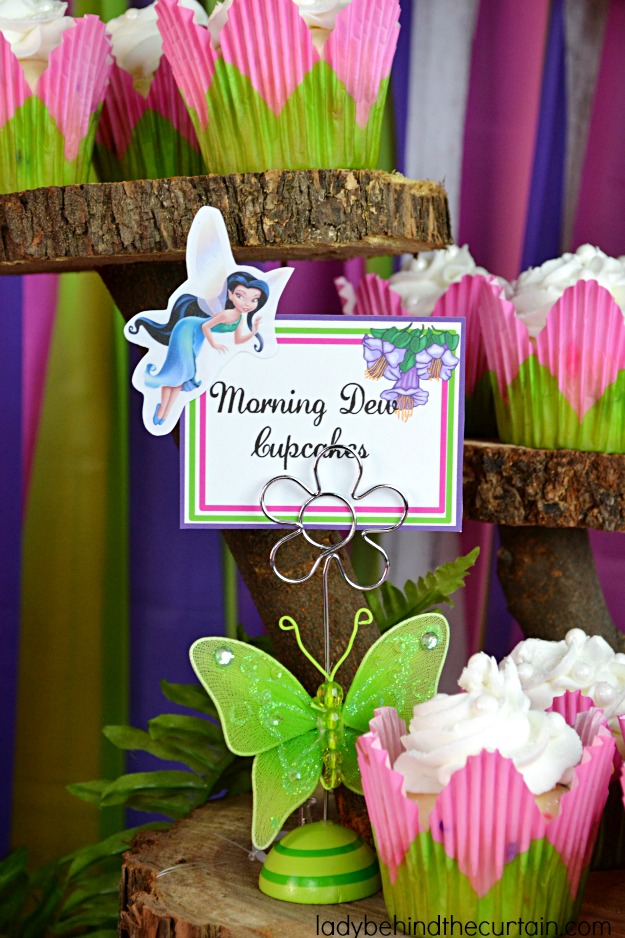 FAIRY GARDEN COOKIE POPS (link)
What could be easier then adding a lollipop stick to a sandwich cookie and dipping it in melted vanilla candy? These are super easy and delicious too! They look like a sweet garden.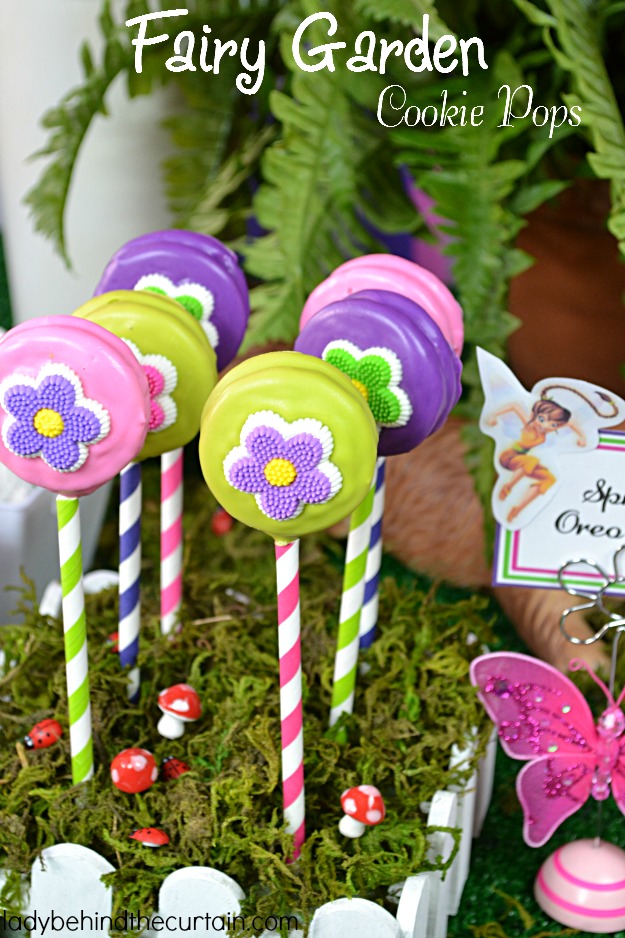 RAINBOW TREATS (link)
Follow the rainbow to Neverland with these fun and easy treats!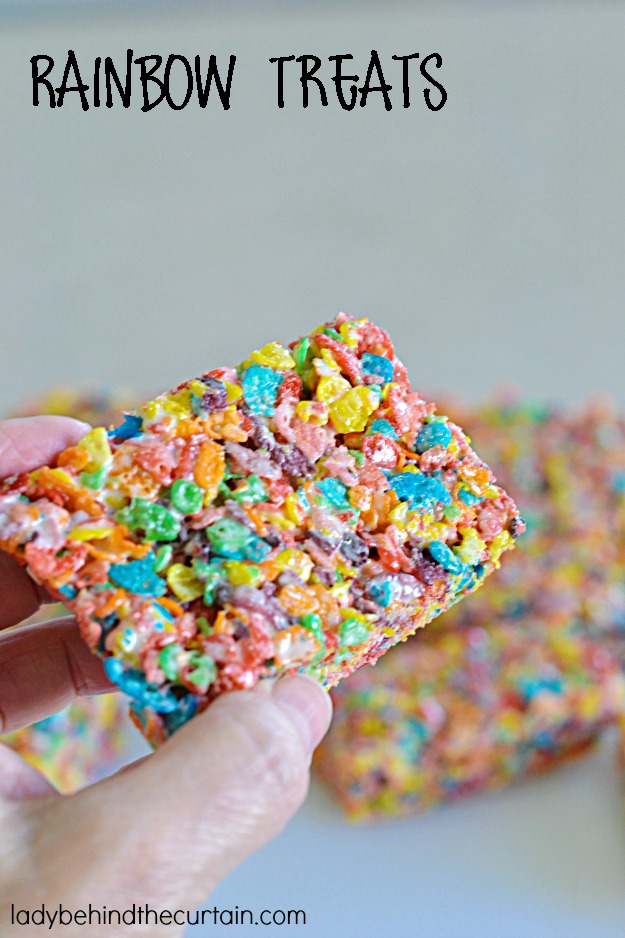 FAIRY DUST PISTACHIO MUDDY BUDDIES (link)
Pistachio is one of my favorite flavors…adding a pistachio pudding mix to the sugar coating adds the perfect flavor. This easy treat is very addictive and always should be on a party menu.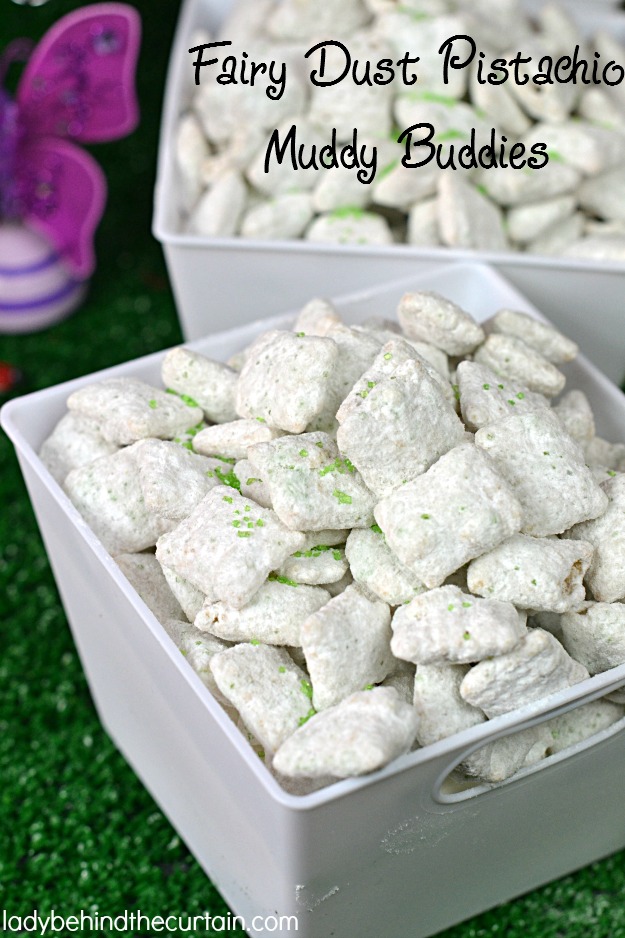 If you need print outs of fairies HERE (link) is what I used.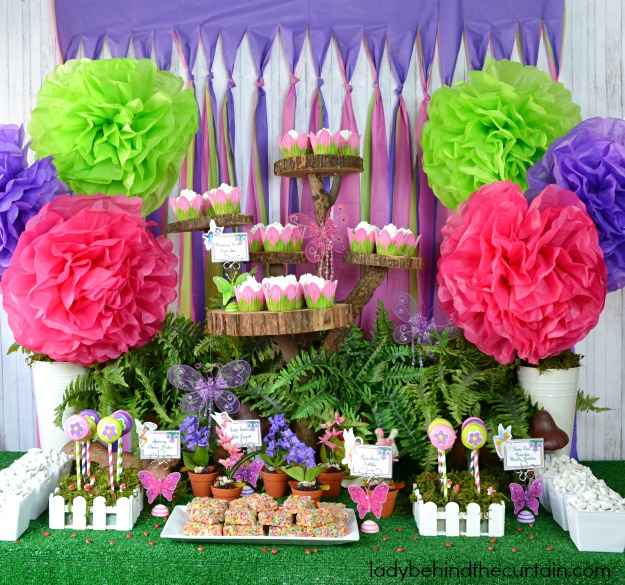 ♥♥♥I JUST SHARED WITH YOU MY IDEAS FOR A TINKER BELL WOODLAND PARTY. I WOULD LOVE TO HEAR FROM YOU ABOUT SOME OF THE PARTIES YOU HAVE HAD OR ARE PLANNING! LET'S HELP EACH OTHER OUT! THE MORE IDEAS WE GET THE EASIER IT WILL BE TO THROW OUR NEXT PARTY!♥♥♥