These Ancho Chile Truffles have a little surprise waiting for you.  They are like no truffle you've ever tasted!  At first you will get a creamy full flavored chocolate , then WATCH OUT because just as you think oh this isn't very spicy IT HITS!
I love how different these Ancho Chile Truffles are.  Perfect for a Fiesta dessert table of party favor.
Create your own Recipe Box and save your favorite Lady Behind The Curtain recipes.  Make a Meal Plan with your favorite recipes and ZipList will automatically add the ingredients to a Shopping List.
Yield: 30 Truffles
Ancho Chile Truffles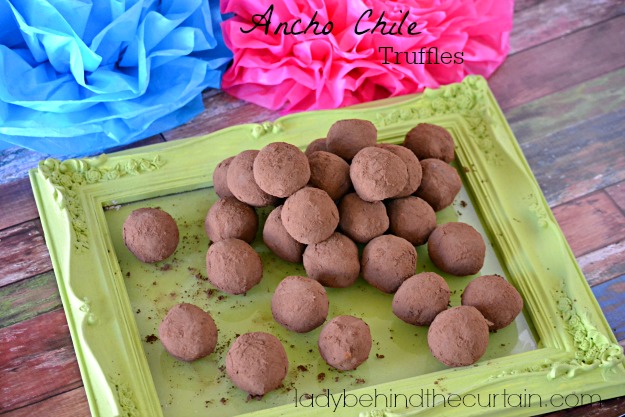 Prep Time
4 hours
30 minutes
Total Time
4 hours
45 minutes
Ingredients
1 1/2 cups heavy cream
1 tablespoon ground ancho chile
1 tablespoon ground cinnamon
3/4 teaspoon cayenne pepper
1/2 teaspoon salt
1 pound bittersweet chocolate, chopped into pieces
1 cup unsweetened chocolate
3/4 teaspoon ground ancho chile
Instructions
In a medium sauce pan combine cream, the 1 tablespoon ancho chile pepper, cinnamon, cayenne pepper and salt.
Bring to a boil.
Remove from heat and let the spices steep for 2 hours.
Reheat the spicy cream mixture just until boiling.
Add pieces of chocolate.
Let stand 5 minutes.
Stir until chocolate is melted and smooth.
Pour chocolate into a 9x13-inch baking dish.
Chill in refrigerator 2 to 4 hours or until set. (you can let it chill overnight too)
Using a small 1-inch ice cream scoop, scoop chocolate mixture into balls.
Roll balls between palms of your hand to smooth the surface.
Place on a waxed paper line cookie sheet.
Chill for another 5 minutes.
In a small bowl add the 1 cup unsweetened cocoa and 1 1/2 teaspoons of ancho chili.
Roll balls in coca mixture.
Place balls on a parchment paper or wax paper lined cookie sheet.
Chill until serving time, up to 2 hours.