Chunky Applesauce Muffins
Chunky Applesauce Mini Muffins. Tiny little bites of donut heaven! Yes, you read that right…even though these are mini muffins they taste just like a cake donut muffin. These amazing muffins are made with chunky applesauce, warm spices like cinnamon and nutmeg and rolled in a crunchy sugar topping.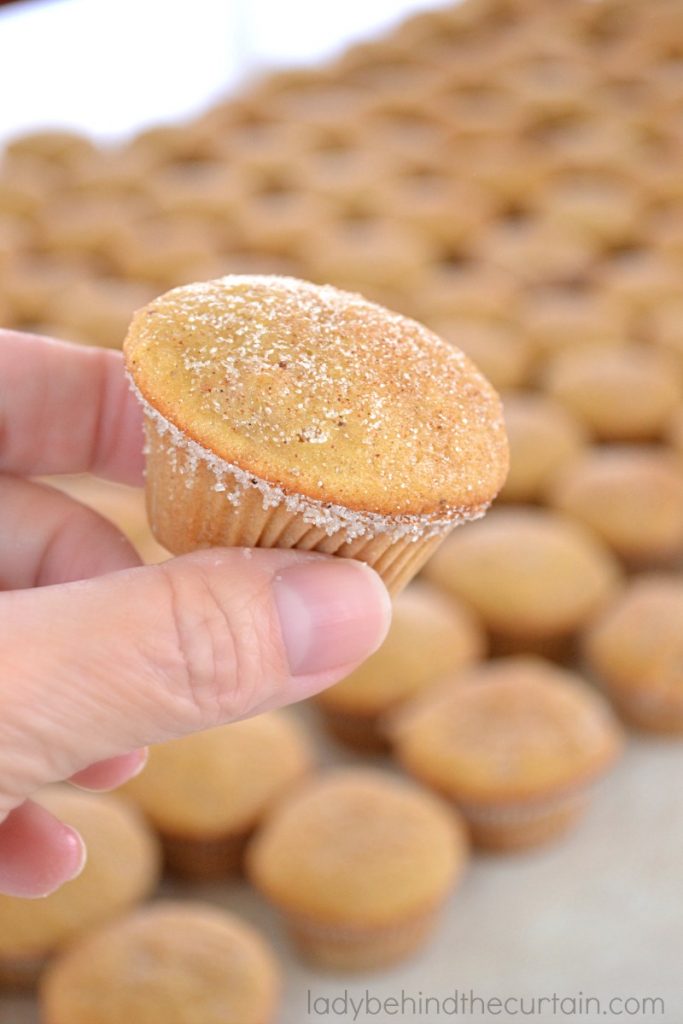 Take your Chunky Applesauce Mini Muffins up a notch with these toppings.
Apple Pie Filling ( chop up the filling and spoon onto the top of each muffin)
Caramel Drizzle (use caramel ice cream topping)
Icing Drizzle ( use a can of store bought icing, microwave it 15-30 seconds, drizzle in a back and forth motion). TIP: During the Fall months you can find a maple flavored icing a spice icing would be delicious too!
How to store and Freeze Chunky Applesauce Mini Muffins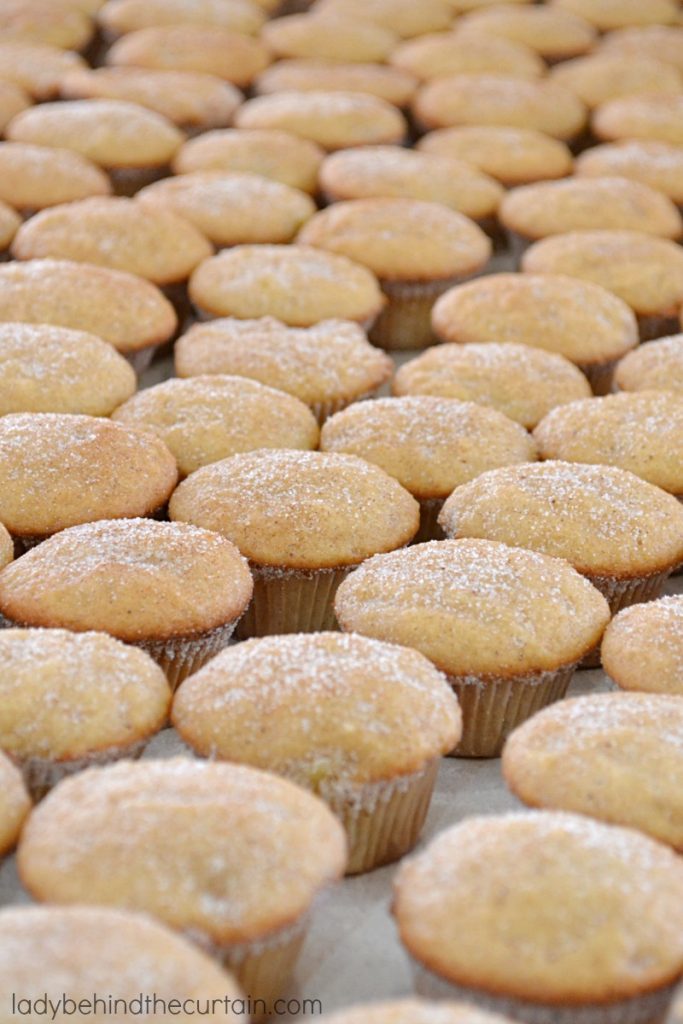 How to Reheat Muffins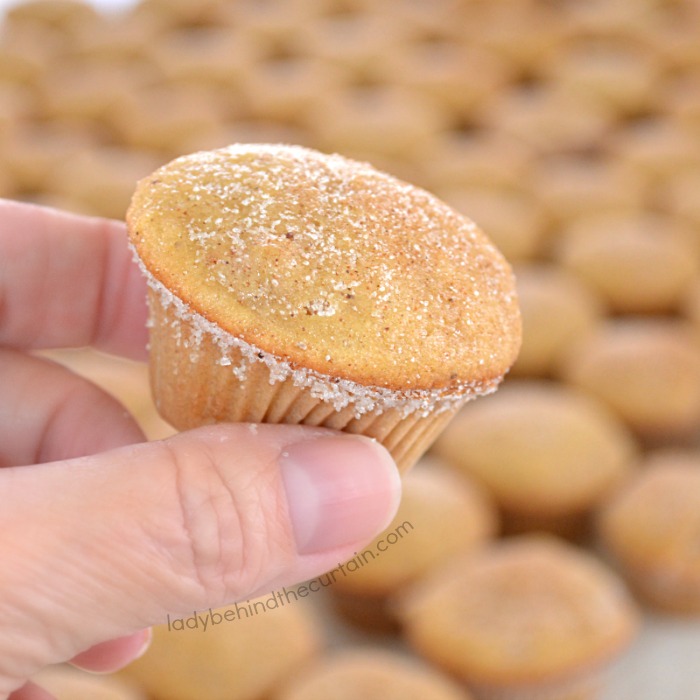 Are these Applesauce Muffins Healthy?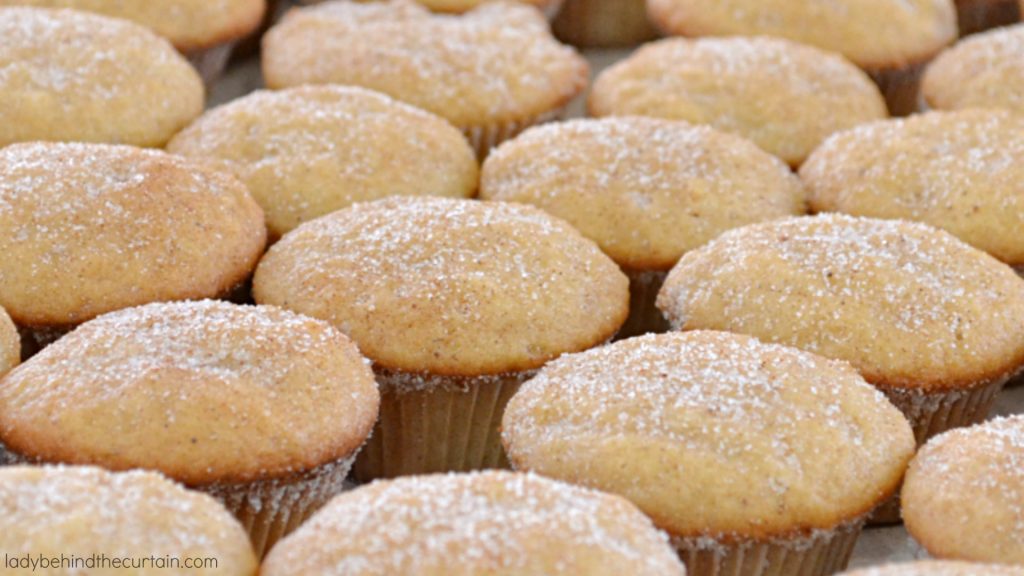 LIGHT MUFFIN RECIPES
Yield: Makes 2 DOZEN MINI MUFFINS
Chunky Applesauce Mini Muffins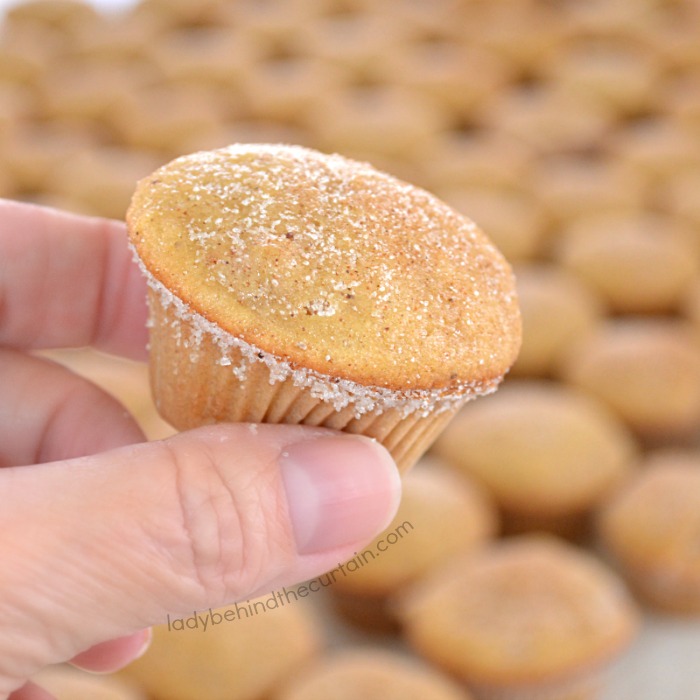 These little bites of heaven taste just like a cake donut!
Ingredients
For the Chunky Applesauce Muffins:
1 cup unsalted butter, softened
2 cups granulated sugar
2 large eggs
1 teaspoon vanilla extract
2 cups chunky applesauce
4 cup all-purpose flour
1 teaspoon baking soda
1 teaspoon ground cinnamon
1 teaspoon ground nutmeg
For the Crunchy Topping:
½ cup granulated sugar
1 teaspoon ground cinnamon
½ teaspoon ground nutmeg
2 tablespoons unsalted butter, melted
Instructions
For the Chunky Applesauce Mini Muffins:

Preheat oven to 350°. 
Line muffin tin with paper liners.
Beat together the butter and sugar until creamy. 
Add eggs one at a time until well combined. 
Mix in vanilla and applesauce. 
Combine flour, baking soda and spices. 
Mix into creamed mixture. 
Fill muffin cups three-fourths full. 
Bake 20 to 25 minutes or until a toothpick inserted in the center comes out clean. 
Let muffins cool in muffin tin 3 minutes. 
When they are cool enough to handle (still hot), brush tops with melted butter and roll in the topping mixture. (recipe below). 
Place on a wire cooling rack. 

For the Crunchy Topping:

Melt butter in the microwave.
In a small bowl stir together the sugar, cinnamon and nutmeg.
While muffins are still hot, brush the melted butter over the tops and dip the tops in the sugar mixture.
NEVER MISS A POST