Layered Corn Bread Salad | This salad makes such a nice presentation.  Use a clear bowl with straight sides to show off the layers.  The perfect size for a large get together.  This salad is quite similar to the layered pea salad.  If you're needing to stretch your salad or just want to add a little some extra.   I would recommend adding a layer of chopped lettuce to the top of the first layer of cheese at the bottom of the salad and add the dressing on top of that.  I really LOVED the flavors of this salad!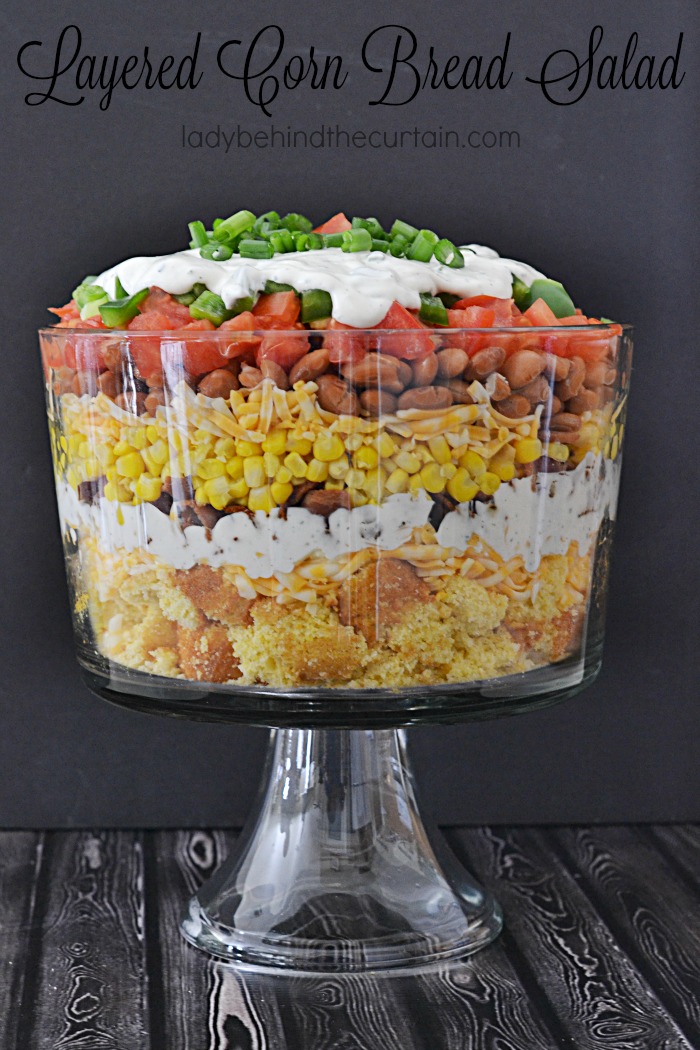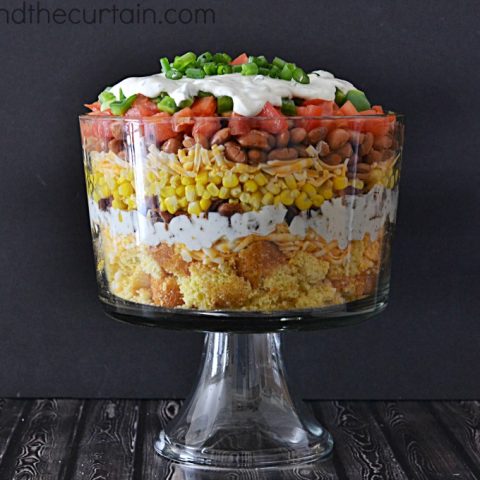 Layered Corn Bread Salad
Ingredients
1 (8.5 ounce) package corn muffin mix
1 cup mayonnaise
1 (8 ounce) sour cream
1 (1 ounce) envelope dry ranch salad dressing mix
2 cups shredded cheddar cheese
2 (15 ounce) cans pinto beans, rinsed and drained
2 (15.25 ounce) cans whole kernel corn, drained
10 slices of bacon, crisp-cooked, drained, and crumbled
3 cups coarsely chopped tomatoes
1 cup chopped green and/or red sweet pepper
1/2 cup sliced green onion
Instructions
Prepare corn muffin mix according to package; cool, crumble and set aside.
In a small bowl add the mayonnaise, sour cream, and salad dressing mix; stir to combine.
In a 3 to 4 quart glass salad bowl layer crumbled corn bread and 1 cup of the cheese.
Spread with half of the dressing.
Layer in the following order: bacon, corn, the remaining 1 cup cheese, beans, tomatoes, sweet pepper, and the remaining dressing. Cover tightly and chill.