Lemon Bars To Go | The perfect take along treat.  Hand these to go desserts to your guests as they leave, add them to your dessert table, give as a hostess gift, teachers gift or take for lunch!  Whatever you decide to do I know this dessert will be loved by all!  Scroll down to see my new twist on the crust.  You're going to LOVE it!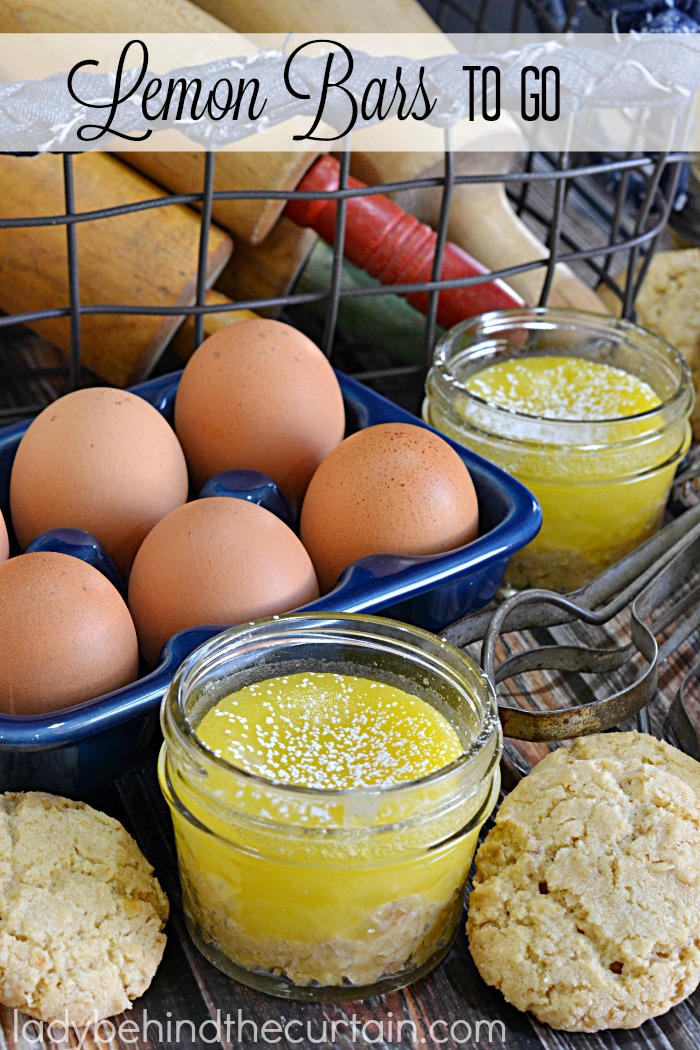 Instead of the traditional crust I used my favorite oatmeal cookie recipe as the base for the crust.  So now you get TWO treats in one!  The tart goodness from the lemon and a soft delicious cookie at the bottom.
Lightly add oatmeal cookie crust; bake.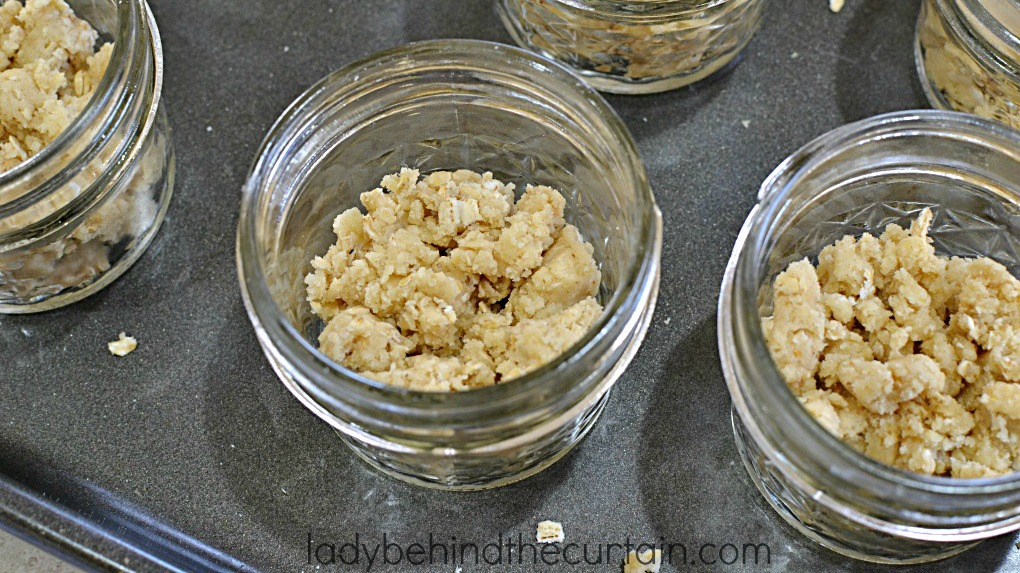 Add filling and bake.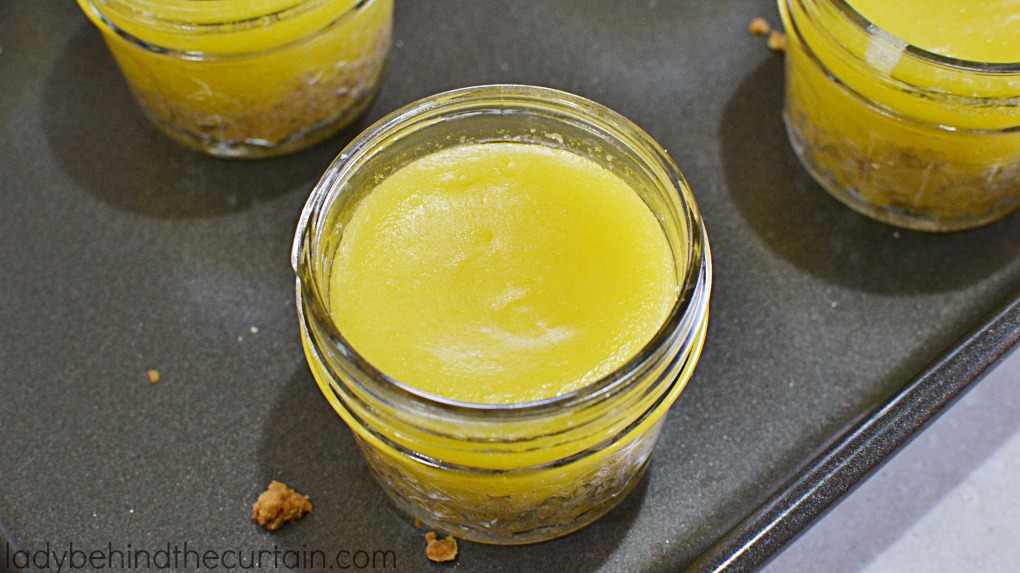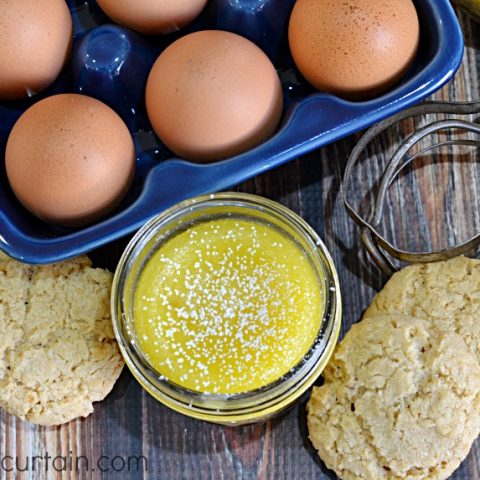 Lemon Bars To-Go
Yield:
Makes 10- 4 ounce Jars
Ingredients
For the Oatmeal Cookie Crust:
1/2 cup unsalted butter, softened
1/2 cup granulated sugar
1/2 cup firmly packed brown sugar
1 large egg
1 cup all-purpose flour
1 cup quick-cooking oats
1 teaspoon baking powder
1/2 teaspoon salt
For the Lemon Filling:
4 eggs
1-1/2 cups white sugar
zest of 3 lemons
2/3 cups lemon juice (3 lemons)
1 tablespoon butter
5 tablespoon all-purpose flour
Instructions
For the Oatmeal Cookie Crust:
Preheat oven to 350°.
Beat butter and sugars until fluffy. Add egg, beating until combined.
Combine flour, oats, and baking powder.
Gradually add to butter mixture; beat until combined.
In 10-4 ounce jars spoon crust into jars and lightly press.
Place jars on a cookie sheet for easy handling.
Bake for 12 minutes. This is just to start the baking process for the crust it will complete baking when the lemon filling is added.
While the crust is baking make your filling.
For the Lemon Filling:
Whisk together the sugar and eggs in a medium saucepan.
Add the lemon zest, lemon juice, butter and flour.
Whisk together constantly over medium low heat until slightly thickened and warm (just to a boil).
Carefully pour over baked crust.
Bake an additional 7 minutes or until the edges are set, but the center still moves slightly when jiggled.
Allow to cool completely and dust with confectioners sugar.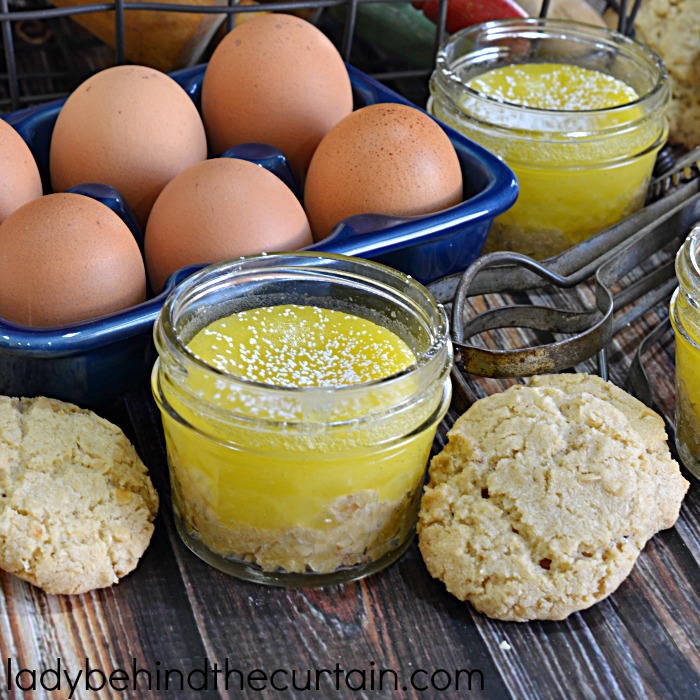 MORE MINI DESSERTS

MINI CARROT CAKES  2. MINI CHEESECAKES  3. MINI CARAMEL APPLE PIES