Chicken Noodle Pot Pie Casserole
Make this Chicken Noodle Pot Pie Casserole on Monday and have enough for a few more days.  The perfect busy week night dinner.  Full of creamy gravy, vegetables, chicken and pasta!  All topped with a buttery crispy crust!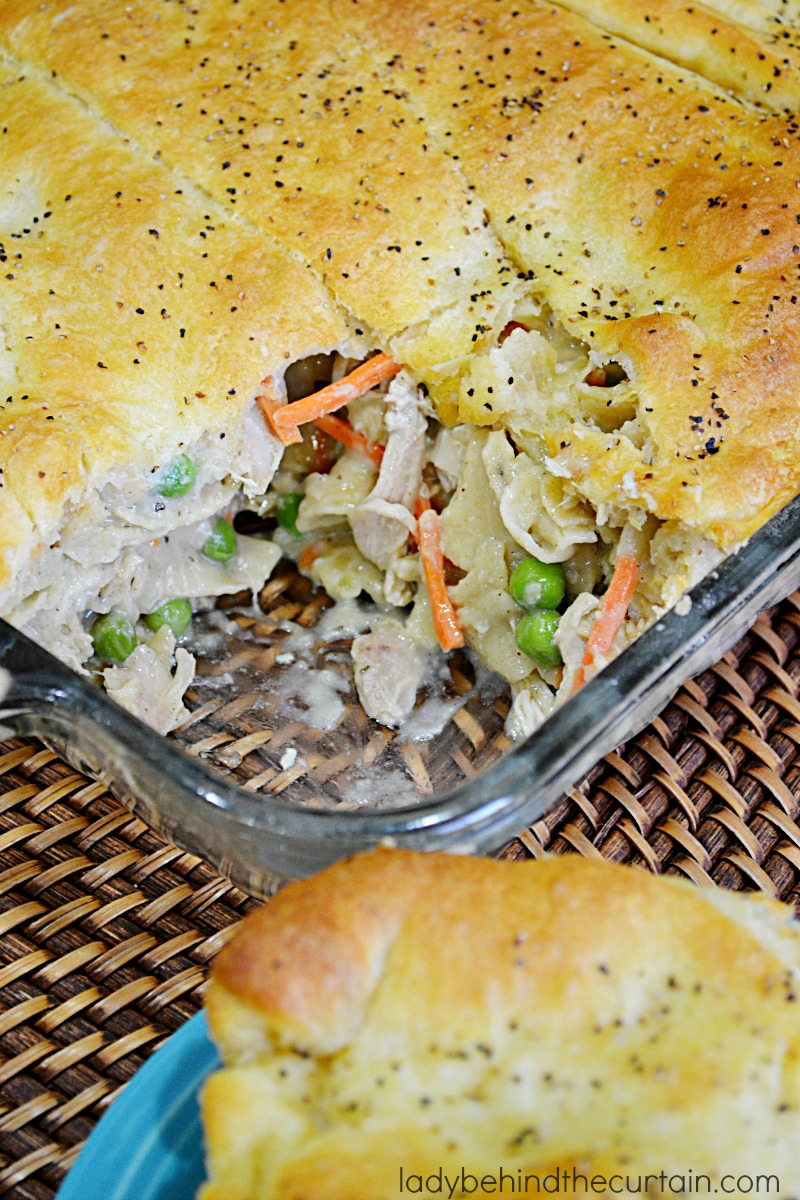 ALTERNATIVE CRISPY CRUST TOPPING: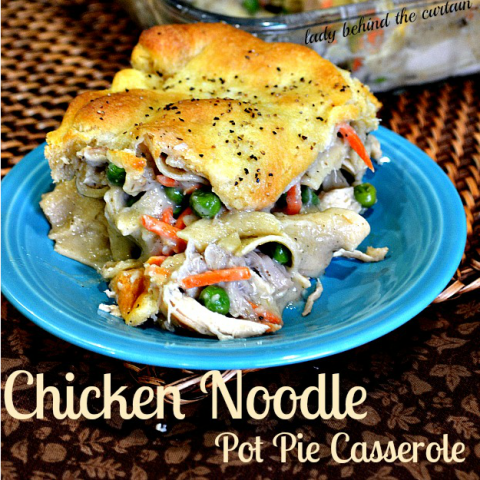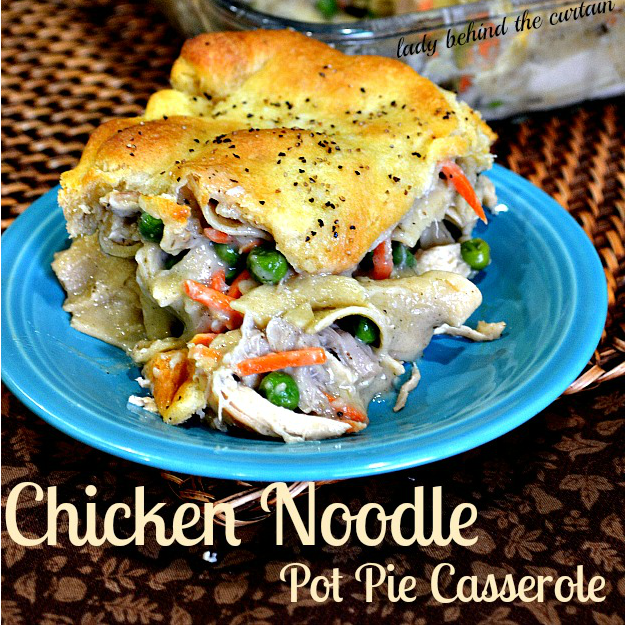 Chicken Noodle Pot Pie Casserole
A crowd pleasing casserole full of comfort and topped with a flaky crust.
Ingredients
3 pounds rotisserie chicken, shredded into large chunks
12 ounce dry whole grain extra wide pasta, cooked according to package directions
6 tablespoons butter
1/2 cup plus 4 teaspoons all-purpose flour
4 cups chicken stock
1/2 cup heavy cream
2 teaspoons poultry seasoning
2 teaspoons salt
1/4 teaspoon black pepper
2 cups frozen peas
2 cups store bought carrots, shredded
1 large can refrigerated Pillsbury, crescent rolls
2 tablespoons butter melted
1/4 teaspoon black pepper
Instructions
Preheat oven to 400 degrees.
Lightly spray a 9x13-inch casserole dish with non stick cooking spray and set aside.
Shred the chicken and set aside.
Cook pasta according to the package directions.
In a large skillet, melt butter.
Sprinkle flour over top of melted butter.
Whisk the flour into the butter.
Continue whisking 10 minutes until the flour reaches a nice brown (This will give the gravy and nutty flavor).
Slowly whisk in half of the chicken stock.
Whisk until smooth.
Add remaining stock, heavy cream, poultry seasoning, salt and pepper.
Whisk until smooth and the gravy thickens (about 10 minutes).
Add peas, carrots, shredded chicken and cooked pasta.
Stir to combine.
Pour into prepared casserole dish.
Open the can of crescent rolls.
Unroll and place on top of the chicken mixture.
Press to the edges and seal the perforated seams.
Brush on the 2 tablespoons of melted butter and sprinkle with pepper.
Cut slits for air vents.
Bake 25 to 30 minutes or until the pastry topping is light and golden.
MORE CASSEROLE RECIPES
NEVER MISS A POST
More comfort food recipes you might like. GRANNY'S CLASSIC MEATLOAF RECIPE and THE BEST SLOW COOKER MISSISSIPPI POT ROAST RECIPE