Chicken Noodle Pot Pie Casserole
Make this Chicken Noodle Pot Pie Casserole on Monday and have enough for a few more days.  The perfect busy week night dinner.  Full of creamy gravy, vegetables, chicken and pasta!  All topped with a buttery crispy crust!
Serve up a bowl of comfort with this chicken noodle pot pie casserole.  Large enough for a crowd but also freezes beautifully for future easy weeknight dinners.  I know getting a home cooked meal on the table for your family is important but sometimes being in the midst of after school activities can make it difficult.  This chicken noodle pot pie casserole is easy to make, hearty and big enough for leftovers.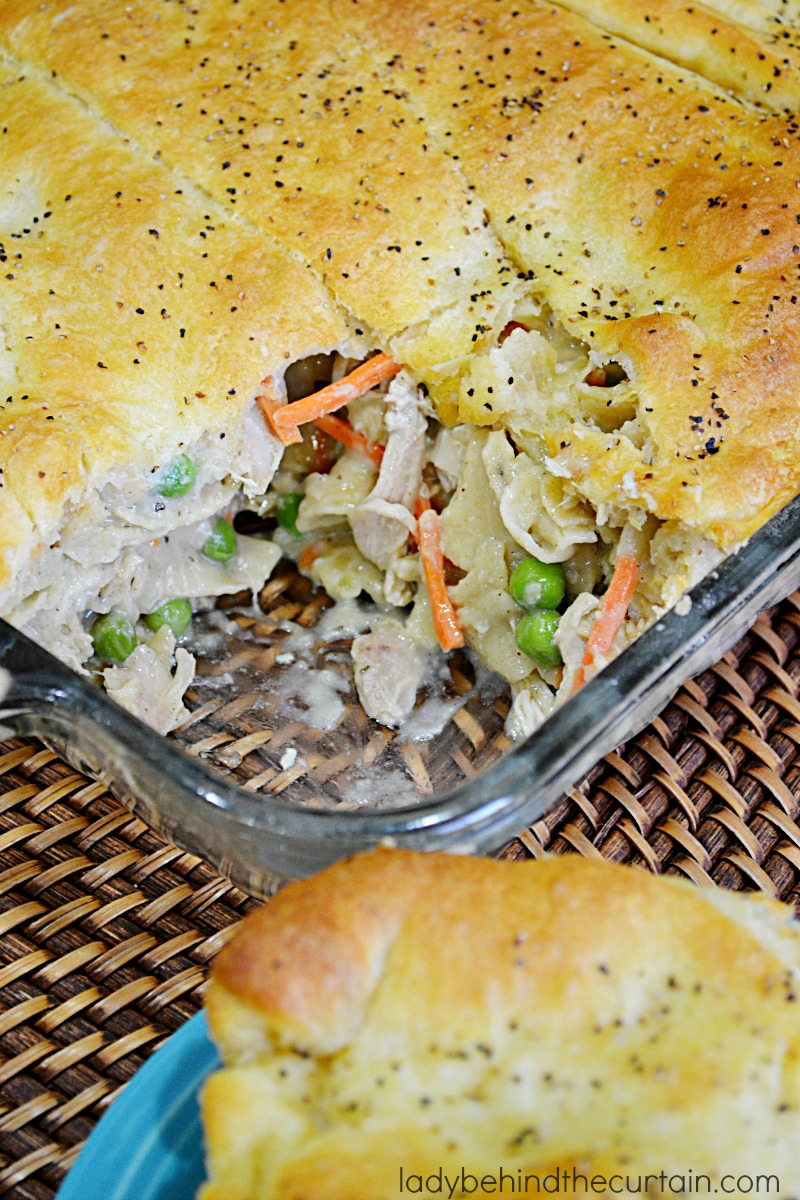 ALTERNATIVE CRISPY CRUST TOPPING:
If you live in an area that doesn't have crescent rolls or would prefer to use another type of dough, here are some ideas.  Puff Pastry adds a light and crispy topping while using canned or homemade biscuits brings the casserole into a hearty homey feel.  Whatever dough topping you choose to use remember to add the melted butter!
TIP:  Have dinner ready in minutes!  Double the gravy and freeze half for future use.  Then all that will be needed are a few more ingredients.  To freeze, I put a zip top bag inside of another zip top bag (label the outside bag), pour gravy into the inside bag, close, getting rid of as much air as possible.  Close the outside bag, lay flat in the freezer.  Once the gravy is frozen it can be stored upright like a file.  I freeze all my sauces this way to help save freezer room.
Making sure the flour is brown is EVERYTHING!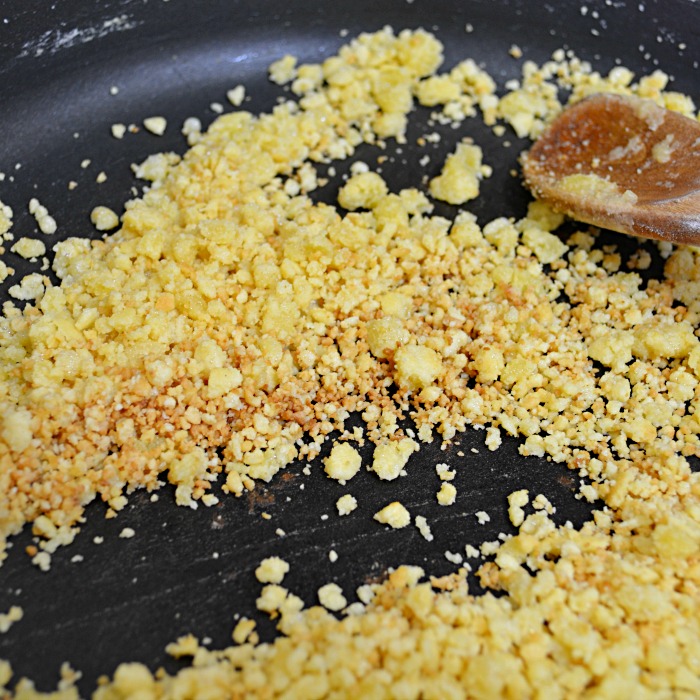 Delicious Filling
Wonderful crescent roll top!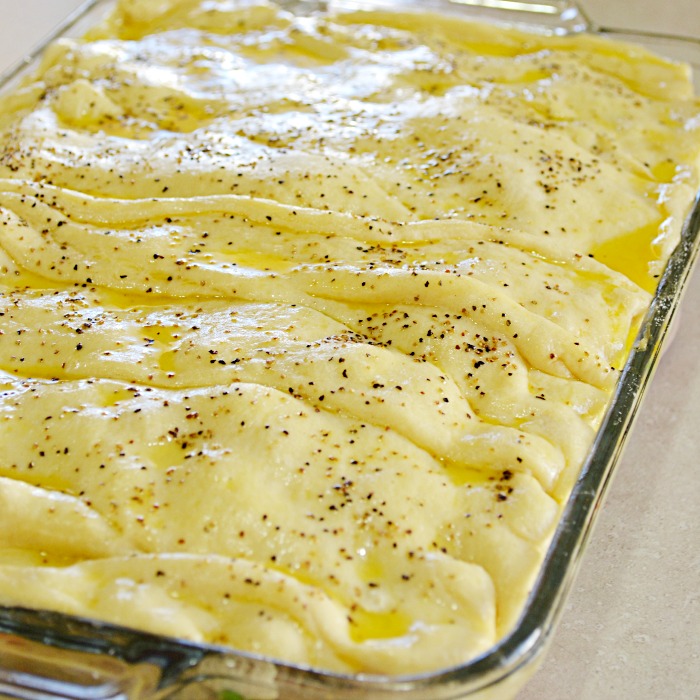 BAKED!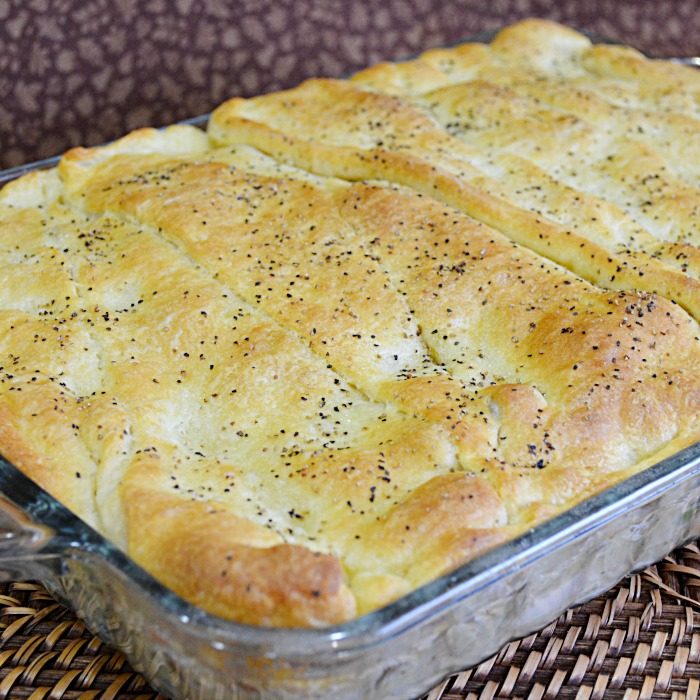 Chicken Noodle Pot Pie Casserole
A crowd pleasing casserole full of comfort and topped with a flaky crust.
Ingredients
3 pounds rotisserie chicken, shredded into large chunks
12 ounce dry whole grain extra wide pasta, cooked according to package directions
6 tablespoons butter
1/2 cup plus 4 teaspoons all-purpose flour
4 cups chicken stock
1/2 cup heavy cream
2 teaspoons poultry seasoning
2 teaspoons salt
1/4 teaspoon black pepper
2 cups frozen peas
2 cups store bought carrots, shredded
1 large can refrigerated Pillsbury, crescent rolls
2 tablespoons butter melted
1/4 teaspoon black pepper
Instructions
Preheat oven to 400 degrees.
Lightly spray a 9x13-inch casserole dish with non stick cooking spray and set aside.
Shred the chicken and set aside.
Cook pasta according to the package directions.
In a large skillet, melt butter.
Sprinkle flour over top of melted butter.
Whisk the flour into the butter.
Continue whisking 10 minutes until the flour reaches a nice brown (This will give the gravy and nutty flavor).
Slowly whisk in half of the chicken stock.
Whisk until smooth.
Add remaining stock, heavy cream, poultry seasoning, salt and pepper.
Whisk until smooth and the gravy thickens (about 10 minutes).
Add peas, carrots, shredded chicken and cooked pasta.
Stir to combine.
Pour into prepared casserole dish.
Open the can of crescent rolls.
Unroll and place on top of the chicken mixture.
Press to the edges and seal the perforated seams.
Brush on the 2 tablespoons of melted butter and sprinkle with pepper.
Cut slits for air vents.
Bake 25 to 30 minutes or until the pastry topping is light and golden.
Notes
https://www.ladybehindthecurtain.com/chicken-noodle-pot-pie-casserole/

MORE CASSEROLE RECIPES
CHILI MAC CASSEROLE  2. CHILI CORN CASSEROLE  3. PIMIENTO CHEESE BREAKFAST CASSEROLE
NEVER MISS A POST!
Sign up for my newsletter and receive my recipes in your inbox. Easy to see anytime and saved for safe keeping. Click Here and sign up today! —->>>>CURTAIN CALL NEWSLETTER