Homemade Cookie Butter Caramel
Homemade Cookie Butter Caramel: Smooth and rich with cookie butter flavor, this caramel is super easy to make. One bite and you'll never want regular caramel again. So versatile you can serve it at any occasion. Use as a dip or a sauce.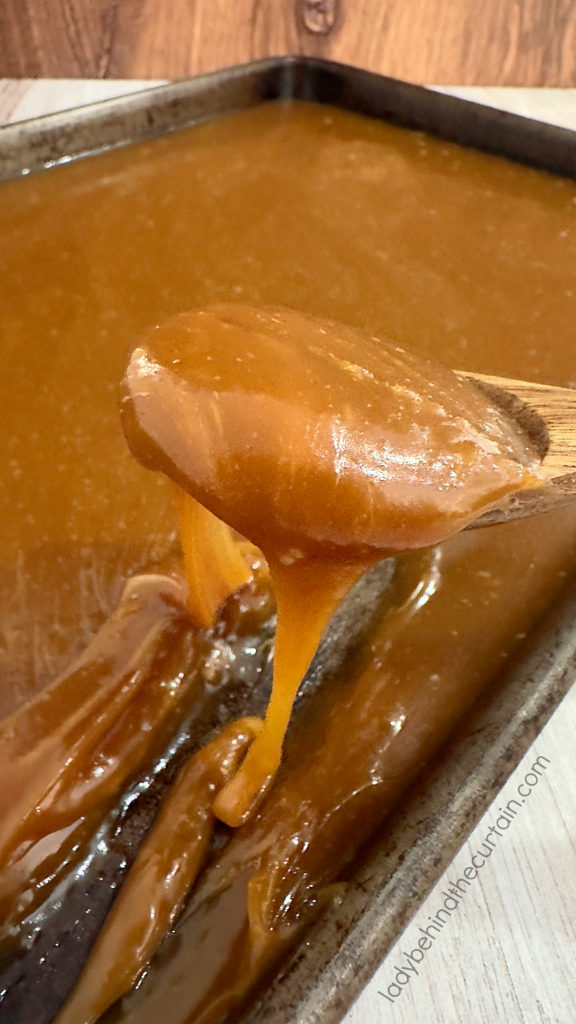 How to Make Homemade Cookie Butter Caramel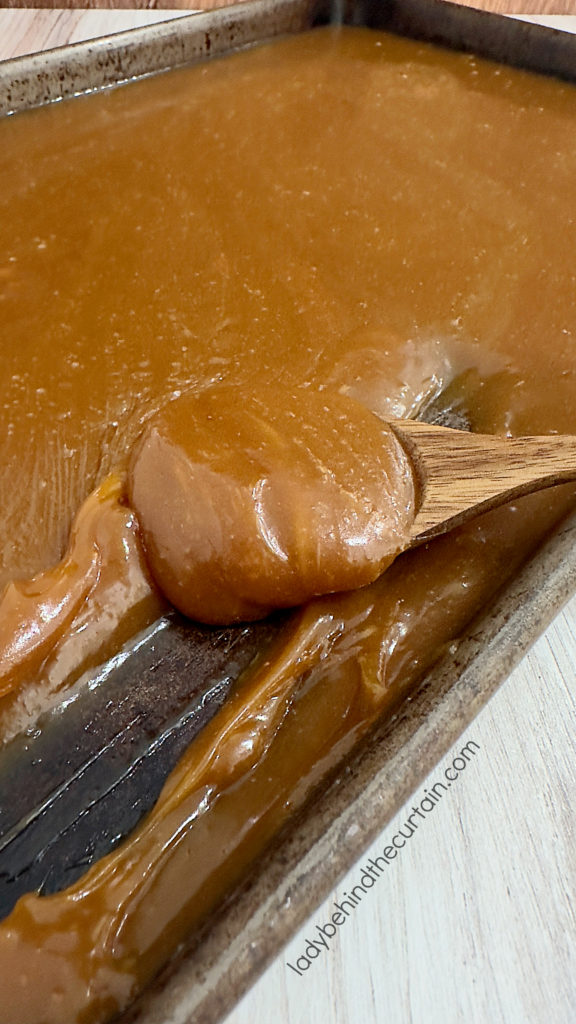 INGREDIENTS
5.64 ounces of granulated sugar
3.5 ounces water
7 ounces heavy cream
4.4 ounces unsalted butter
8.8 ounces cookie butter
DIRECTIONS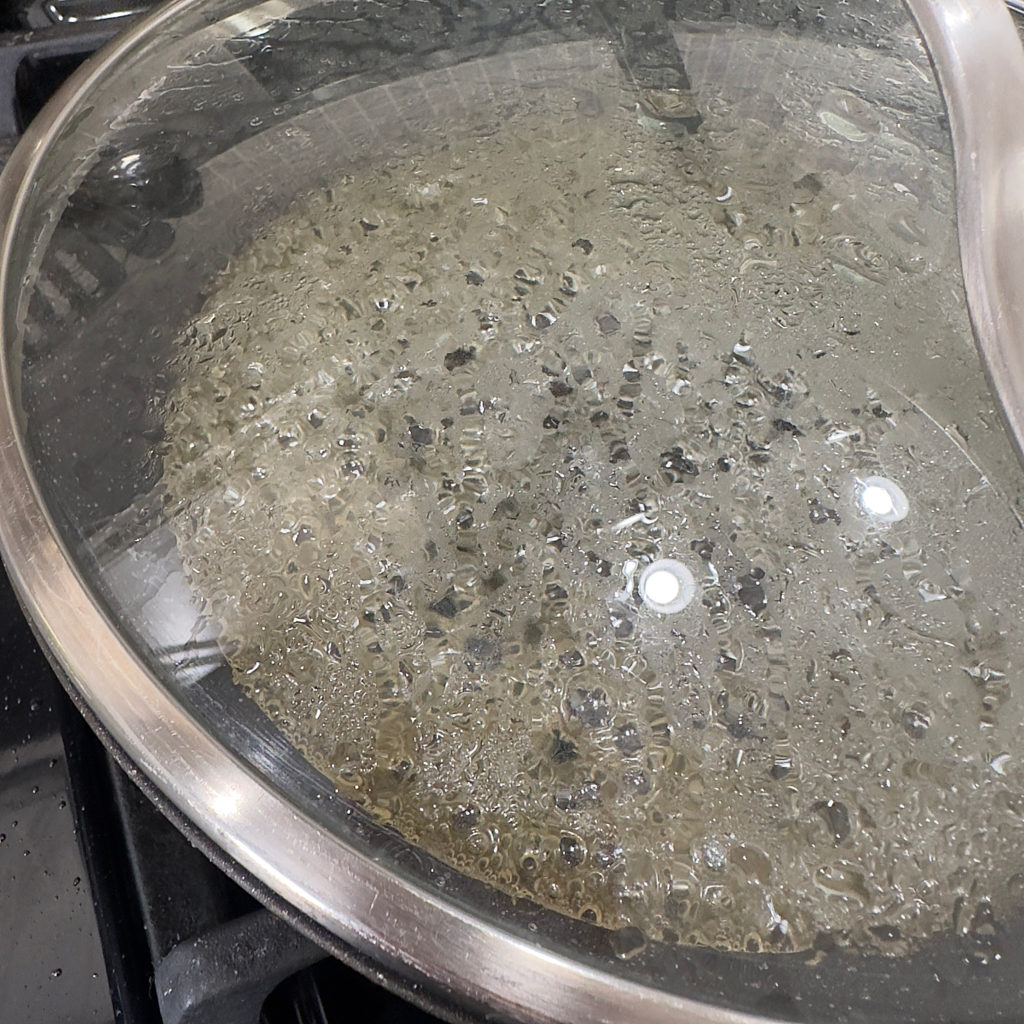 Add sugar and water to a medium saucepan, stir to combine.
On medium low heat, cover and cook until sugar starts to turn a golden color (about 9 minutes). DO NOT STIR
Take off lid, continue boiling until sugar becomes a caramel color (2 – 3 minutes) DO NOT STIR
Take off the heat, whisk in cream.
Add butter and cookie butter, whisk to combine.
Pour into a 10 x 15 inch baking sheet.
Refrigerate to set (about 30 minutes).MAKES 2 CUPS
What is Cookie Butter?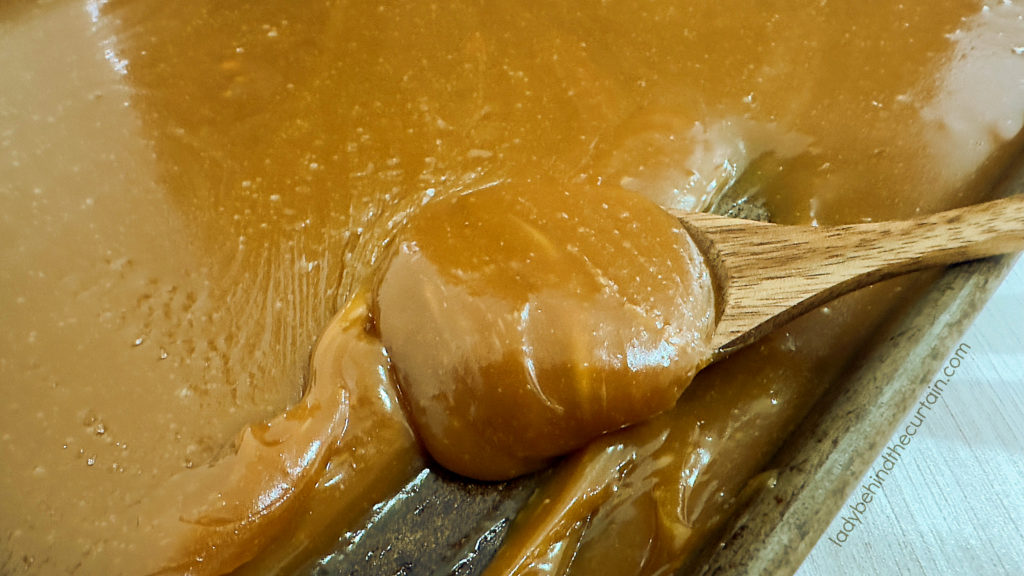 Cookie butter is a creamy spread made from finely ground Belgian speculoos spice cookies.
Cookie butter looks like nut butter but tastes like gingerbread, with a rich, deep caramel flavor augmented by toasty, spiced cookie notes.
Where Can I Find Cookie Butter?
At first cookie butter was a hard product to find. However, You can find cookie butter at your local grocery store on the isle where the peanut butter is located. MY FAVORITES are LOTUS BISCOFF COOKIE BUTTER AND TRADER JOE'S SPECULOOS COOKIE BUTTER.
How to Use Homemade Cookie Butter Caramel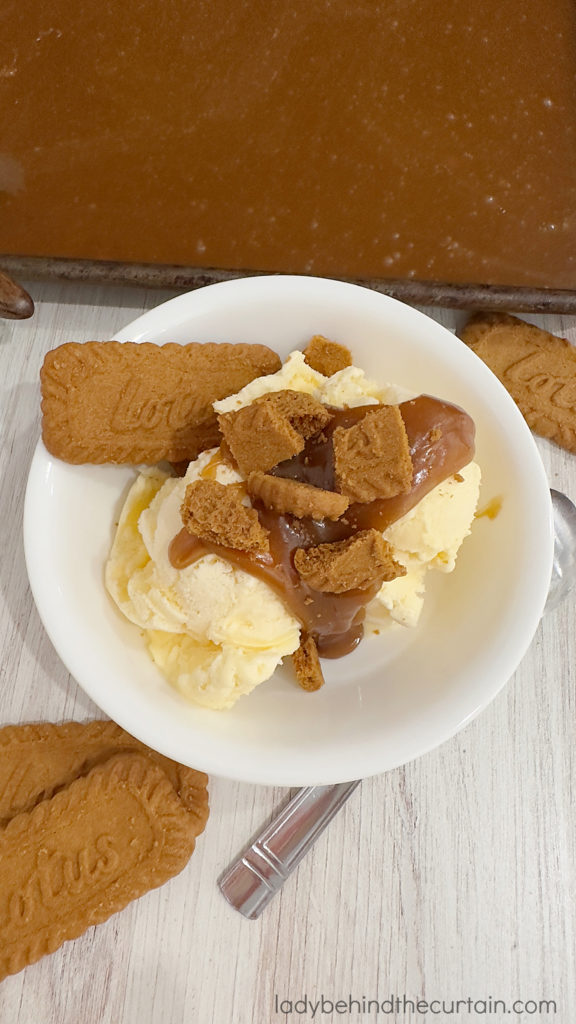 The idea of making homemade caramel can be intimidating. This post will show you how easy it is to make, so you can put away your fears. Trust me….once you make it you will be hooked!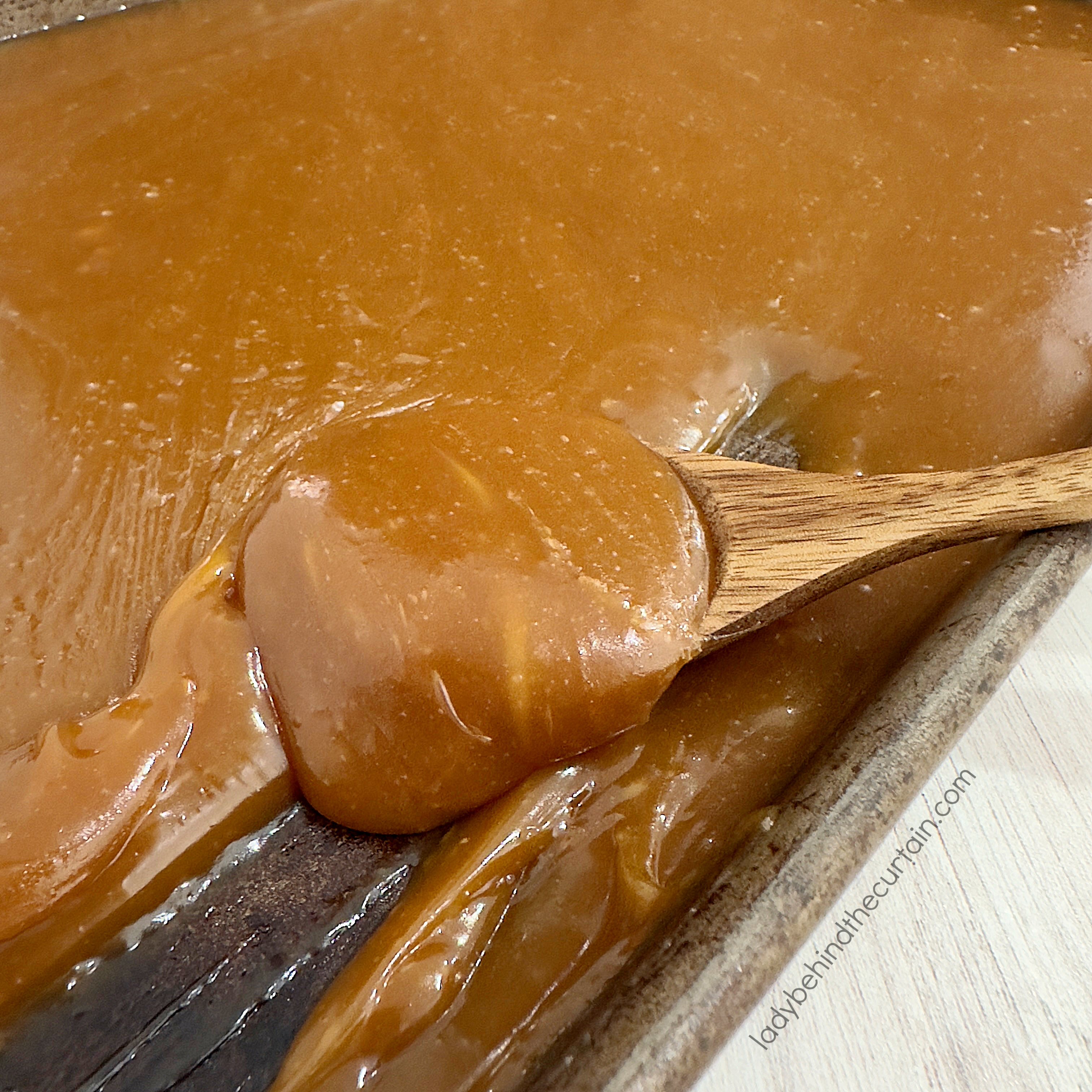 •Game Day just got a whole lot sweeter! Serve your homemade Cookie Butter Caramel in a bowl surrounded by apples, and pretzels. •Become your own barista! Before filling your coffee glass, line the inside with cookie butter caramel! •Blend a dollop into your vanilla shake. Scroll down for more ideas.↓
STRAIGHT OUT OF THE JAR DIP
DELICIOUS LUNCH IDEA: Spoon some of the cookie butter caramel into small 2 ounce disposable cups with lids (I found them at Target, Walmart has them too). Add pretzel sticks or apple slices. Great as a party dip too!
APPLES: You can never go wrong with caramel apples.
PRETZELS: The sweet and salty combo are party perfection!
CARAMEL SAUCE
ICE CREAM: Transform boring vanilla ice cream into something incredible.
ICED COFFEE: Before adding your coffee and ice, line the inside of your cup with caramel.
MILK SHAKE: Blend a dollop of caramel into your vanilla shake.
MIXED WITH OTHER INGREDIENTS
CREAM CHEESE: Bring an eight ounce block of cream cheese to room temperature, blend in some of the cookie butter caramel (taste to get the measurement to your liking). Use as a dip or spread.
CHEESECAKE TOPPING: Replace Dulce de Leche with Homemade Cookie Butter Caramel
HOW TO STORE HOMEMADE COOKIE BUTTER CARAMEL
Homemade cookie butter caramel will stay fresh in an airtight container ( I like using a mason jar) up to one month. Good luck getting it to last that long😂.
MORE HOMEMADE CARAMEL RECIPES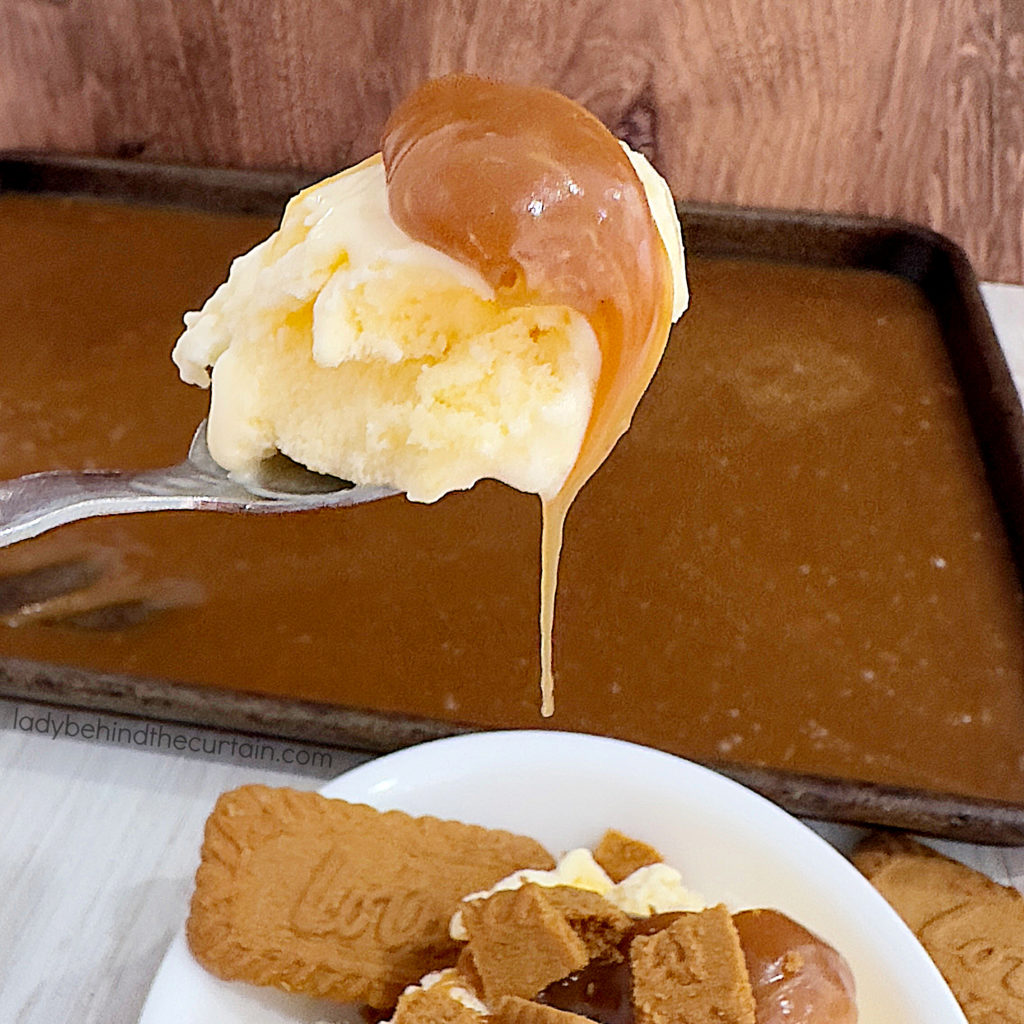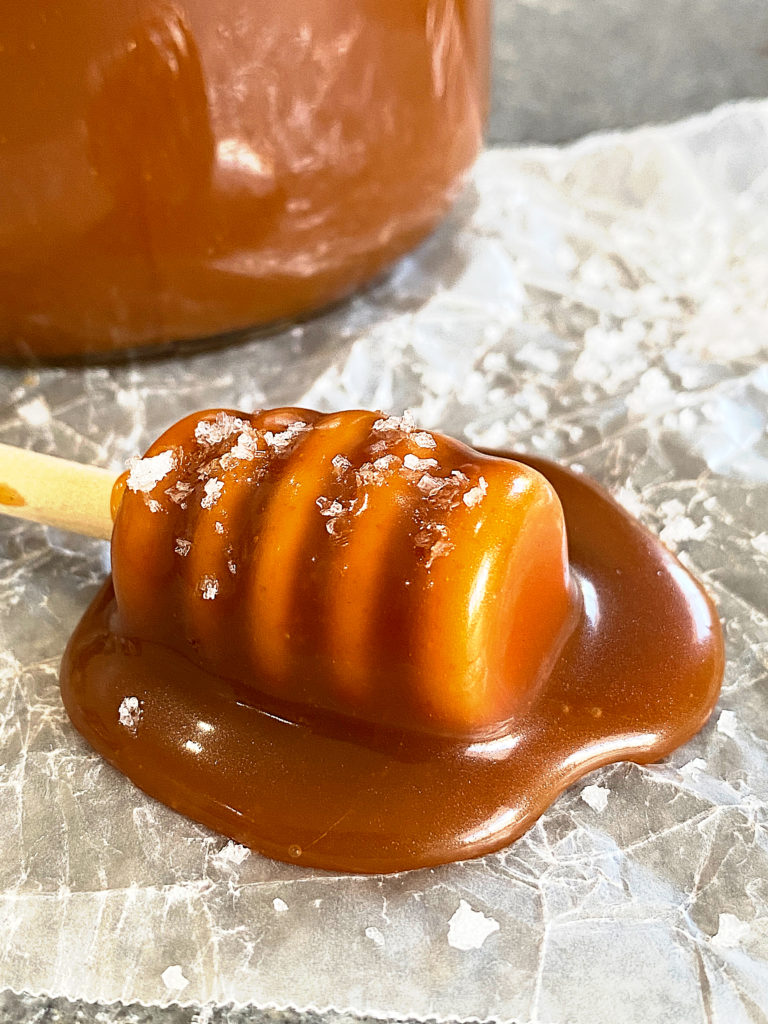 SIGN UP FOR THE LADY BEHIND THE CURTAIN NEWSLETTER
THANKS FOR VISITING♥