Stars and Stripes Flag Pretzels
Stars and Stripes Flag Pretzels: Transform everyone's favorite sweet and salty treat into the perfect red, white, and blue party treat. Perfect for Memorial Day or 4th of July, these stars and stripes flag pretzels will put a smile of everyone's face.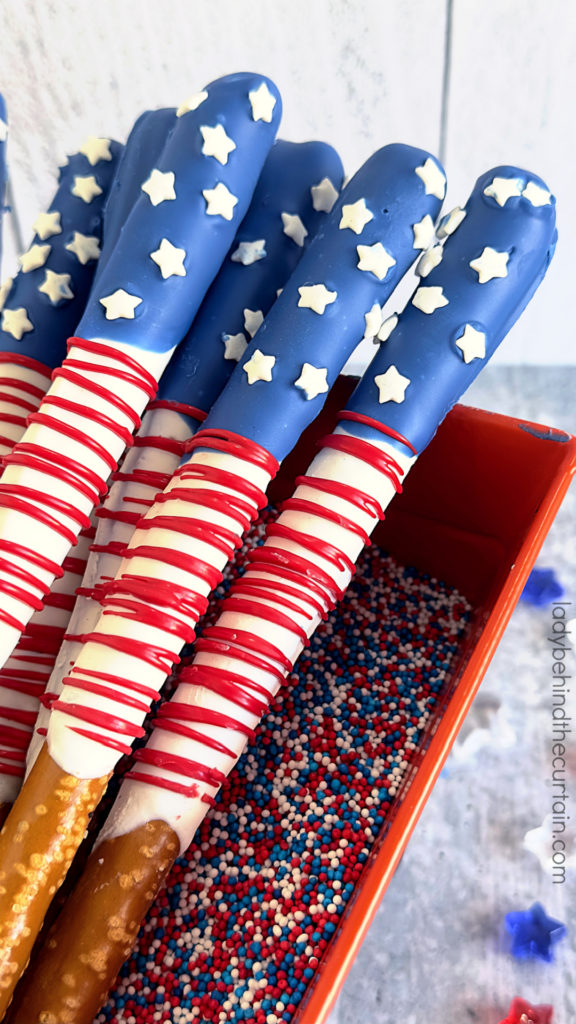 Patriotic decorated pretzels add a touch of red, white, and blue to a holiday dessert table and fit perfectly in little spaces.
How to Make Stars and Stripes Flag Pretzels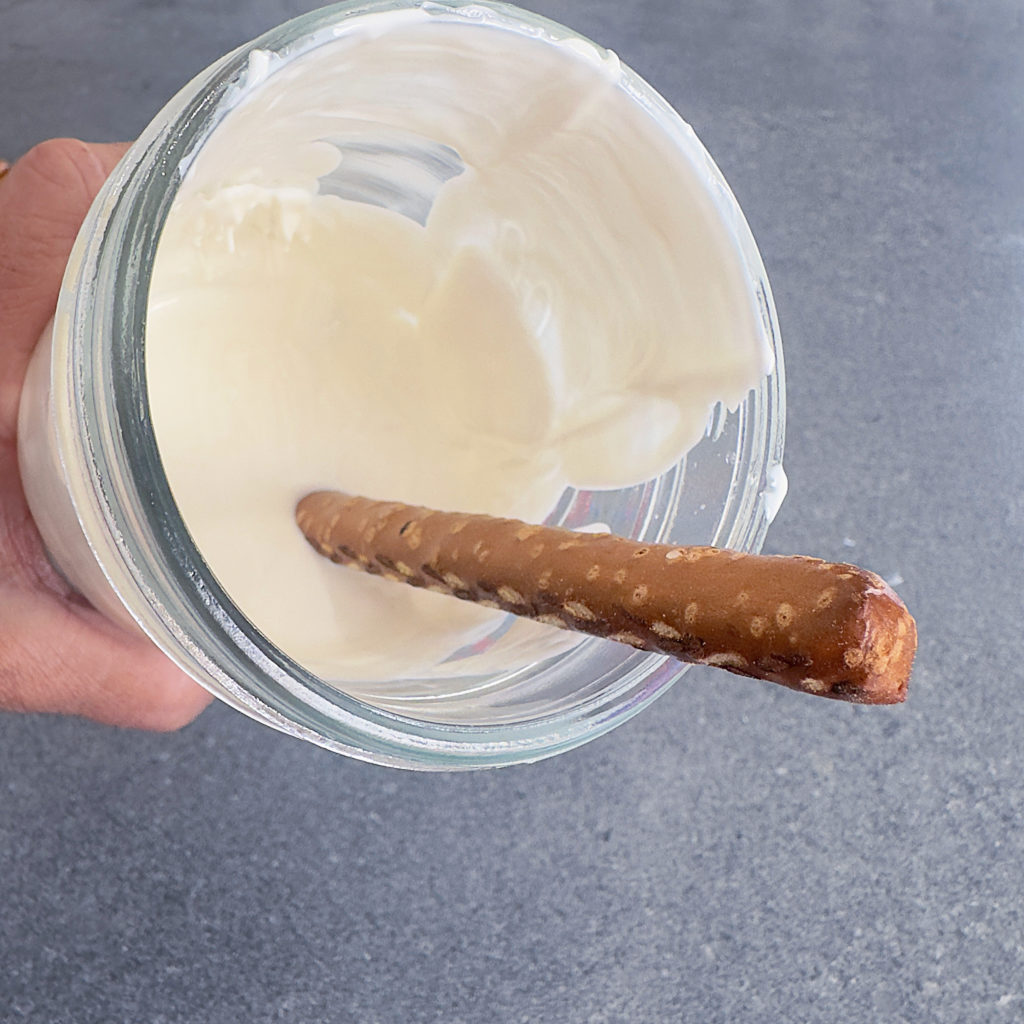 INGREDIENTS (full printable recipe below)
12 pretzel rods
2 cups white candy melts or wafers
2 tablespoons vegetable shortening
1 cup blue candy melts or wafers
1 tablespoon vegetable shortening
1 tablespoon white star sprinkles
1 cup red candy melts or wafers
1 tablespoons vegetable shortening
DIRECTIONS
Line a cookie sheet with parchment and set aside.
In a microwave, heat the white candy and shortening in a tall glass 1 minute on high, stir until creamy. If needed, heat until melted in 30 second increments stirring between each addition at 60% power.
Dip pretzel rods in white candy, tip glass to coat to desired level on the pretzel (For easy handling, I like to leave 2½ inches at the bottom).
Hold upside down to let any extra candy fall back into the glass.
Place on prepared cookie sheet.
Repeat these steps for the remaining pretzels.
Put pretzels (still on the cookie sheet) in the refrigerator to harden (about 10 minutes).
In a small jar, add the blue candy melts or wafers and shortening.
In a microwave, heat blue candy and shortening until melted and creamy (about 1 minute on high)
Dip the end of the white dipped pretzels into the blue melted candy about 2½ inches.
While the candy is still soft and wet add the star sprinkles.
Put the cookie sheet back in the refrigerator for 10 minutes or until the candy has hardened.
Put red candy melts or wafers in a small microwave safe bowl, heat on high 1 minute, stir. If the candy needs more time, heat in 30 second increments at 60% power.
Pour melted candy into a squeeze bottle.
Place pretzel on a piece of wax paper.
In a back and forth motion add stripes to the lower part of the white candy dipped pretzel.
Lift pretzel straight up and transfer to a cookie sheet lined with parchment paper.
Set aside to harden or place in the refrigerator for 10 minutes.
How Do I Get Rid of the Candy Puddle?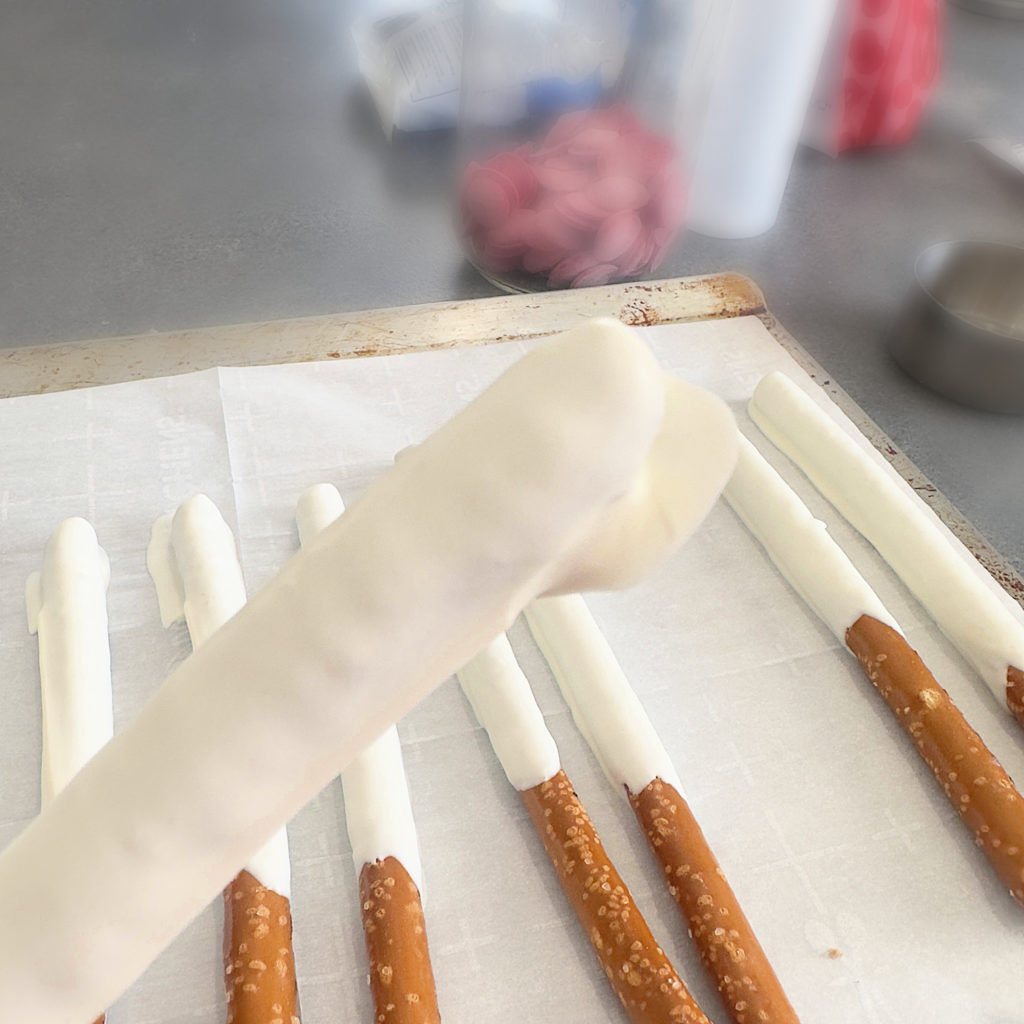 One of my favorite tips that I use every time I decorate pretzels is using a micro plane tool for the edges that have puddled under the pretzel. Carefully scrape off the excess melted candy. NOTE: CANDY MUST BE HARD FOR THIS TO WORK
More 4th of July and Memorial Day Decorated Pretzel Ideas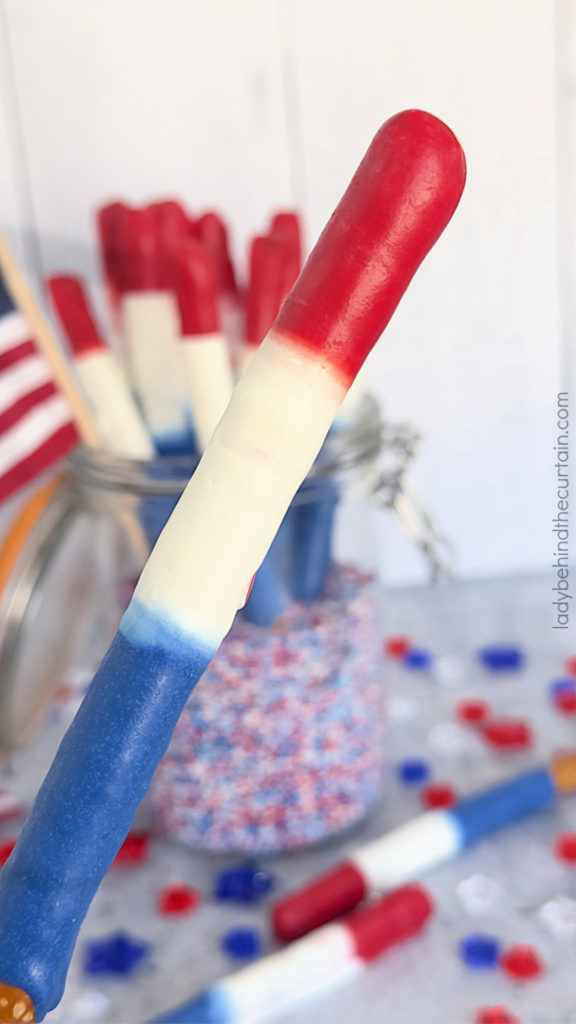 RED, WHITE, AND BLUE DECORATED PRETZELS 2. PATRIOTIC CELEBRATION PRETZELS
How Much in Advance Can I Decorate Pretzels?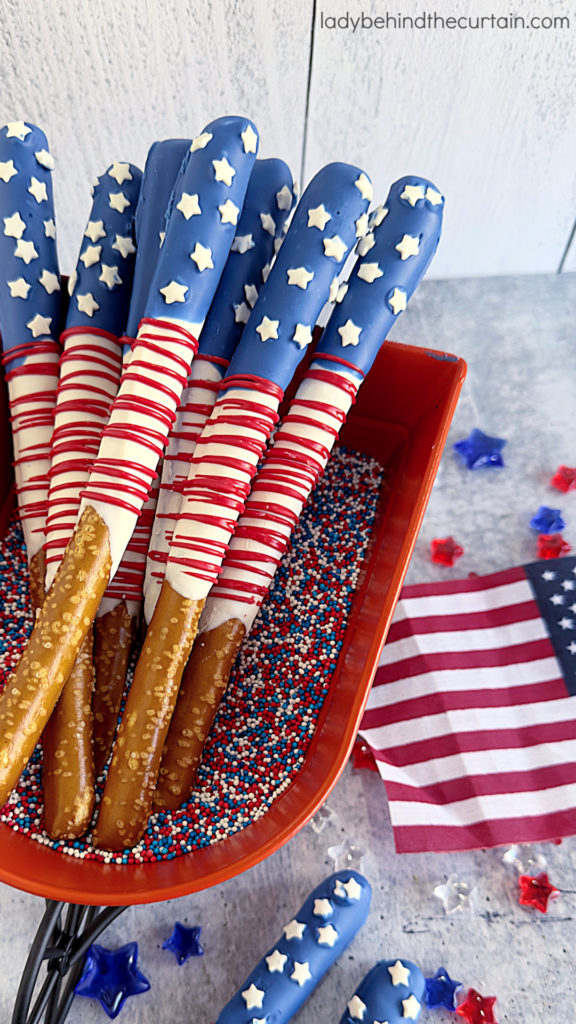 One of the best things about decorated pretzels (aside from the taste) is the convenience of being able to make them in advance of your party. It's every hostesses dream to be able to make something this tasty before the craziness of the party prep starts. Ultimately taking some of the stress away from hosting a party. These adorable pretzels can be made as early as a week before the party.
How to Store Leftover Melted Candy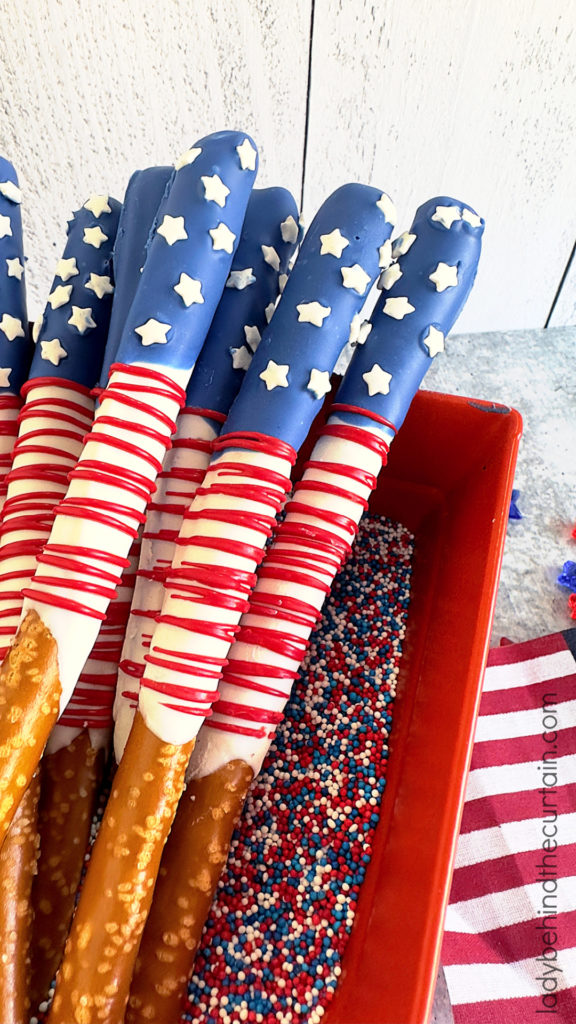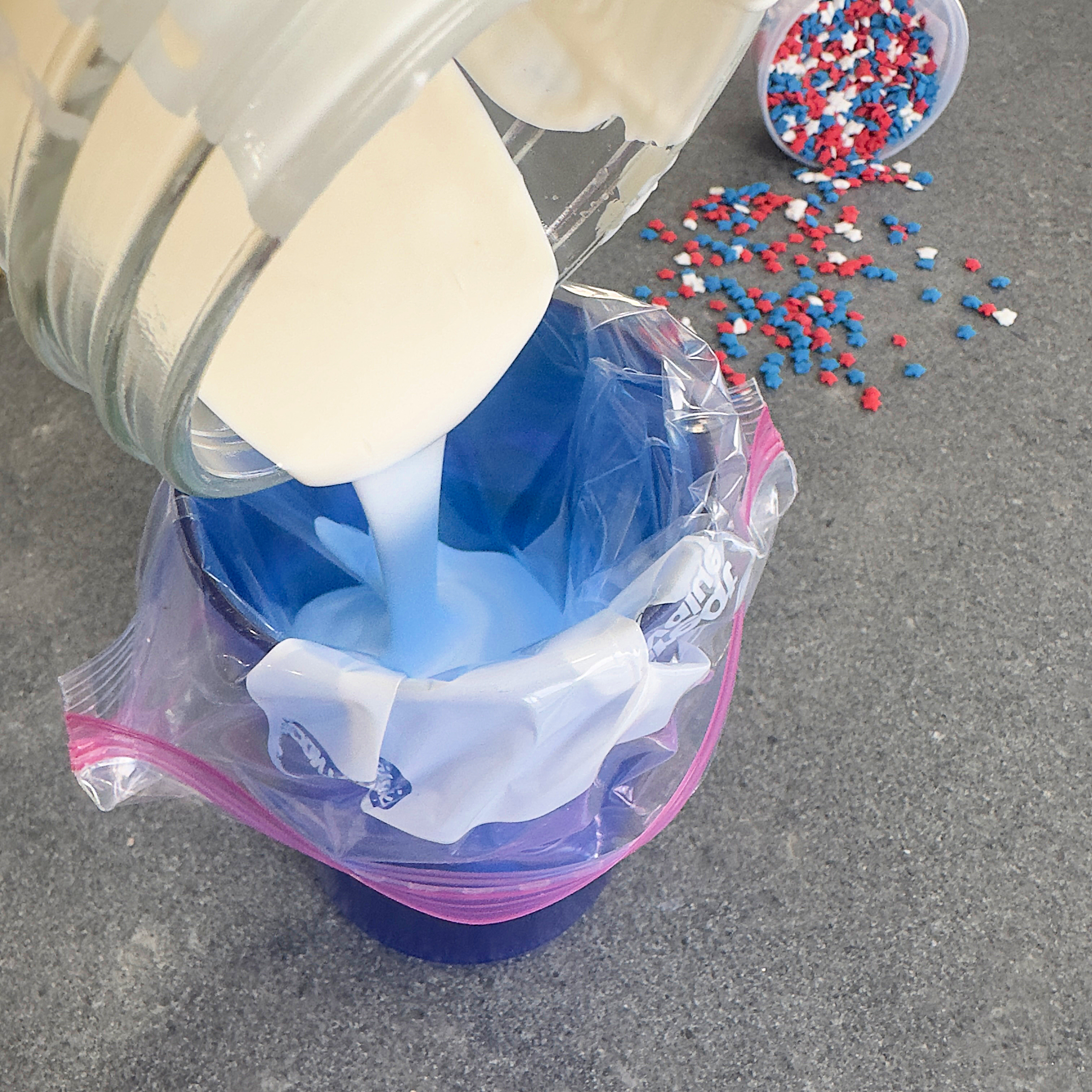 If you find you have melted too much candy for your project, don't worry melted candy can be stored to use again. STORAGE: Pour melted candy into a zip top bag, let all the air out of the bag, zip the bag closed, and let sit out until hardened. USE AGAIN: Pull the hardened candy out of the bag, place in a microwave safe bowl, heat for 1 minute on high, stir and continue heating in 30 second increments at 60% until the candy is melted and creamy.
Helpful Squeeze Bottle Tips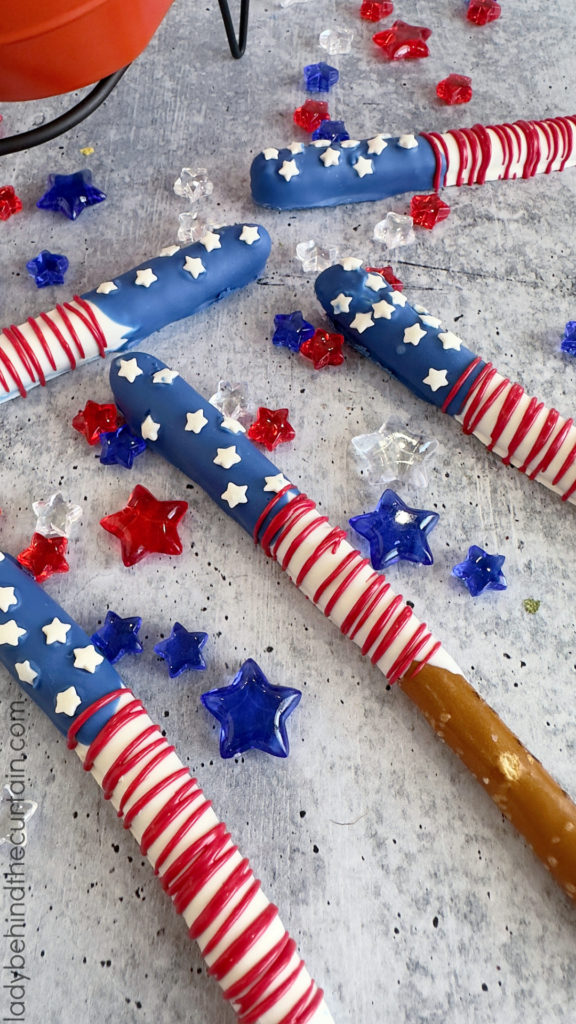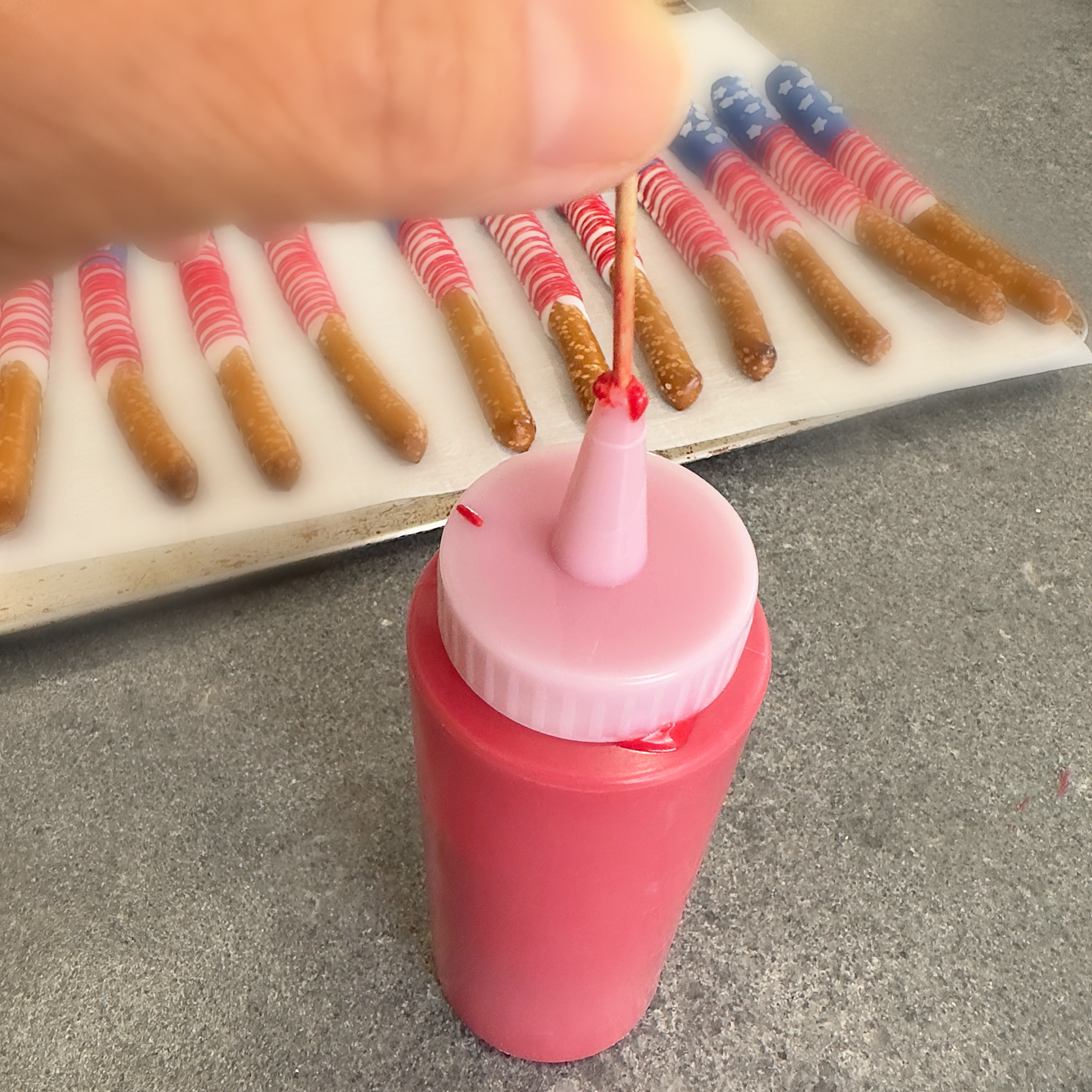 TOOTHPICK: A toothpick is the best tool to use when working with a squeeze bottle.
STOPPED UP SQUEEZE BOTTLE LID: Poke a toothpick in the opening of the squeeze bottle lid, using an up and down motion should release any candy that has hardened.
CLEANING THE LID: Put a small piece of wet paper towel into the large tip opening of the lid, use a toothpick to push the paper towel into the pointed end of the lid.
KEEP A SQUEEZE BOTTLE FROM THE LID CLOGGING: When working with multiple colors of melted candy it's easy for the tip of a squeeze bottle to become clogged due to the melted candy becoming cold and hard. Once finished with a color, place a toothpick into the hole until ready to use it again (during the same project).
How to Store Decorated Pretzels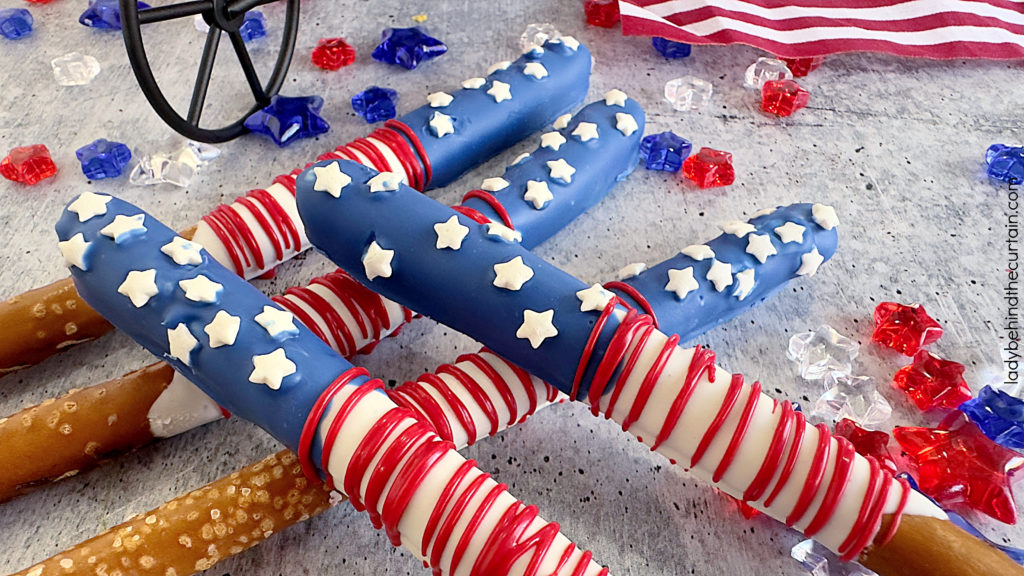 The easiest way is to store decorated pretzels is in an airtight container at room temperature. Provided everything is fresh to begin with and the container is clean, dry, and has a tight seal, partially covered pretzel rods can stay fresh for about 2-3 weeks.
SQUEEZE BOTTLE VS ZIP TOP BAG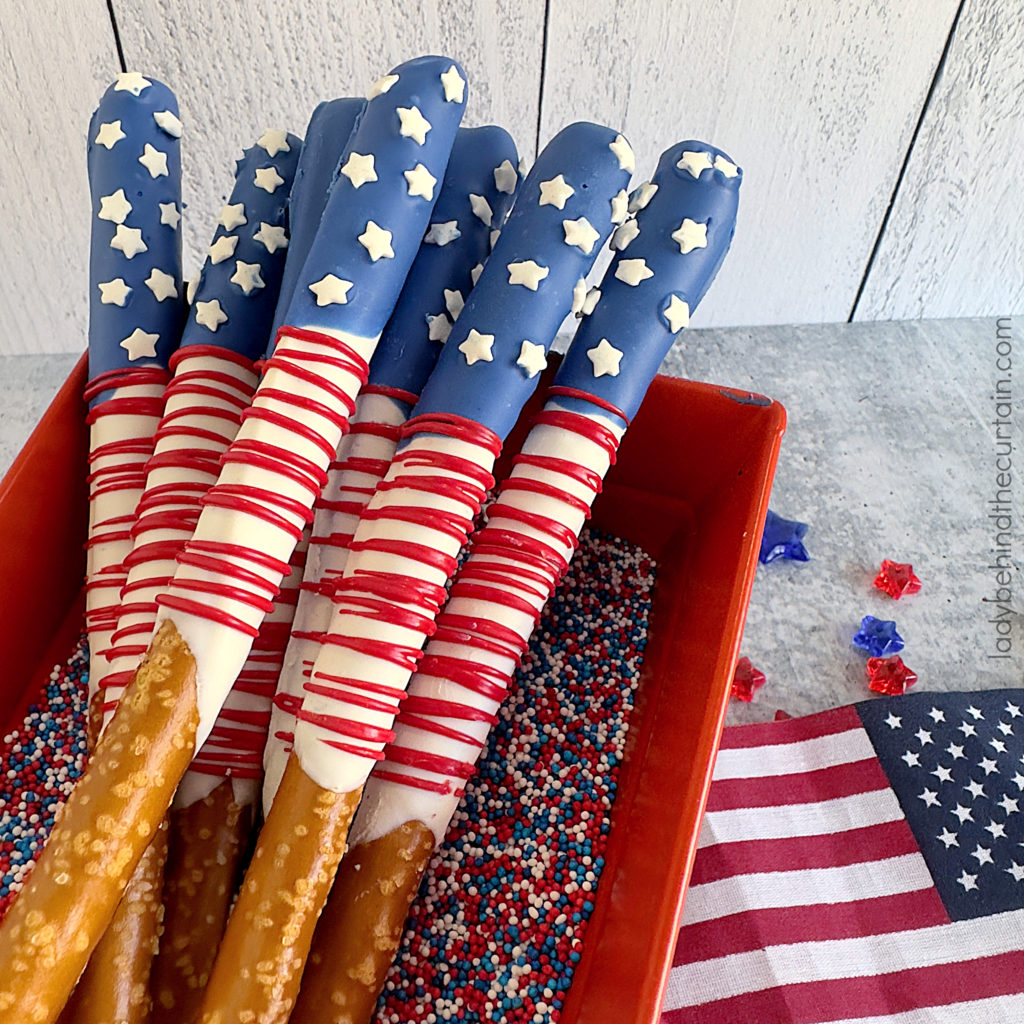 Did you know you can use a small zip top bag to make a drizzle? Yes, you can! In a pinch a small zip top bag with the corner snipped will work. Do I recommend it? Hmmmm….I'm on the fence. I can't say no but on the other hand I 100% prefer using squeeze bottle. Why? You can be a little more precise and I love the tiny lines. You will get chunky lines with a zip top bag. Squeeze bottles are only .98cents at Walmart.
RED, WHITE, AND BLUE PARTY SUPPLIES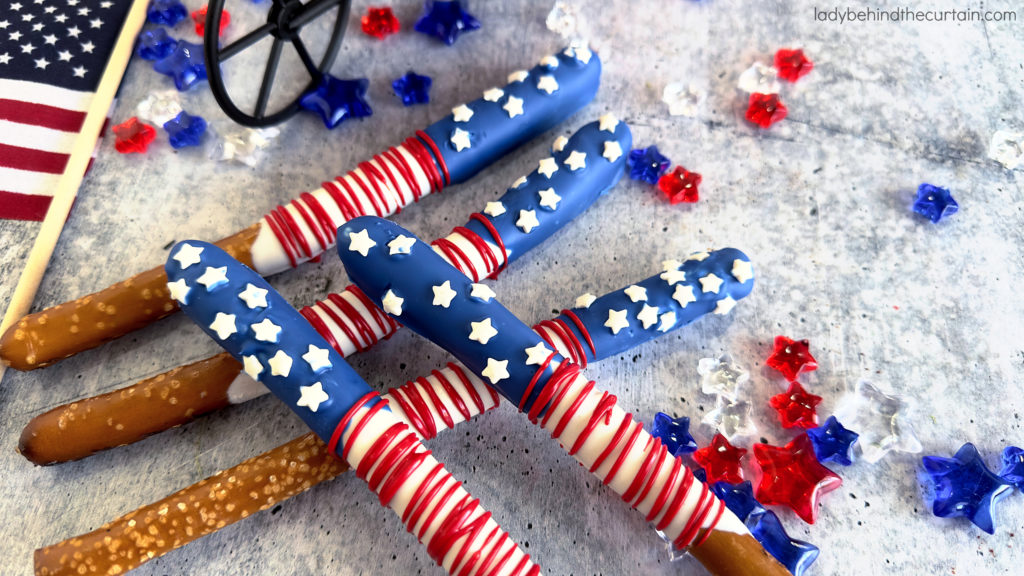 MORE POSTS YOU MIGHT BE INTERESTED IN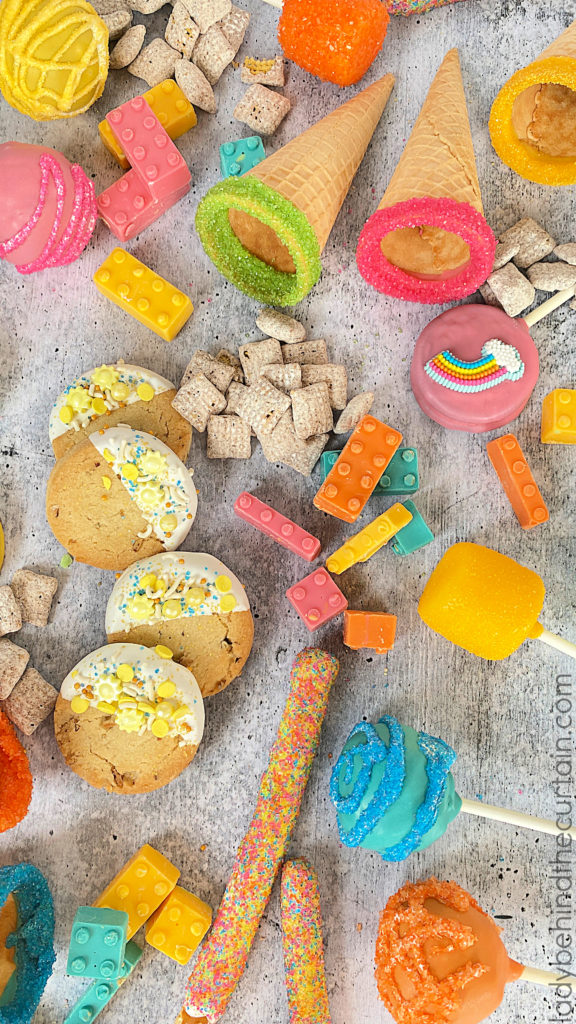 EVERYTHING YOU NEED TO KNOW ABOUT CANDY MELTS 2. EVERYTHING YOU NEED TO KNOW ABOUT HOW TO DECORATED PRETZEL
DECORATED PRETZELS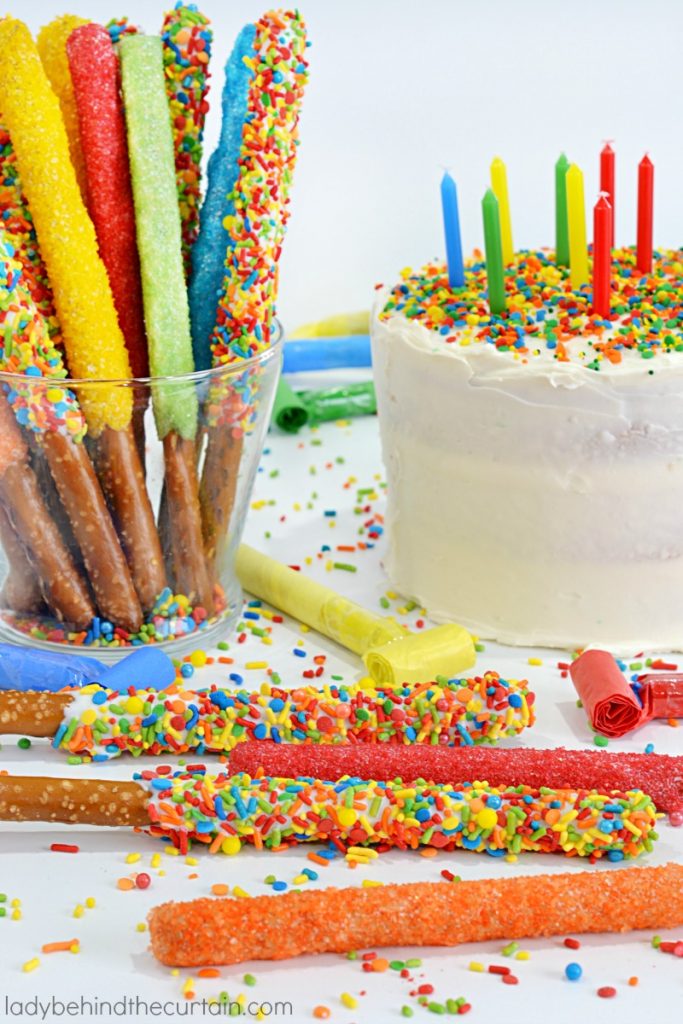 BIRTHDAY CAKE DECORATED PRETZELS 2. OUT OF THIS WORLD GALAXY DECORATED PRETZELS 3. UNICORN PRETZELS 4. OVER 40 PRETZEL IDEAS
SIGN UP FOR THE LADY BEHIND THE CURTAIN NEWSLETTER AND FOLLOW THE LADY BEHIND THE PARTY ETSY SHOP
THANKS FOR VISITING♥