Everything you need to know about How to Decorate Pretzels
Everything you need to know about How to Decorate Pretzels: An easy to make treat or dessert with the perfect combo of sweet and salty. Perfect for any occasion with tons of variations. This post will give you step by step instructions on how you can decorate pretzels like a pro along with several videos. Stop paying someone else to make your treats—find out how easy it is to make them yourself! Scroll down for different techniques, videos and ideas. PRETZEL POCKETS ARE NOW AVAILABLE! WHAT'S A PRETZEL POCKET? FIND OUT BELOW↓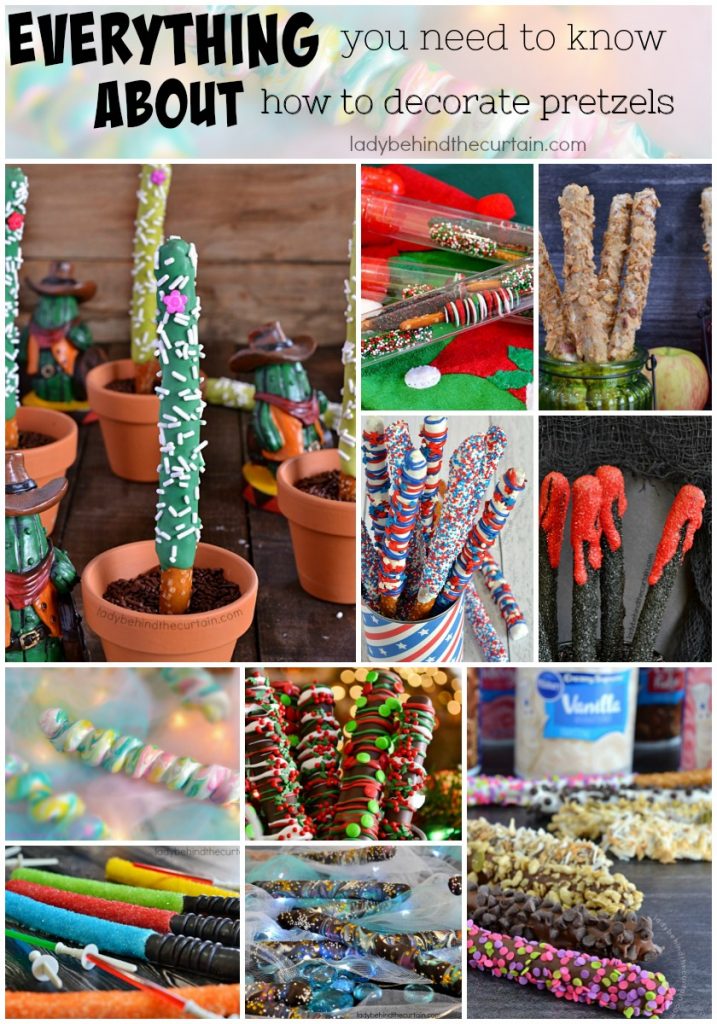 IN THIS POST YOU WILL LEARN 10 DIFFERENT TECHNIQUES FOR DECORATING PRETZELS
MELTED CANDY
COVERING IN SPRINKLES
DRIZZLE
DRIZZLE AND SPRINKLES
COVERING IN CARAMEL
USING FREEZE DRIED FRUIT
MARBLING
COMBINING CARAMEL AND MARBLING
DRIPPING OVER SPRINKLES
USING STORE BOUGHT FROSTING
PLUS LOTS OF TIPS!
HOW TO KEEP ONE SIDE FROM GETTING FLAT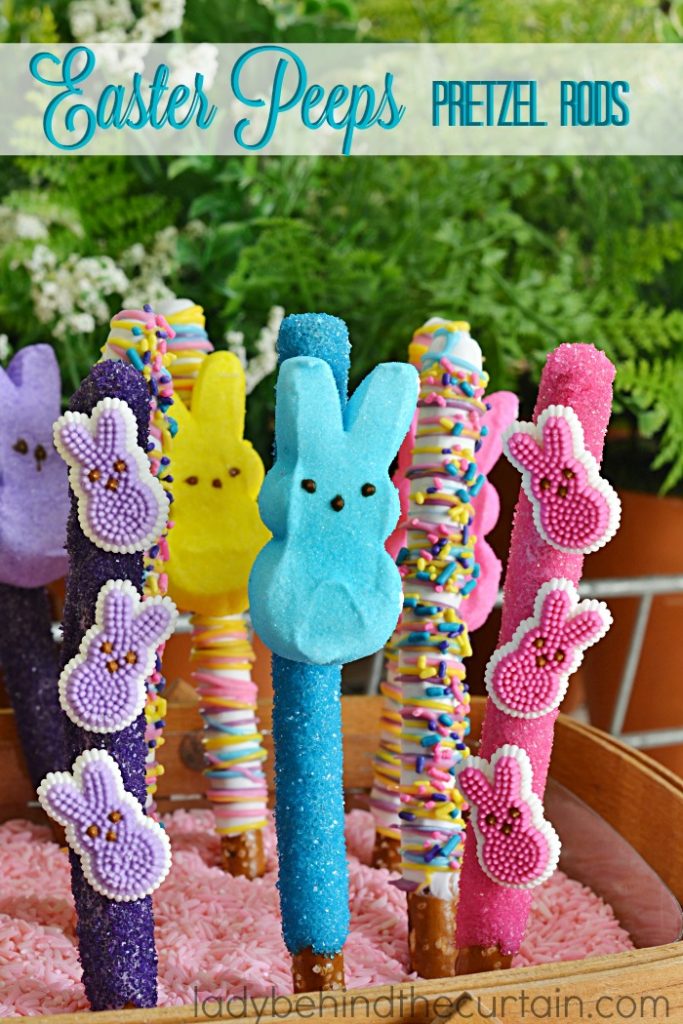 Having a Problem with Candy Melts?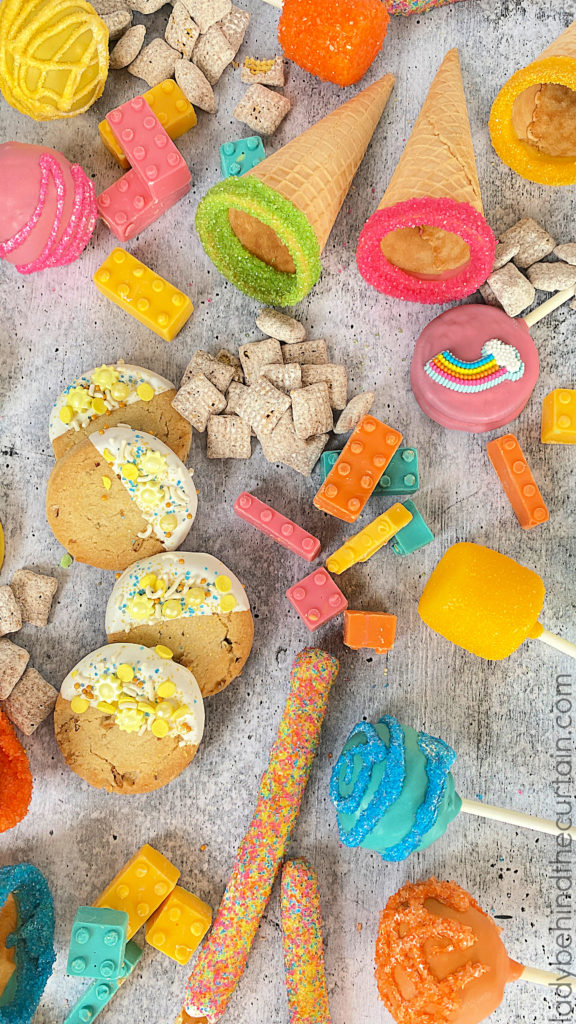 THE MANY USES OF DECORATED PRETZELS

ADD TO A DESSERT TABLE
USE AS A CENTERPIECE ON A KIDS TABLE
FILL SMALL CONTAINERS (like buckets) AND LINE THEM DOWN THE CENTER OF A TABLE TO SERVE AS A RUNNER
PACKAGE THEM UP IN PRETZEL TREAT BAGS AND HAND THEM OUT AS PARTY FAVORS
DECORATE MINI PRETZELS AND PUT IN PLASTIC CANDY CANES (pictured above)
FILL AN EMPTY DECORATED CAN WITH MINI PRETZELS AND GIVE AS A GIFT—MAKES A GREAT SECRET SANTA GIFT! (pictured above)
ADD MINI DECORATED PRETZELS TO PUSH UP POPS AND CREATE A FUN DISPLAY (pictured above)
ADDING COLOR TO CANDY WAFERS OR CANDY MELTS.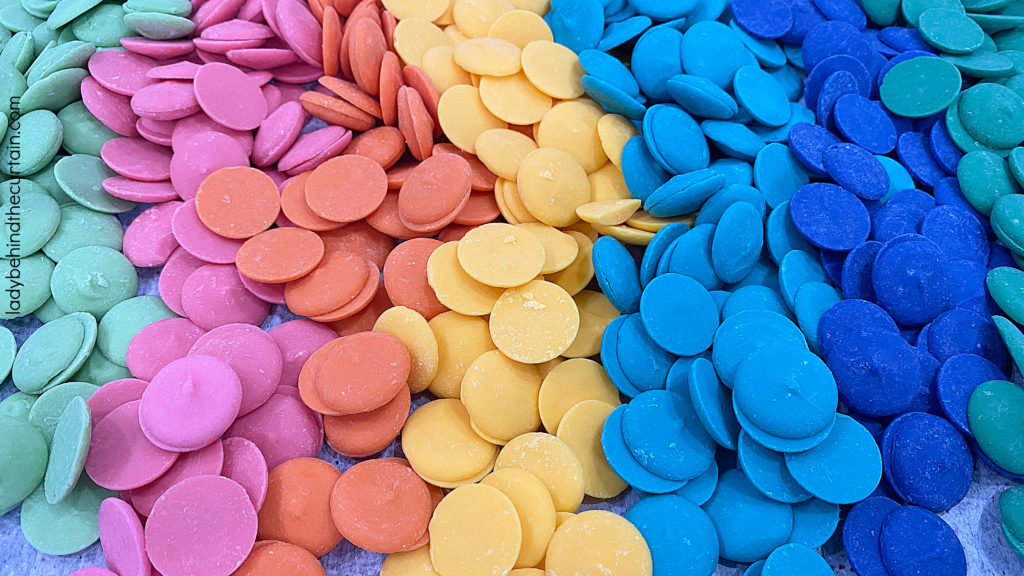 GOOD NEWS! If you can't find the color you want or if the color scheme of your party is not a color offered in wafers or candy melts you can color your own, allowing you to create unique colors. You can add color to melted candy BUT….ONLY USE AN OIL BASED COLOR. Candy wafers and candy melts are made from an oil base THEY DO NOT LIKE WATER. Here is a great article from Wilton (the maker of candy melts) explaining→HOW TO COLOR CANDY MELTS CANDY
HOW TO STORE DECORATED PRETZELS
The easiest way is to store decorated pretzels is in an airtight container at room temperature. Provided everything is fresh to begin with and the container is clean, dry, and has a tight seal, partially covered pretzel rods can stay fresh for about 2-3 weeks.
HOW TO DECORATE PRETZELS—Techniques
DECORATE PRETZELS WITH MELTED CANDY—Let's start with FIVE basic techniques
Place a piece of parchment paper on a cookie sheet.
Pour candy into a microwave safe bowl.
Melt the candy in 30 second increments, stirring between each time.
TIP: If your candy melts don't get loose enough to dip into add a little shortening—that will loosen the candy and make it easier to coat your pretzels.
The key to coating the pretzel without the candy dripping everywhere is in the temperature of the candy—not too hot and not too cold.
Once the candy is the right consistency it's time to dip.
Put pretzel tip in the bowl and use a spoon to drizzle and coat the pretzel.
Putting candy melts (already melted) into a small mason jar is also a great way to dip your pretzels (all you have to do is submerge the pretzel).
Swirl the pretzel to let any extra candy drip off and tap on the side of the bowl or jar.
AT THIS POINT—USE THE COVERING IN SPRINKLES TECHNIQUE OR THE DRIZZLE TECHNIQUE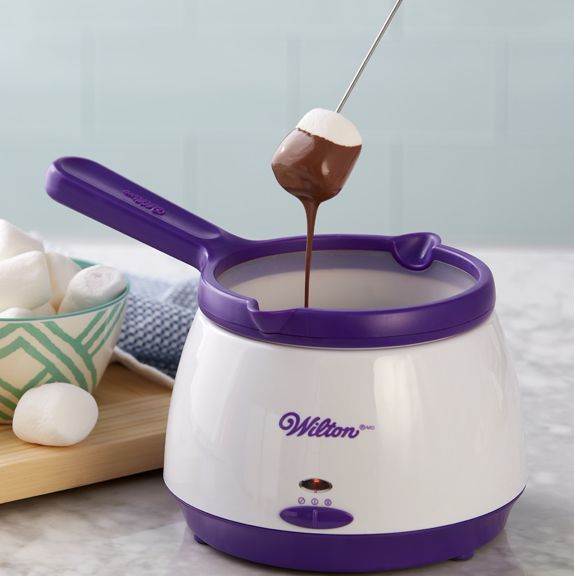 DECORATE PRETZELS BY COVERING IN SPRINKLES TECHNIQUE
Coat only 4 to 5 pretzels at a time with the melted candy for this method.
Add sprinkles immediately.
For adding sprinkles— put the sprinkles into a larger bowl and spoon the sprinkles over the pretzel making sure to keep twisting it around (this helps cool off the candy and stops it from dripping into the sprinkles).
Let the extra sprinkles fall into the bowl.
Place finished pretzels on a parchment paper lined cookie sheet OR insert them into a container filled with rice.
Scoop up the leftover sprinkles to use again.
DECORATE PRETZELS WITH THE DRIZZLE TECHNIQUE
Complete the first step of covering the pretzels with melted candy.
Place covered pretzels on a cookie sheet lined with parchment paper and place in the refrigerator until the candy has hardened (about 10 minutes).
Melt the candy melts the same as you did with for the coating.
Put melted candy into squeeze bottles, zip top bags or piping bags with the tips cut off. TIP: Only melt one color at a time. Start with the darkest color and end with the lightest.
Drizzle over pretzels in a back and forth motion and melt your next color….
OR…if you have a melting pot (pictured above), melt all the colors. Pour each color into a piping bag, close the top of each bag with a rubber band DO NOT SNIP THE END. Place the filled piping bags into a hot melting pot. This will keep all the colors piping hot so be careful when handling. Sometimes I have to use a paper towel as a barrier. Lay pretzels next to each other (single file) leaving some space for the candy to fall. Snip the end of each piping bag as you use them. In a back and forth sweeping motion add the drizzle.
Make sure to start with the darkest color working up to the lightest.
Set aside to harden or add sprinkles.
Another great tip for the drizzle technique:
DECORATE PRETZELS WITH THE DRIZZLE AND SPRINKLE TECHNIQUES:
Complete the melted candy covered pretzel step—and then the drizzle method.
Lightly sprinkle the sprinkles on top of the drizzle.
NOTE: You still want to see the drizzle effect through the sprinkles.
DECORATE PRETZELS WITH THE CARAMEL TECHNIQUE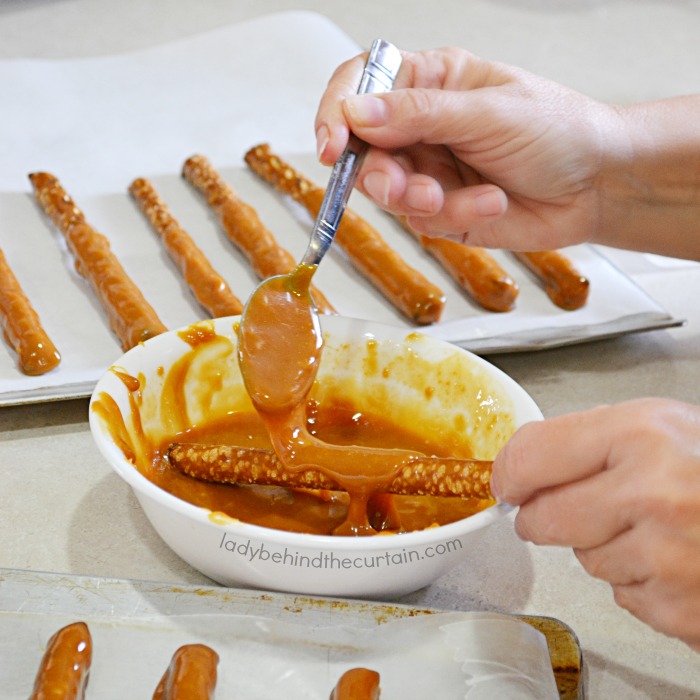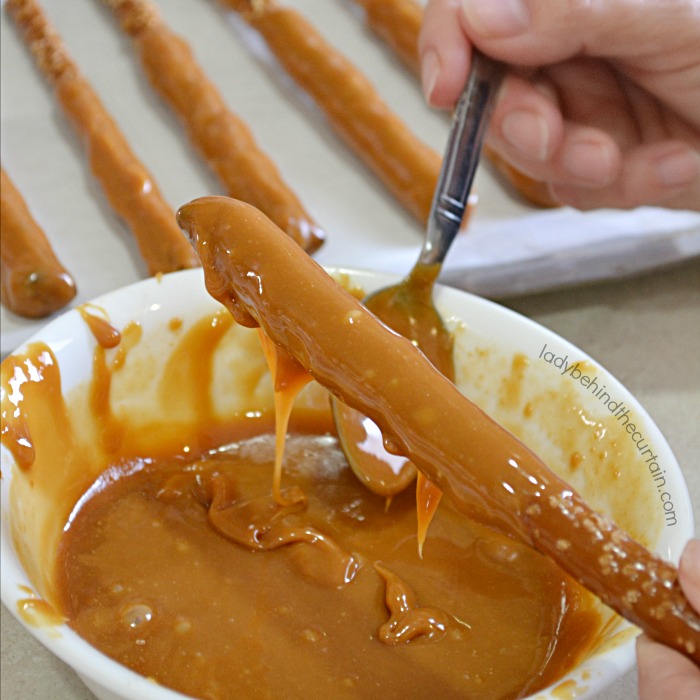 Line a cookie sheet with parchment paper.
Place the caramel and water in a microwave safe bowl.
Whisk together and heat in 15 second increments.
Cover the pretzels with the melted caramel (as pictured).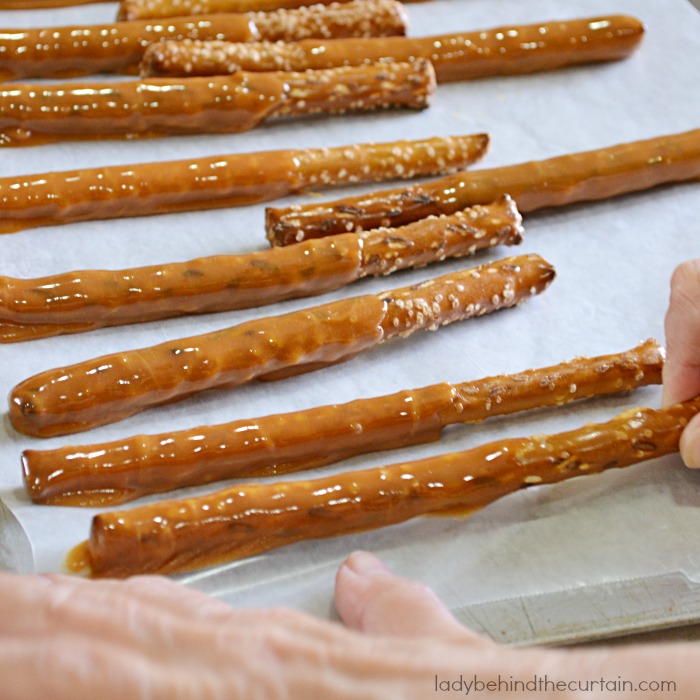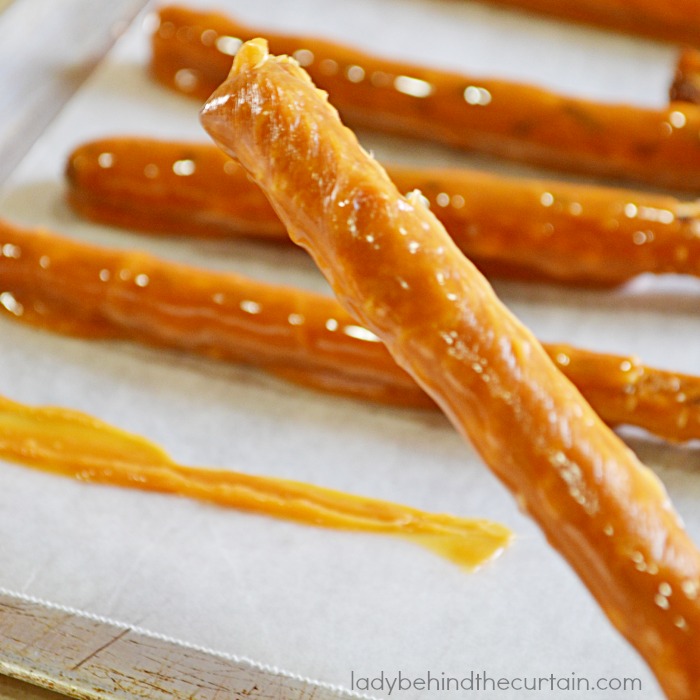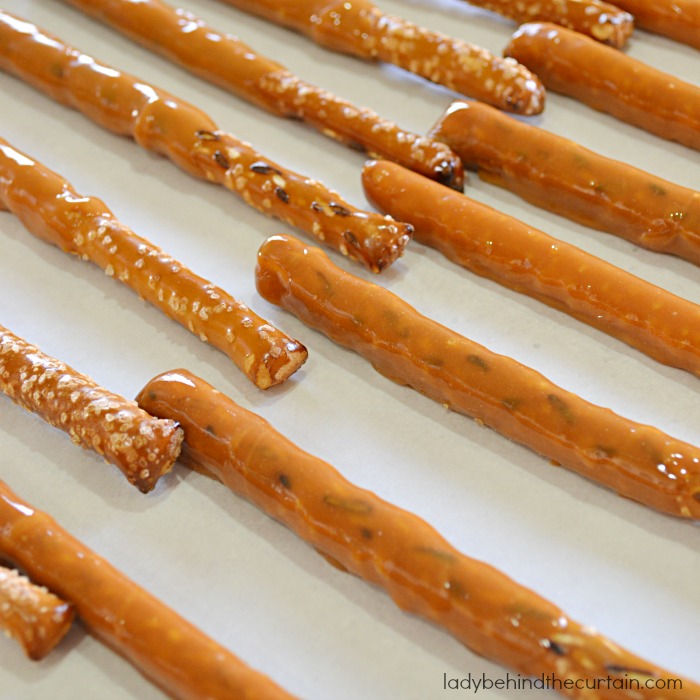 ADD FLAVOR WITH FREEZE DRIED FRUIT TECHNIQUE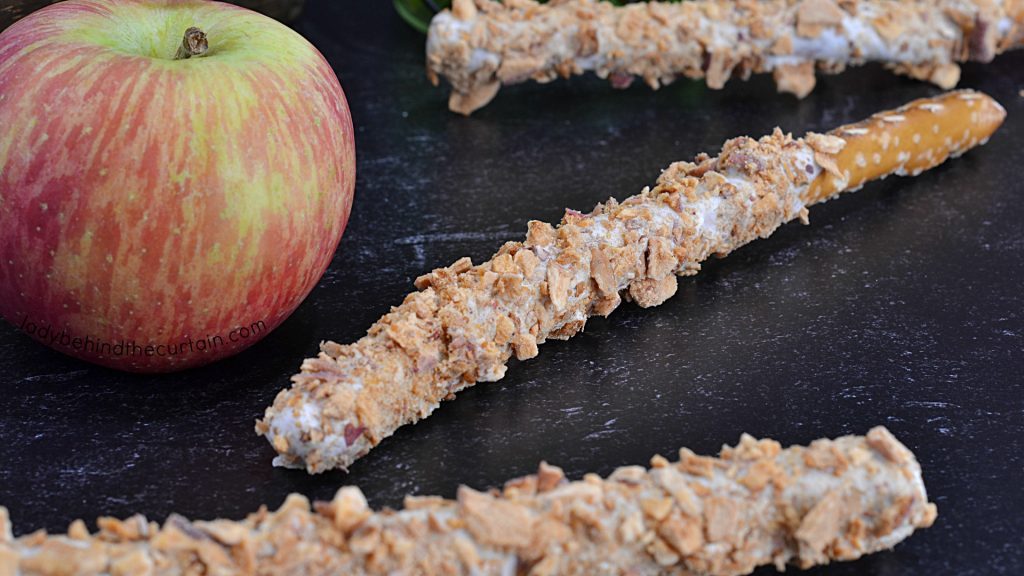 MARBLING TECHNIQUE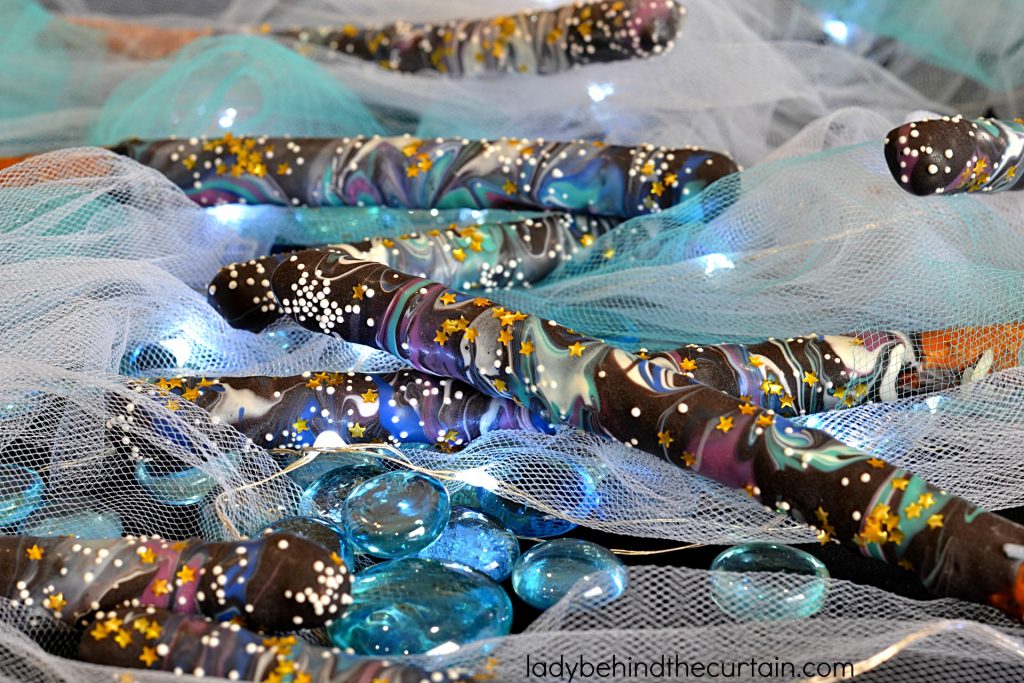 COMBINING CARAMEL AND MARBLING TECHNIQUE
DRIPPING TECHNIQUE
USING STORE BOUGHT FROSTING TECHNIQUE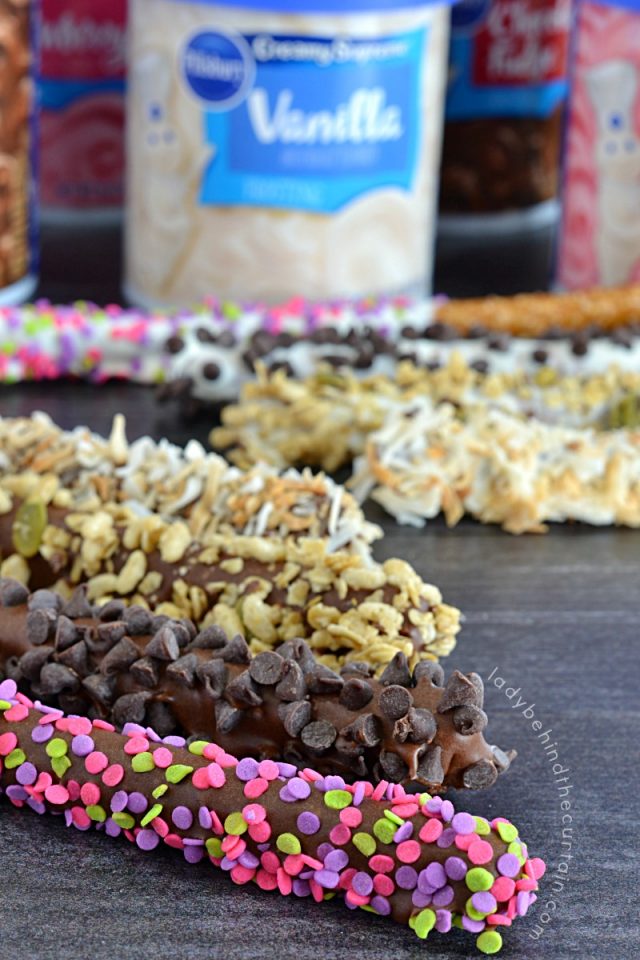 Use any flavor of frosting!
Substituting frosting for candy melts is a great way of adding flavor to your decorated pretzels.
Use white, add a drop or two of food coloring and customize your pretzels to match your party colors.
TIP: Mix colors together to make unique colors.
NOTE: Use a micro plane to take off any excess candy.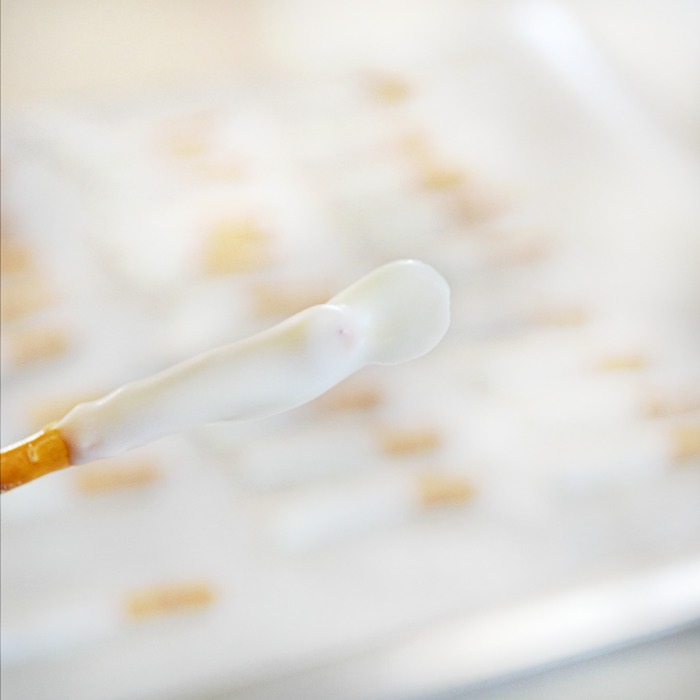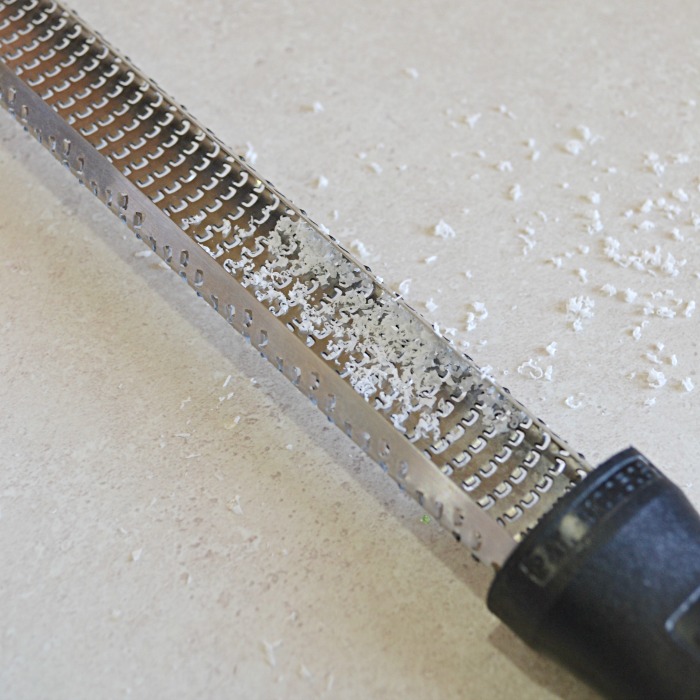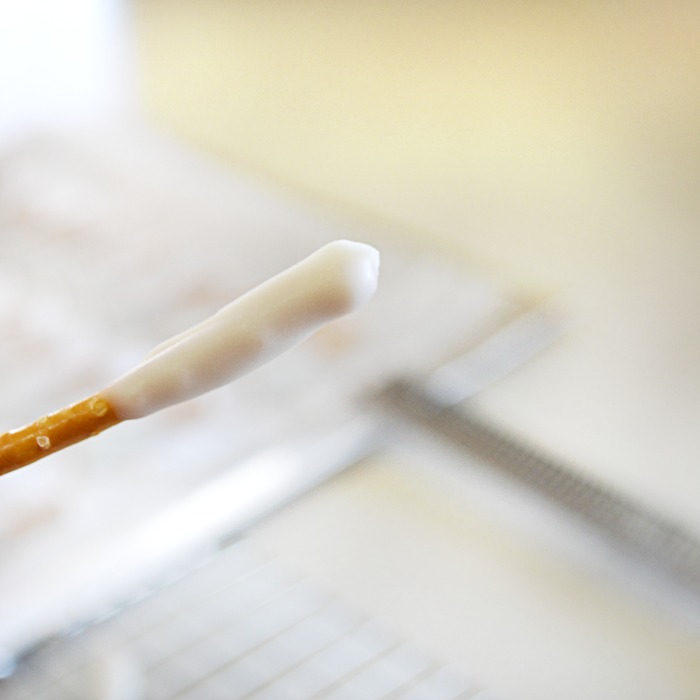 HOW TO KEEP MELTED CANDY IN A LIQUID STATE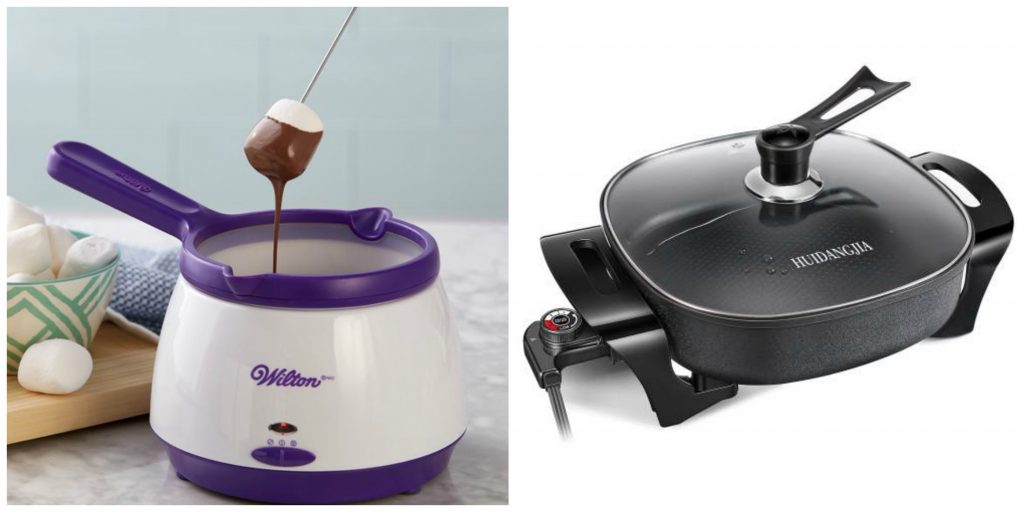 Using Wilton Melting Pots (this is my favorite). These handy pots are not just for melting candy, they also work amazing at keeping the candy melted. For the drizzle method I melt the candy, pour it into piping bags, seal the end tightly with a rubber band. Place the piping bags in a heated pot without the insert. The pot will keep the candy piping hot so be careful when handling. If using squirt bottles, pour hot water into the pot (without the insert), use high setting, fill bottles with melted candy, place in the water. This will also keep the candy melted.
Electric Skillet. All the above can also be achieved by using an electric skillet except ALWAYS have water in the skillet. Also, the candy melts can not be added directly to the skillet. They MUST be in a heat proof container like a mason jar or bowl.
Decorated Pretzel Pockets
WHAT IS A PRETZEL POCKET? Take your decorated pretzels a step further and drop them in a decorated pocket! Placing the pretzels in a pocket allows for easy handling…NO MESSY HANDS!
DECORATED PRETZELS—HALLOWEEN—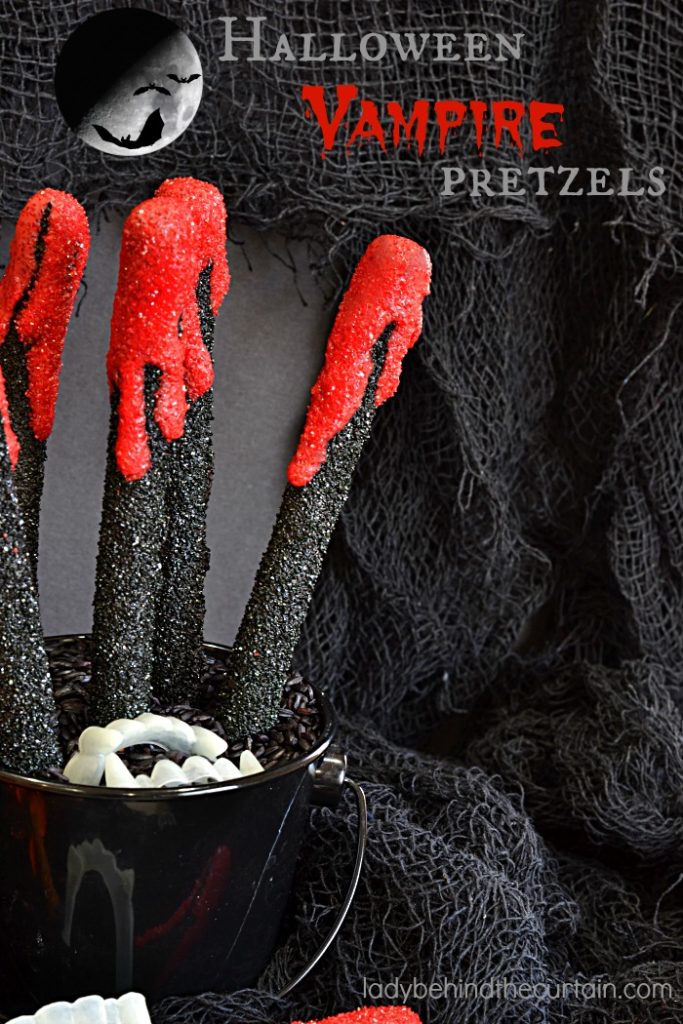 DECORATED PRETZELS—CHRISTMAS—
IF YOU HAVE ANY QUESTIONS—I WILL DO MY BEST TO ANSWER THEM! ♥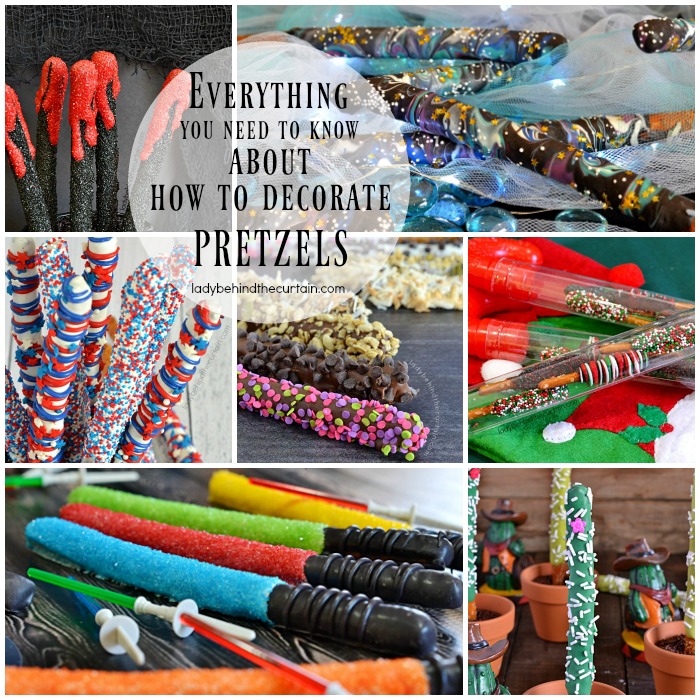 NEVER MISS A POST