Mini Fish Tank Jello: This fun kid's birthday party treat is super easy to put together and adds a touch of whimsy to any pool or beach themed party. With only a few ingredients each child can have their very own edible fish tank full of jello, Swedish fish and nerds.
How to Make Mini Jello Aquariums
SUPPLIES
Flat 7Up
Unflavored Gelatin
Blue food coloring
Swedish mini fish
Nerds
Glass jars (6 ounce)
Can I use Blue Jello instead of Unflavored Jello?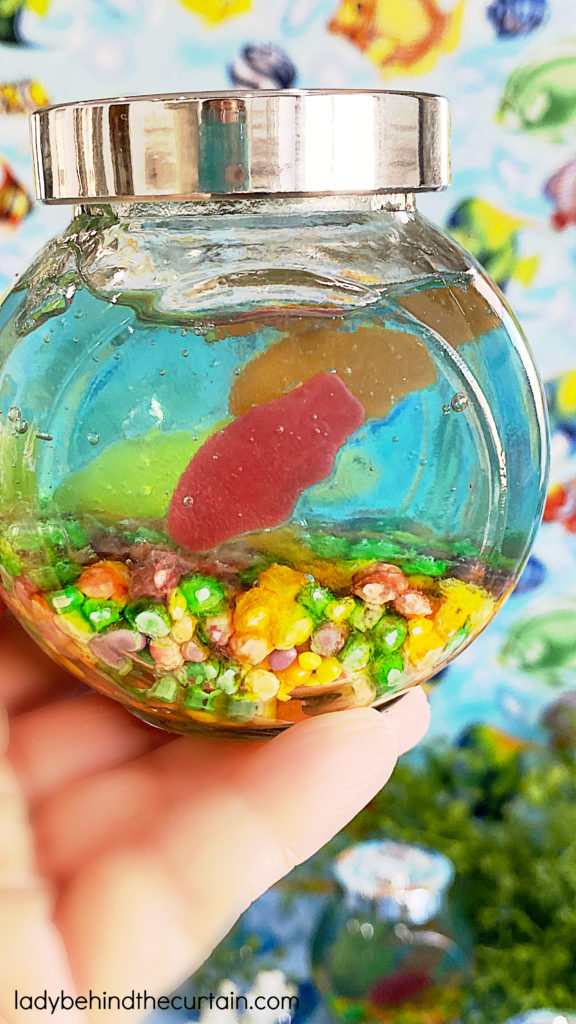 Aquarium Pebbles
Fish Gummies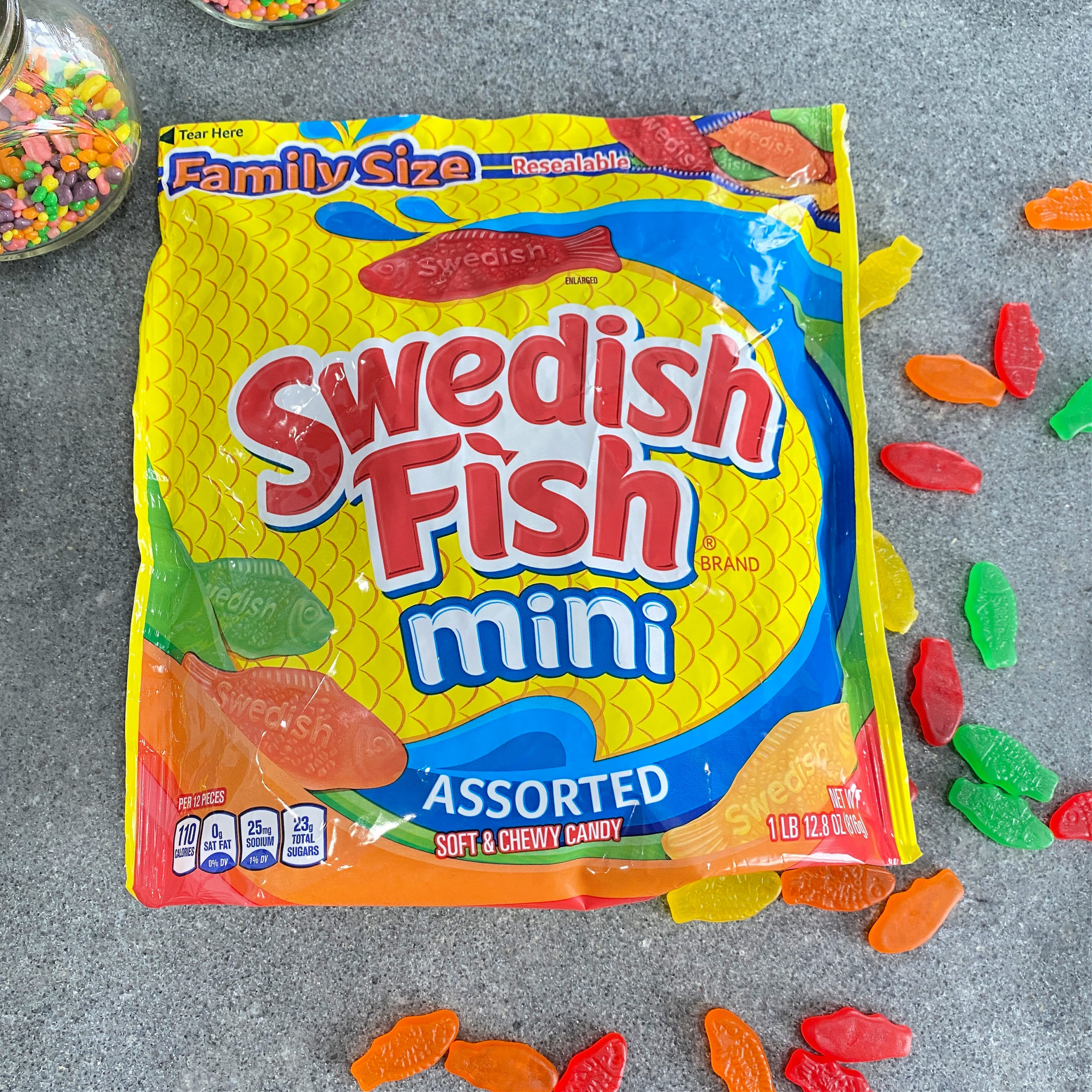 Swedish soft and chewy fish are the best for adding to your mini fish tank jello jars. REGULAR SIZE VS MINI SIZE SWEDISH FISH. If you plan on making one large fish bowl then regular size fish are great. For these mini aquariums I recommend using Mini Swedish Fish. The mini is about half the size of a regular size fish.
How to Make Unflavored Gelatin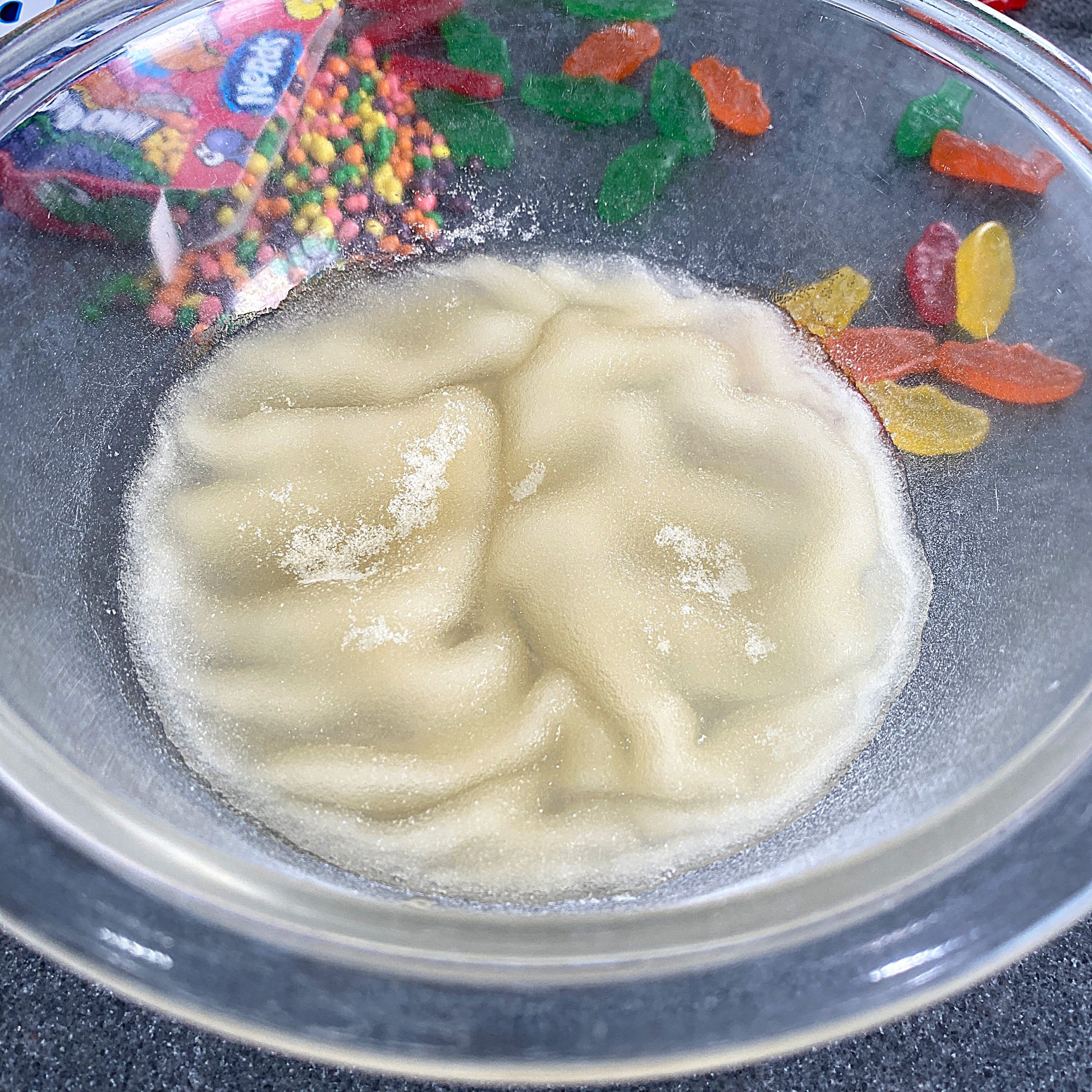 Mini Aquarium Jars
How to Make ONE Large Jello Fish Bowl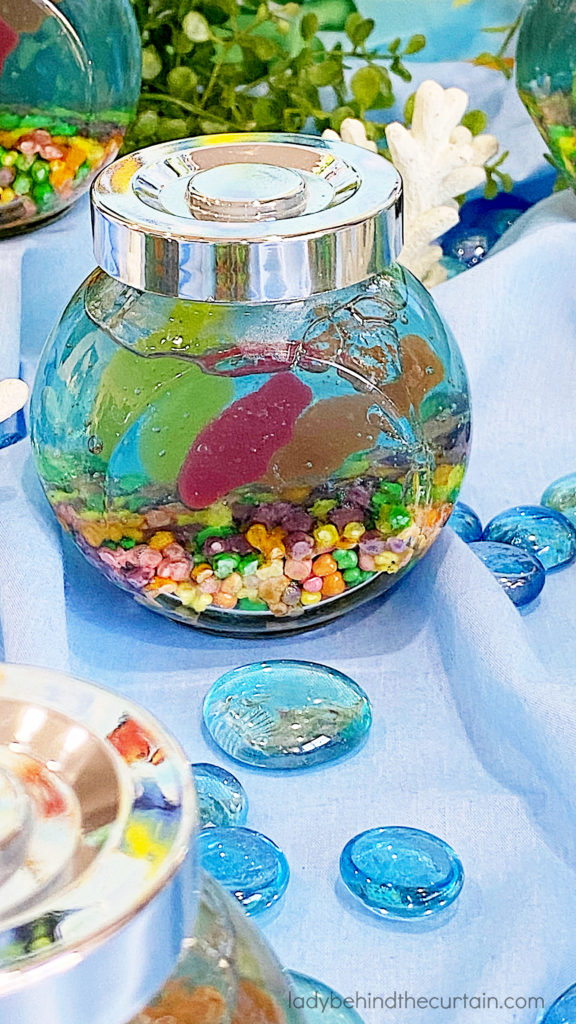 INGREDIENTS

1 liter flat lemon lime soda (about 4¼ cups)
4 (¼ ounce) envelope unflavored powdered gelatin
8 ounces multi colored Nerds candy
1 to 2 drops blue food coloring
12 mini fish gummy candies
Other Fish Tank Ideas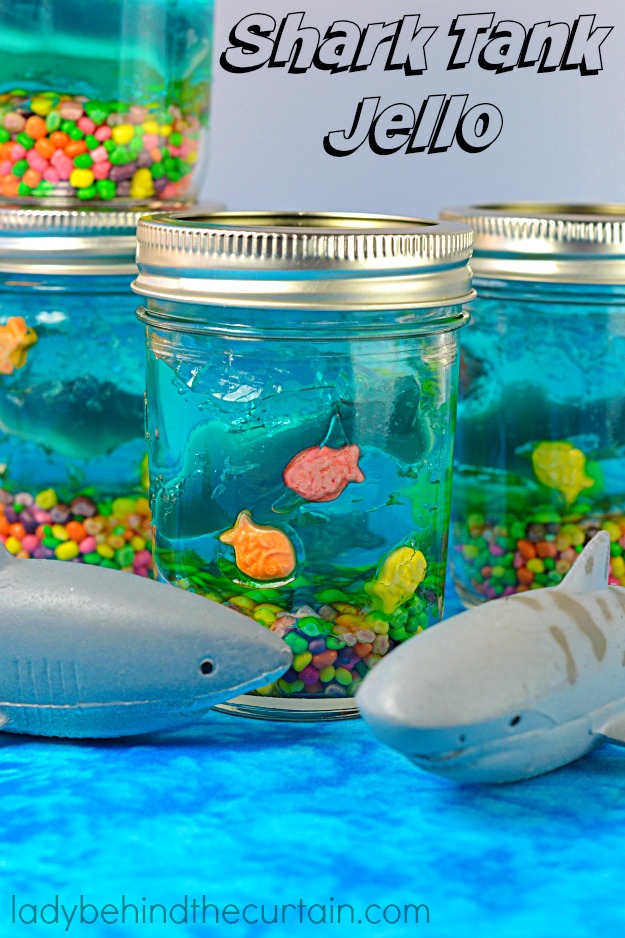 SHARK TANK JELLO 2. FISH BOWL PUNCH
TIPS FOR SUCCESSFUL MINI FISH TANK JELLO
Cooling down the Jello and letting is slightly thicken will help prevent Nerds from bleeding color but you still may experience the color of the Nerds bleeding into the Jello some.
Berry blue Jello is dark blue in color. If you want a lighter, more transparent blue color, then I recommend using yellow lemon Jello and adding a very small drop of blue food coloring to the mix. This will give you Caribbean blue colored "water."
Make these immediately before serving. Unfortunately these are NOT a make-ahead treat. The longer these sit, the more the Nerds will bleed and the gummy fish will become soggy.
If serving for a party, I would suggest timing this so that the Jello sets right before you're ready to eat them and then add the fish right before you serve them. If serving at a kids birthday party, you could even have the kids add their own fish to the top.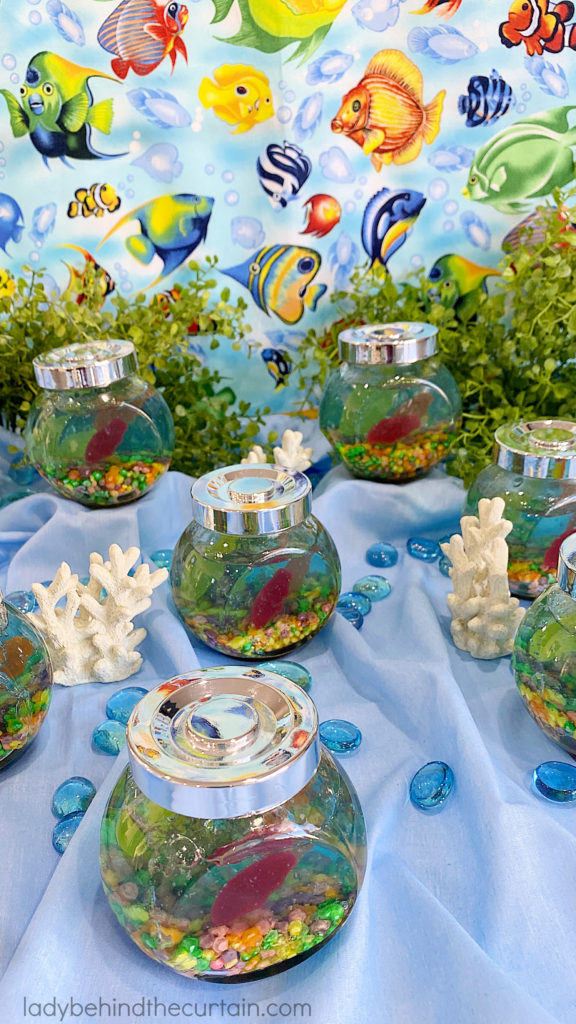 SUMMER PARTY TREAT RECIPES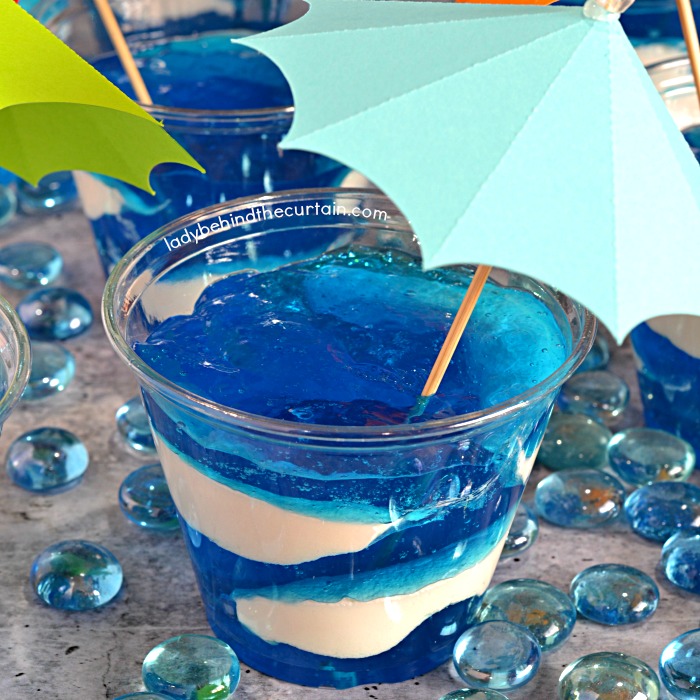 BLUEBERRY CREAM POOL WATER JELLO CUP 2. SAND BUCKET CAKE 3. JELLO SNOW CONE CUPCAKES 4. A DAY AT THE BEACH PUDDING DESSERT 5. FINDING DORY MARSHMALLOW RING POPS 6. BEACH BALL CANDY COATED PARTY POPCORN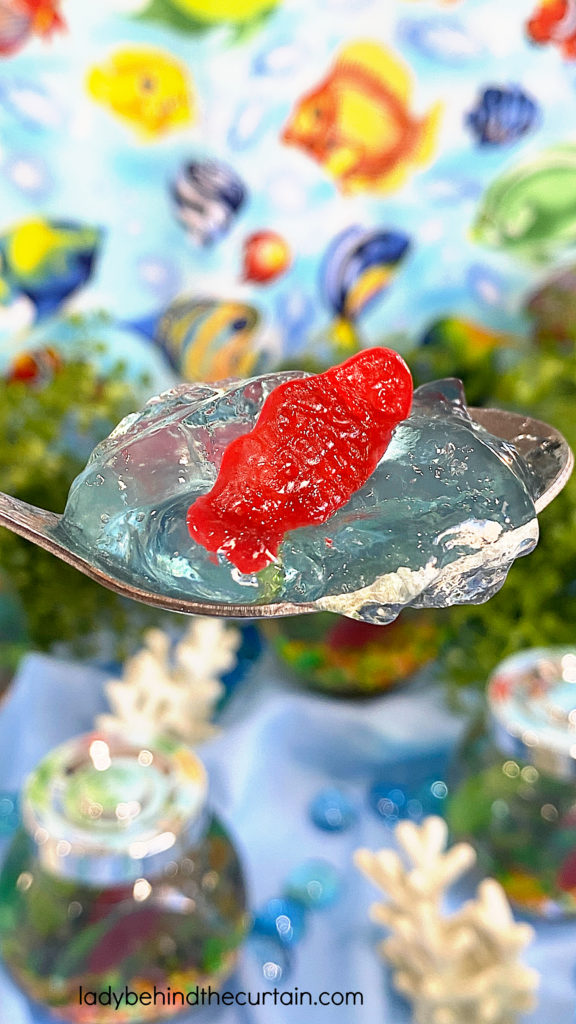 SIGN UP FOR THE LADY BEHIND THE CURTAIN NEWSLETTER AND FOLLOW THE LADY BEHIND THE PARTY ETSY SHOP
THANKS FOR VISITING♥